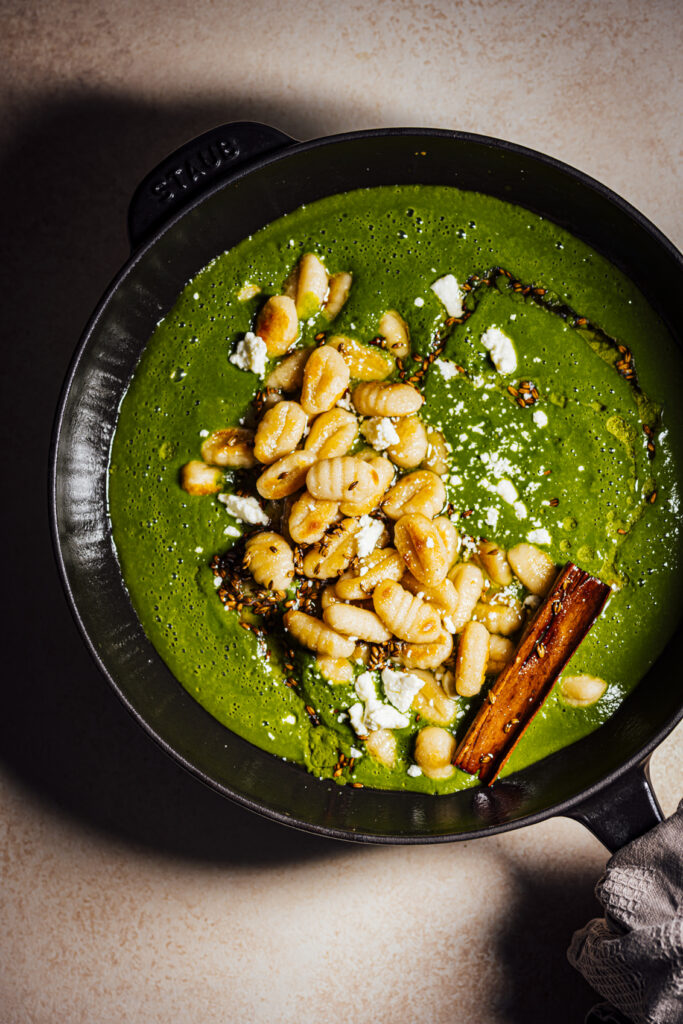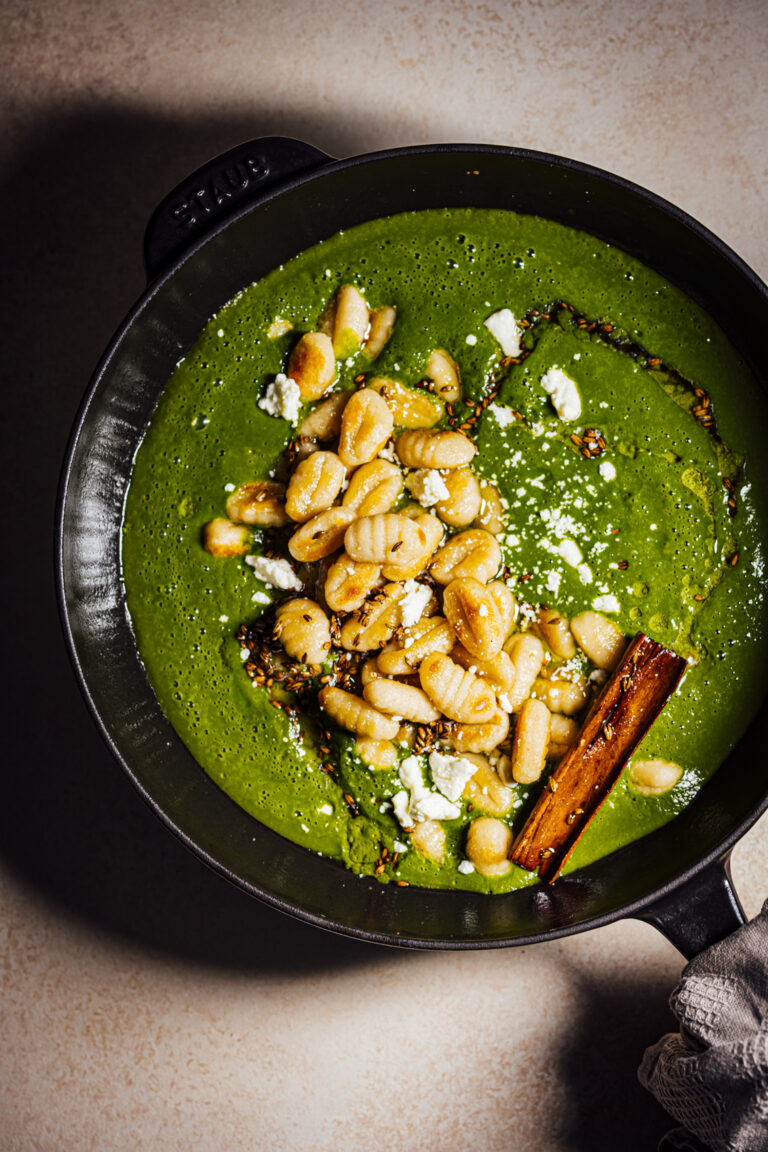 Print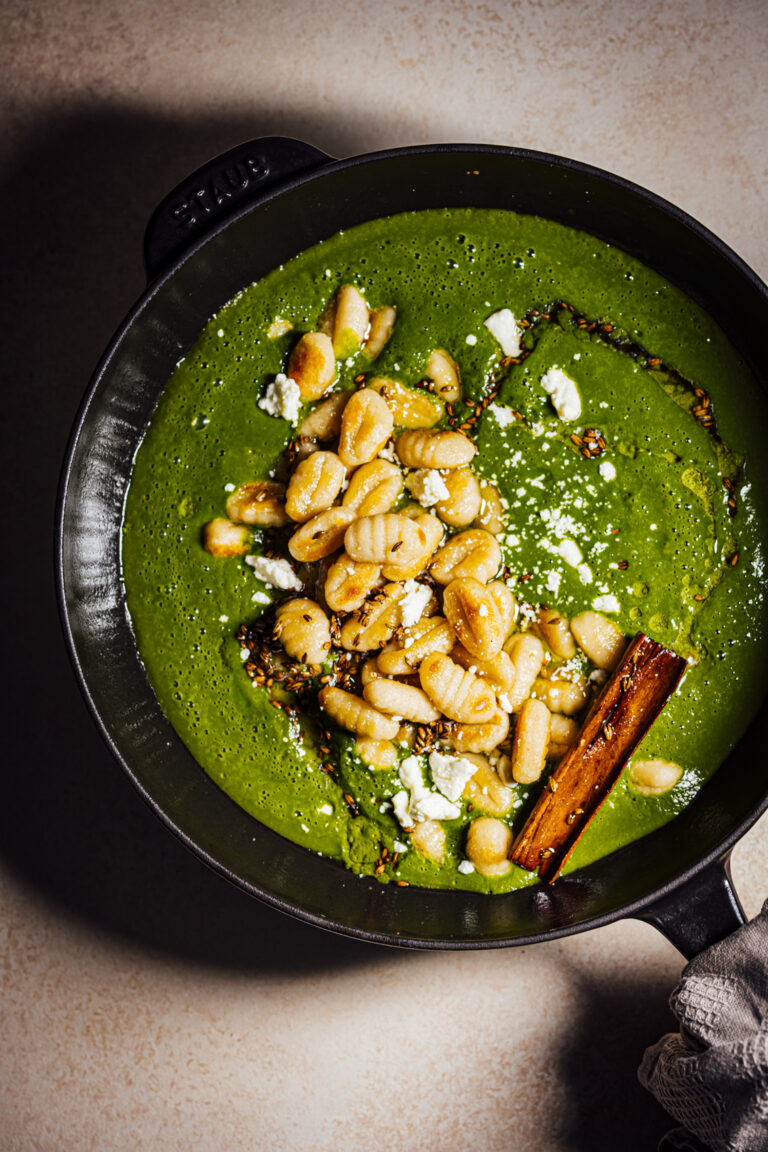 Saag Gnocchi Tadka
This recipe's inception was accidental, but I think most good things start that way. One evening while preparing dinner, I realized I forgot to pick up a block of paneer. I'd already made the saag sauce earlier. Fortunately, a box of gnocchi sitting in my refrigerator came to the rescue. I pan-fried the gnocchi to golden brown crispiness in butter and it does marvelous things in this verdant sauce. A light finish of salty crumbled feta and a tadka of spices harmoniously brings it all together. 
(The palak part of this recipe is based on my palak/saag paneer recipe.)
For the Gnocchi
1 Tbsp unsalted butter
1 Tbsp extra-virgin olive oil
12 oz/340 g homemade or store-bought gnocchi
For the Saag
1/2 lb/230 g fresh or frozen baby spinach
1/4 cup/60 ml + 1 Tbsp water
1 shallot or small white or yellow onion
2 garlic cloves
1 tsp grated ginger
1 tsp kasoori methi
2 Tbsp plain unsweetened Greek yogurt
1 tsp ghee, melted unsalted butter, or vegetable oil
1 tsp homemade or store-bought garam masala
1/4 tsp ground cayenne
fine sea salt
For the Tadka
2 Tbsp ghee or unsalted butter
One 2 in/5 cm cinnamon stick
1 tsp whole cumin
1 tsp ground coriander
3 to 4 Tbsp crumbled feta, for garnish
Instructions
For the Gnocchi
Melt the butter over medium heat in a large stainless-steel or cast-iron skillet. The butter will start to foam and crackle. Cook until the liquid stops crackling and the milk solids turn golden brown, 4 to 5 minutes. Add the olive oil.
Add the gnocchi and pan fry until golden brown and crisp, flipping occasionally with a spatula, 8 to 10 minutes. Transfer the gnocchi to a bowl and keep warm. Wipe the skillet clean and return to the stove.
For the Saag
Add the spinach with 1 Tbsp of water to the skillet, cover with a lid, and cook over medium heat until the leaves wilt completely and release their liquid, stirring occasionally to prevent the leaves from sticking and burning to the bottom of the pot, 8 to 10 minutes. Remove from the heat and carefully transfer the spinach with the liquid to a blender or food processor. Wipe the skillet clean and return it to the store.
Add the shallot, garlic, ginger, kasoori methi, and 1/4 cup/60 ml water, and blend until smooth.
Heat the ghee over medium-low heat in the skillet. Add the garam masala and cayenne, and stir with a spoon or silicone spatula until the spices turn fragrant, 30 to 45 seconds.
Fold in the spinach purée and Greek yogurt. Taste and season with salt. Transfer to a serving bowl. Fold in the cooked gnocchi. 
For the Tadka
Heat the ghee in a small saucepan over medium heat.
Add the cinnamon, cumin, and coriander. Cook the spices by swirling the contents of the saucepan until fragrant, about 1 minute. Pour the spices with the hot oil over the gnocchi and spinach.
Garnish with the feta and serve immediately. This dish tastes best the day it's made, but leftovers can be stored in an airtight container for up to 4 days. When reheating, add a few tablespoons of water.
Notes
You can use frozen spinach, but I've found fresh spinach always gives a bright shade of brilliant green. Remember to thaw it and adjust the water accordingly.
When it comes to preparing dishes like palak paneer, I've noticed spinach behaves just like potatoes. It sucks up flavors and for that reason, you might need to add a bit more salt and cayenne when flavoring the dish.
You can also use Kashmiri chilli powder in place of the cayenne for milder heat.
Kasoori methi or dried fenugreek leaves are classically used to make this dish. You will find this at Indian grocery stores or online. If you can't get your hands on some, it's fine, I skip it sometimes too since I don't always keep it in stock. A tiny amount goes a long way.
The starch in the gnocchi will keep absorbing water and I find reheating this dish with a few tablespoons of water after refrigeration helps loosen the saag up.