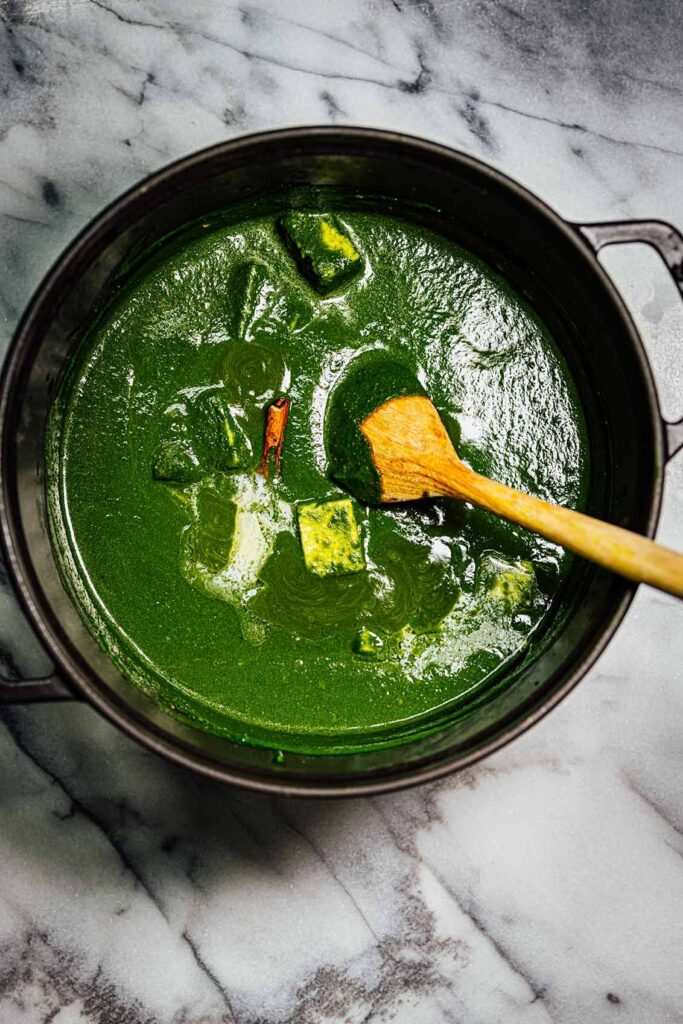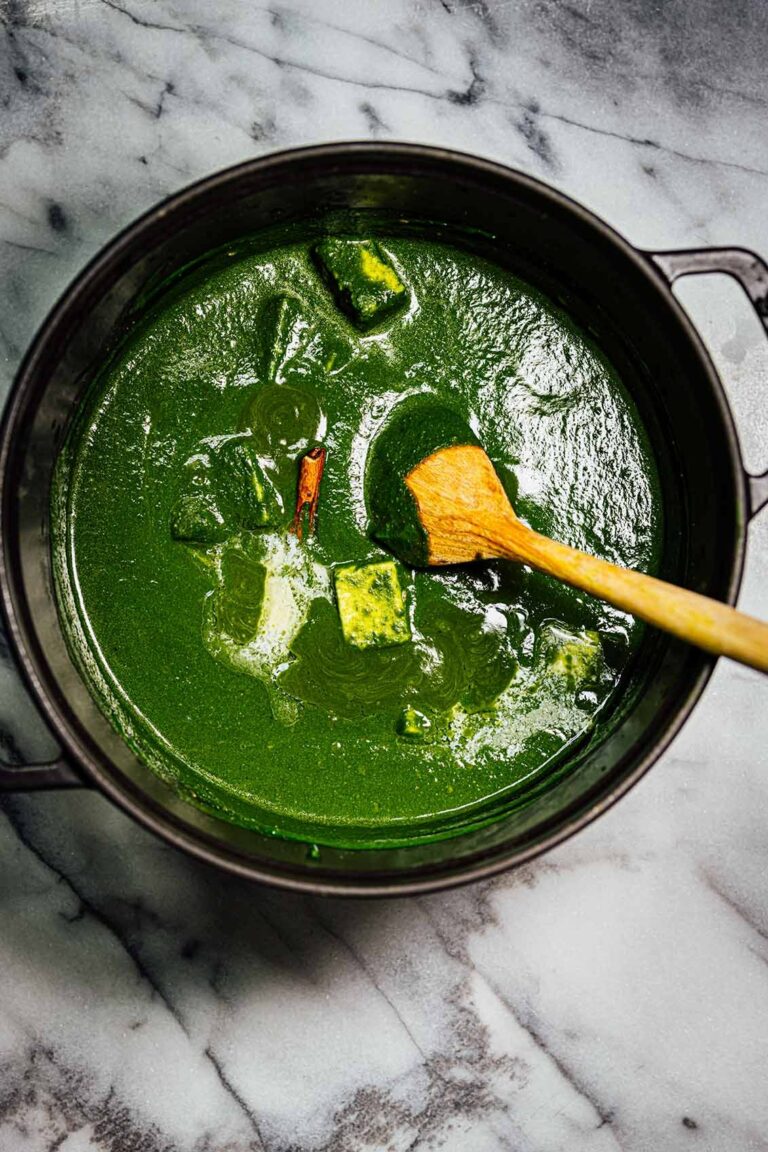 One of the most popular recipe requests on Facebook was for palak paneer, and I knew I couldn't end the year without sharing my recipe with you.
Palak Paneer
Before we begin, let's get to know paneer a little better.
What Is Paneer?
One of the issues that often come up in food writing, especially for some of us writers who work with non-European ingredients, is that we need to describe them using a more familiar counterpart even if there isn't one. Take paneer, for example; it's often called "Indian cottage cheese" or "Indian cheese". While paneer is a form of cheese, that description is misleading. People who make paneer for the first time and aren't familiar with it expect it to be salty. Almost all European cheeses are salted, but paneer is not. Paneer isn't the only example; kulfi, a frozen Indian dessert, is described as an Indian ice cream. This description conjures up images of soft scoops of ice cream, and kulfi most certainly doesn't qualify. Kulfi contains ice crystals and is firm enough that it can be cut with a knife. Kulfi's texture lies between a milky ice cream and a sorbet, but is firm. While I've used these descriptions when I write recipes to introduce ingredients and provide some kind of comparison, I often wonder if I'm setting the stage up for misconceptions.
To understand why paneer is made without salt, let's first see how paneer is prepared. Paneer is obtained by curdling boiling milk using an acid like lemon or lime juice, the whey is drained and discarded, and the curdled milk solids are collected. The milk solids are then rinsed well and then pressed to form a cake which gives the paneer its characteristic block-like structure. Salt is never added at any point, whether you make it at home or buy it from a grocery store or an Indian market.
Paneer is a firm product and is not a spreadable cheese. It also doesn't melt when heated, making it amenable to frying and other heat-based applications as it holds its structure. For this reason, paneer is added to dishes like today's palak paneer and grilled on skewers to make kebabs.
Homemade Paneer Is Often Too Soft Some of you who've made paneer at home might wonder why the paneer you've made isn't as firm as the one you've bought from stores. There is a reason for this, and it lies in the chemistry of milk. In India, buffalo's milk is more common than cow's milk and is often the source for paneer making (Cow's milk is more prevalent in the West). Homemade paneer made from cow's milk usually ends up like ricotta; it's difficult to press it into a block and cut it into cubes that hold its shape. The calcium content of milk from cows and buffalos (cow's milk has significantly lower calcium than buffalo) is very different, affecting the degree of firmness. When I was working on The Flavor Equation cookbook (learning how to make paneer using the recipe from the book), I tested cow's milk with different types of cooking acids. After multiple rounds of paneer making, I found that adding calcium chloride (an ingredient used in cheese making) along with lemon juice to cow's milk helped produce firm paneer just like the one sold in stores, it was also easier to press and shape, and then cut the cubes of paneer held on to their shape. Adding calcium chloride increased the calcium content of cow's milk and helped with the curdling of the milk (calcium chloride is an acidic salt and, when dissolved in water, lowers the pH and changes the electrical charges on the amino acids in the milk proteins). You can also read more about it at Serious Eats.
Paneer takes on the flavors of whatever it is exposed to (like tofu) and is high in protein, making it extremely popular in Indian cooking.
Palak Paneer Palak paneer is sometimes called saag paneer. Saag is the Hindi word for green leaves, and you can make this dish with mustard greens (the most common choice, especially in the Indian state of Punjab where mustard is grown) or spinach (the Hindi word for spinach is palak), but you can use any type of green leaves. If you think of a Venn diagram, saag paneer is the big circle, and palak paneer is the smaller circle inside it.
Some of the saag and palak paneer recipes will call for the addition of kasoori methi, aka sun-dried fenugreek leaves. You can buy this online or find it in an Indian grocery store. A little bit of this goes a long way; some people discover the flavor of fenugreek a bit potent, so use it accordingly or skip it.
To Fry Or Not To Fry As a child, I would only eat paneer fried if it wasn't; it felt like my world collapsed (I was a dramatic child, and I think as an adult, I've mellowed somewhat, but my family and friends might disagree). For no particular reason, I now prefer paneer in stews unfried, the texture feels so much more tender and delicate, and I love that. If you want to fry the paneer, do so by all means.
A couple of pointers before you make this dish. First of all, I am not convinced that 8 oz/230 g of paneer is enough to feed four people even as a side. Luckily because this recipe makes plenty of gravy, I've provided the option to double the paneer (so it can actually feed 4 people as a side or main), but I will leave this up to you. Some people prefer less paneer and more gravy. READ THE COOK'S NOTES.
Where To Buy Paneer – Indian Grocery Stores, Whole Foods, and many other grocery stores now sell paneer in the dairy aisle. You can buy a couple of blocks and freeze them. Thaw a block the night before you plan to use it.
Now, let's make this pot of palak paneer.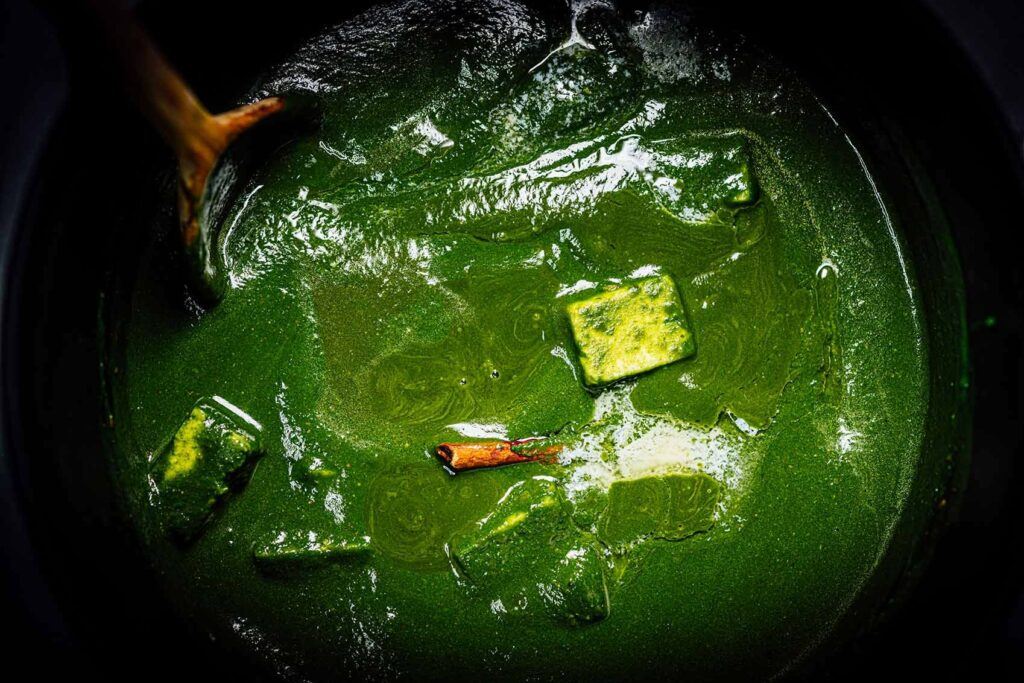 Print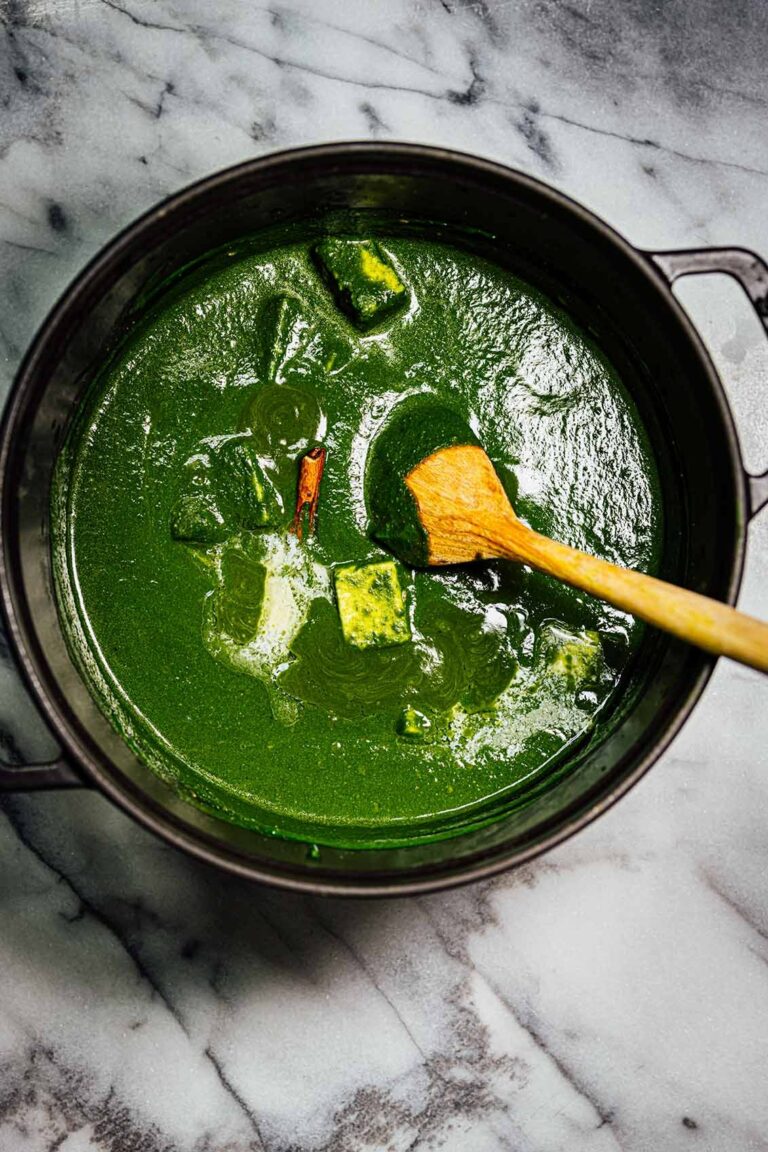 Palak Paneer/Saag Paneer
A bowl of warm Palak Paneer over rice or served with warm buttery naan or roti is Indian comfort at its best. I prefer the paneer straight up but if you like it fried, pan-fry them in a little oil and toss them in the sauce.
1 lb/455 g fresh baby spinach leaves

2 Tbsp water

1 medium onion, diced /150 g

1 Tbsp fresh ginger, peeled and chopped

4 garlic cloves, chopped

3 Tbsp/45 ml ghee, unsalted butter, or extra-virgin olive oil

One 2 in/5 cm piece cinnamon stick

1 Tbsp ground coriander

1 ½ tsp garam masala homemade or store-bought

1 tsp whole cumin seeds

¼ to ½ tsp ground cayenne

1 tsp kasoori methi (optional)

¼ cup/60 g plain, unsweetened Greek yogurt

Fine sea salt

8 oz or 1 lb/230 g or 455 g paneer, cut into 1 in/2.5 cm cubes (See The Cook's Notes)
Instructions
Place the spinach leaves with the water in a medium Dutch oven or saucepan over low heat. Cover with a lid and let cook until the leaves wilt completely and release their liquid, stirring occasionally to prevent the leaves from sticking and burning to the bottom of the pot, 10 to 12 minutes. Remove from the heat and carefully transfer the spinach with the liquid to a blender or food processor. Wipe the Dutch oven clean.
Add the onion, ginger, and garlic and pulse over high speed until silky smooth.
Heat 2 Tbsp of the ghee in the Dutch oven over medium heat. Add the cinnamon, coriander, and cumin and sauté until the spices turn fragrant, 30 to 45 seconds. Add the puréed spinach mixture and kasoori methi, and bring to a boil over medium-high heat, reduce to low, and simmer for 5 minutes, stirring occasionally. Remove from the heat. Fold in or whisk in the yogurt, return to the stove and simmer over low heat. Taste and season with salt. The consistency of the gravy should be thick, if you prefer it thinner add a little water, a Tbsp at a time.
Fold in the paneer and simmer until the paneer turns soft, 1 to 2 minutes. Taste one piece of paneer with the sauce, and season with salt if needed. Top with the remaining 1 Tbsp of ghee (I prefer butter here) and serve hot or warm with rice or flatbread like naan.
Notes
You can use frozen spinach, but I've found fresh spinach always gives a bright shade of brilliant green. Remember to thaw it and adjust the water accordingly.
When it comes to preparing dishes like palak paneer, I've noticed spinach behaves just like potatoes. It sucks up flavors and for that reason, you might need to add a bit more salt and cayenne when flavoring the dish.
Kasoori methi or dried fenugreek leaves are classically used to make this dish. You will find this at Indian grocery stores or online. If you can't get your hands on some, it's fine, I skip it sometimes too since I don't always keep it in stock. A tiny amount goes a long way.
You might be wondering why I've listed 8 oz/230g and 1 lb/455g options for paneer in this recipe. If you're serving this as a side for 4 people, 8 oz/230g of paneer will be enough but if this is meant to be a main dish or the only dish you make, then I recommend using 1 lb/455g of paneer for 4 people The amount of gravy here is enough for both purposes. Some people tend to like it with more paneer (me) and others with more gravy. This recipe gives you enough room for adjustment.
Be careful, when adding the yogurt to the gravy. Yogurt can curdle easily, and fat-free yogurt falls apart very easily on heating. To avoid this, use full-fat or at least 5% fat Greek yogurt, and add it after removing the pot from the stove.
You can pan-fry the paneer cubes instead of adding them directly to the gravy. To do this, fry the paneer in batches in ¼ cup/60 ml of neutral oil like grapeseed (olive oil will also work) till golden brown all over. Drain on kitchen paper towels and then add them to the gravy.