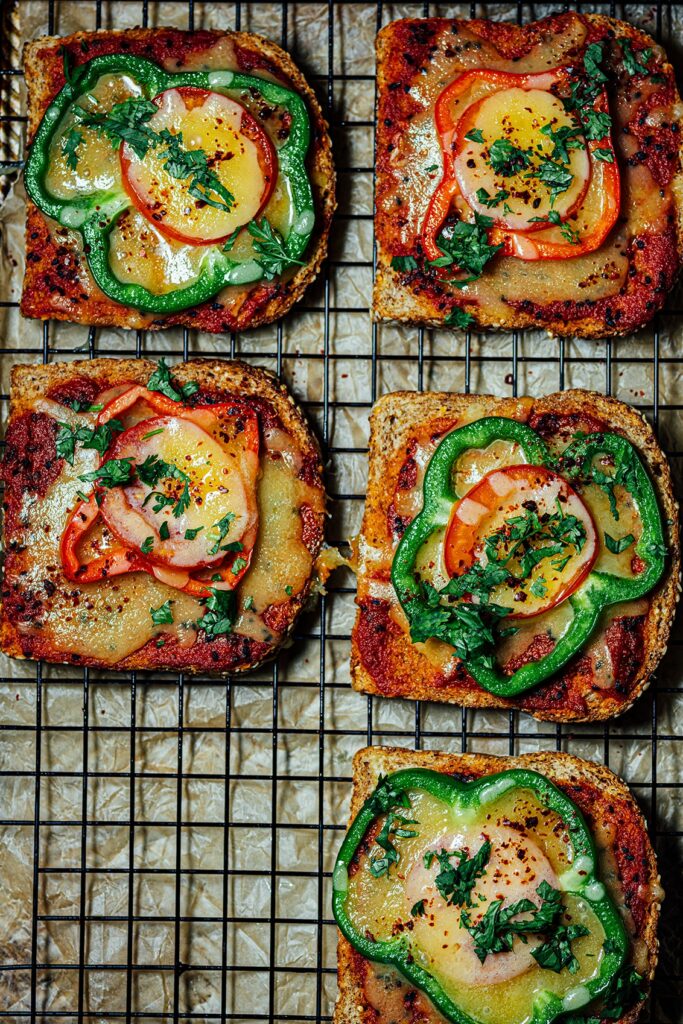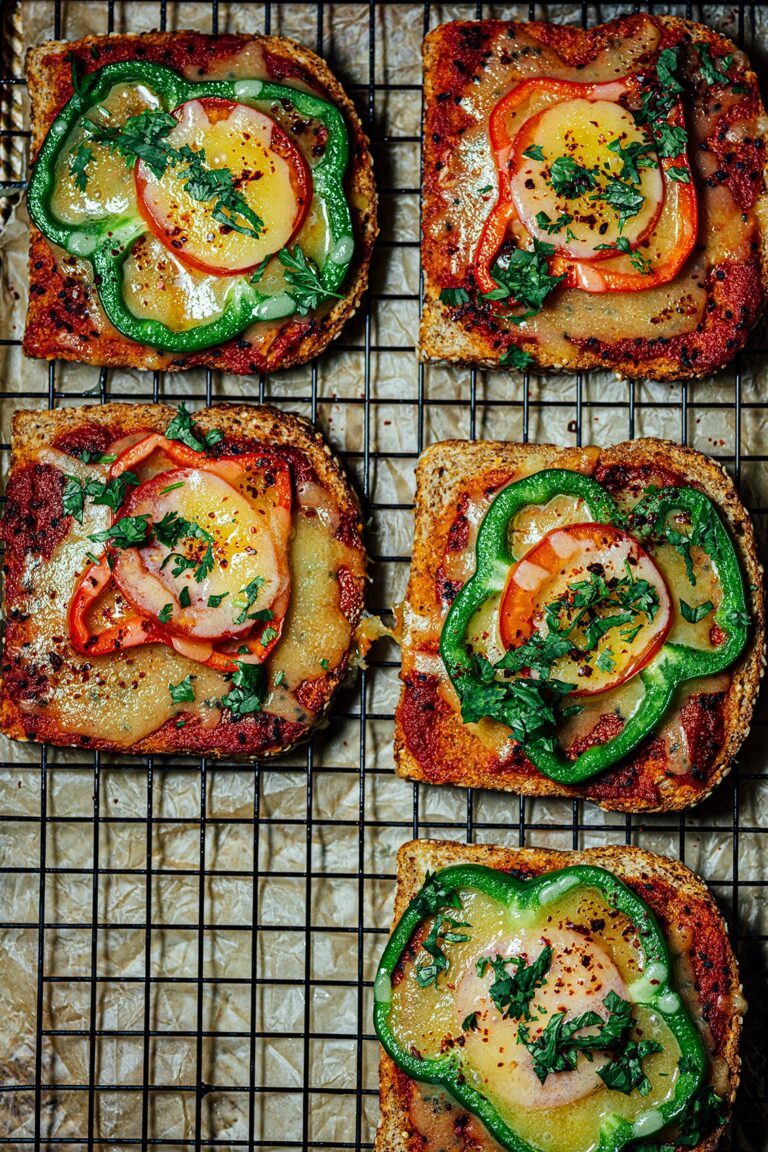 Thank you to everyone who came out to the Bake for Ukraine fundraiser at Now Serving L.A. Together, we helped raise nearly $12,000, and the money will go to UNICEF UK's Ukrainian Appeal. I want to give a big shoutout to Ken and Michelle at the bookstore and their volunteers who helped organize this special event and put it together.
Food Trends
"Pizza" toast is trending on social media, as per the folks at Food52! I first shared my love for this memorable take on pizza a few years ago in my book, The Flavor Equation. I eat it for breakfast on weekends or nights when dinner seems like an arduous chore that I don't want to spend too much time on.
"Pizza" Toast is Beautiful
The beauty of pizza toast is not in its looks; though I think it looks beautiful, it's in its remarkable ability to exist as conveniently. There's no dough to be prepared, or sauce prepped ahead of time. The composition is simple: a slice of bread subbing in for the pie's dough and all the accompaniments that make pizza, pizza. It's also flexible.
With each of us, our personal cooking styles adapt to what ingredients are available combined with the knowledge we have on hand. As I'd known it in India, Pizza toast was one of those adaptations. My first foray into the world of pizza toast happened as a kid when I stayed over with my older paternal cousins in India. At the time, unlike me, my cousins had traveled the world. With their father stationed in different countries, they had stayed in many beautiful countries and seen things I could only dream of. I suspect pizza toast was their way of bringing something back home and reinterpreting it to work with what they had on hand. However, pizza toast wasn't confined to their kitchen, and my cousins were probably not the first to make it; I came across it a few years later at a bakery in Bandra (a suburb of Mumbai, India) where I lived.
Pizza toast is meant to be fun and unfettered by rules. You make it the way you want to. We certainly did so in India, and I still take a whatever-works-with-it approach. The pizza sauce didn't taste like the pizza sauce I am now familiar with; the cheese was cheddar, and it wasn't mozzarella. Cilantro took the place of parsley, and chilli flakes were also sprinkled generously. I've even seen one version at an Indian bakery with fresh green chillies and mustard seeds. Yet, these different avatars of pizza toast worked and tasted delicious. So go ahead and use the bare bones of my pizza toast recipe and tweak it to satisfy your craving; that's what pizza toast is all about.
I might top these off with anchovies this week; I've got one last tin sitting on my desk. Some people keep flowers on their office desks; I keep tins of anchovies and sardines.
Print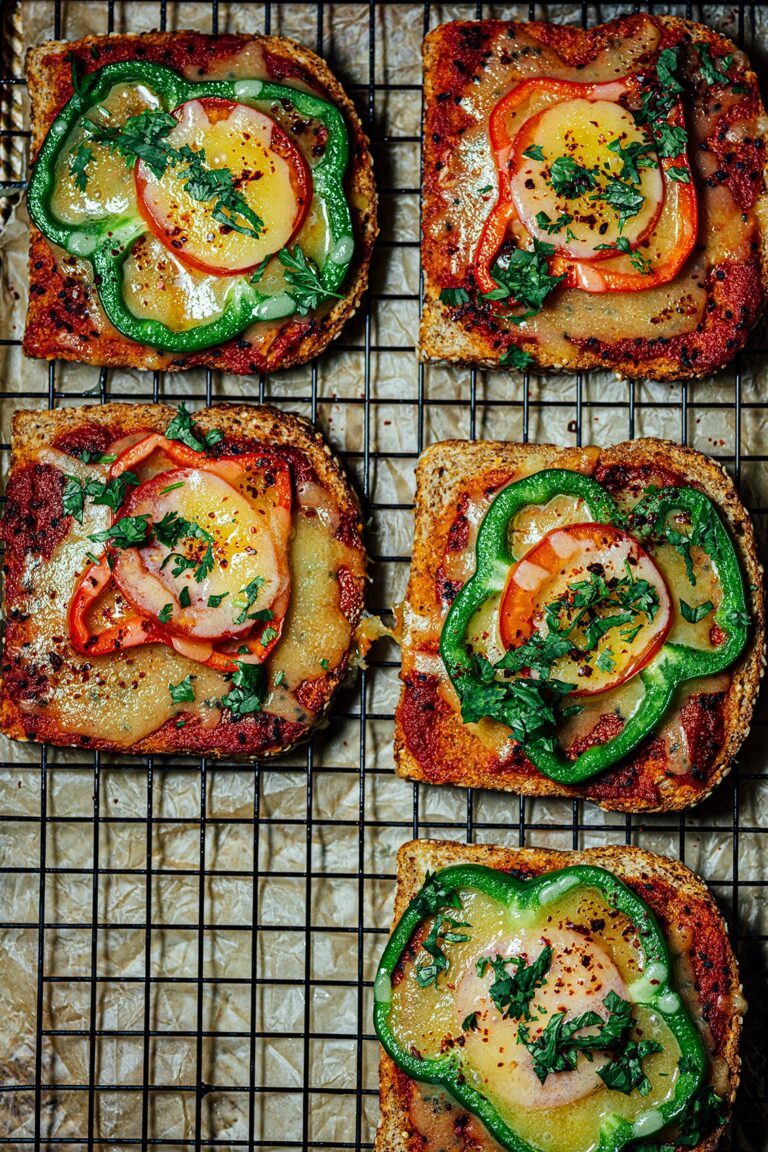 ¼ cup/55 g unsalted butter or extra-virgin olive oil

4 slices sandwich bread

¼ cup/60 ml marinara or pizza sauce (there's a quick marinara recipe in The Flavor Equation)

¼ cup/60 g of your favorite cheese you like to eat on pizza, shredded

1 medium/200 g bell pepper, cored and thinly sliced into rings

1 medium/140 g tomato, thinly sliced into rings

Fine sea salt

Fresh coarsely ground black pepper

2 Tbsp chopped flat-leaf parsley or cilantro

1 tsp red chilli flakes, such as Aleppo
Instructions
Line a baking sheet with parchment paper and set a wire rack on top (this wire rack part is optional, but it helps the toast cook nicely from the bottom).
Brush each slice of bread with butter or oil and place them on the rack.
Spread 1 generous Tbsp of the marinara sauce on top of each slice. Sprinkle 1 Tbsp of the cheese over each slice. Add a slice of bell pepper and tomato on top of each slice and reserve the extra bell pepper and tomatoes for another purpose (salads or make more pizza toast). Season with salt and pepper. Sprinkle the remaining cheese on top of the slices and bake in the preheated oven until the bread is toasted and turns golden brown on the edges, 10 to 12 minutes. Remove from the oven, garnish with ½ Tbsp of parsley, and a good sprinkle of the red chilli flakes. Serve immediately.
Notes
The wire rack isn't essential, but I've noticed it does crisp the bottom side better as it helps increase the airflow around the bread as it cooks.
Sourdough bread will make this fancier, but sandwich bread is also good.
Pizza sauce is a little thinner than marinara sauce. Either works here.
Your cheese choices are endless, sharp cheddar is what I first ate this with, but mozzarella, parmesan, etc. are all good here. If you use fresh mozzarella, make sure to press and pat it with dry clean paper towels or lint-free kitchen towels to get rid of any excess water in it, or it will make the toast soggy.