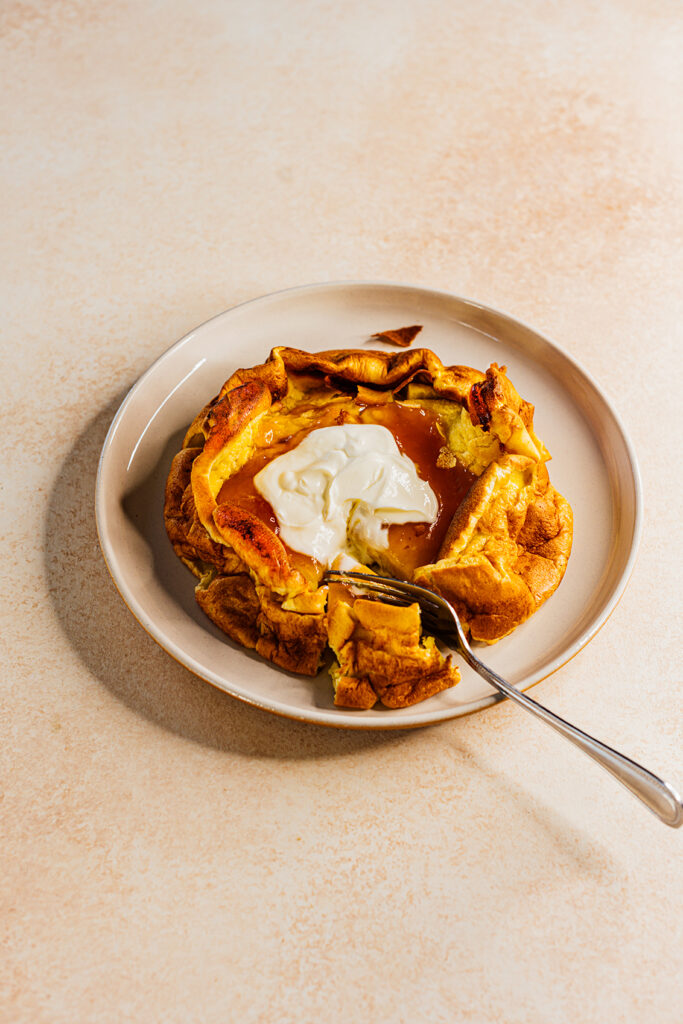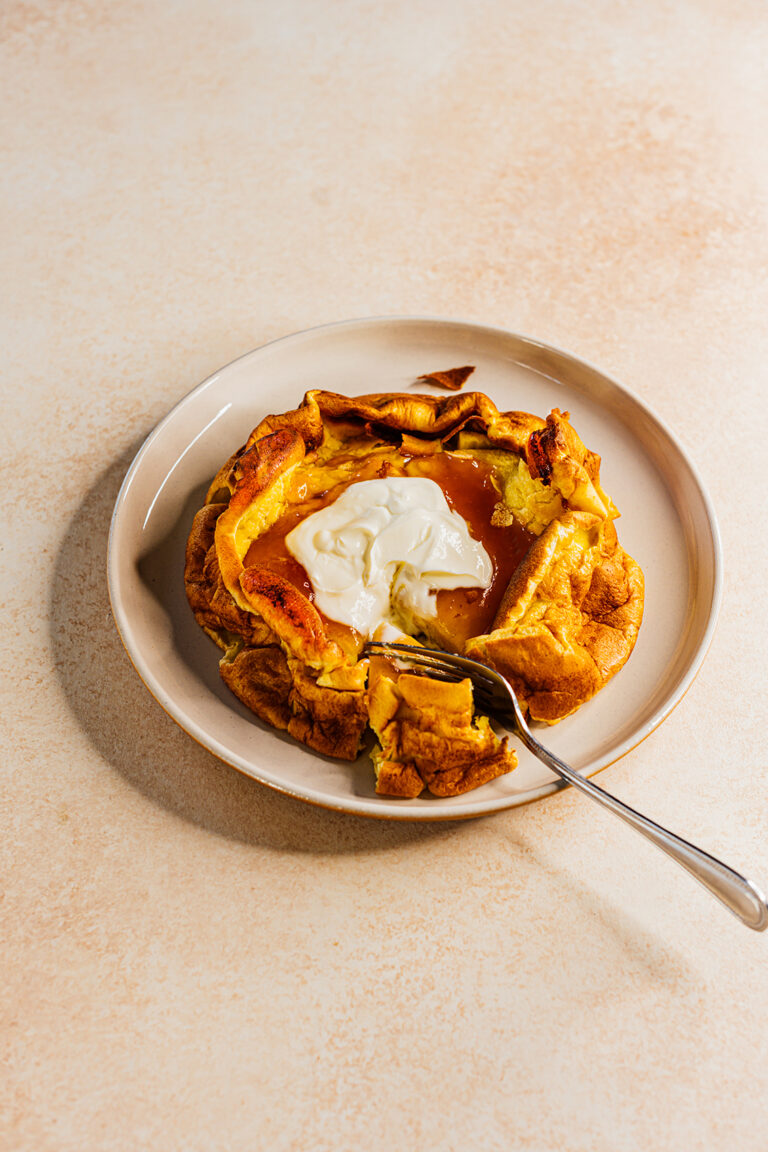 This recipe was meant to go out on the day of Pancake Tuesday, but I ran into some technical issues. I didn't think you'd mind my sharing a pancake recipe outside Pancake Tuesday since you certainly can and should eat pancakes year-round.
As a kid, I looked forward to this day because of the large stash of pancakes my mother and her family prepared. In the Goan Christian community of India, the pancakes eaten on this particular day are a little different; they're called alle belle (I've written about them in my previous column at The San Francisco Chronicle). The pancakes are thin, like crepes, made with eggs, flour, and coconut milk and filled with a sweet mixture of fresh coconut sweetened with jaggery (a form of unrefined sugar made by concentrating coconut palm sap or sugarcane juice). Get the Recipe for Alle Belle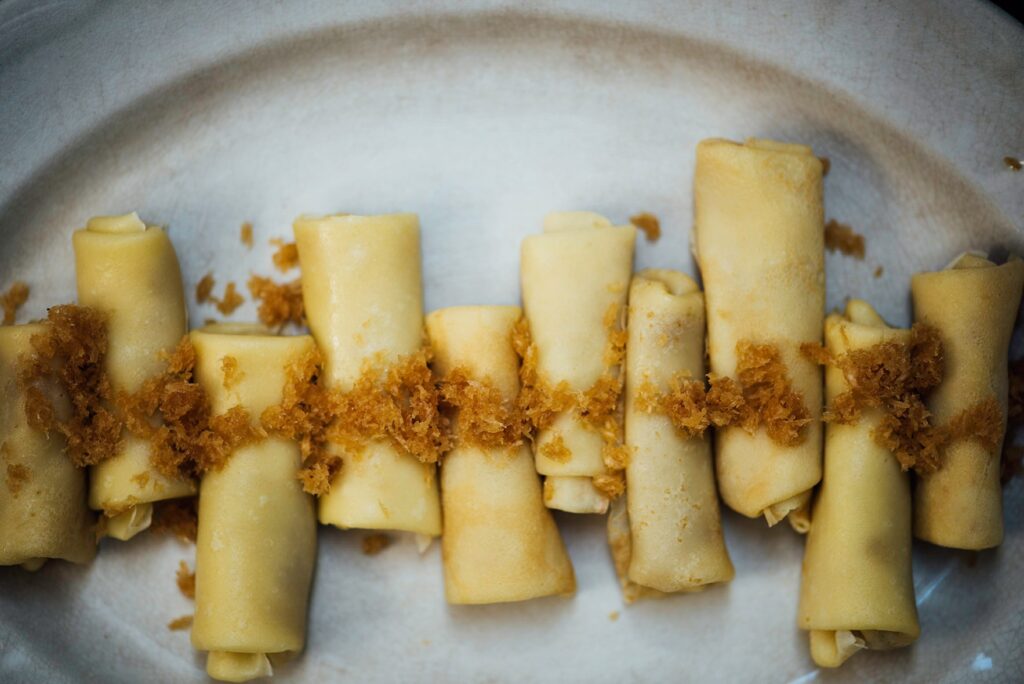 I wanted to tackle something different this year, and Dutch babies were on my list.
Before we get into the recipe, I want to take a quick moment to share how we can help the folks affected by the war in Ukraine. U.K.-based Ukrainian cookbook author Olia Hercules has been writing and sharing information about her family's experiences back in Ukraine and suggesting ways for us to come together and help. Another useful resource to check out includes the one by Global Citizen and do check out, World Central Kitchen, which is working hard to feed people at the borders. I'm also working on something in L.A. with the cookbook store Now Serving to help raise funds, and I will get those details out to you as soon as things are finalized.
Dutch Baby
When it comes to pancakes, Dutch babies or German pancakes are unique in how they're made and look. They look like giant Yorkshire puddings, the texture is like a clafoutis, and their wavy puffy edges are reminiscent of a souffle. On a breakfast table, Dutch babies look magnificent. Like Adele at a performance, they can be confident and elegant when dusted with confectioners' sugar and served with slices of lemon or dramatic and splendid like Lady Gaga when ornately decorated with fruit preserves or chocolate. No matter what route (or concert you attend), a Dutch baby will make you happy.
Making A Dutch Baby
Almost all recipes are by design, an exercise in thermodynamics and either trying to achieve a balance or imbalance to create a particular texture and flavor. A Dutch baby is no different. Specific ratios and combinations of butter, eggs, flour, and milk are whisked together at high speed to produce a stable emulsion and foam that is then supplied with a tremendous amount of energy via the heat from the oven to change the physics and chemistry to create the fluffy pancake.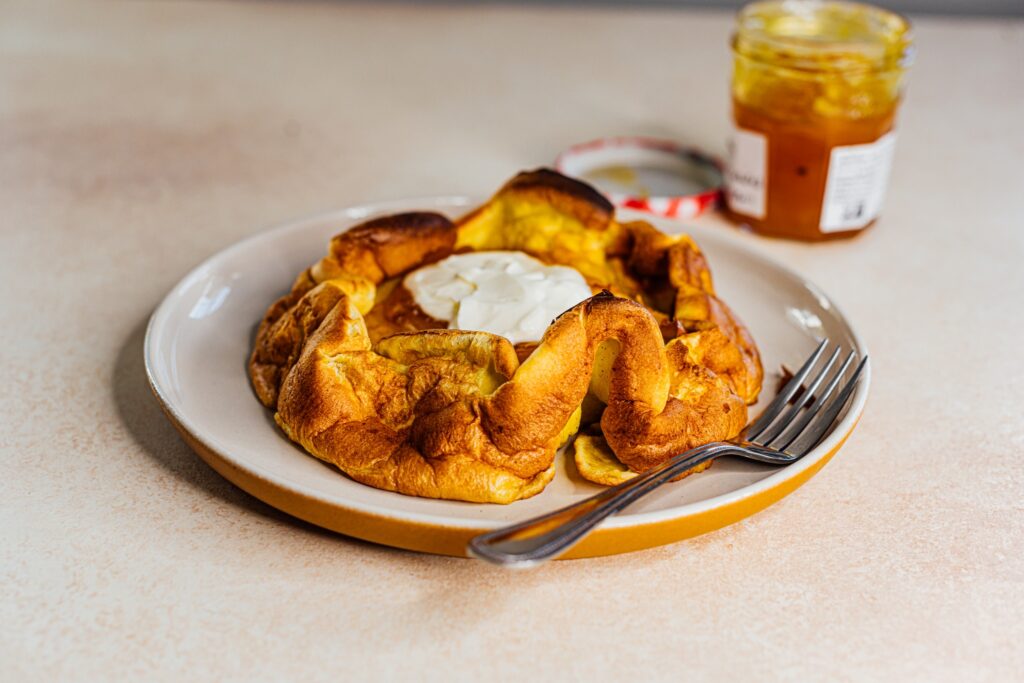 A Dutch Baby Is A Stable Emulsion and Foam
Emulsions and foams are very important for breads, cakes, and, you guessed it, pancakes and Dutch babies too! Emulsions and foams help trap and retain air bubbles to produce bubbles in these foods and give them their light, airy feel, or else it would feel like eating a solid chunk of wood. The emulsion is an oil-in-water type where the oil/fat is dispersed in the water phase. The fat and water come from the eggs, milk, and butter. As a foam, Dutch babies (and cakes and breads) fall into the solid foam category; the air is whipped into the solid phase (the flour). As for emulsifying and leavening agents, those are contributed by flour, eggs, and milk, and no chemical leaveners like baking soda are added.
To make a Dutch baby, it is critical to warm the eggs, milk, and butter to room temperature. The warm temperature helps the proteins and fats (from the whole milk, eggs, and butter) form a much more stable emulsion than possible if the ingredients were kept cold. The addition of sugar to the batter isn't so much for taste (it does help sweeten the Dutch baby a little, most of the sweetness in this pancake comes from the final dusting of confectioner's sugar or the addition of jam, etc., before serving), instead it helps stabilize the egg proteins in the emulsion. Once the batter is baked, the emulsion cooks and transforms into the Dutch baby's characteristic light and pillowy texture. A general rule of thumb for Dutch pancakes is to keep the ratio of milk and flour at 1:1 by volume (by weight, it's a little closer to 2:1).
How to Make a Dutch Baby
Whisking
You could make this by hand and whisk everything together in a bowl, but a high-speed blender is much more efficient at creating a stable emulsified batter. It's also quicker and has fewer things to clean up.
Baking
A Dutch baby is a baked pancake. The oven temperature is kept very high (425F/220C) to help quickly cook the batter in the pan and denature the proteins to help the pancake rise and turn fluffy.
The Choice of Baking Dish
Your best bet is to use a metal dish to make the Dutch baby. Cast-iron and aluminum baking pans produce better results than glass and ceramic baking dishes. Metals transfer heat much more quickly, which helps bake the pancake speedily and more efficiently. If you use glass or ceramic, the bake time will increase, and the pancake will scorch easily.
The size of the baking dish affects the raised edges of the Dutch baby, so stick to the diameter listed in the recipe, or else the sides won't ruffle as nicely. The baking dish must be very hot before adding the batter. The easiest way to approach this is to stick the cold pan in the cold oven and heat them together. Pull the pan out when the oven reaches 425F/220C, grease, and pour the batter in.
Butter
Butter is a superior fat when creating a natural non-stick coating. Not only does butter contain fat and water, but it also contains milk proteins and amino acids that love to attach to the surface of the metal pan. As it heats, this helps from a "non-stick layer" that sits between the pancake batter and the pan, and the pancake slides off easily (this is true for fried eggs too).
Instead of melting the butter separately in a microwave or on the stove in a saucepan, I add the butter to the hot pan as soon as it comes out of the oven. Quickly swirl the pan carefully to coat well; if that doesn't work, brush the melted fat with a silicone pastry brush. Once that's done, pour the batter into the hot pan and immediately stick it into the oven.
Baking
Baking progresses rapidly, so watch it carefully. I've found placing the pan at the lower one-third position in the oven helps the base of the pancake set nicely. At about the 10 to 12 -minute mark, start to watch the pan carefully; as soon as the Dutch baby rises and turns golden brown, it will be ready. It will be spring back readily when gently pressed. You can also use a thermometer to check doneness but make sure you stick the probe into the thickest part of the pancake.
A cast-iron skillet has lower edges, so a flat spatula or an offset spatula will work. If you use a cake pan as I did, a flipper, offset spatula, or slotted offset spatula will be your BFF.
Flavors
You can use vanilla, ground green cardamom, cinnamon, nutmeg, etc. Anything fragrant that works well in sweets will work great here. As for toppings, the sky's the limit, with a good dusting of confectioner's sugar being the most common. Honey, agave or maple syrup, fresh fruit, fruit curd, fruit preserves, jams, chocolate, etc., are all lovely choices. In this version, I've used cardamom in the batter and a mango jam with creme fraiche.
Print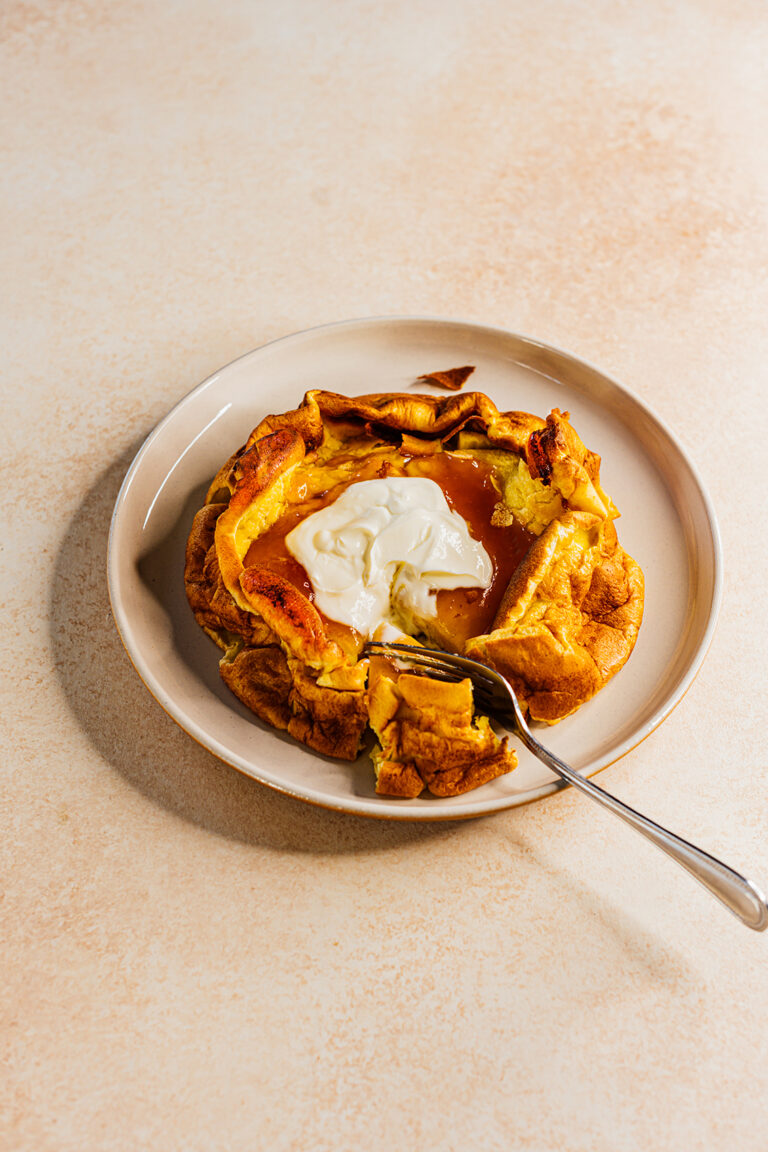 Dutch Baby
A Dutch Baby is a marvelous addition to a breakfast or brunch menu. This is a sweet version that I like to serve with fresh fruits, fruit preserves, fruit curds, and either lightly whisked Greek yogurt or crème fraîche.
3 large eggs, at room temperature

½ cup/120 ml whole milk, at room temperature

½ cup/70 g all-purpose flour

1 Tbsp sugar

¼ tsp ground green cardamom or 1 tsp vanilla extract

4 Tbsp/55 g unsalted butter, cubed at room temperature

3 to 4 Tbsp mango jam or whatever jam or fruit preserves you love

2 Tbsp crème fraîche
Instructions
Place an 8 in/20 cm round cake pan, cast-iron skillet, or metal pie dish on the rack set at the lower one-third position of the oven. Set the oven to 425F/220C.
Prepare the batter. Add the eggs, milk, flour, sugar, and cardamom to a blender. Add 2 Tbsp of butter. Blend over high speed until the mixture is combined and there are no dry specks of flour. Let sit in the blender while the oven heats up. The batter can sit in the blender for up to 20 minutes but give it a quick blitz or stir before pouring it into the hot pan.
Once the oven heats up, remove the hot cake pan and quickly drop the remaining 2 Tbsp of butter. Swirl the pan as the butter sizzles to coat well. You can also brush the sides of the pan with the hot melted butter using a pastry brush.
Pour the batter into the hot, greased pan and transfer to the preheated oven. Bake until the batter sets, turns golden brown on top, and fluffs up and turns wavy. Start watching the pan at 10 minutes, rotating halfway through during baking, total baking time 15 to 20 minutes. The internal temperature measured at the thickest part of the Dutch baby should be 200F/95C. Remove the pan from the oven and let sit for 5 minutes. Release the Dutch baby using a flipper, offset spatula, or a slotted offset spatula and transfer to a serving plate. Top the Dutch baby in the center with jam and crème fraîche, cut into wedges, and serve immediately.
Notes
To ensure a fluffy pancake, start with eggs, milk, and butter warmed to room temperature. For this recipe, cold ingredients are not your friends.
I don't add salt to the batter, and I didn't find any difference in taste to warrant adding it in. (Except for bread and cakes, I find that most desserts don't need added salt).
Cast-iron skillets, metal cake pans, and metal pie dishes produce fantastic results.
I know confectioners' sugar is the topping of choice for most Dutch babies, but I've used jam in this recipe, and I find adding sugar makes it way too sweet. However, if you want a dusting of sugar, go ahead.