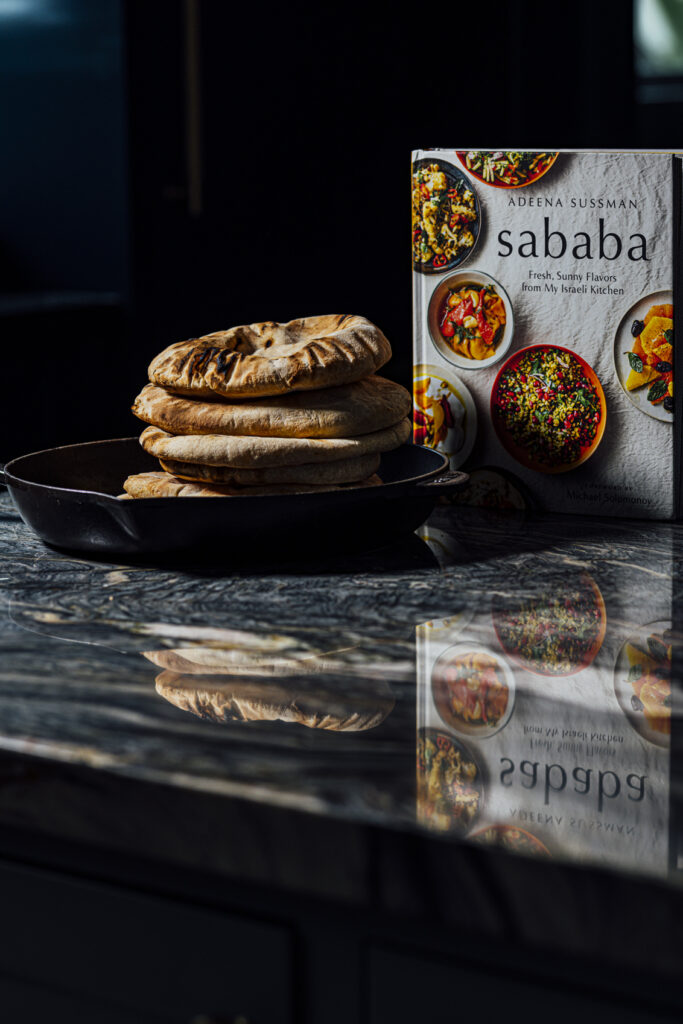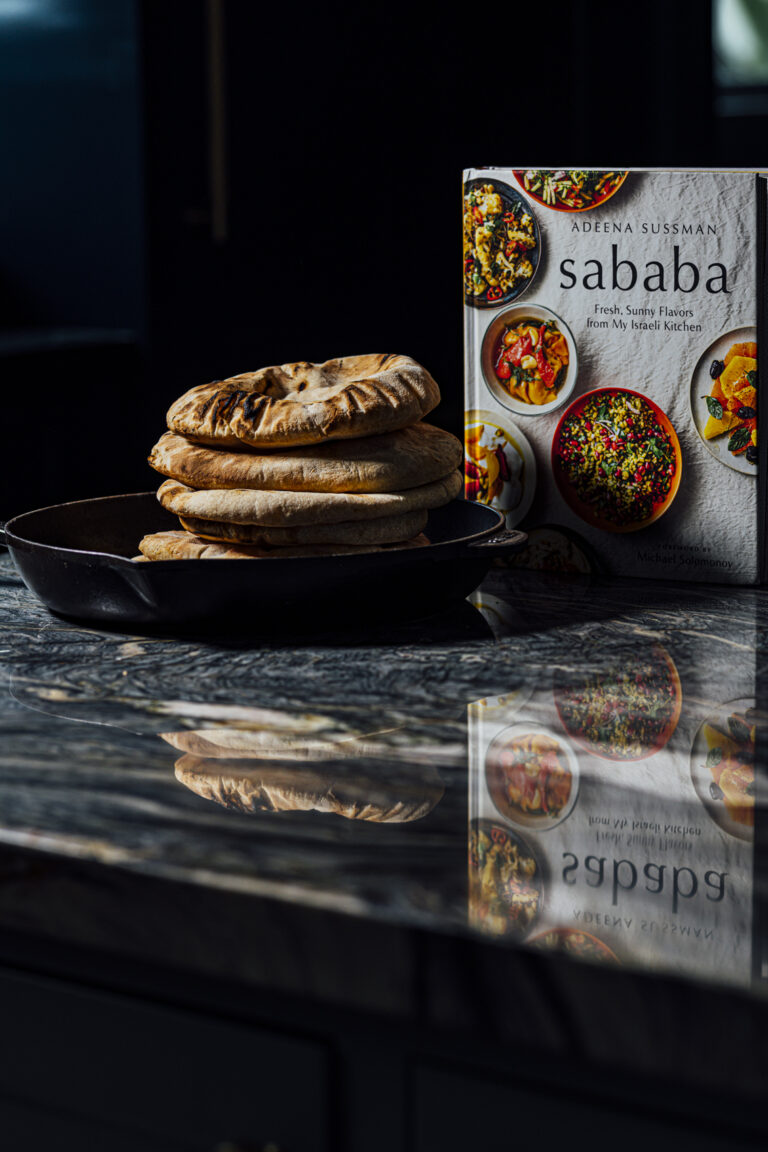 Sababa is a state of being; where everything is cool as can be. It means, quite simply, "everything is awesome". – There is no better way to describe Adeena Sussman's book than by its title. The book and the recipes are vibrant, colorful, and full of life, and every time I open my copy, I'm excited to dig through and cook something new. Several recipes in Sababa are favorites, and many that I've marked to try – Pitaquiles (perfect for a weekend breakfast or brunch), Lachuch, Melted Green Cabbage, Mushroom Arayes with Yogurt Sauce, and Tahini Caramel Tart are just a few that are on regular rotation here. I picked Adeena's cast-iron skillet pita recipe to share with you because it is my go-to recipe; dare I say, it creates the perfect pita.
Adeena's pita recipe relies on one important idea to create this bread's characteristic airy puffy texture – a large quantity of yeast to accelerate fermentation quickly. You can use a cast-iron skillet to make the pita as instructed in her recipe, but I've successfully relied on my Baking Steel (a pizza baking stone can also be used) to cook the pita (Read the Notes in the recipe for more details). Use what you have; this recipe adapts well to either tool.
Get your copy of Sababa (Amazon/Bookshop)
Read my interview with Adeena Sussman here.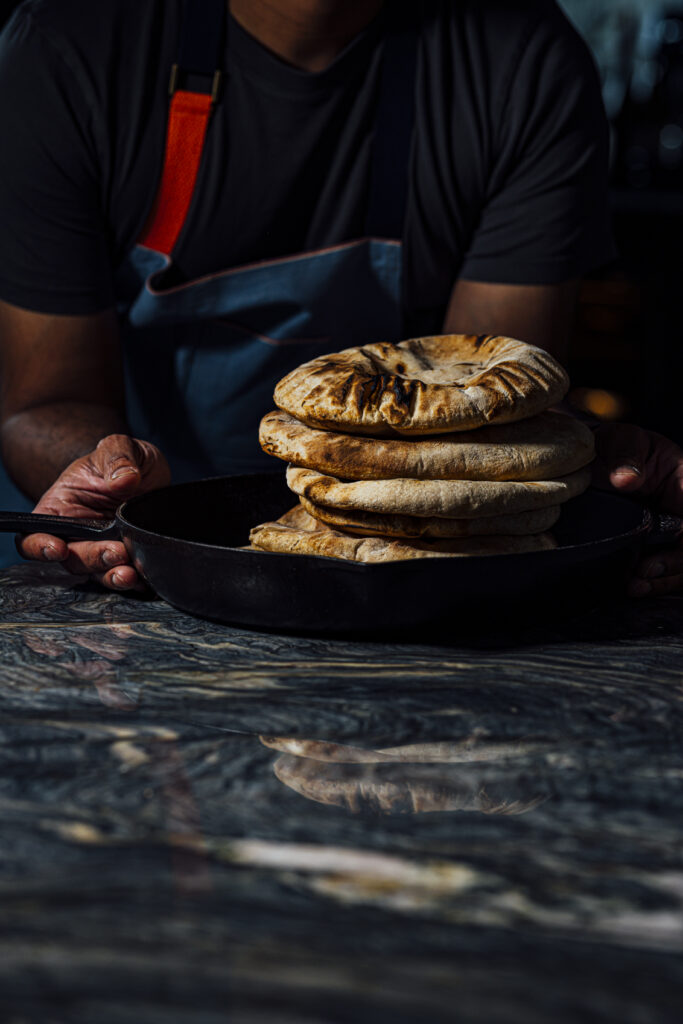 Print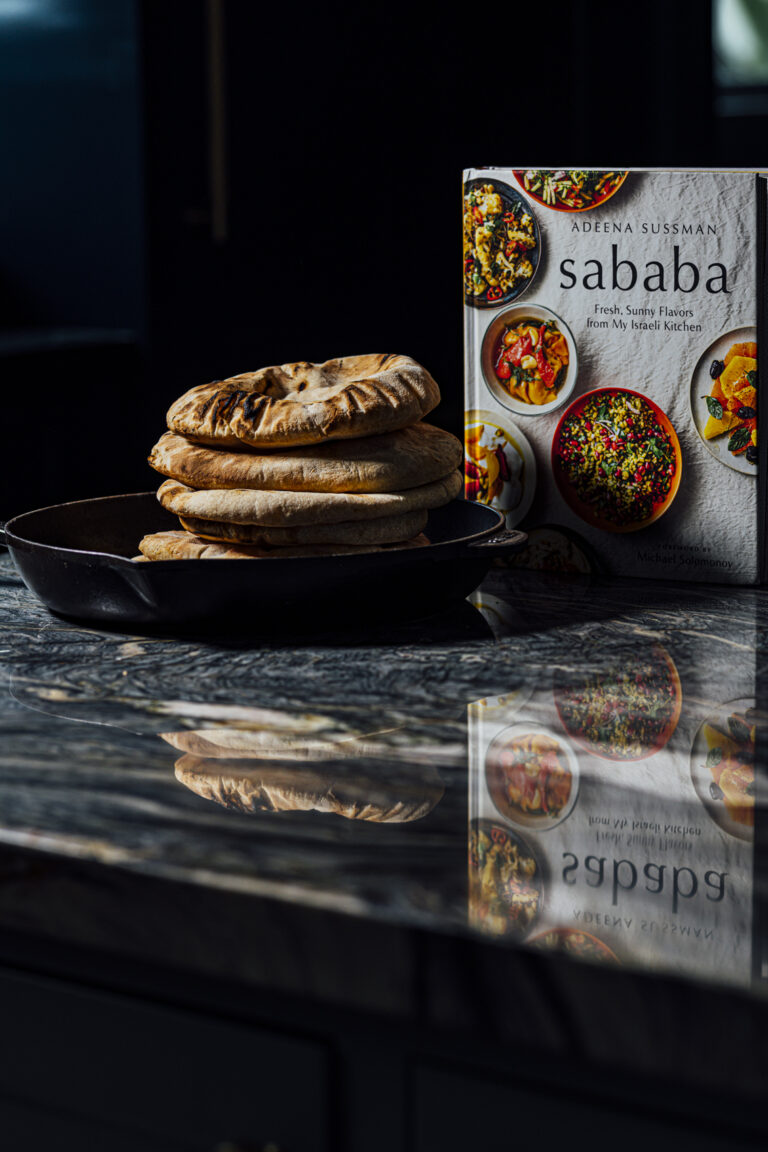 Cast-Iron Skillet Pita
Pita is the stuff of life in Israel. For swiping hummus, stuffing sandwiches, or making a grilled cheese sandwich in a pinch – nothing beats a fresh round of this gluten-bound cornerstone of Israeli cuisine. You can buy them at every bakery and corner shop, but there's something about watching a pita puff up in your oven that is incredibly satisfying. My stepdaughter Shani's Iraqi father-in-law, Ezra Ovadia, took up bread baking when he retired a few years ago. In addition to delicious challahs and rolls, he makes pita every Friday for his family's rather unconventional Sabbath eve sabich dinner (sabich is typically eaten on Shabbat morning by Iraqi Jews). "His pitas always puff up," Shani told me. "I wonder how." One Friday when we were invited over to Ezra and his wife Carmela's for dinner, he invited me to come early to participate in the pita-making process. After a dough of both all-purpose and whole-wheat flours was risen, separated into balls, rolled out into rounds, and risen again, Ezra plugged in a plastic- handled aluminum contraption I'd never seen before. He placed a disc of dough on one side, and on the other an electric coil glowed. When closed and placed on the stovetop, the pita was heated from both sides, creating the blast of high heat that forced the dough into its signature pocket shape. I wanted to approximate this experience at home without such a machine, or even a pizza stone. Enter the underside of a cast-iron skillet. If you keep it clean, without any oil or burned bits on it, it's the perfect pita-baking surface (as is the flat side of a cast-iron griddle). I have one that I keep separate, expressly for this purpose. And since a good Lodge cast-iron skillet can be purchased for less than $15, you mightconsider doing the same; you can even do two pitas at a time if you have a 12-in/30.5 cm pan.
3 cups/420 g all-purpose flour, plus more for shaping
1 cup/140 g whole-wheat flour
2 cups/475 ml warm water
4 tsp instant (rapid-rise) yeast
1 ½ Tbsp sugar
2 Tbsp olive oil
1 Tbsp fine sea salt
Instructions
In the bowl of a stand mixer, use a wooden spoon to mix 1 cup/140 g of the all-purpose flour, ½ cup/70 g of the whole-wheat flour, 1 ½ cups/360 ml warm water, the yeast, and ½ tablespoon of sugar. Rest, uncovered, until puffed and foamy, 20 to 25 minutes. Add the rest of the all-purpose and whole-wheat flours, the remaining ½ cup/120 ml water, the remaining 1 Tbsp sugar, the olive oil, and the salt. Attach the dough hook and bring the dough together over low speed, then raise the speed to medium and knead the dough until slightly springy but still slightly soft and sticky and pulling away from the side of the bowl, 5 to 6 minutes (add flour by the tablespoonful if needed, but try not to add too much). Remove the dough hook, cover the dough with a clean kitchen towel, and let it rest in a warm place until doubled in size, 45 minutes to 1 hour.
Refrigerate the covered bowl for another 45 minutes to 1 hour (this helps develop the flavor and texture of the dough).
Flour a work surface, uncover the dough, gently transfer it to the board, and shape it into a rectangle about 1 in/2.5 cm thick. Use a sharp knife to cut the dough into 8 equal pieces, then form each piece of dough into a ball, tucking the ends underneath and pinching them together gently to help encourage a nice round shape. Cover the dough balls with a clean kitchen towel and let them rise for 30 minutes.
While the dough is rising, take a clean cast-iron skillet or griddle and scrub off any bits stuck to it (these can burn). Arrange a rack about 8 in/20 cm from the broiler, invert the skillet, and place it on the rack. Preheat the oven to the highest it will go (500/260C or 525/274F, or even 550F/290C).
Uncover the dough, gently flour each ball, and use a rolling pin to roll the dough into a circle by rolling up and down to form a 6 in/15 cm oval. Rotate the oval 90 degrees, then roll the dough again; it should roll into a beautiful 5 in/13 cm round. As you roll the dough into rounds, place them on the towel and cover them with another clean towel and let them sit for 10 to 15 minutes, until the pitas have fluffed up to about twice their original height.
Uncover the dough, open the oven, and place one of the rounds flat on the skillet, working quickly and closing the over so it holds its high temperature. Bake the pita until it's puffed and golden, 2 to 2 ½ minutes. Using a spatula, remove the pita from the skillet and repeat with the remaining pitas, letting the oven and skillet preheat for a minute or two between pitas (if you have a really large skillet or a long cast-iron griddle, you can do two pitas at a time). Let the pitas cool, then ideally eat while still warm. Once cooled, wrap individual pitas tightly in plastic wrap and freeze for up to 3 months. To serve, defrost, then toast in a toaster over; heat in a 400F/200C oven for 3 to 4 minutes, or warm directlyover a flame on your stovetop.
Notes
I didn't use a cast-iron skillet to make the pita and instead used my baking steel. A pizza stone will also work great. Place the baking steel or pizza stone in the oven and then heat the oven.
The cooking time varies; it took me about 4 to 5 minutes to cook each pita in the oven until golden brown. Once light brown and golden, I quickly toasted them directly over the gas stove using my jali.