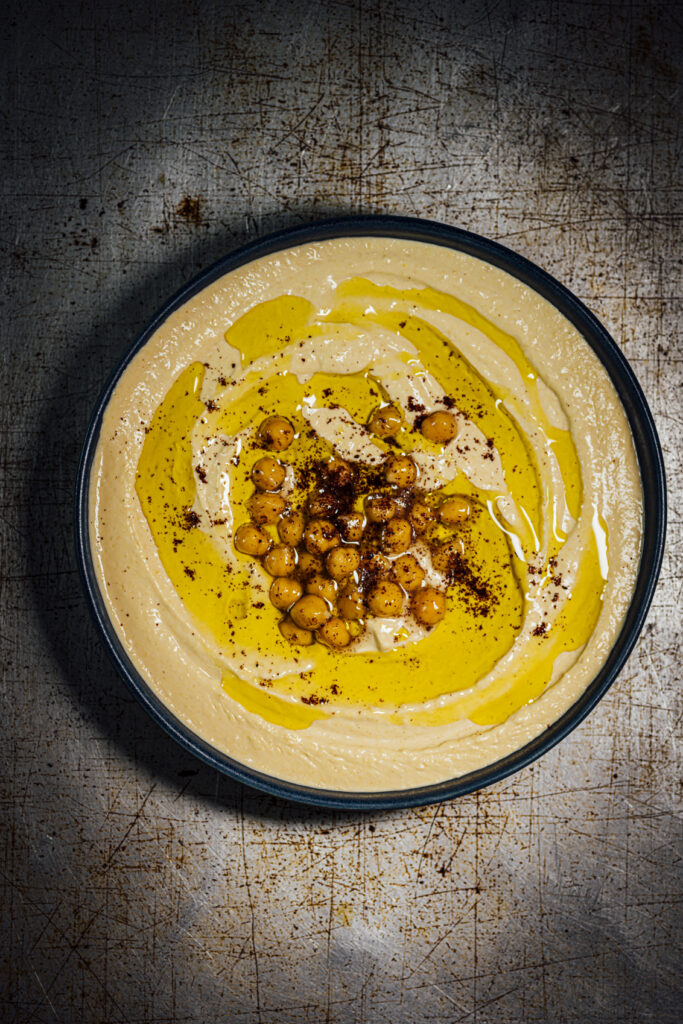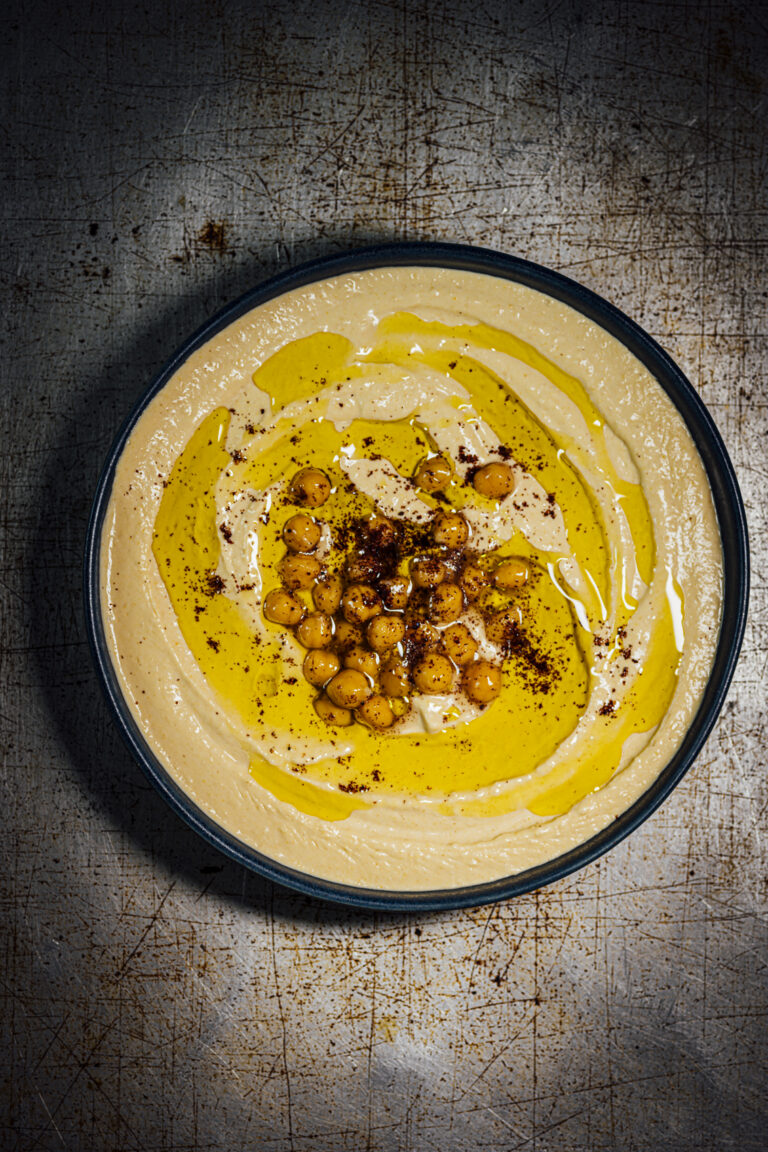 Print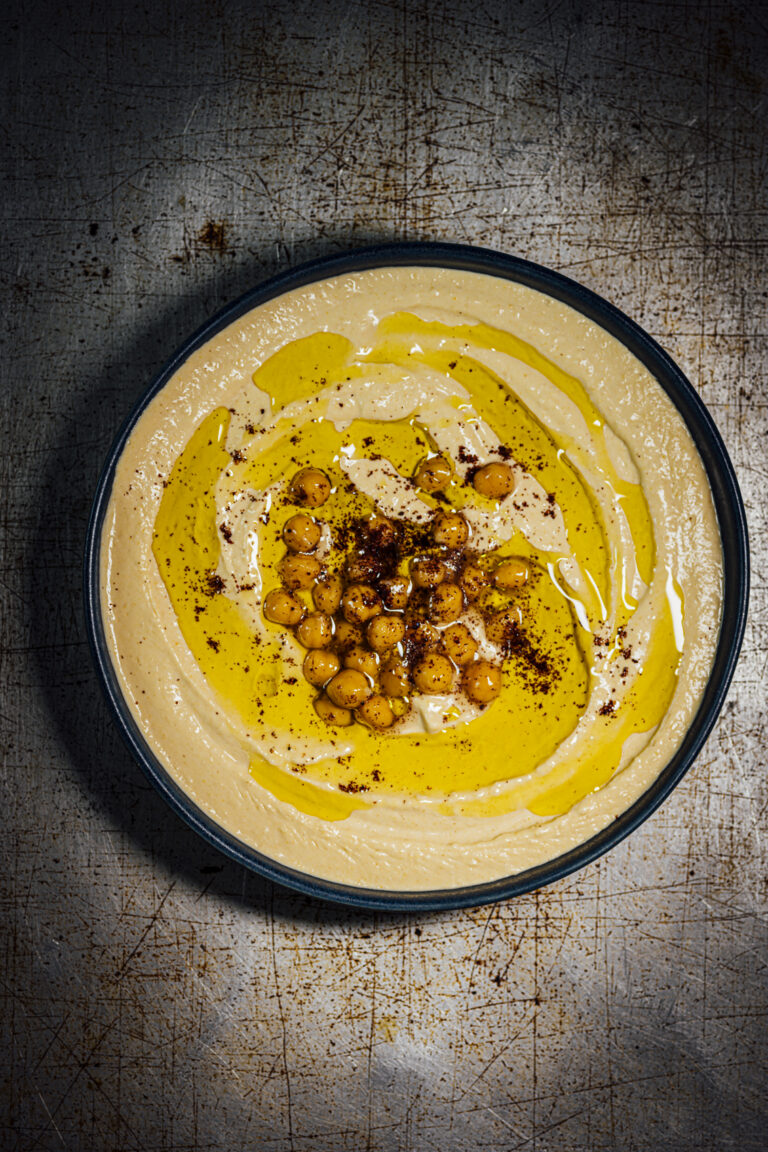 Extra-Creamy Hummus
Hummus is a staple of Middle Eastern cuisine and is one of my favorite dips to keep on hand. The creaminess of this recipe depends on a few things besides the right ratios of ingredients. Start with home-cooked chickpeas (though canned chickpeas work perfectly fine). Use chilled cooked chickpeas and cooking water, and let the hummus rest and chill in the refrigerator; the cooler temperatures help stabilize the emulsion and make it thicker. If you have time and the patience, peel and discard the skins for a smoother texture but honestly, I rarely do this.
14 oz/400 g chilled chickpeas cooked plus 2 Tbsp for garnish
1/2 cup/150 g tahini
1 to 2 garlic cloves (See Notes)
1/2 tsp ground toasted cumin
1 tsp citric acid or 1/4 cup/60 ml lemon juice (see Notes)
1/2 cup/120 ml chilled chickpea cooking water
fine sea salt
1 tsp ground sumac
2 Tbsp extra-virgin olive oil
Instructions
Place the 14 oz/400 g of chickpeas, tahini, garlic, cumin, citric acid or lemon juice, and chickpea cooking water. Blend over high speed until smooth and creamy. Taste and season with salt. Add additional citric acid or lemon juice if needed. Transfer to a serving bowl or an airtight container, and refrigerate for 1 hour.
When ready to serve, garnish the hummus with chickpeas and sumac. Drizzle the olive oil and serve immediately. Leftovers can be stored in an airtight container for up to 4 days.
Notes
I've written this recipe keeping canned chickpeas in mind, usually sold in 14 oz/400 g cans. I cook my 1 cup of dried chickpeas by soaking them overnight and then boiling them in 1 L of water plus 1 tsp fine sea salt, 1/4 cup/60 ml fresh lemon juice, and 1/8 tsp baking soda.
Here are some ways to cook beans and chickpeas. I prefer The Sodium Citrate Method. 
Use the cooking water: Leftover chickpea cooking water contains proteins like albumins that will help thicken the hummus during blending.
Chilled Temperatures: Cooler temperatures help stabilize the emulsion, so using chilled cooked chickpeas and cooking water will give a thicker texture to the hummus. I like to let it rest covered in the refrigerator for an extra hour to help it get thicker and creamier.
Remember to stir the tahini well before using it.
Flavors: You can skip the garlic entirely or reduce it by half. To make it slightly hot, I add 1/4 tsp of ground cayenne.
Citric Acid versus Fresh Lemon Juice: Either works here, but fresh lemon juice can create a bitter aftertaste after a few days. I prefer the fragrance of fresh lemon juice, and hummus never lasts beyond a day or two in our home.