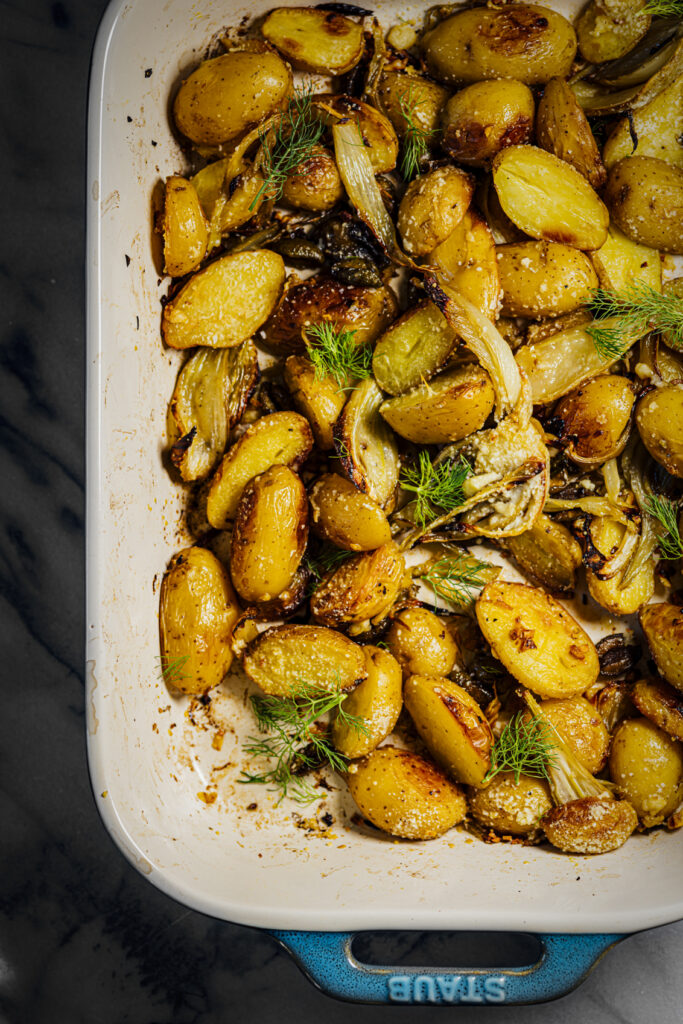 Print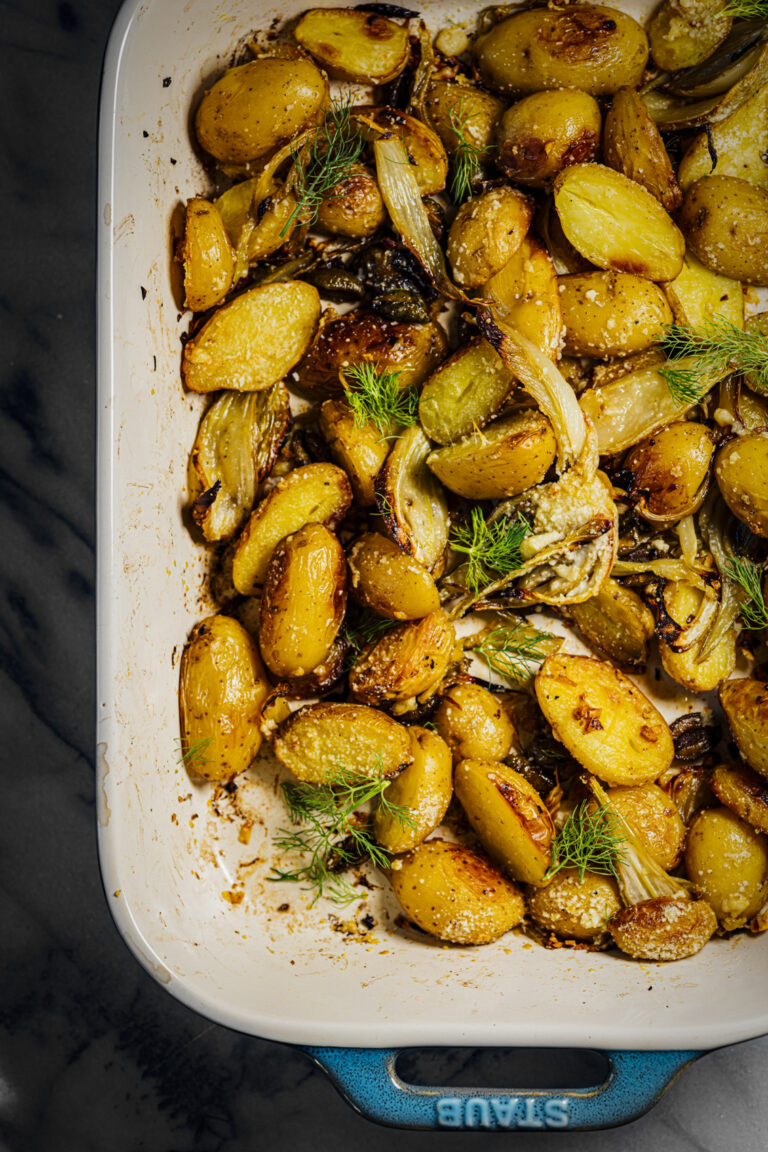 Roast Parmesan Fennel and Potatoes
A spring favorite and one of my favorite ways to eat potatoes, roasted with fennel and parmesan. The fennel does double duty in this recipe. First, its sweet licorice-like flavor turns even sweeter during roasting as it acquires a gorgeous color of caramel, and second, the delicate fresh and bright green fronds are used as a garnish. The green olives shrink down and turn even more concentrated in their flavor. 
1.5 lb/680 g baby Dutch potatoes or baby yellow potatoes
fine sea salt
1 large fennel bulb with tender fronds
One 14 oz/400 g can pitted green olives, drained and halved
3 Tbsp extra-virgin olive oil
4 garlic cloves, minced
1 tsp ground coriander
ground black pepper
2 oz/55 g grated Parmesan
2 Tbsp fresh lemon juice
zest of 1 lemon
Instructions
Place the potatoes in a medium saucepan and fill with enough water to cover them by 1 in/2.5 cm. Stir in 1 tsp of salt. Bring to a boil over medium-high heat, then reduce to medium-low and cook until the potatoes are fork-tender but not mushy, 15 to 20 minutes. Drain the potatoes and transfer to a 9 in by 12 in/23 cm by 30.5 cm roasting pan or baking dish.
While the potatoes boil, preheat the oven to 425F/220C. 
Trim the fennel bulb and reserve the tender fronds for the garnish. Cut the bulb lengthwise into thin slices and add them to the roasting pan.
Add the olives to the pan. Add the olive oil, garlic, and coriander, and season with salt and pepper. Fold to coat well and transfer to the oven. Roast until the potatoes turn golden brown and the fennel is caramelized, about 1 hour. Rotate and stir the contents of the pan halfway through during roasting to allow even cooking. 
Once caramelized, sprinkle the parmesan over the potatoes, fold to coat well, and return to the oven. Cook for 5 minutes, until the parmesan melts and turns golden brown. Remove the pan from the oven, drizzle with fresh lemon juice, and fold in the lemon zest. Garnish with the reserved dill fronds and serve hot or warm. Leftovers can be stored for up to 4 days in an airtight container in the refrigerator. 
Notes
If you prefer a juicier olive in this dish, add the olives after 45 minutes of roasting, and they won't shrink as much.
Sometimes, I'll throw in a teaspoon of red pepper flakes such as Aleppo, Maras, or Urfa for a mild dose of heat. Cayenne red pepper flakes can also be used for a stronger kick.