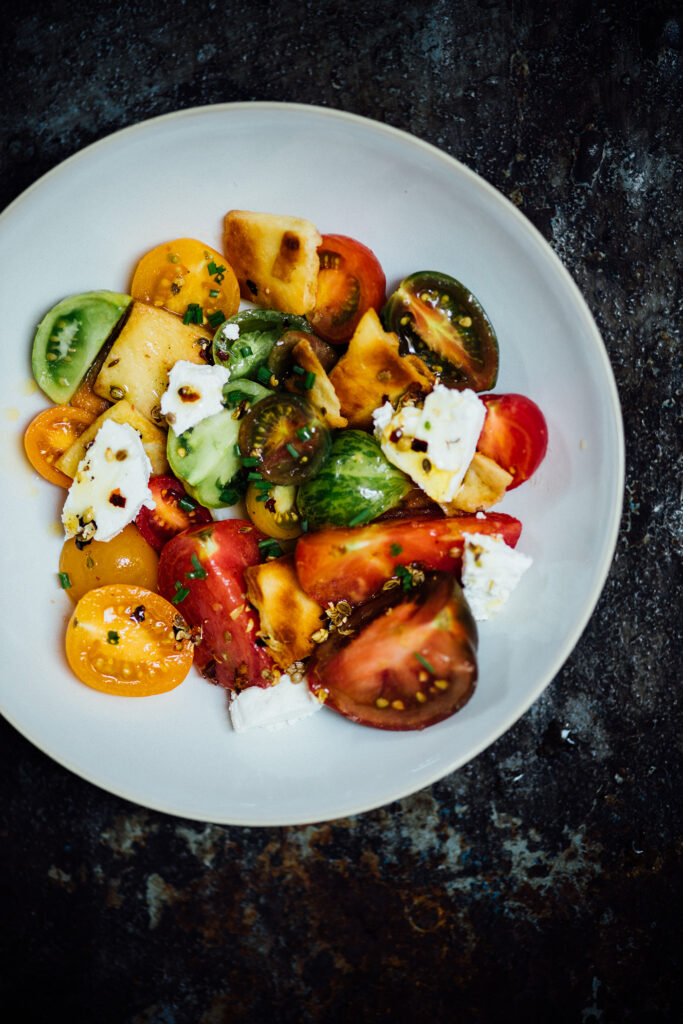 Print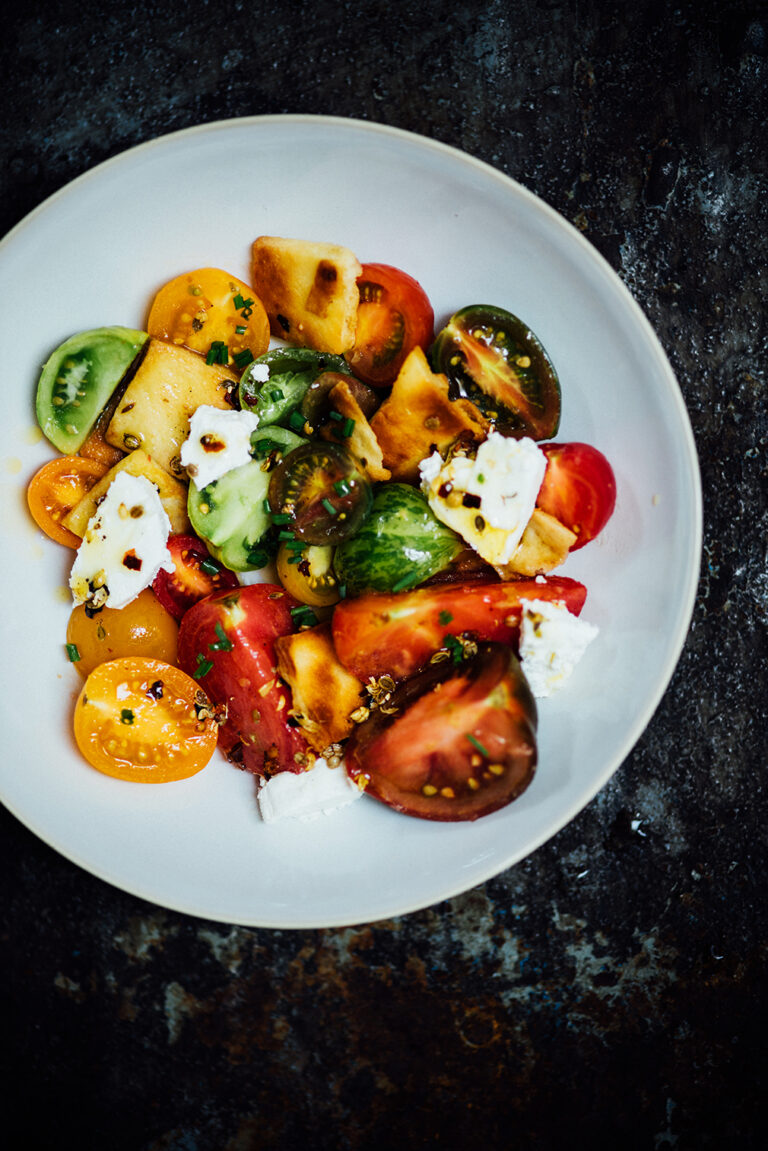 summer tomato and naan salad
To be fair, you could use any flatbread, but naan and pita are usually what I have lying around my kitchen, and they make their way into this salad, a somewhat hybrid of Middle Eastern Fatoush and an Italian Panzanella. Select your favorite assortment of ripe tomatoes that are in season and fold them into this salad. Heating the olive oil first allows you to draw out the aroma of the spices giving you a much more flavorful dressing.
This recipe first appeared in The San Francisco Chronicle on August 8, 2018
For the Naan
2 whole naans cut into ½ inch squares (homemade or store-bought)
2 Tbsp olive oil
1 Tsp cumin seeds
For the Salad
1 pint/280 g mixed small tomatoes such as cherry or grape, cut in half lengthwise
2 large/each about 300 g tomatoes, quartered
3 Tbsp red wine vinegar
3 Tbsp olive oil
1 tsp crushed coriander seeds
1/2 tsp red chile flakes such as Aleppo, Urfa, or Maras
¼ cup/40 g soft goat cheese
½ tsp freshly ground black pepper
½ tsp fine sea salt
1 Tbsp minced chives
Instructions
Preheat the oven to 350F/180C.
Toss the naan, 2 Tbsp of olive oil, with the cumin in a medium bowl and coat evenly. Lay them on a baking sheet lined with parchment paper, transfer them to the preheated oven, and toast for about 12 to 15 minutes until golden brown and crisp. Remove from oven and keep aside.
Place the tomatoes in a large mixing bowl and drizzle the vinegar.
Warm the 3 tablespoons of olive oil in a small saucepan on medium-low heat; add the coriander seeds and chile flakes. As soon as the spices start to sizzle and release their aroma, in about 30 seconds, remove from heat and transfer to a small bowl to cool.
Add the naan to the tomatoes to assemble the salad and fold carefully. Then break and add the goat cheese. Season with salt and pepper, taste, and adjust the seasoning if necessary. Drizzle the spiced oil over the salad and sprinkle the chives. Serve immediately.

Notes
This tomato vinaigrette also goes beautifully here.
Go wild with the tomatoes, use whatever color, shapes, and varieties you can get your hands on.