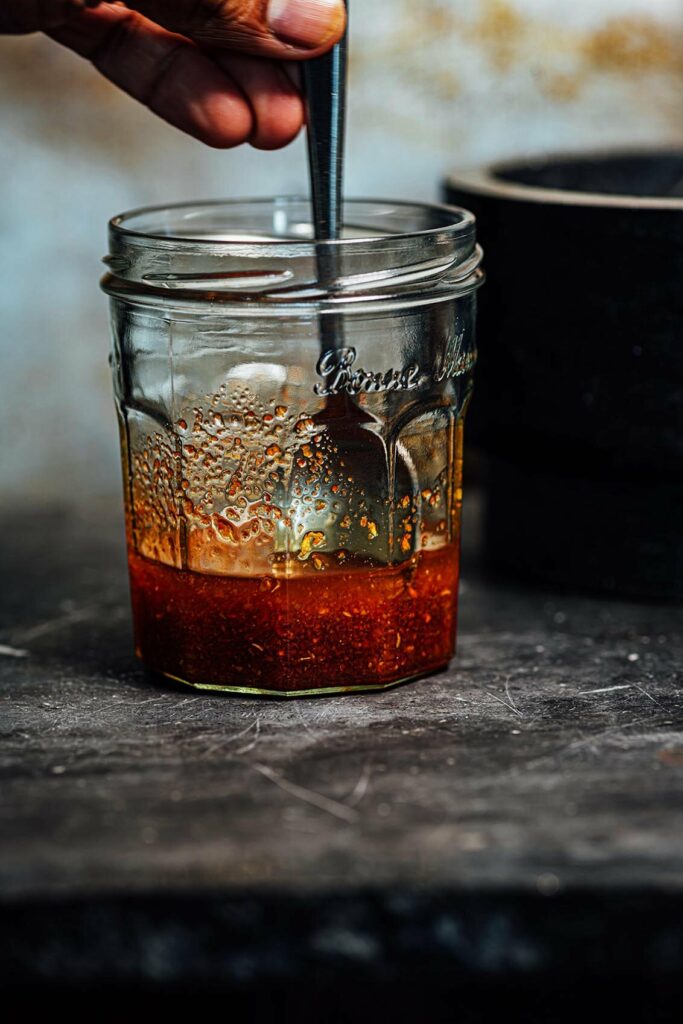 This recipe carries a bit of an experimental approach. Instead of fresh tomatoes, I dehydrate tomatoes to concentrate their flavors to create a stronger vinaigrette with a more powerful kick.
Tomatoes are rich in several important flavor molecules, most noticeably the sugar, which gives sweetness; the acids, which give a bright acidity; the glutamate, which gives savoriness; and salt, which gives saltiness. Lycopenes are the red pigments in tomatoes that give this vinaigrette a rich red color. In addition, tomatoes contain pectin, which helps act as an emulsifier and thickens the vinaigrette.
Another source of umami arises when vegetables such as tomatoes are dried.
When vegetables such as tomatoes are dried, the nucleic acid RNA breaks down to produce the nucleotide AMP which then changes to inosine and a molecule with an umami taste. When used with food rich in glutamates, inosine enhances the taste of umami and gives a richer taste of savoriness via a phenomenon called synergism.
ATP (adenosine triphosphate)-> AMP (adenosine monophosphate) -> 5′-inosinate (IMP)
In the past, when I made tomato vinaigrettes, the flavor was largely a function of the quality of the tomato. The quality varies quite a bit depending on the type of tomato, the season, etc. Dehydration removes many of these variables by helping to concentrate flavor molecules by kicking the water out and giving you better control over the flavor of the vinaigrette.
While you don't need to dehydrate your own tomatoes to make this, I recommend using good-quality tomato powder (available at spice stores and specialty markets). Tomato powder can also be used to add savoriness to stews, soups, and stocks, and as a seasoning, I keep a jar always on hand. I recently got a smart oven from Breville to explore dehydrating food and flavor, and it comes with a dehydration wire basket (which allows for even heating and air circulation and helps steam escape). See my notes below for details on how I did this in the smart oven.
Since tomatoes can vary in taste depending on type, season, and quality, I recommend starting with 1 Tbsp of vinegar, and if you feel you need more acidity, add more if needed. Olive oil can leave a bitter taste when emulsified; if you want to skip the bitterness, use a neutral-tasting oil like grapeseed. I prefer sherry vinegar for its sweeter, milder flavor, but balsamic or a good red wine vinegar will work great here.
Print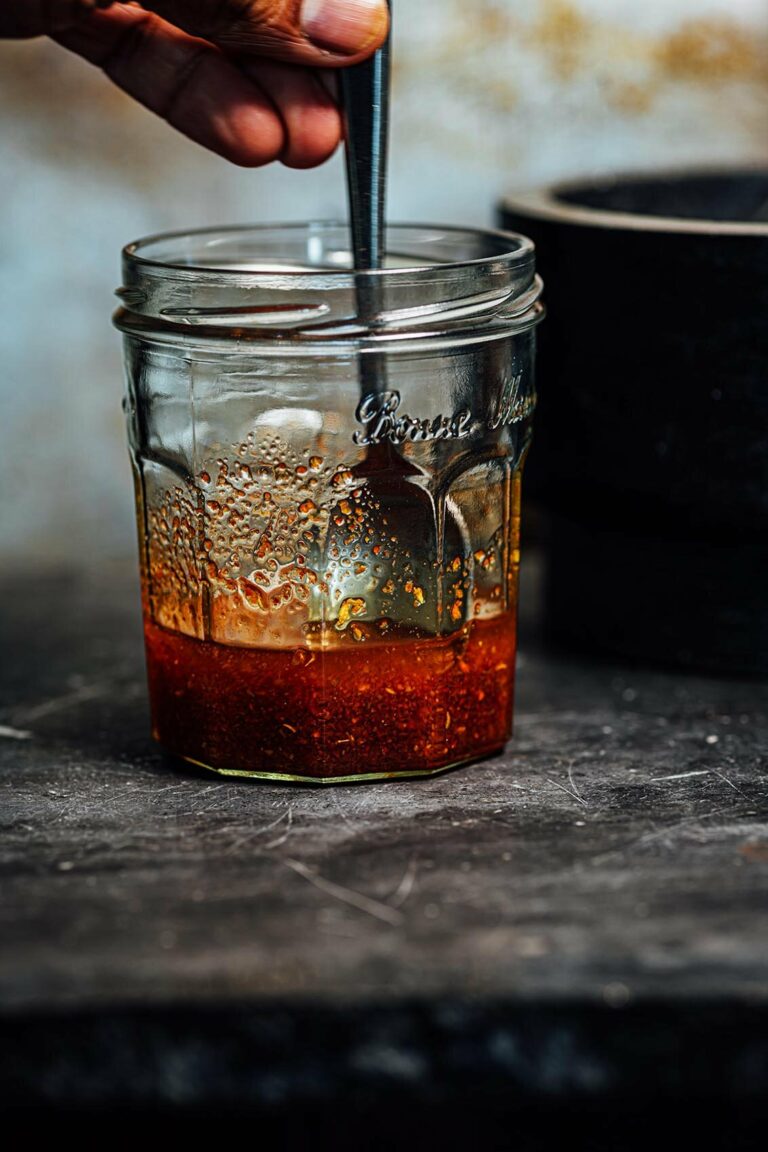 tomato vinaigrette
Here's a tomato vinaigrette with a robust flavor of sweet and savory tomato goodness. Make a big batch to stock up and add it to your salads, sandwiches, and grilled meats and vegetables. It will make you very happy!
Yield:

about 1/4 cup/60 ml
0.35 oz/10 g ground tomato powder (see Notes)
1/4 cup/60 ml extra-virgin olive oil or grapeseed oil
1 to 2 Tbsp sherry vinegar
1/2 tsp ground toasted cumin (see Notes)
1/2 tsp ground toasted coriander (see Notes)
1/4 tsp ground black pepper
fine sea salt (try smoked salt for a smoky flavor)
Instructions
Mix the tomato powder, olive oil, vinegar, cumin, coriander, and pepper in a small mixing bowl. Taste and season with salt. Let sit covered for at least 15 minutes before using. This dressing can be made at least 3 days ahead and stored in an airtight container in the refrigerator. Warm to room temperature before use.
Notes
Dehydrating tomatoes
I used the Breville smart oven to dehydrate my tomatoes. I cut tomatoes into ¼ inch/6 mm thick slices and then salted one set of tomatoes on both sides with salt. The other half I left untreated. The salted tomato slices were then sandwiched between dry sheets of kitchen paper towels to wick away any liquid released by the osmotic action of salt. The salt-treated tomatoes are then rinsed after 30 minutes to remove the excess salt and patted dry with clean paper towels before they enter the dehydrator. However, after dehydrating at 152F/52C for 12 hours (the dehydrating setting on the Breville smart oven has a built-in feature that I used), there was no difference in taste, texture, and weight between salted tomatoes and those that were not. So, I don't think this is necessary if you stick with the built-in setting. Salt-treated tomatoes do begin to shrivel and dehydrate much earlier.

In terms of yield, there will be variations depending on the type of tomato you use. On average, 2 medium tomatoes give about 0.35 oz/10 g of dried slices.

Once dehydrated, store the slices in airtight bags or containers. A vacuum seal device would be a good option for long-term storage. I grind the tomato slice just before using it.
Toasting Spices
For a small quantity of spices, I toast whole spices over medium heat in a dry stainless-steel skillet until they start to brown and release their aroma, 30 to 45 seconds. Remove from heat and transfer to a plate to cool. Grind the whole spices down with a mortar and pestle, or use a coffee grinder/mill for a finer grind.

In this recipe, I prefer a coarser grind.