Print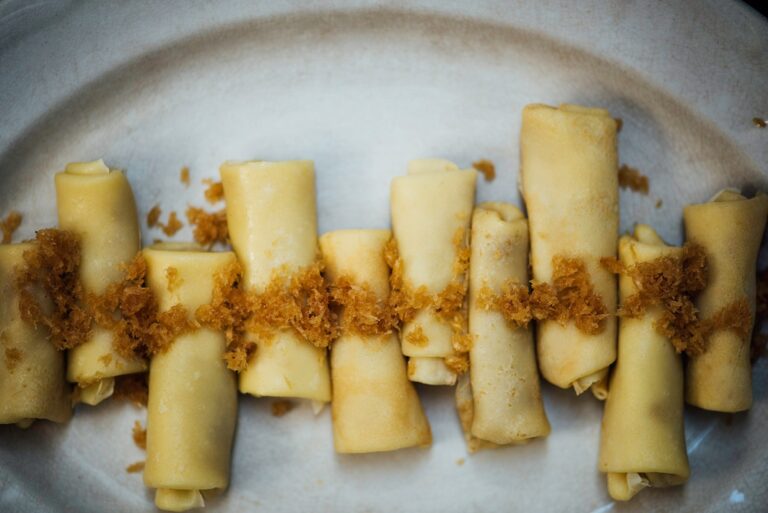 Spiced Coconut Jaggery Crepes/Alle Belle
Every year at Pancake/Shrove Tuesday, my mom and grandmother would prepare a large batch of these delicious crepes that I'd look forward to after school. The crepes are soft and tender and hide a sweet filling of coconut sweetened with jaggery. These pancakes are a staple in Goan homes on Pancake Tuesday and a tradition I continue to partake in. You can also add a few drops of food coloring of your choice, as is often done in India, but they'll still be a gorgeous addition to the table even if you don't.
This recipe first appeared in my column in the San Francisco Chronicle.
For the filling
 1 Tbsp vegetable oil
1/2 tsp ground green cardamom
½ teaspoon ground ginger
2 cups/ g grated coconut, fresh or frozen (if frozen, thawed)
½ cup/100 g packed jaggery, dark brown sugar, or muscovado
For the crepes
2 cups/280 g all-purpose flour
½ tsp fine sea salt
1 large egg
2 ½ cups/600 ml whole milk
Unsalted butter or oil for frying
Instructions
For the filling
Heat the oil in a small skillet or saucepan on medium-low heat and swirl to coat evenly. Once the oil is hot, add the ground cardamom and ginger and cook for 30 seconds. Stir in the coconut and occasionally cook to prevent the coconut from sticking for about 2 minutes. Then stir in the jaggery, cook with constant stirring, and cook for 5 to 6 minutes until most of the liquid evaporates. Transfer to a medium bowl and keep aside until ready to assemble the crepes.
For the crepes
In a large bowl, dry whisk the flour and salt. Then make a well in the center and add the egg and milk. Stir with a wooden spoon until there are no lumps and the batter is smooth with a consistency like that of a thin pancake batter. Cover the bowl with cling film and let it sit for at least 2 hours (you can make this overnight and refrigerate) to let any trapped air bubbles out.
Grease a small cast-iron, stainless-steel, or non-stick skillet with a little oil and heat on medium-high. Pour ¼ cup/60 ml of the batter into the center and tilt and rotate the skillet to spread the batter evenly in a very thin layer. Return to heat and cook for about 1 to 1 ½ minutes until lightly browned and the edges start to come away from the sides of the pan. Gently flip the crepe, as soon as it starts to come off from the sides. Cook for an additional 30 seconds and transfer to a plate. 
Take 2 generous tablespoons of the coconut-jaggery filling and place it in the center of the crepe in the shape of a small log. Fold the top and bottom edges of the crepe over the filling and then roll the longer end of the crepe to wrap the roll, tucking it snuggly as you move towards the end. Keep aside in a serving dish. Repeat to prepare the remaining crepes. Serve immediately or at room temperature. These crepes will be good for up to 3 days if refrigerated in an airtight container.
Notes
Jaggery is a type of unrefined sugar obtained either from palm trees or sugar cane. It has a delicious earthy sweet flavor, which can be found online or in Indian grocery stores. I prefer buying the powdered version because it is easier to measure and use in cooking. If using the block form, shave or grate as much as you need.
Cardamom is the classic flavoring agent used for the coconut but you can also use 1/2 tsp coconut extract or vanilla.