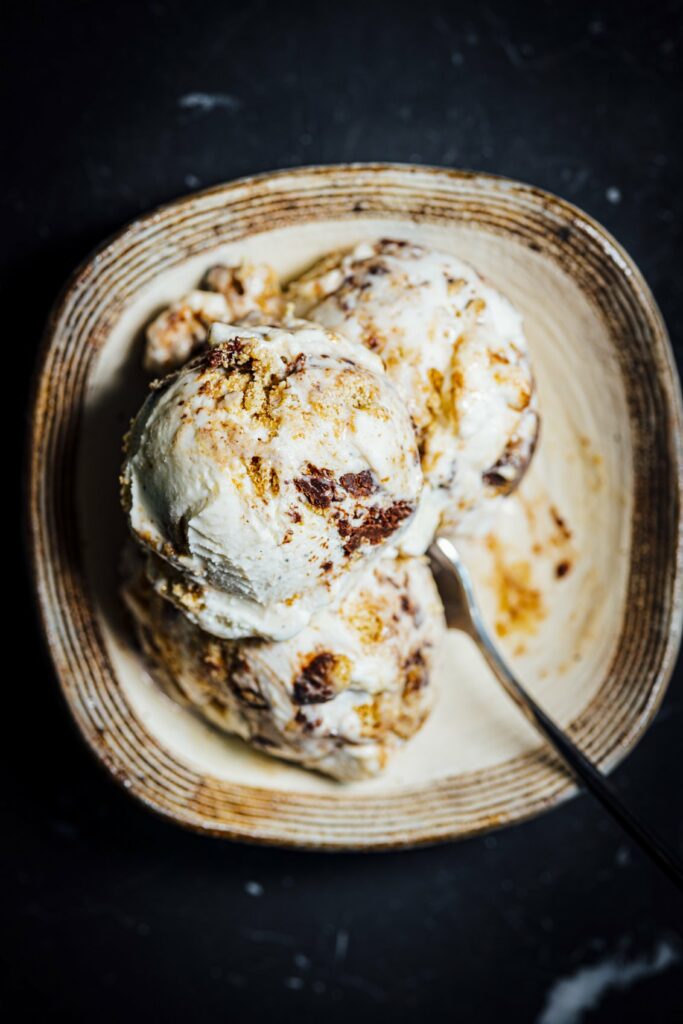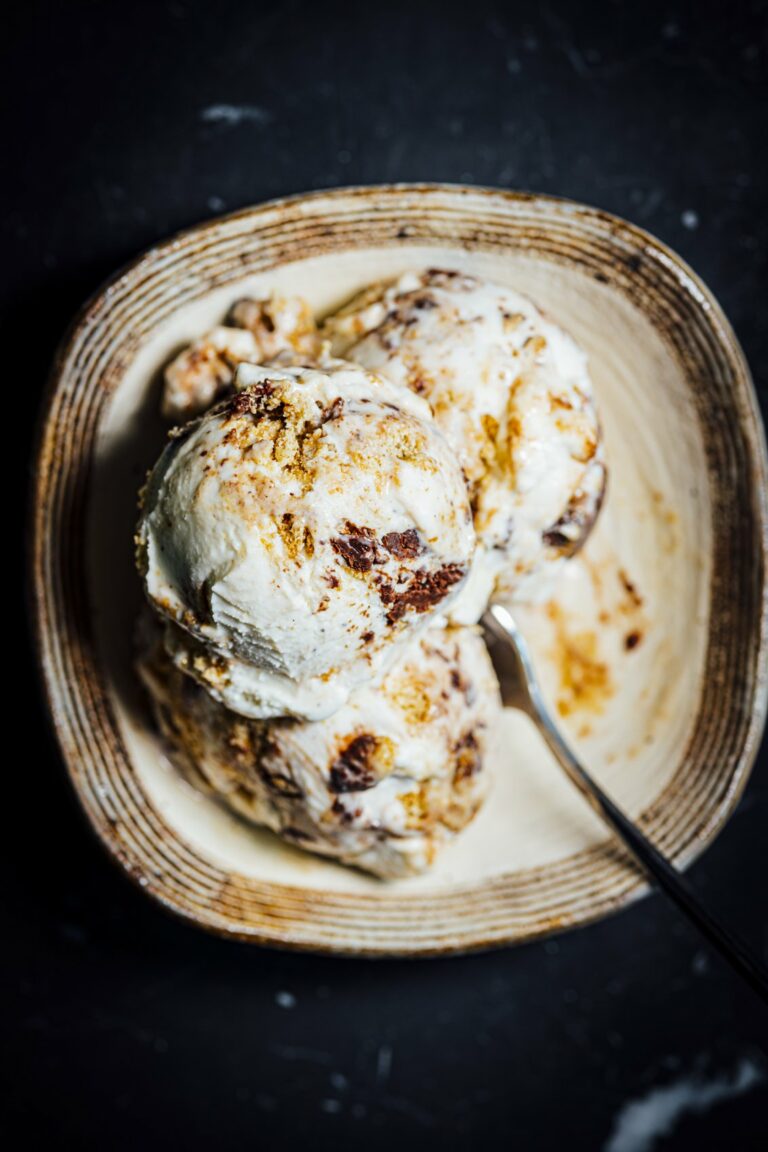 While amongst family and friends, I'm famous for not being too fond of hiking or camping, I love campfires for two things: heat and s'more making. S'mores are the simplest yet one of the most delightful treats that are beloved by most adults and kids.
So, what in the world does "S'mores" stand for? It has nothing to do with the ingredients used to make it. Instead, "s'mores" is a contraction of "some more." There is some debate about where the original s'mores recipe originated – it might be The Girl Scouts or A Book of 150 Recipes Prepared with Campfire, the Original Food Marshmallows. The last book simply refers to them as Campfire Graham Cracker Sandwiches.
We don't have a fire pit at home, so I usually make s'mores by toasting marshmallows with my kitchen torch or in the oven (the torch gives better flavor) and then sandwich the marshmallows with melted chocolate between graham crackers. This is the ice cream version of s'mores, and it's quick and easy. Okay, the longest part is waiting for the recipe to firm up once it's all put together, but if you're like me, a person that loves ice cream, then you'll find an excuse to open the freezer every 30 minutes "to check."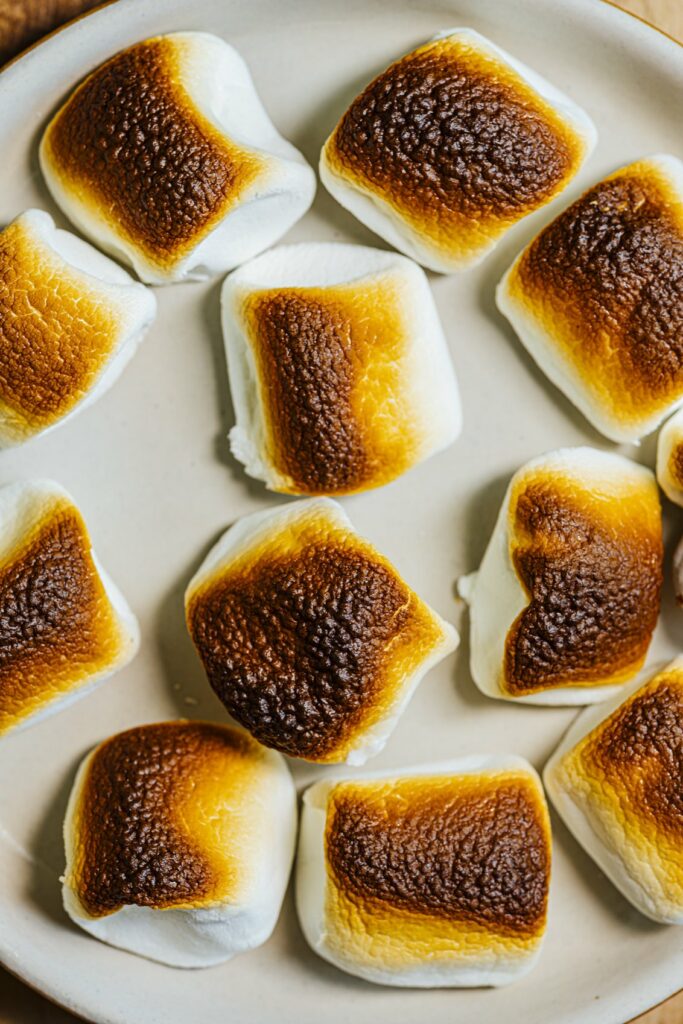 Print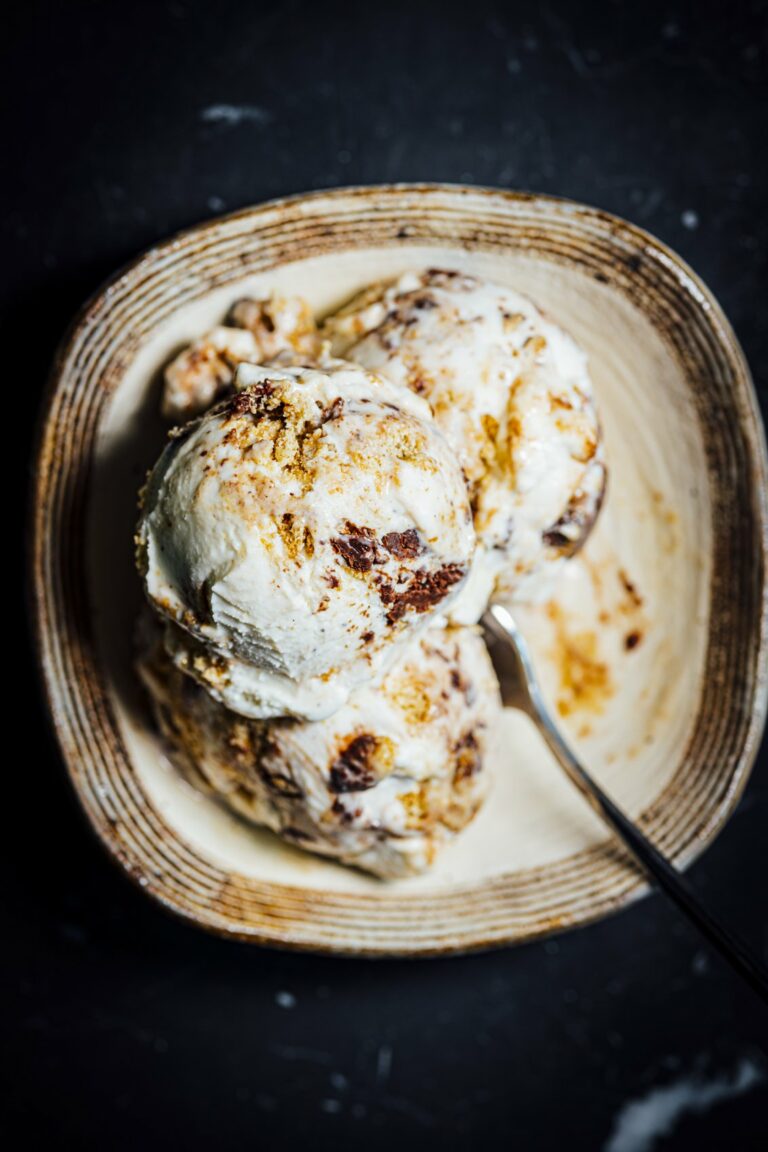 S'mores Ice Cream
This combines two of my favorite things, ice cream, and s'mores. It's a quick fix and a huge hit with the kids and adults.
Twelve/85 g large marshmallows

¼ cup/60 ml heavy cream

3 ½ oz/100 g semisweet dark chocolate chips (I used 75% cacao)

8/125 g graham crackers

2 qt/2 L vanilla ice cream, softened till pliable
Instructions
Toast the marshmallows. Lay the marshmallows on a baking sheet and broil them in the oven at Hi/500F/260C until the tops turn golden brown and slightly charred for 45 to 60 seconds. If using a torch, carefully toast the tops of the marshmallows. Transfer to the refrigerator or freezer and chill thoroughly.
Prepare the ganache. In a small saucepan, heat the heavy cream over medium-high heat until it just starts to bubble, 2 to 3 minutes. Remove from the heat. Stir in the chocolate chips using a silicone spatula and mix until the chocolate dissolves and the mixture turns smooth and silky. Refrigerate until chilled.
Once the marshmallows and chocolate ganache are chilled, break the graham crackers into bite-sized pieces.
Take a 9 in/23 cm metal loaf pan or freezer-safe container. Layer the pan with ice cream, marshmallows, chocolate ganache, and graham crackers until they are all used up. Gently press the top and smoothen with a spoon or an offset spatula. Cover tightly with plastic wrap and press to the surface to ensure no trapped air. Freeze for at least 4 hours or until firm. When ready to serve, scoop. This ice cream will be good for up to a week if stored in an airtight freezer-safe container for up to a week or 3 days if left in the metal loaf pan wrapped with plastic wrap.
Notes
I prefer larger marshmallows over the tiny marshmallows in this ice cream because they're easier to roast and handle. It also creates a better texture to the ice cream during scooping.
A metal loaf pan freezes faster than a ceramic one but you can use either.