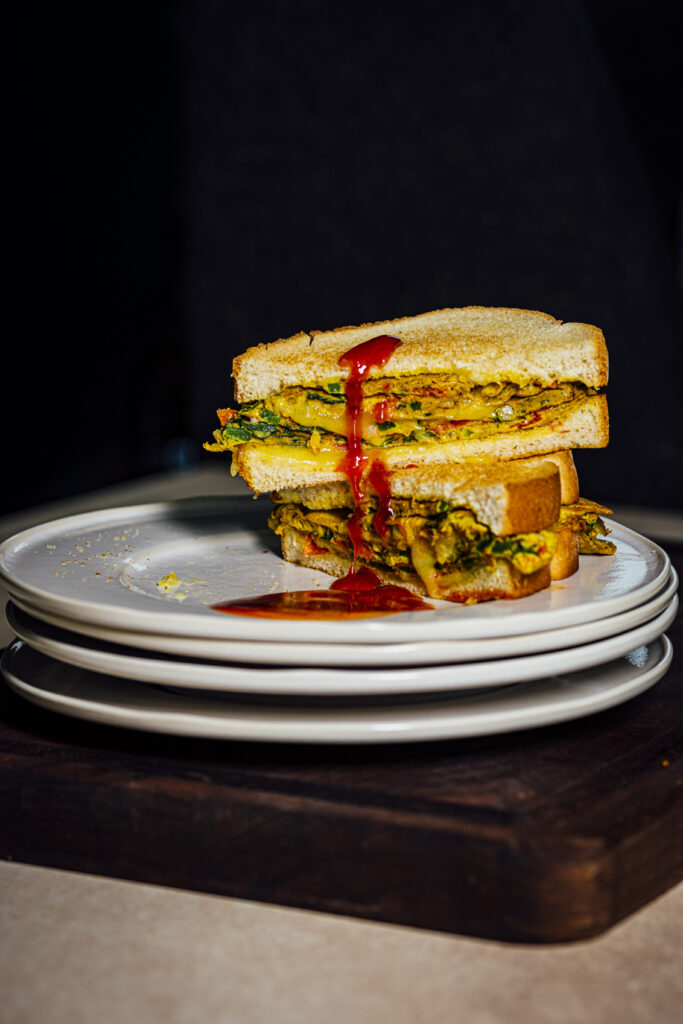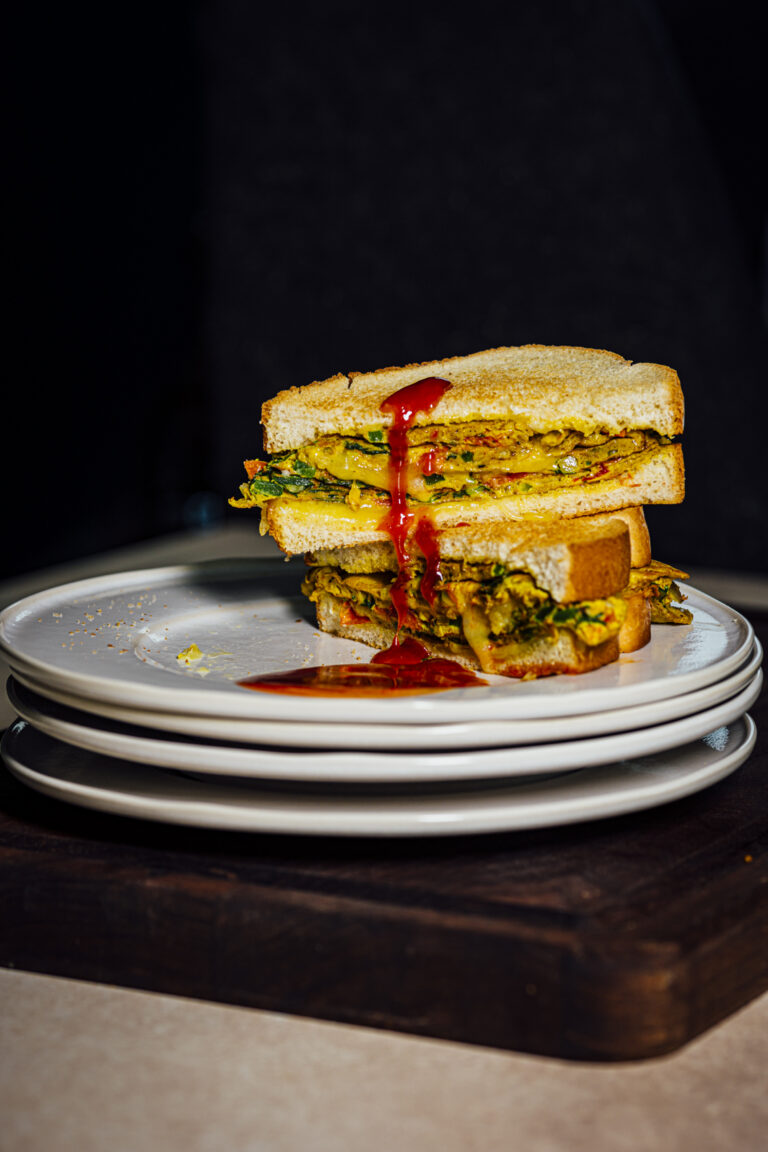 My memory is clear, and I remember it like yesterday. Wrapped in either a sheet of newspaper or the packaging from the late Wib's or Britannia bread, this omelet sandwich is one of the iconic street foods of India. Served with a generous dollop of ketchup and topped with melted salted butter, it makes a fine breakfast or meal.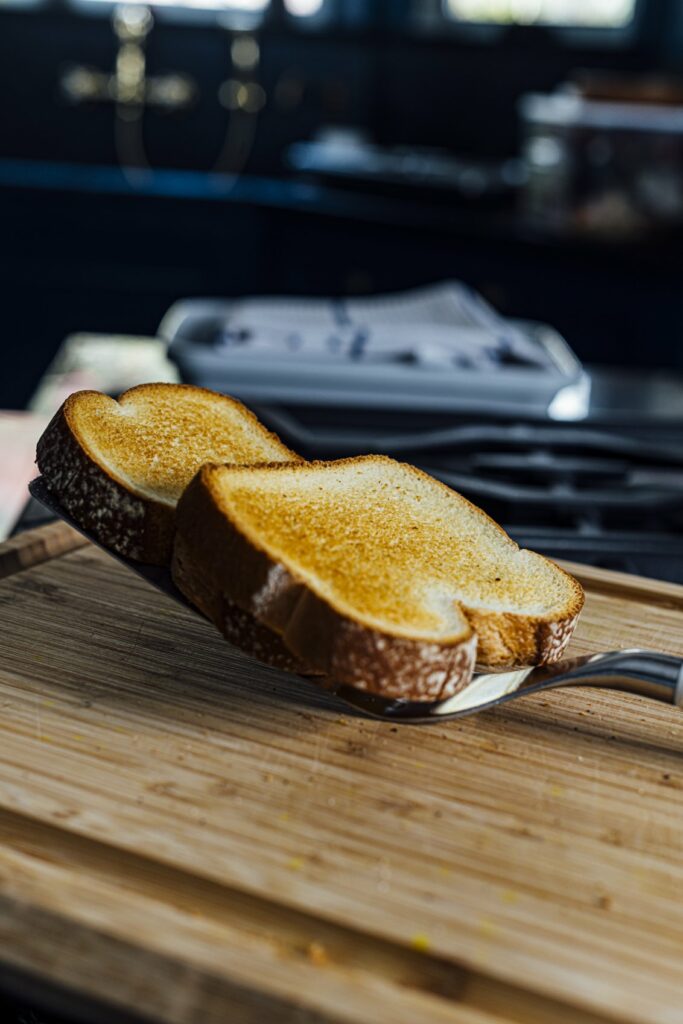 Unlike a French-style omelet, whose eggs are fluffy and not cooked all the way, the Indian omelet is the opposite. The edges are slightly golden and crispy. Even the vegetables aren't sautéed prior. Instead, they're cooked simultaneously with the eggs. Some experts might scoff, but I urge you to be patient. It's simply a different way people from another part of the world approaches an omelet (we even spell omelets differently – omelet v/s omelette). What about taste? It is still mighty fine!
The eggs are whisked with turmeric to help brighten their yellow color. There are two options for the spice blend: chaat masala or garam masala; I prefer the former for its smokier flavor.
Print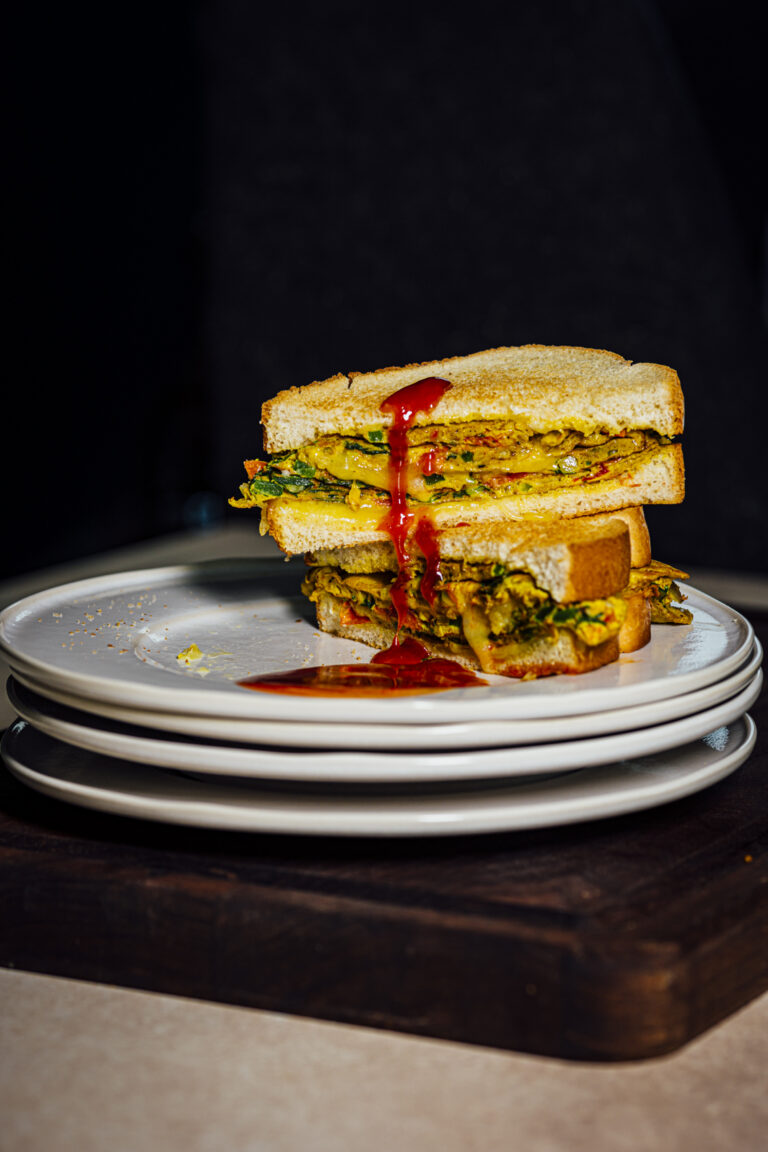 Indian Omelet Sandwich
While this omelet sandwich might be considered Indian street food, it makes a beautiful breakfast that can be made on any day of the week. It's also a good option for dinner when you don't have the time and want to put something together quickly. I lean towards Maggi Hot and Sweet Ketchup, but you're welcome to use whatever ketchup you love.
2 large eggs
¼ tsp ground turmeric
½ tsp ground black pepper
¼ tsp chaat masala, homemade or store-bought
Fine sea salt (optional, see The Cook's Notes)
2 Tbsp minced shallot or red onion
2 Tbsp chopped tomatoes
2 Tbsp minced bell pepper
1 garlic clove, thinly sliced
1 tsp green chilli, thinly sliced
1 Tbsp minced cilantro or flat-leaf parsley
1 Tbsp unsalted butter or extra-virgin olive oil
2 Tbsp shredded cheddar or 1 slice cheddar
2 slices of sandwich bread, lightly toasted
Ketchup to serve
Instructions
In a medium bowl, whisk together eggs, turmeric, black pepper, chaat masala, salt, shallot, tomatoes, bell pepper, garlic, green chilli, and cilantro.
Melt the butter over medium heat in a 12 in/30.5 cm non-stick or cast-iron skillet. Pour the egg mixture over and swirl the skillet to let the eggs cover the entire surface. Cook undisturbed until the base of the eggs and edges starts to firm up, 2 to 3 minutes. Using a spatula, flip the egg carefully. Top the eggs with the cheese. Place the two slices of toasted bread on the eggs and gently press. The heat will help the cheese melt and glue the bread to the eggs. Once the bottom of the eggs is set, for about 1 minute, use the two slices of toast to fold the eggs between the toast slices and make a sandwich. Remove from the skillet and serve immediately with ketchup.
Notes
This sandwich is usually made with either garam masala or chaat masala; I prefer the latter.
If using chaat masala, use your judgment if adding salt. Chaat masala, especially the store versions, already contains Indian black salt (kala namak). Check the box or taste a tiny pinch before using. Good Indian brands of chaat masala include Badshah, Everest, and MDH. You can also make your own. My Recipe is here.
Some might prefer buttering the toast on both sides before serving. I find that unnecessary, but you can do that if you like.