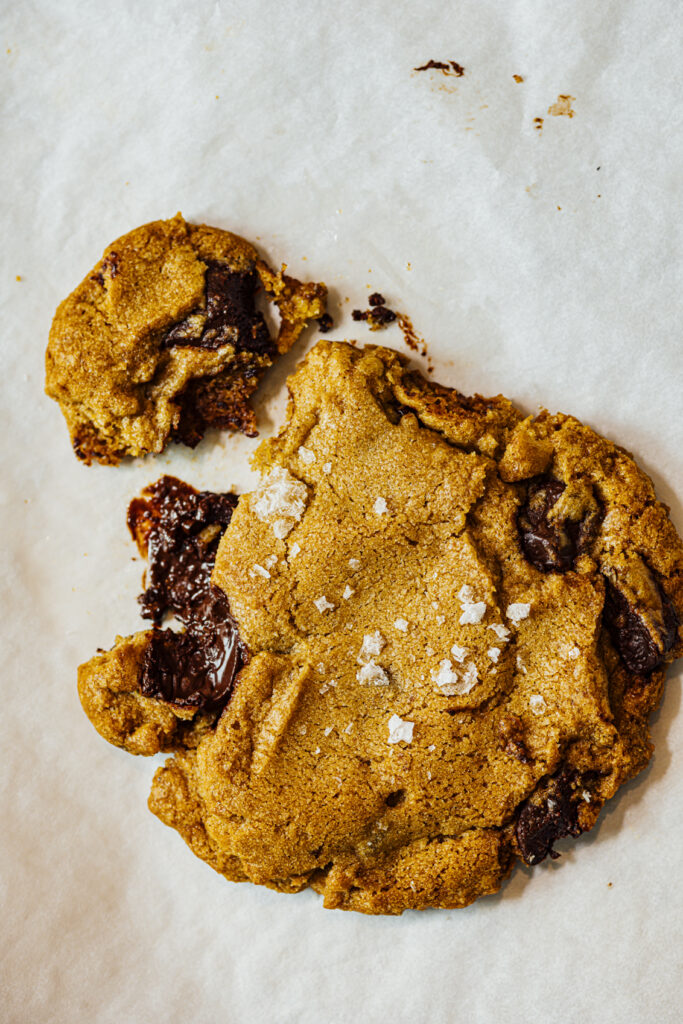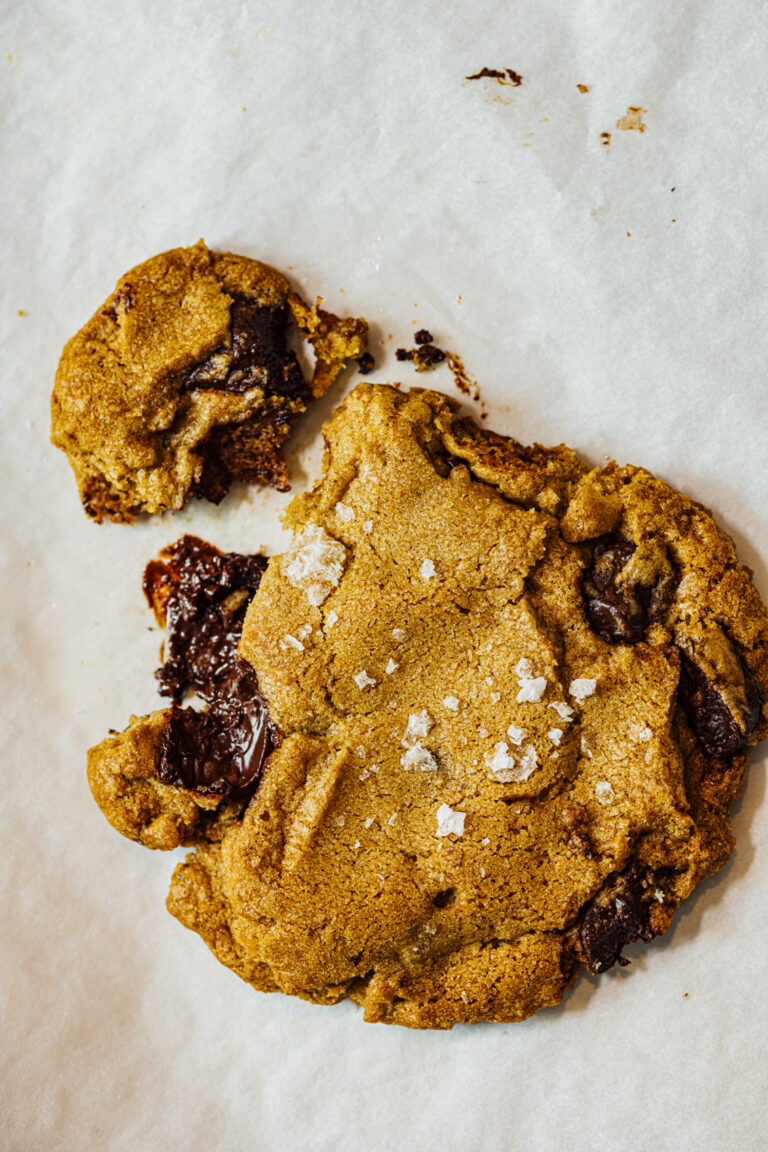 Print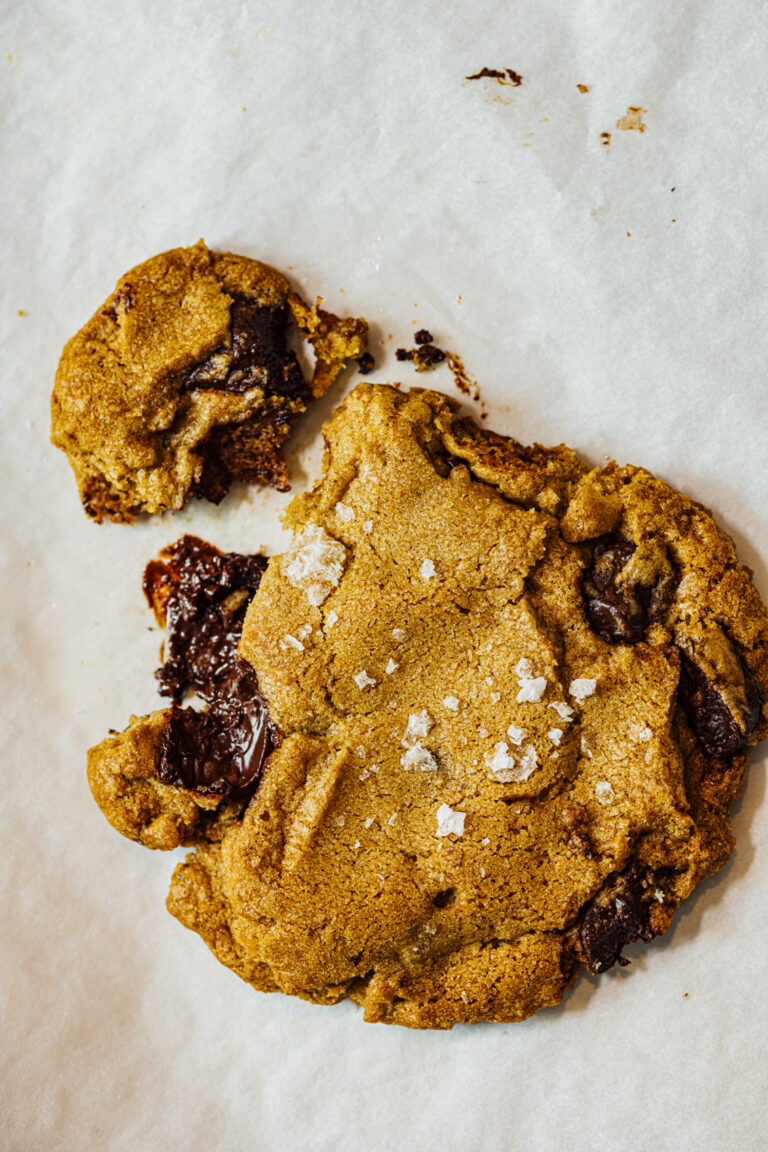 Salted Rye Chocolate Chip Cookies
These gorgeous and delightful salted rye chocolate chip cookies are based on a recipe from the now-shuttered San Francisco Cooking School in San Francisco, C.A. Rye flour gives these chocolate chip cookies a mildly earthier and nutty flavor, and I double down on that flavor by using a good dose of rye whiskey. I know the combination of the deep notes of dark chocolate and crunchy salt flakes is nothing new, but it still feels special every time I eat a chocolate chip cookie, and it remains my preferred way to eat chocolate chip cookies. (This recipe is based on this version from the S.F. Chronicle)
2 cups/280 g all-purpose flour
1/2 cup/55 g rye flour
1/2 tsp baking soda
1/8 tsp fine sea salt
3/4 cup/170 g unsalted butter, cubed and softened to room temperature
3/4 cup/150 g packed dark or light brown sugar
3/4 cup/150 g sugar
1 large egg, at room temperature
1 1/2 tsp vanilla extract
1/2 tsp vanilla paste (optional)
1 Tbsp rye whiskey
1 1/2 cups/225 g semi-sweet chocolate chips (70% cacao) or chopped
flaky sea salt
Instructions
In a medium mixing bowl, dry whisk the flour, rye flour, baking soda, and salt. Scrape down the sides of the bowl.
Using the paddle attachment, cream the butter, brown sugar, and sugar in the bowl of a stand mixer over medium-high speed until pale light brown and fluffy, 3 to 4 minutes. Scrape down the sides of the bowl.
Add the egg, vanilla extract, paste, and whiskey, and cream for 1 minute until combined. Scrape down the sides of the bowl.
Add the dry whisked ingredients, and combine over low speed until there are no more dry flecks of flour, 1 1/2 to 2 minutes. Scrape down the sides of the bowl.
Add the chocolate chips and fold until evenly dispersed. Scrape down the sides of the bowl.
Line a baking sheet with parchment paper. Divide the cookie dough into 16 equal parts by weight and place them on the sheet. Cover the sheet tightly with cling film and freeze. The cookies can be baked after 1 hour. Alternatively, place the cookie dough balls in a ziptop bag and freeze for up to 3 months.
When ready to bake, preheat the oven to 350F/150C (for the convection oven, use 325F/165C). Leave the frozen cookie dough until it is soft enough to be pliable for 10 to 15 minutes.
Line two baking sheets with parchment paper. Flatten each ball of cookie dough to about 3/4 in/2 cm thick, and place them on the lined baking sheets with about 3 in/7.5 cm spacing. Sprinkle a little flaky salt on top of each cookie. Bake the cookies in the oven until they turn a light golden brown, 12 to 15 minutes. Rotate the sheets halfway through during baking. Transfer the cookies to a wire rack to cool for at least 5 minutes before eating. To store cookies, cool completely to room temperature and store in an airtight container at room temperature for 1 week.
Notes
Make sure to scrape down the sides of the bowl after every mixing step to ensure uniform mixing.
While the vanilla paste isn't essential, I find it does a great job of amping up the flavors in the cookies. 
Rye whiskey is made with at least 51% rye with a spicier and bolder flavor. Bourbon can be used instead of rye whiskey, but it is made with at least 51% corn and is much more mellow and sweeter in flavor. This is a cookie about rye; use rye whiskey.