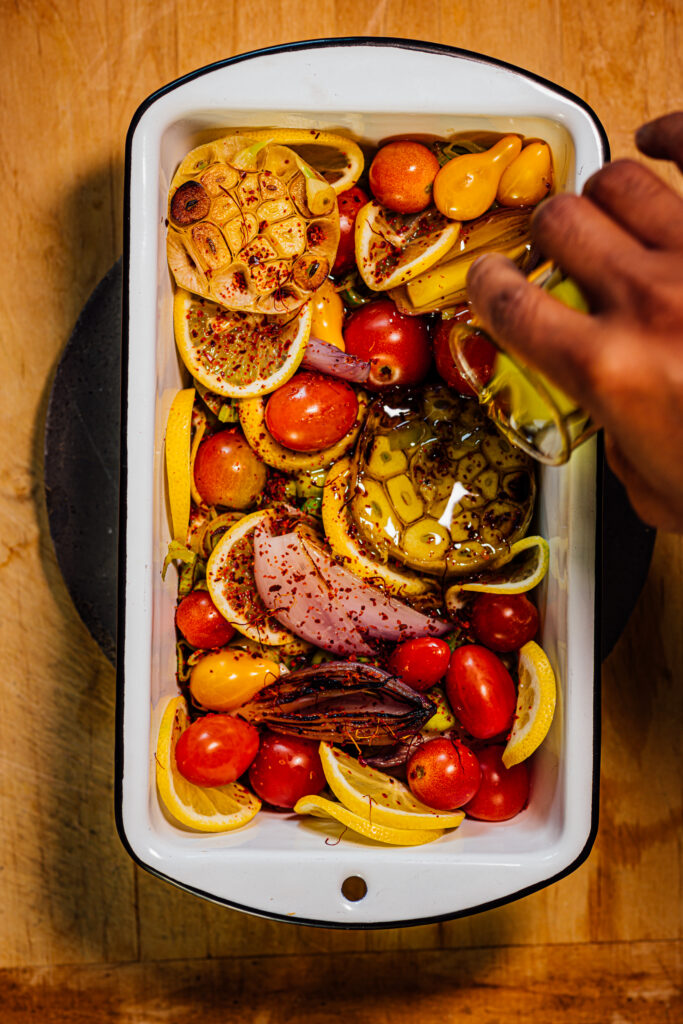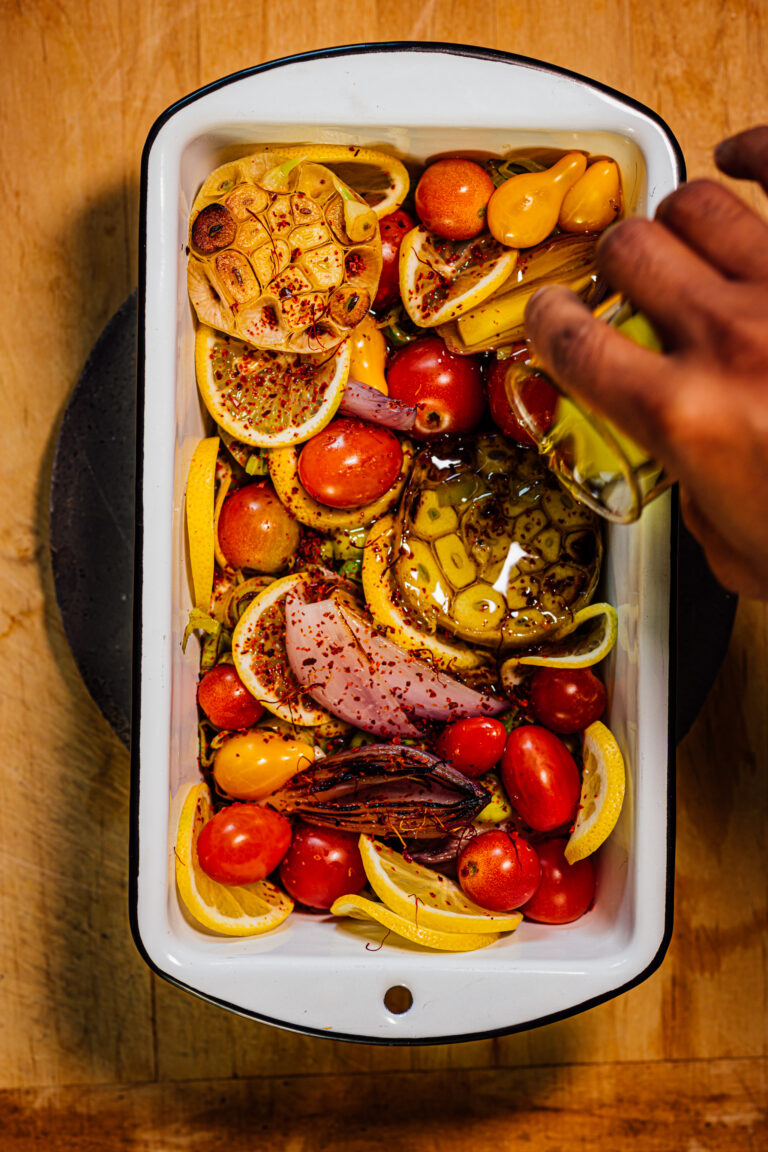 Get a taste of what's to come from my new cookbook, Veg-Table that comes out on October 24, 2023!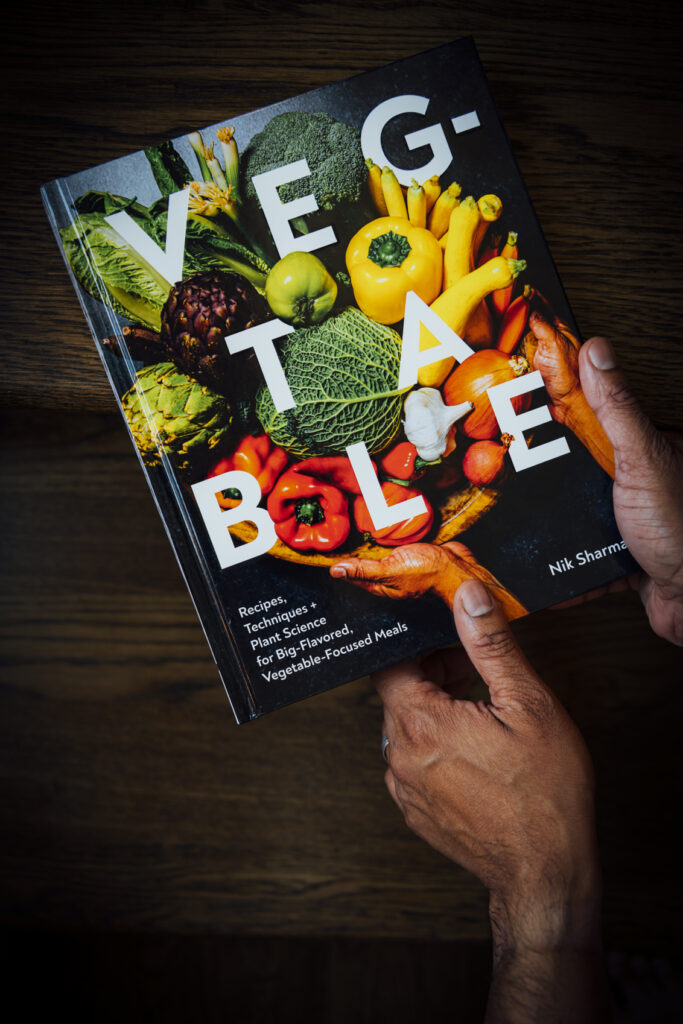 Print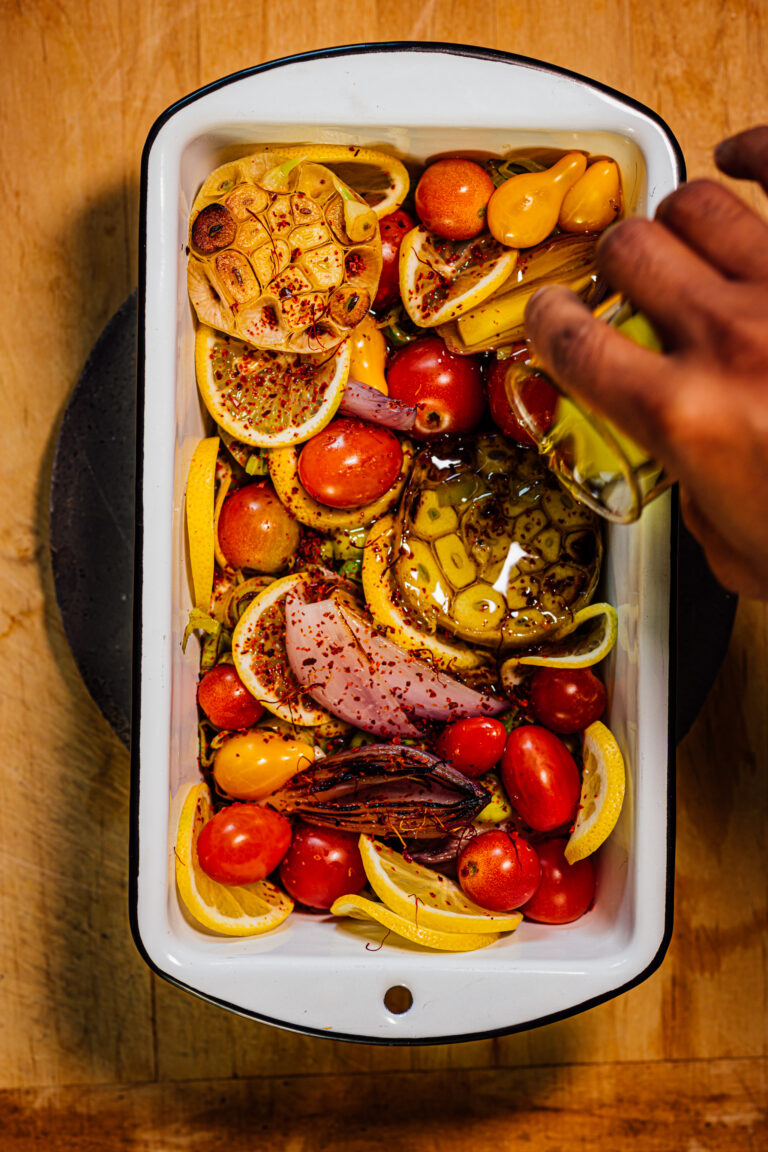 Saffron Lemon Confit with Allium and Tomatoes
When it comes to slow cooking, confit (derived from the French word confire, "preserve" or "crystallize") is perhaps one of the most versatile techniques. A confit is prepared by submerging raw vegetables or meat in a liquid that prevents the growth of harmful microbes—oil or concentrated sugar syrup, for example—and slow-cooked for a long time at low heat. In this instance, olive oil is used as the medium in which garlic, leeks, shallots, and tomatoes are slow-cooked. Unlike deep-frying, this method starts out with oil at room temperature. It warms up slowly in the oven, resulting in a more concentrated flavor and tender texture.
2 Tbsp + 1 cup/240 ml extra-virgin olive oil
2 large leeks/each about 270 g, white and light green parts only, trimmed and cut crossed lengthwise into thin slices
4 shallots/total weight about 120 g, cut in half lengthwise
1 small head garlic, halved through the equator
1 lemon, cut into thin slices, seeds discarded
1 pint/280g cherry or grape tomatoes, each pricked with a skewer or fork
1 tsp red pepper flakes such as Aleppo, Maras, or Urfa
A large pinch (15 to 20 strands) of saffron
flaky salt
bread to serve
Instructions
Preheat the oven to 350°F [180°C].
Heat 2 Tbsp extra-virgin olive oil over medium heat in a large cast-iron or stainless-steel skillet.
Add the leeks and shallots. Cook, flipping the leeks over with a pair of kitchen tongs, until fragrant, the leeks have softened, and the shallots are lightly browned, 3 to 4 minutes.
Add the garlic cut side down, adding more oil to the skillet if necessary. Cook until the garlic is fragrant and just starting to brown, about 1 minute. Remove from the heat and transfer the vegetables to an 8 by 6 by 2 in [20 by 15 by 5 cm] deep baking dish or loaf pan.
Add the lemon and tomatoes. Sprinkle with the red pepper flakes and saffron. Pour the 1 cup [240 ml] extra-virgin olive oil over the vegetables in the dish (add more if needed to cover). Cover the dish with aluminum foil and seal tightly all around. Place on a rimmed sheet pan (in case it bubbles over) and bake for about 1 hour. The leeks and garlic should be falling apart, and the shallots should be soft when done. Remove from the oven and let sit, covered, for 10 minutes before serving.
Sprinkle with a little flaky salt and serve warm with bread. Save leftover confit in the refrigerator. Warm to room temperature before serving as a dipping oil with bread. You can also make this a week in advance and store in an airtight container in the refrigerator. Warm it up in the oven at 300°F [150°C].
Notes
To maximize the flavor of the vegetables, the alliums are first lightly browned in oil. The combination of caramelization and the Maillard reaction helps create a wondrous array of brown colors and bittersweet flavors.
The bright orange color and musky flavor of saffron are fat-soluble and permeate through the olive oil during cooking.
Pricking the tomatoes helps release their liquids into the oil to create a more concentrated flavor.
You need a small baking dish to submerge this amount of vegetables in the olive oil. If your cooking vessel is too wide, they won't be covered, and they won't cook properly. If all you have is a large baking dish, then add enough olive oil to completely cover the vegetables. A 9 in [23 cm] loaf pan will also work here.