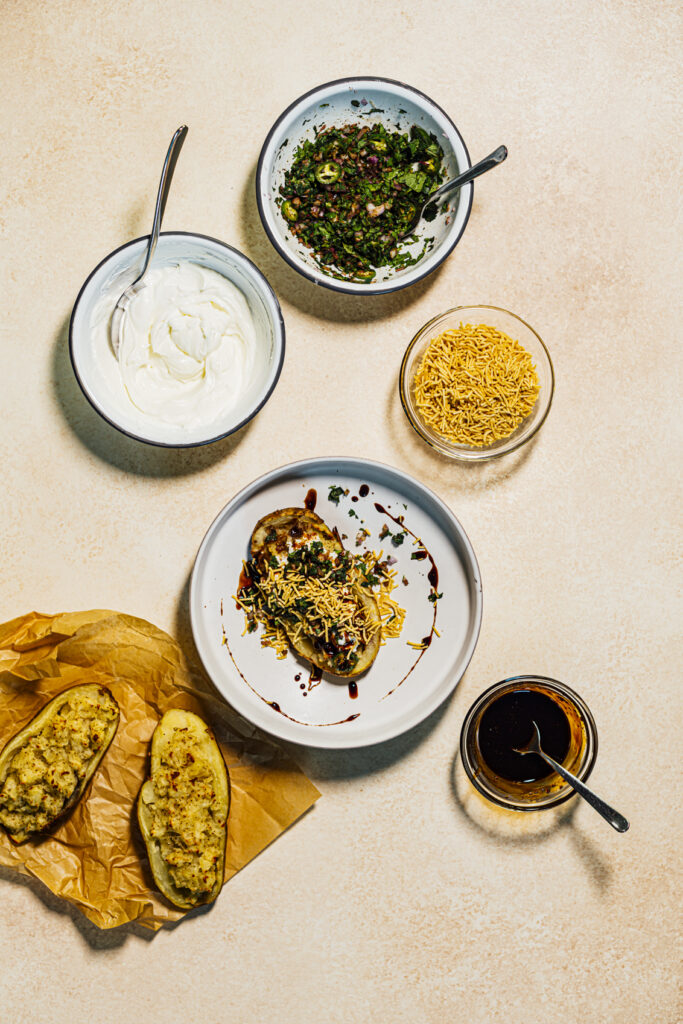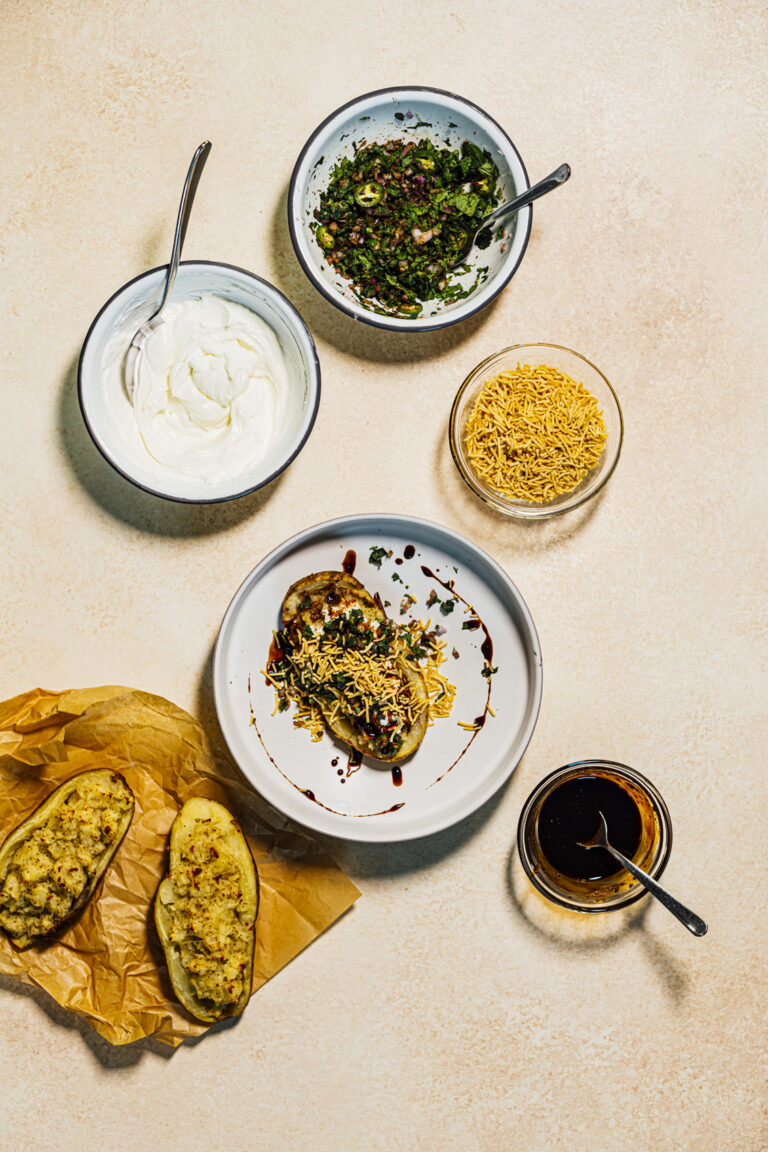 Get a taste of what's to come from my new cookbook, Veg-Table that comes out on October 24, 2023!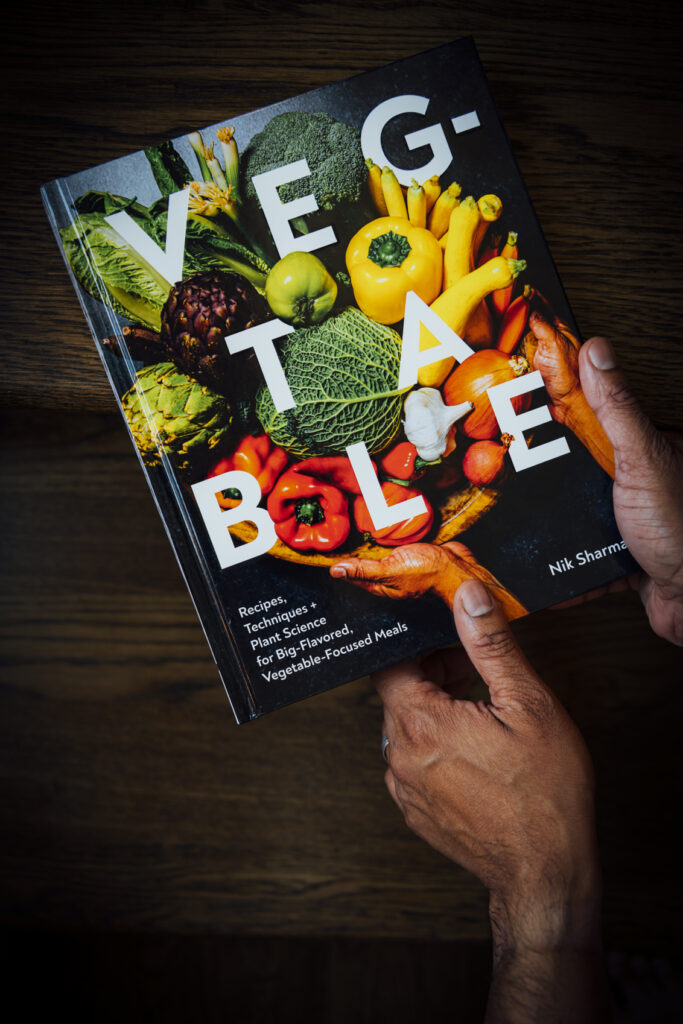 Print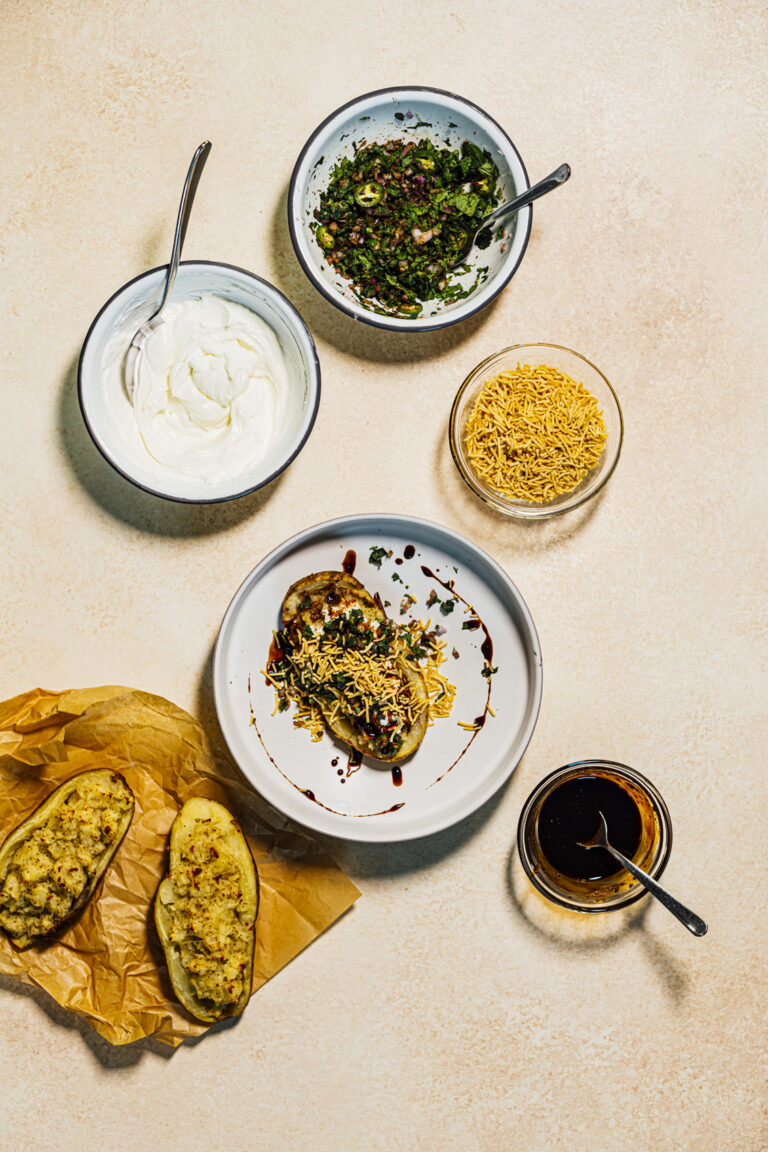 Chaat-Style Loaded Twice-Baked Potatoes
Potatoes play a very important role in Indian street food chaat-style dishes, so I figured, why not make a baked potato based on the same principles? I've limited the sauces to one—the date-tamarind chutney—and loaded the top with lots of fresh herbs and, of course, plenty of crunchy sev, a crispy noodle-like snack made from chickpea flour. If you want to add a fresh herb chutney, use the one listed in the Cook's Notes.
2 large baking potatoes
2 Tbsp extra-virgin olive oil plus extra to rub the potatoes
1/4 cup/60 ml date syrup
2 Tbsp tamarind paste
fine sea salt
1 to 2 Tbsp boiling water
1/2 tsp ground black pepper
2 shallots, minced
1/2 cup/10 g chopped cilantro
2 Tbsp chopped mint
1 green chilli such as  serrano, jalapeño, or bird's eye, thinly sliced;
2 Tbsp chaat masala, homemade or store-bought;
ground kala namak (see The Cook's Notes)
2 cups/480 g plain, unsweetened, full-fat Greek yogurt
1/2 cup of fine sev such as the 'nylon' variety (see The Cook's Notes)
1 lime, cut into wedges
Instructions
Preheat the oven to 350°F [180°C]. Line a baking sheet with foil.
Scrub the potatoes and brush with a little extra-virgin olive oil. Place on the prepared baking sheet and bake until tender enough to be pierced with a knife all the way through, 60 to 75 minutes. Remove from the oven and let the potatoes rest for about 15 minutes until cool enough to handle. Leave the oven on.
Cut the potatoes in half lengthwise and scoop out most of the flesh using a spoon, leaving about ¼ in [6 mm] border of potato on the skin. Transfer the flesh to a large mixing bowl, making sure the skins are intact (it doesn't need to be perfect). Reserve the skins.
While the potatoes bake, prepare the date-tamarind chutney. In a small bowl, whisk together date syrup, tamarind paste, and fine sea salt. If the mixture is too thick, stir in 1 to 2 Tbsp boiling water. The consistency should be thin and syrupy.
Mash the potatoes with a fork until there are no large clumps. Add the 2 Tbsp extra virgin olive oil, ground black pepper, and fine sea salt and fold gently to combine. Spoon into the reserved potato skins, place them on the baking sheet, and bake until the tops are light golden brown, about 15 minutes. Remove from the oven.
While the potatoes bake for the second time, in a small bowl, combine the shallots, cilantro; mint; green chilli; and ground kala namak.
In a separate bowl, whisk the yogurt and fine sea salt.
Top each hot potato with ½ cup [120 g] of the yogurt, followed by the shallot mixture. Drizzle with 1 Tbsp of the date-tamarind chutney and top with 2 to 3 generous Tbsp fine sev. Serve immediately with lime wedges on the side, if desired. Leftover chutney can be kept in an airtight container in the refrigerator for up to 4 days.
Notes
After the potatoes are baked, the flesh is scooped out carefully and mashed and seasoned, which makes every part of the potato flesh taste good.
Often store-bought chaat masalas will contain kala namak (Indian black salt) already, so read the description and taste some before you decide to add any.
Sev is a crispy noodle-looking snack made from chickpea flour. An alternative to sev is aloo bhujia, which looks the same and is made from potatoes. Both are available in Indian grocery stores and online. I prefer "nylon sev" because it is much finer and thinner than the others.
I don't always serve this herb chutney because there are already a lot of herbs. But for those of you who want to use it, here's the recipe for my Quick Green Herb Chutney: Blend 1 cup [20 g] tightly packed cilantro, ¾ cup [9 g] packed fresh mint with stems, 1 green chilli such as serrano or jalapeño, 2 Tbsp fresh lime juice, 1 tsp toasted cumin, and 1 tsp toasted coriander until smooth and add enough water to make a thin chutney that's about 1 cup [240 ml]. Taste and season with fine sea salt.