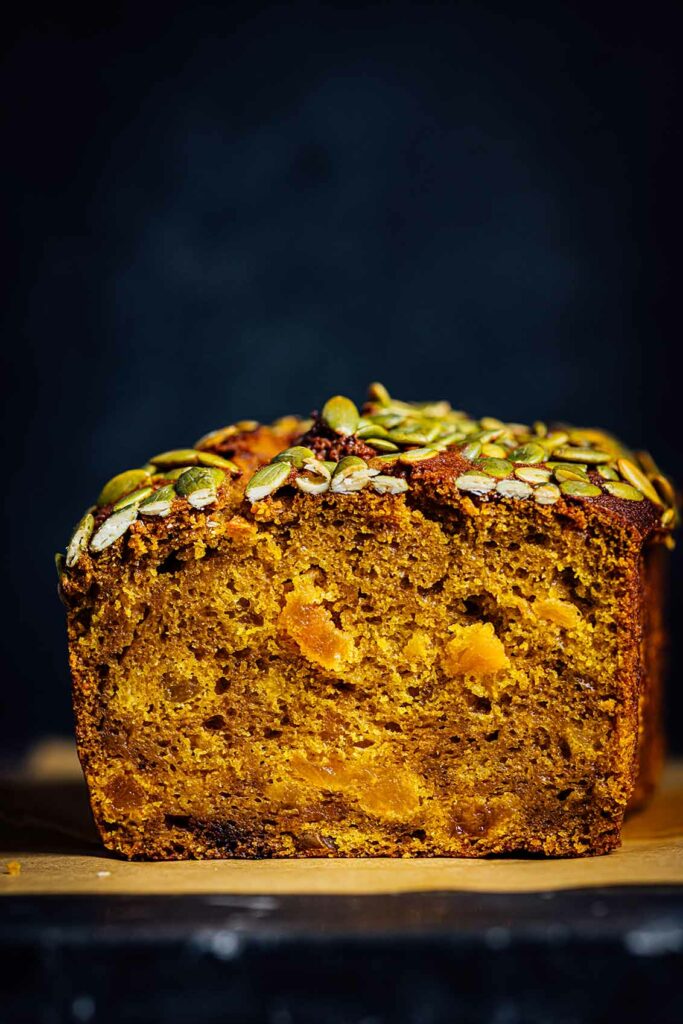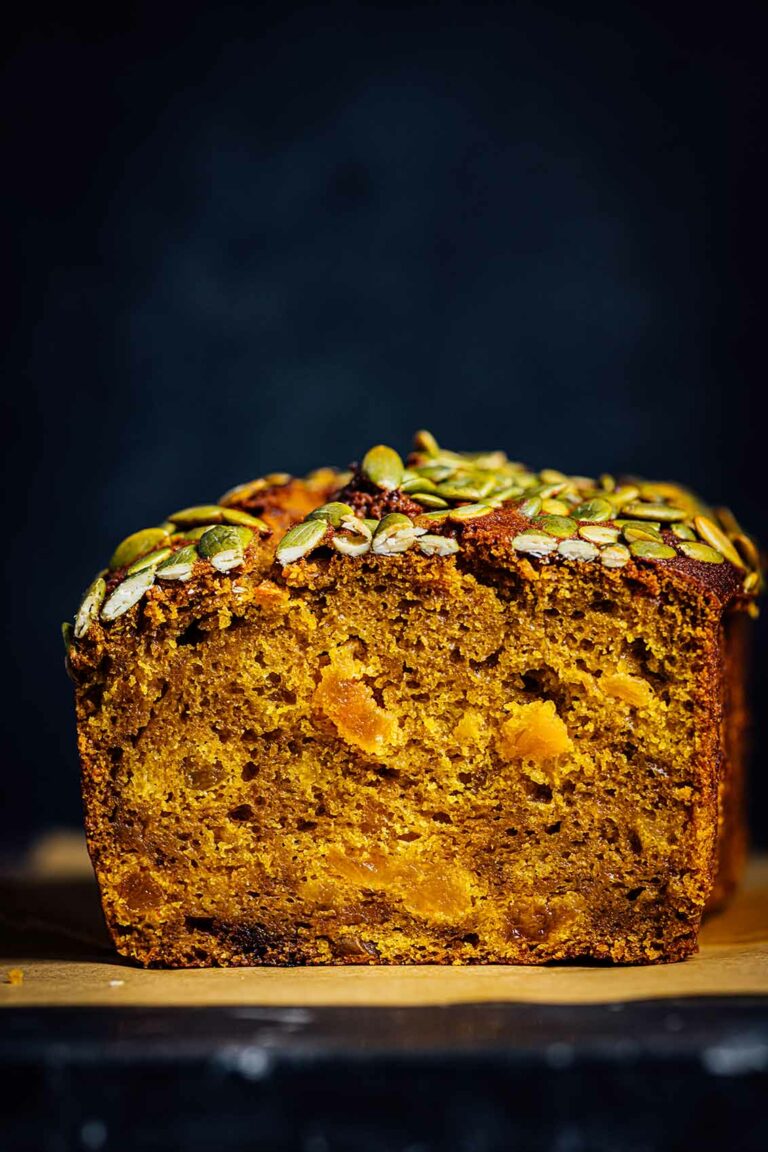 A few weeks ago, I asked what you'd like me to cook, and overwhelmingly, squash recipes were one of your most popular requested items. Today we're making pumpkin bread (we'll tackle squash again soon, I promise!). What I love about these kinds of breads (or cakes if you want to call them that) is the ease by which it comes together and as much as I like frostings there are many times when I do not want to go through the entire process of making it.
I've topped this pumpkin bread with a generous sprinkling of pumpkin seeds. Once baked, they transform into a delicious toasty crunchy bite and paired with the bits of the sweet tangy flavor of the tiny bits of apricot, it tastes like the proper seasonal transition. A sweet little hint of summer goodness moves into the radiant display of fall.
Print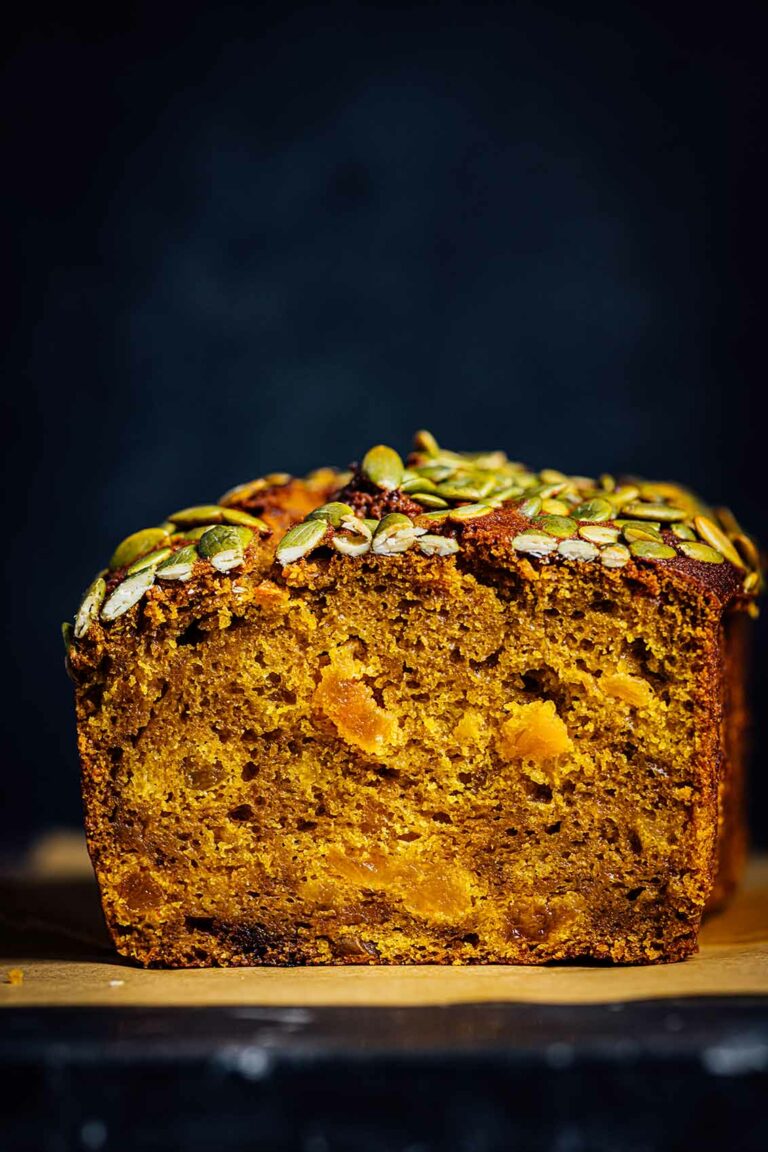 Pumpkin Apricot Bread
A pumpkin loaf with a soft and tender crumb, this sweet bread contains bits of dried apricot and is topped with a layer of bright green pumpkin seeds. A slice of this loaf is lovely with a cup of hot coffee or tea. Lightly sweetened crème fraîche goes along with this pumpkin bread/loaf.
Yield:

One 9 in/23 cm bread/loaf
cooking spray oil or olive oil

1 ½ cups/210 g all-purpose flour

1 tsp baking powder

½ tsp baking soda

½ tsp ground green cardamom

¼ tsp ground allspice

15 to 20/about 150 g dried apricots, chopped

One 15 oz/430 g can of pumpkin puree

1 cup/200 g packed light brown sugar

½ cup/120 ml maple syrup

½ cup/120 ml extra-virgin olive oil

2  large eggs, cold

1 tsp vanilla extract

¼ cup/35 g raw pumpkin seeds
Instructions
Preheat the oven to 350F/180C.
Grease and line a 9 in/23 cm loaf cake pan with parchment paper and a little cooking spray oil. In a medium mixing bowl dry whisk, the flour, baking powder, baking soda, green cardamom, and allspice.
In a small mixing bowl toss, the apricots and 2 Tbsp of the dry flour mix to coat well. They really need to be coated very well or they will sink like a boat hit by an iceberg during baking.
In a large mixing bowl whisk, the pumpkin purée, brown sugar, maple syrup, olive oil, eggs, and vanilla until smooth.
Add the flour mixture to the large bowl with the wet ingredients and whisk until combined and there are no visible flecks of flour. Add the apricots, fold, and transfer to the prepared pan. Level the top with an offset spatula.
Top the surface of the batter with the pumpkin seeds.
Bake in the preheated oven for 1 hour to 1 hour 15 minutes, until the cake is firm, springs back when gently pressed, and a skewer or knife when inserted through the center comes out clean. Rotate the pan halfway through during baking.
Let the bread cool in the pan for 5 minutes. Run a knife along the edges to release the bread, unwrap, and let cool to room temperature before serving. The bread will stay good for 4 days if stored in an airtight container at room temperature. It can also be frozen for up to 1 month if wrapped tightly with clingfilm and kept in an airtight ziptop bag.
Notes
With sweet breads like these, the oil leaves a much nicer and more moist cake. You can use the blender method to make the liquid portion of the batter just like I did in the chocolate cake recipe.
Besides extra-virgin olive oil, grapeseed oil also works well in this bread.
There are a few different ways to determine when breads and cakes are done. One way that most of us are familiar with is to insert a skewer or knife through the center of the bread and cake and see if it comes out clean. You can also press the top gently and see if it springs back, if it remains depressed then it still needs more time (don't press too hard or you'll end up with a permanent crater). A method that I use all the time and I learned this while I worked at the patisserie, is to get a thermometer and stick the probe into the center of the bread or cake, if it reads 200F/95C then it's done.
Don't use pre-toasted pumpkin seeds, as they will toast on top of the cake as it cooks. In the past, when I've swapped in pre-toasted pumpkin seeds (and this holds true for nuts and other seeds), the oils inside the seeds turn rancid and start to smell funky quickly.
Here's a trick that's often used in commercial baking: if you think the color of your batter is not a brilliantly yellowish-orange from the pumpkin, whisk in ¼ tsp to ½ tsp of ground turmeric to the batter. It will help amplify the color but don't use more than this or it runs the risk of making things taste like turmeric (that taste won't work here).