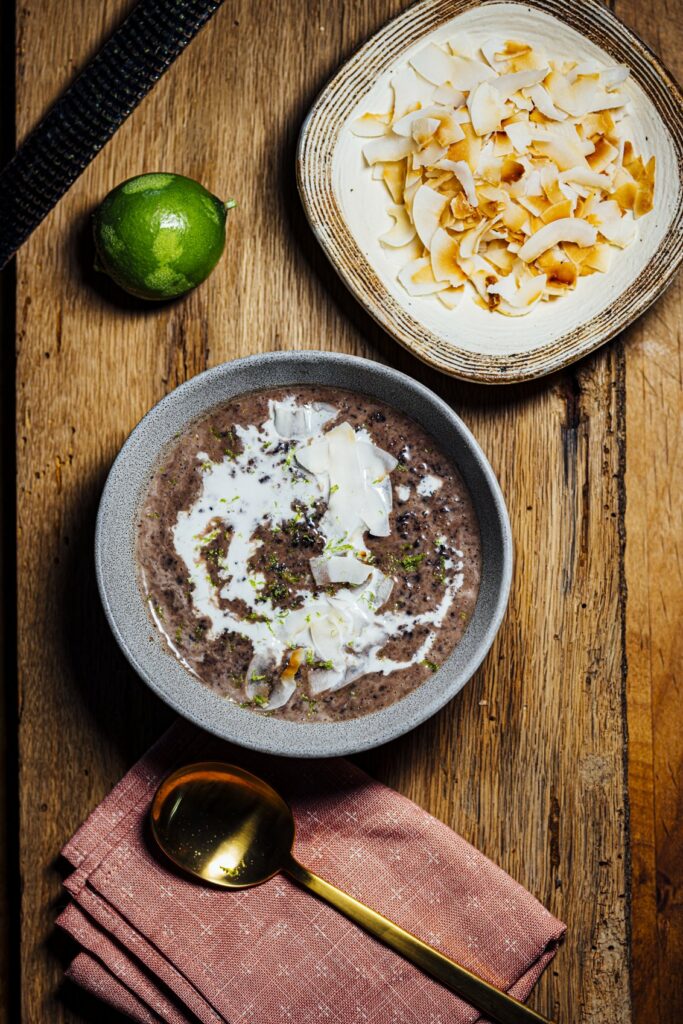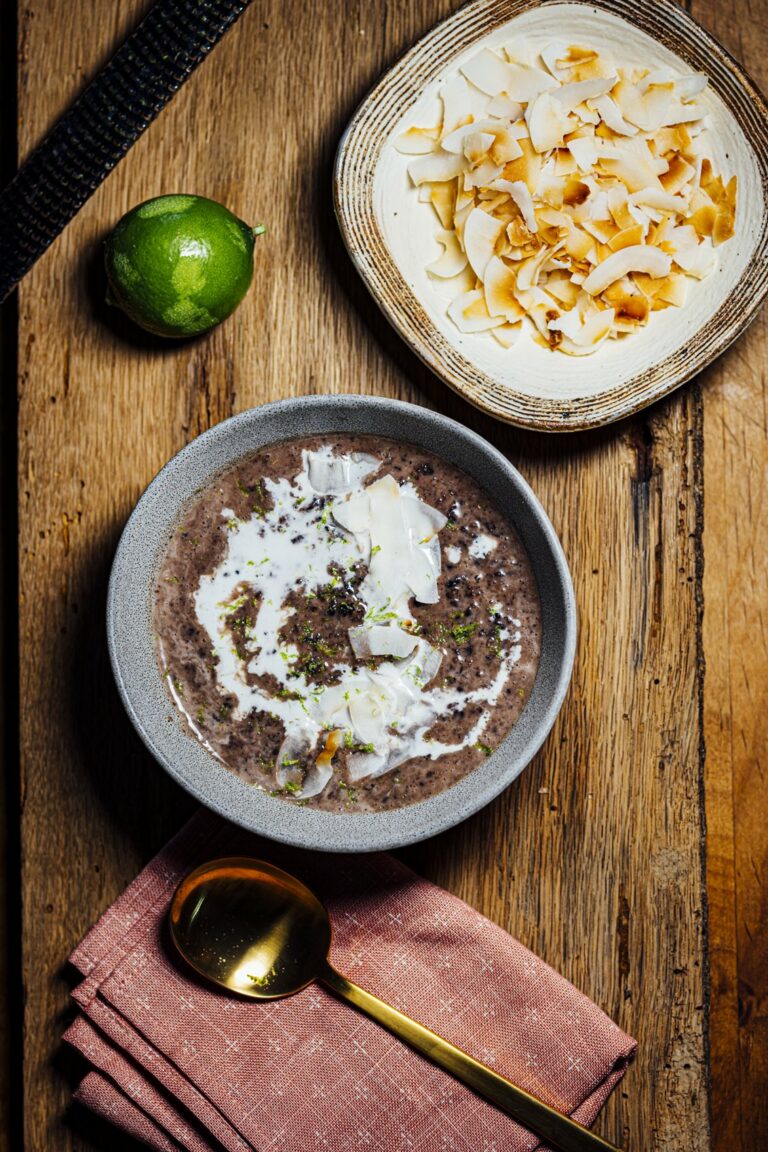 I love rice in any form, sweet or savory. Amongst the sweet avatars of rice, rice puddings remain a favorite that started as kheer from my childhood in India to the different forms of rice pudding that I learned over time. This rice pudding is based on the flavors of the delightful Thai-style rice puddings where sticky rice is used, but I haven't used sticky rice….
I've found it easier to come across black rice (aka Forbidden Rice) than I have black sticky rice in my store, and I wanted to find a way to use it in rice pudding. I've worked out a simple way to recreate the same creamy texture in this recipe. I got a clue from the bean and lentil dishes like dals, stews, and soups, where often part of the stew is blended to help thicken it. Blending destroys the physical structure of the cooked seeds, but it also helps the starch inside the sources do its job of thickening the liquid. This technique works great in this rice pudding, and it creates a thick and creamier finish to the pudding.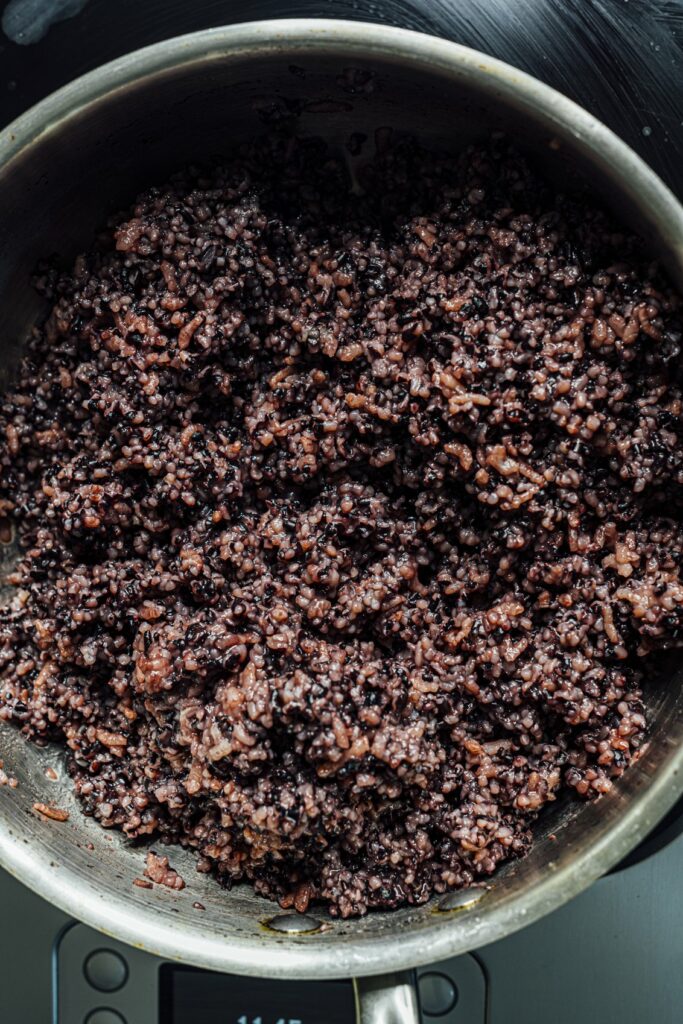 Thai-style rice puddings also use coconut cream or milk, and pandan leaves to build on flavor. I love the scent of coconuts, so I took a little liberty and used coconut milk and toasted coconut. Instead of pandan, I used green cardamom, which is lovely in this combination. To sweeten the pudding, I love the earthy flavor of jaggery (look for it online or at your local Indian grocery store), but dark brown sugar or muscovado are wonderful options too. The final finish involves topping the pudding with a fresh lime zest, which IMO really makes the pudding shine.
Print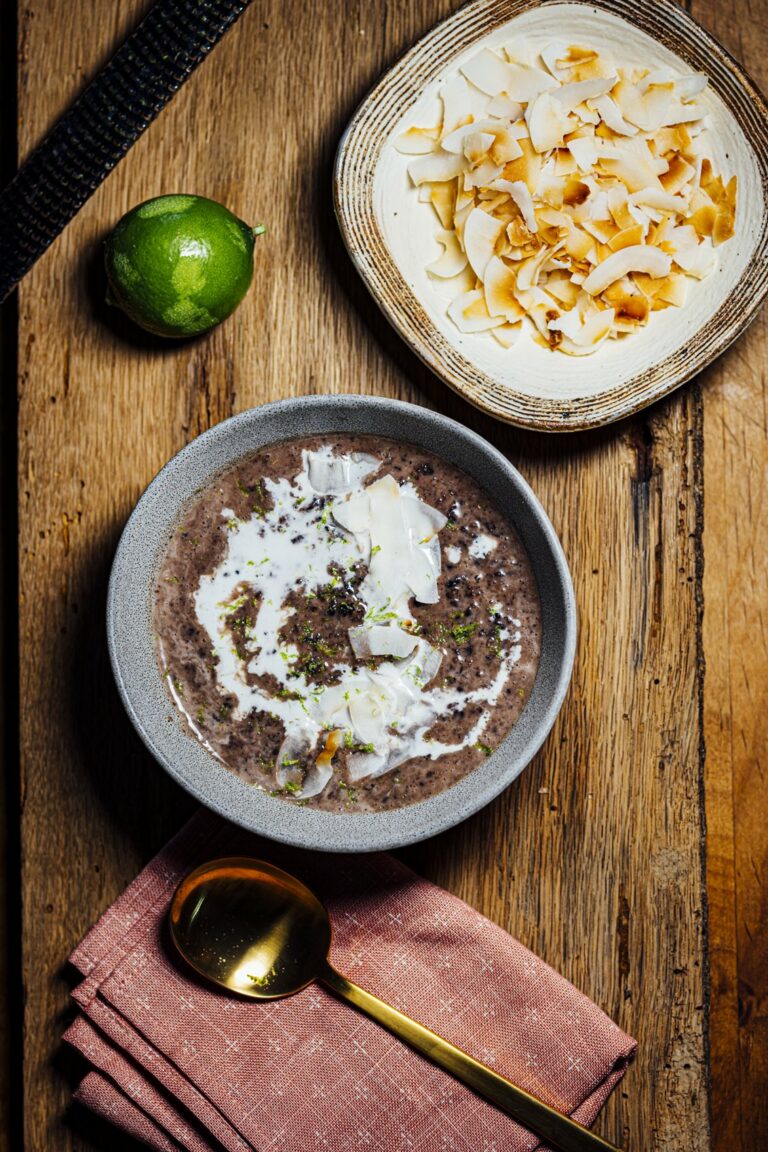 Black Rice Coconut Milk Pudding
Rice puddings are my comfort (and sometimes breakfast) food. This rice pudding is based on the traditional Thai sticky rice pudding with a few differences. It doesn't use sticky rice or pandan/kewra. Instead, I use black/forbidden rice along with sushi rice. To achieve a similar creamy and thick texture from the starch, a portion of the rice is blended with water to create a smooth liquid that forms the base of the pudding. Coconut milk and cardamom add a wonderful scent, along with a dash of fresh lime zest and toasted coconut.
1 cup/200 g black rice, cleaned

¼ cup/50 g sushi rice, cleaned

4 ½ cups/1 L water

¾ cup/150 g packed brown sugar or jaggery

1 tsp ground green cardamom

1 ½ cups/360 ml unsweetened coconut milk

Zest of 1 lime

½ cup/50 g unsweetened toasted coconut
Instructions
Rinse the rice and soak them in a large bowl with enough water to cover them by 2 in/5 cm. Soak overnight. The next day, discard the soaking water.
Add the rice and 4 cups/960 ml of water to a large saucepan and bring to a boil over medium-high heat. Reduce to a simmer, cover the pan loosely with a lid, stir often to prevent the rice from sticking and burning, and cook until the rice is tender, 25 to 30 minutes. Remove from the heat. Transfer 2 cups of the cooked rice and ½ cup/120 ml water to a blender or food processor, and pulse until smooth and velvety. If it needs help to move, stop the blender, stir in a few more tablespoons of water, and blend. Pour the liquid back into the rice. Add the brown sugar and cardamom to the rice mixture. Cook over low heat until the sugar is dissolved, occasionally stirring to prevent scorching. Remove the saucepan from the stove and mix half the coconut milk. Taste and add more sugar if needed. Remove the saucepan from the stove and pour in 1 cup/240 ml of coconut milk. Taste and add more sugar if needed.
Serve the rice pudding warm or cool, topped with fresh lime zest and toasted coconut, and with the remaining ½ cup/120 ml coconut milk on the side.
Notes
Both types of rice can be soaked together or separately; it won't make a difference.
My favorite brand of coconut milk is Aroy-D, the smell is heavenly. For a richer texture, reduce the volume of coconut milk to ½ cup/120 ml and add 1 cup/240 ml of coconut cream.