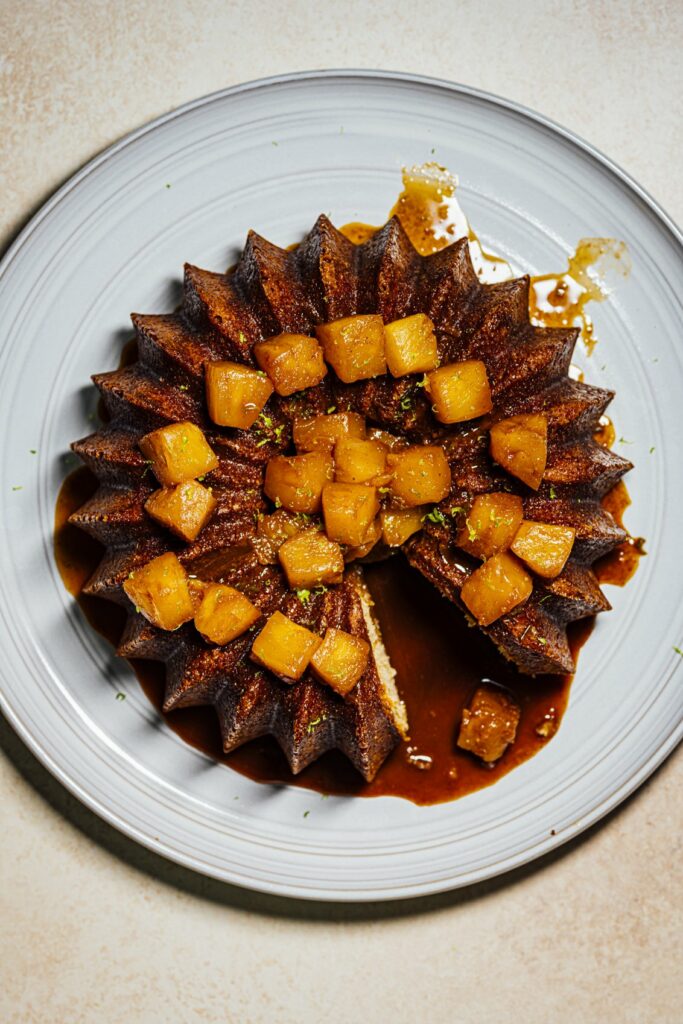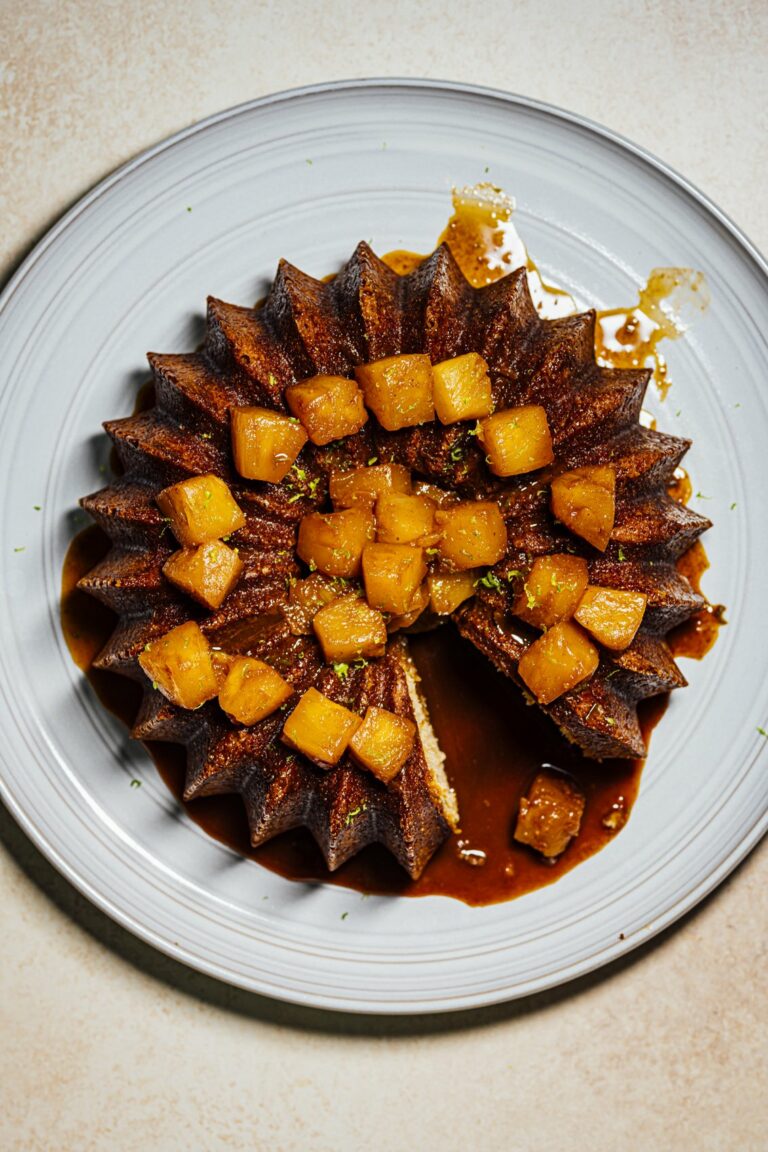 Before the programming here switches to fall, I thought it would be more appropriate to bake a transition cake that helps us move from summer into fall. Pineapples were the immediate fruit that came to mind. Pineapples remind me of my trips to Hawaii – the warm summer breezes and the ocean. If we're going to leave summer, we'll leave it with a big bang or, in this case, a big, bold bundt cake.
Because this cake is supposed to mark our entry into fall, I added warm spices to the cake batter and the stewed pineapples in the form of Chinese 5-spice and ground cinnamon. These spices carry sweet fragrant notes that make the pineapple flavor more robust, and if aromas could sing, then this would be the pineapple song.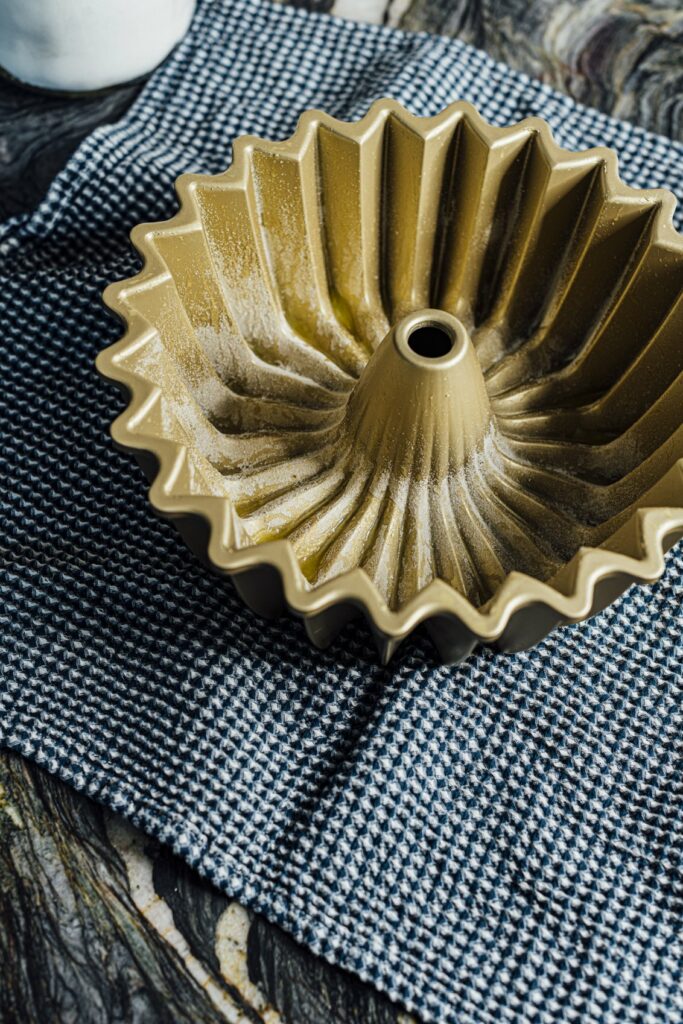 Instead of introducing pineapples into the cake batter, they are stewed gently in their juices along with a mixture of Chinese 5-spice and cinnamon; this combination, along with a splash of lime juice, brings out the flavors of the fruit. This pineapple topping is sweetened with jaggery or brown sugar to give it a more earthy taste and then poured on top of the baked cake. As soon as that's done, I give the cake an excellent generous dose of lime zest; this makes the cake smell remarkably refreshing and tropical. When you cut into that cake, that lovely, sweet fruity pineapple syrup runs through, and this cake will play with your senses in the most beautiful way possible. This spiced pineapple cake is the perfect ode to summer and fall.
Print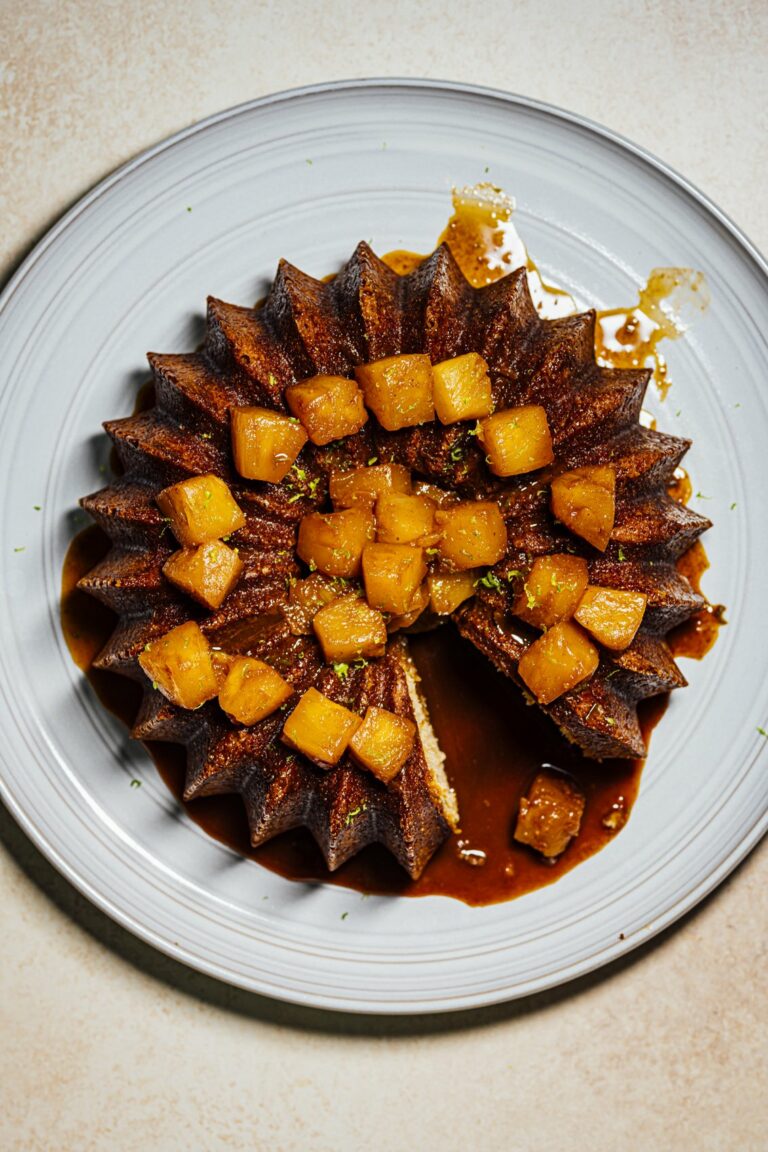 Chinese 5-Spice Pineapple Bundt Cake
This is a fragrant cake ripe with the scent of ripe pineapples, refreshing limes, and the warm, sweet notes of Chinese 5-spice and cinnamon. A stewed concoction of chunks of spiced pineapples is topped over a yogurt-based spiced bundt cake. Serve it warm or at room temperature.
Yield:

One 10 in/25 cm bundt cake/6 to 8 servings
For the Cake
1 Tbsp melted unsalted butter

1 cup/200 g sugar plus 1 Tbsp

2 cups/280 g all-purpose flour

2 tsp baking powder

1 tsp Chinese 5-spice powder

½ tsp baking soda

1/8 tsp fine sea salt

¾ cup/180 ml olive oil or neutral oil such as grapeseed

2 large eggs

1 cup/240 g plain unsweetened Greek yogurt

For the Pineapple Topping
1 cup/240 ml pineapple juice

10 oz/280 g ripe pineapple, diced into 1 in/2.5 cm cubes

¾ cup/150 g ground jaggery or dark brown sugar

1 tsp Chinese 5-spice powder

½ tsp ground cinnamon

1 Tbsp fresh lime juice

Zest of one lime

Instructions
Preheat the oven to 350F/180C.
Brush the inside of a 10 cup/2.4 L bundt pan with melted butter. Sprinkle 1 Tbsp of sugar over the buttered pan, shake, and rotate the pan to coat evenly.
In a medium mixing bowl, dry whisk the flour, baking powder, Chinese 5-spice powder, baking soda, and salt.
In a large mixing bowl, whisk the 1 cup/200 g sugar, oil, eggs, and yogurt until smooth. Add the flour mixture and whisk until combined and there are no visible flecks of dry flour. Transfer the batter into the prepared bundt pan, tap gently to remove any trapped large bubbles, level the top with a spatula, and bake in the preheated oven for 45 to 60 minutes, rotating the pan halfway through during baking. The cake will be done when the cake springs back when touched, and the skewer comes out clean when inserted through the middle of the cake. The interior temperature of the cake should reach 210F/100C. Remove the pan from the oven and let rest for 5 minutes. Invert the cake carefully over a plate lined with a wire rack and tap gently to release. If the cake doesn't release, run a knife along the edges and then invert. Cool the cake to room temperature and transfer to a serving plate.
While the cake bakes, prepare the pineapple topping. Bring the pineapple juice, pineapple, jaggery, Chinese 5-spice powder, cinnamon, and lime juice to a boil over medium heat. Boil for 1 minute, then reduce to a simmer and remove and transfer the pineapple pieces to a heat-proof bowl using a slotted spoon. Continue to simmer the liquid until it reduces in volume by half. Remove from the heat and fold in the pineapple.
Top the cooled cake with the pineapple and drizzle the warm syrup all over the cake. Let the cake rest for 10 minutes, then top with the lime zest. Serve warm or at room temperature. Leftovers can be stored for up to 4 days in an airtight container in the refrigerator.
Notes
I used the Elegant Nordic Ware bundt pan for this recipe, and its capacity is 10 cups/2.4 L
I don't coat my bundt cake pans with flour because I don't like the taste of pure flour on my cake. Instead, I use a mixture of melted unsalted butter and sugar, which always gives me perfect results. Sugar also leaves behind a coating of caramel on the outer surface of the cake.
Use either full-fat Greek yogurt or go as low as 2% but avoid fat-free.
Either fresh or canned pineapple will work in this recipe.