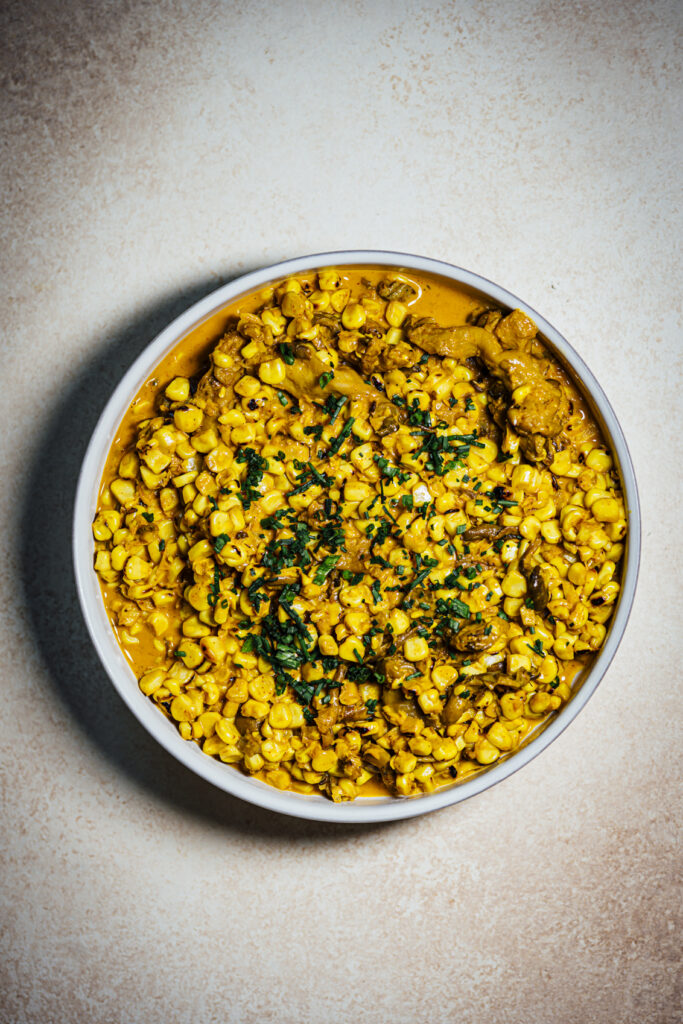 Print
Creamed Corn and Oyster Mushrooms
"Saucy or Brothy" that's how I classify people who love creamed corn. I'm somewhere in between, and the recipe is written as such. However, if you prefer it saucier or soupier, adjust the simmer time to your preference. The richness of coconut milk gives this vegan version of creamed corn a silky-smooth texture that's comforting.
2 Tbsp extra-virgin olive oil

8 oz/230 g oyster mushrooms

1 lb/455 g sweet corn kernels, preferably roasted (See The Cook's Notes)

2 garlic cloves, grated

1 tsp ground smoked sweet paprika

½ tsp ground turmeric

½ tsp ground chipotle

2 Tbsp fresh oregano, chopped (Mexican oregano works well in this recipe)

1 cup/240 ml full-fat plain unsweetened coconut milk

Fine sea salt

2 Tbsp chopped chives
Instructions
Heat the oil in a 12 in/30.5 cm stainless-steel skillet over medium-high heat. Add the mushrooms, sprinkle ¼ tsp fine sea salt, and sauté until the mushrooms turn plump and lightly browned, 3 to 4 minutes.
Fold in the sweet corn, garlic, paprika, turmeric, chipotle, and oregano and sauté until fragrant, 30 to 45 seconds. Stir in the coconut milk, reduce heat to a simmer, and cook until the mixture is saucy but not brothy (about ¼ cup/60 ml of liquid should be left behind), 4 to 5 minutes. Taste and season with fine sea salt. Transfer to a serving bowl and garnish with the chives. Serve warm.
Notes
You can make this 1 to 2 days ahead of time, reheat it before dinner, and garnish it just before serving.
You can use roasted frozen corn to save on time. If you want to do it from scratch, you'll need 4 ears of sweet corn. Brush them with a little olive oil and roast them directly over a grill or in a cast-iron skillet over medium-high heat until the kernels start to char, turning them with a pair of kitchen tongs, 10 to 12 minutes. Remove the cobs and let them rest until they're cool enough to handle. Strip the kernels off the ears using a knife and discard the cob. You should have about 1 lb/455 g kernels.
You don't need to stick to oyster mushrooms, but if you switch to another mushroom, adjust your cooking time accordingly.
I prefer Mexican Oregano in this recipe because it's got a more robust flavor, but any type of oregano will work here.
My favorite coconut milk is Aroy-D. The flavor is simply the closest thing to fresh coconut milk extracted.