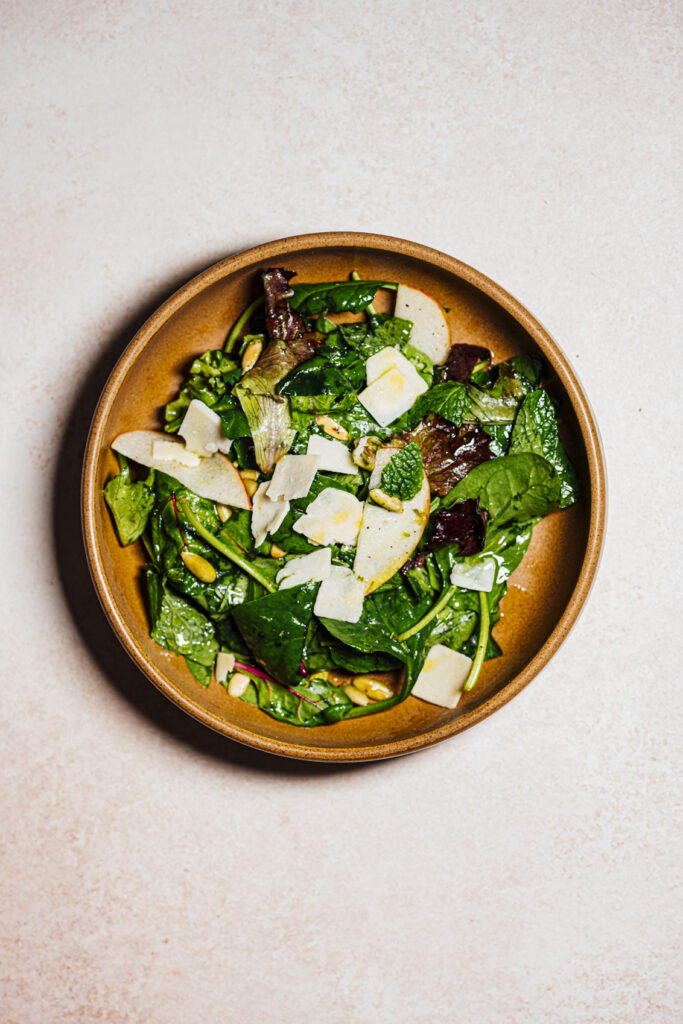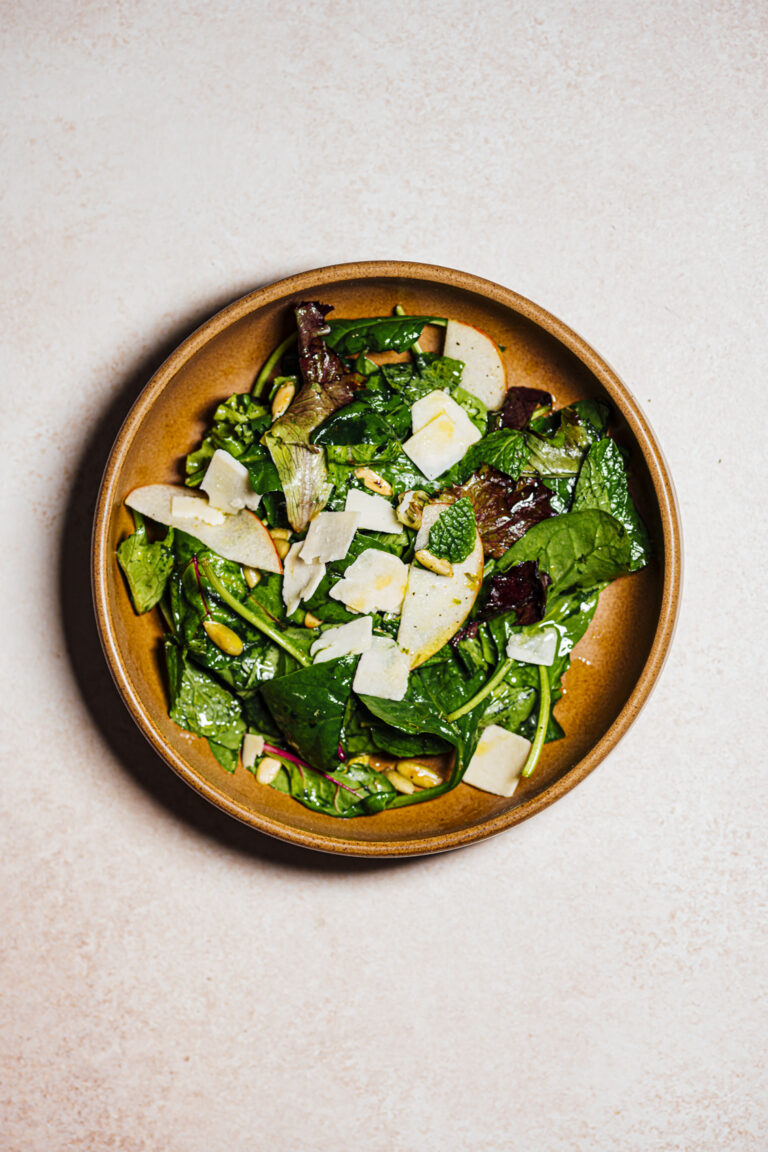 Print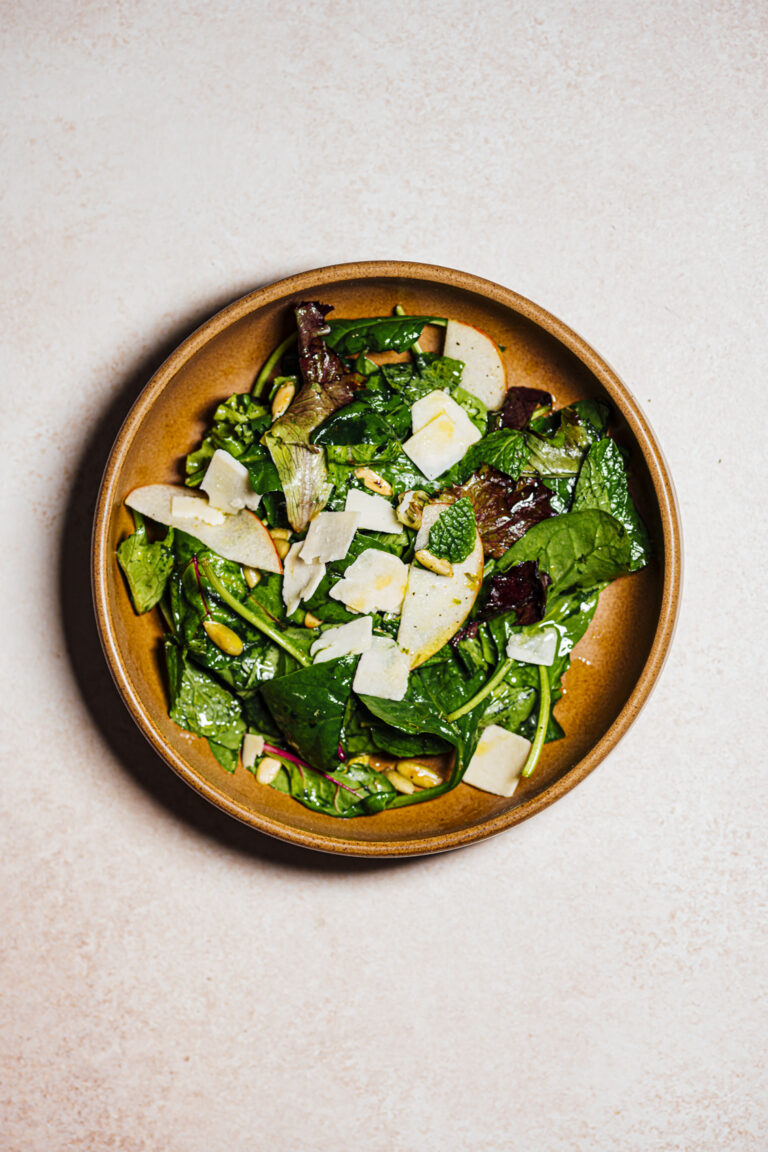 Mixed Greens and Herb Salad with Lime Dressing
I've wondered about the necessity of a salad at Thanksgiving. With so many sides, most of which are vegetarian or vegetable-heavy, do we really have space to eat a salad I've come to realize that salad is important and very helpful if light. I eat my salad before I jump into the main dinner, it helps me pace myself during the big meal. Feel free to play with the herbs, use all of them, or just a few of them.
10 oz/280 g mixed salad greens

1 large/200 g crisp apple of your choice, cored and cut into thin slices

2 Tbsp fresh chives, chopped

2 Tbsp fresh cilantro or flat-leaf parsley leaves, torn

2 Tbsp fresh mint, torn

2 Tbsp fresh dill, chopped

2 Tbsp fresh tarragon, chopped

¼ cup/35 g unsalted toasted pumpkin seeds (See The Cook's Notes)

For the dressing

¼ cup/60 ml neutral oil such as sesame or grapeseed oil

3 Tbsp/45 ml fresh lime juice

1 Tbsp runny honey

Zest of 1 lime

½ tsp ground black pepper

Fine sea salt

Shaved Parmesan for garnish (optional)

Instructions
In a large mixing bowl toss the greens, apple, chives, cilantro, mint, dill, tarragon, and pumpkin seeds.
Prepare the dressing. In a small bowl, whisk together the oil, lime juice, honey, lime zest, and black pepper. Taste and season with salt.
Pour the dressing over the greens in the large bowl and toss to coat well. Taste the leaves to make sure the seasoning is right. Add more salt if needed. When ready to serve, garnish with Parmesan.
Notes
You can make the dressing a maximum of 2 hours ahead of time. Just toss it all together right when you're ready to serve.
To toast pumpkin seeds, toast the seeds in a dry skillet over medium heat until they start to turn golden brown, remove and immediately transfer to a plate and let them cool. Don't leave them in the hot skillet as they can burn.
A salad spinner is great at getting rid of the excess water from the salad greens, so use it if you have one on hand.
You don't need to use all the herbs, listed. Use what works for you but try to keep the total amount of herbs around 1/4 cup.
If you have some yuzu on hand from the crispy potato recipe and don't mind repeating that aroma again in your menu, reduce the lime juice to 2 Tbsp and add 1 Tbsp of yuzu juice.