It was terribly hard to try and get some time to post over the weekend mainly because I over booked myself. I did however have a wonderful time after finally getting to see and
participate
in the interactive murder mystery play
"Shear Madness"
at the
Kennedy Center
. Classes have finally begun and thesis stress is underway but I think I am finally getting close to picking a topic that is interesting.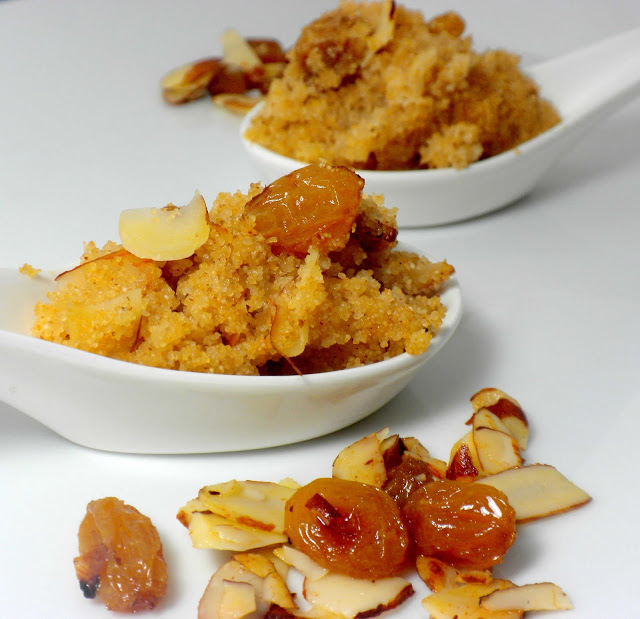 The onslaught from the rain is still pretty strong and the daily showers daily are reminiscent of the monsoon seasons of Bombay. There is nothing better than sitting in bed on a rainy weekend with a warm bowl of halva. I like halva of all sorts but one of my favorites is the simple semolina or durum halva with toasted nuts and sultanas. I gave this age old family recipe a bit of change by using sultanas that were soaked in dark rum for six months. I know six months is a long time for this but since I am one of those people that make a Christmas fruit cake every year and must have my dry fruit soaked in dark rum for at least year, I always have some on hand in my pantry. You can get away with sultanas soaked in dark rum for at least one night. The sultanas get plump with the rum and add a nice grown up feel to the dessert. If you don't want the rum skip it. You can substitute the sultanas with raisins. For the nuts, I used raw slivered almonds but walnuts would also be great in this dessert. This semolina halva is not only a fun dessert but also rich in fiber and nutrients and makes for an excellent dish at breakfast.
semolina halva with rum soaked sultanas
1 cup semolina
1 tablespoon melted unsalted butter
1/4 cup sultanas soaked in 1/4 cup dark rum overnight
1/4 cup raw slivered almonds
1.5 tablespoons sugar
a pinch of saffron
2 cups water


1. Heat a nonstick skillet on a high flame and toast the semolina. Stir the semolina constantly to ensure an even light golden brown color but taking care to avoid burning the semolina. Add the butter to the pan and mix it into the semolina.
2. Reduce the flame to a low-medium flame and add the sultanas and almonds. Stir the mixture for about 2-3 minutes till the sultanas and almonds get lightly seared.
3. Add the saffron, sugar and water along with the any liquid left behind from the sultanas. Cover with a lid and let it cook till all the water evaporates. Serve warm.