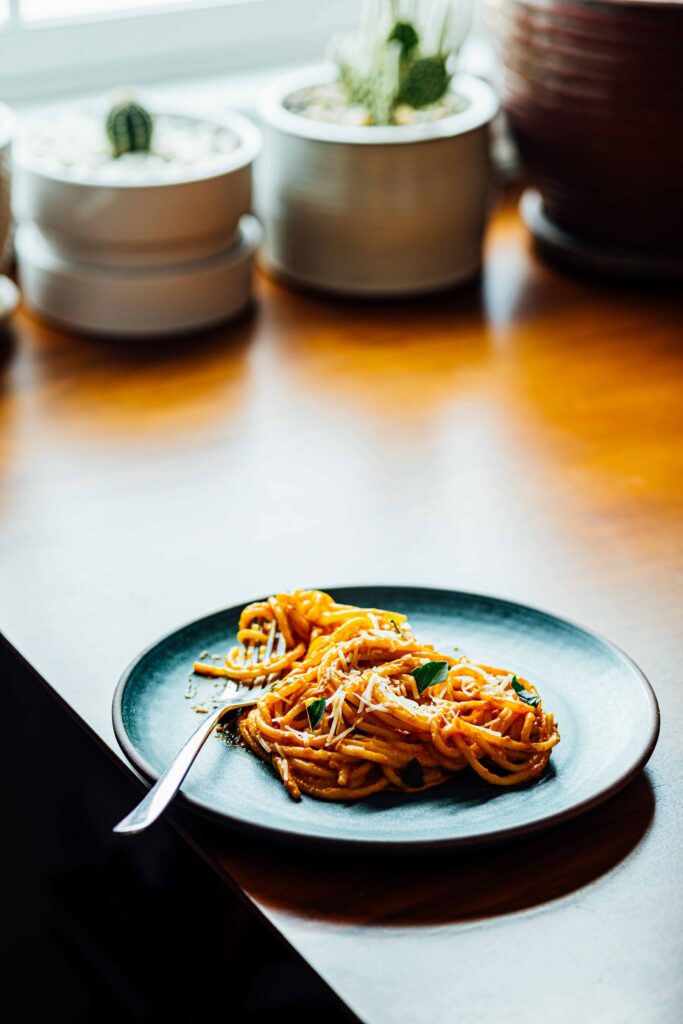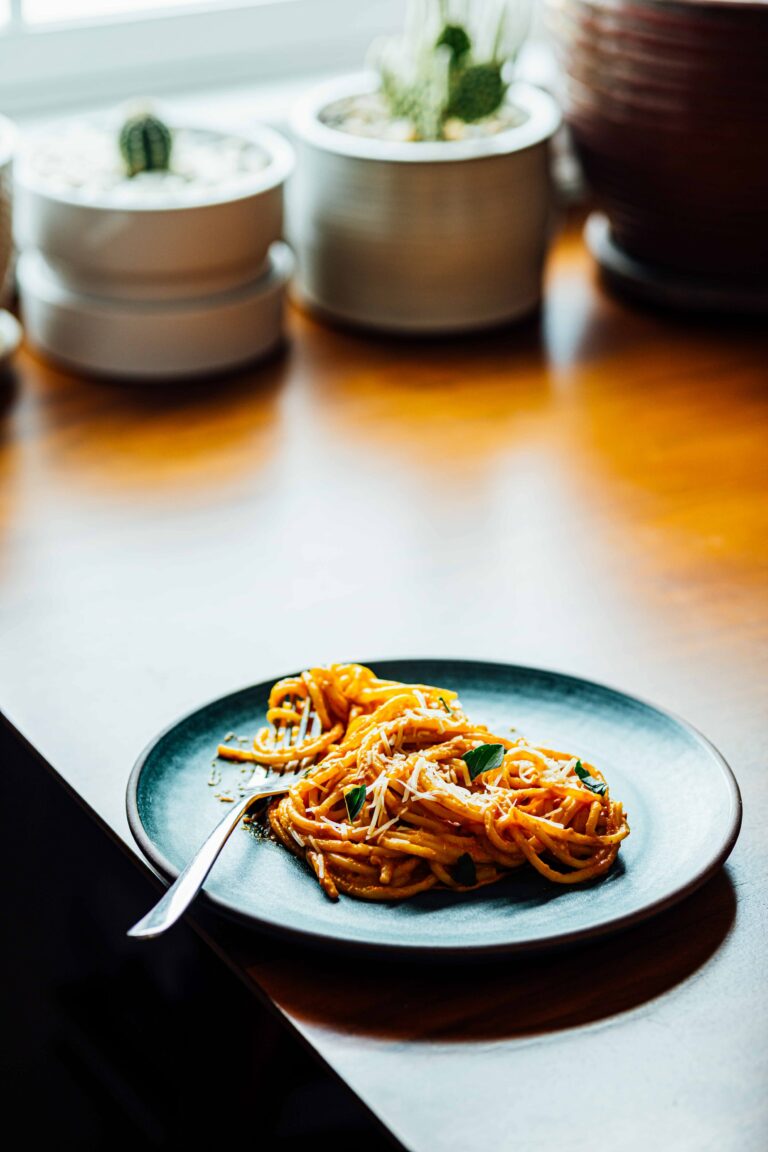 "How do I make tomato sauce taste more savory?" – This might just be one of the most popular questions I get from readers, I think chocolate cakes are a close second.
The most common way to build savoriness in tomato sauce is to grab a tube of anchovy paste, give it a good squeeze, and get some that grayish paste into a saucepan containing hot olive oil. You can also add a few anchovy slivers from a tin of packed anchovies (preferably the ones stored in olive oil, use some of that olive oil for extra flavor) and cook the fish, till they fall apart completely. The bones are so tiny and fragile, they melt away and become inconspicuous.
You can also soak dried mushrooms like porcini or shiitake in hot water and add that liquid to the sauce.
But what if you don't eat fish, simply don't own a tube of anchovy paste, or can't find any anchovies where you live? My solution is to go for the tub of miso (I prefer the yellow (soybeans are fermented with barley) or white (the soybeans are fermented with rice) miso pastes) sitting in the refrigerator. Just like anchovies, miso is a concentrated form of umami goodness but instead of fish, it is produced by fermenting soybeans. Just like anchovies, miso is an instantaneous way to add savoriness to food because it dissolves immediately. Since miso already contains salt, you probably won't need to add any extra salt to the tomato sauce and an extra advantage, is it will help thicken up the sauce quickly.
This week, I'm going to show you how I make my tomato sauce at home, in its simplest avatar and we will build on that savory taste with miso. Of course, you can make this sauce even more elaborate by sautéing onions, celery, etc., that bit I leave up to you.
I'm probably a bit of an anomaly when it comes to how I like my pasta. I like a smaller amount of pasta in my bowl, but the pasta must be coated with extra sauce and I'm generous with the amount of cheese and basil that goes on top.
Print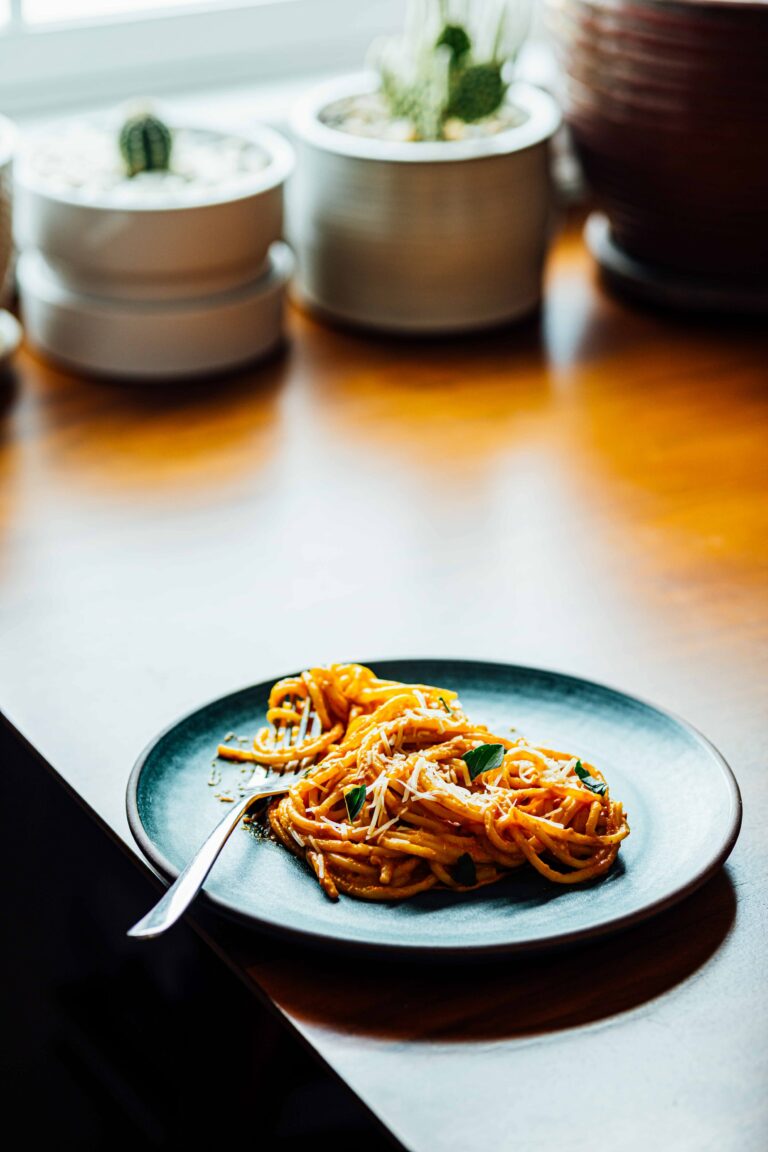 Roasted Tomato Miso Sauce and Spaghetti
This is the simplest of tomato sauces to use with pasta, one that I make often. If you make this sauce in summer during the peak season of tomatoes, then you shouldn't need to add sugar because ripe tomatoes in season are always so sweet! If you do or you don't own anchovies on hand or you do or don't eat seafood, you must try this roasted tomato sauce. Instead of anchovies that help amplify the umami of the sauce, miso builds the savoriness of the sauce, adds salt, and also helps thicken the sauce.
My sauce-to–pasta ratio might seem a bit quirky, I tend to fall into the group of people that like it with extra sauce. If you like more pasta, use a whole box (1lb/455g), this recipe makes enough sauce for a thinner coat.
1 ½ lb/680 g cherry or grape tomatoes

¼ cup/60 ml extra-virgin olive oil

2 cloves of garlic, grated

1 tsp red pepper flakes such Aleppo, Maras, or Urfa

2 Tbsp yellow or white miso paste

fine sea salt

½ lb/230 g dried spaghetti, no 12

12 fresh basil leaves, torn

2 Tbsp lightly packed shredded or grated Parmesan
Instructions
Start with the sauce. Preheat the oven to 400F/200C.
Swirl to coat the tomatoes with 2 Tbsp of olive oil on a baking sheet or a 9 in by 13 in /20cm by 23cm roasting pan. Roast the tomatoes in the preheated oven till they start to burst and turn a light golden brown, rotating the pan halfway through during cooking, 25 to 30 minutes. This is where the tomatoes will lose their water content and become concentrated in flavor. Remove the sheet from the oven and transfer the tomatoes and all the drippings from the pan to a blender. Pulse on high speed for a few seconds till it turns into a smooth purée.
Heat the remaining 2 Tbsp of the olive oil in a medium saucepan over medium heat. Add the garlic and red pepper flakes to the hot oil, swirl, and cook till fragrant and the oil turns red, 30 to 45 seconds. You must always watch any type of dried chillies in hot oil, they tend to burn fast and will make everything turn unpleasantly bitter, so be careful. If it does end up burning, clean the saucepan and start again.
Stir in the miso paste with a wooden spoon but a spatula will work just fine, if it doesn't bend and flip the paste in your face or go on the wall (it's happened to me).
Fold in the pureed tomatoes and stir to combine evenly. You might need to whisk it slightly to disperse the miso to ensure there are no lumps present.
Bring the sauce to a boil and reduce the heat to a simmer. Taste and season with salt if needed. You can thin the sauce out as needed with a little bit of the pasta/spaghetti cooking water. If the sauce is too thick, I usually add ¼ cup/60ml of the leftover pasta cooking water at a time. Remove from heat.
Cook the spaghetti while the tomatoes roast in the oven.
Prepare the spaghetti while the tomatoes roast in the oven. You don't need to use my method and can absolutely use the one listed on the box of pasta you purchased or the method you've been using forever (cooked pasta textures are very personal).
To cook the spaghetti, bring a large pot of water to a rolling boil (3 cups/720 ml of water and 1 tsp salt for every ½ lb /230g of pasta). Add the spaghetti and cook for about 12 minutes, till tender. Remove the pasta with a pair of kitchen tongs or sieve and transfer them to a large bowl. Save the pasta cooking water just in case you need to thin out the tomato sauce.
Add the roasted tomato sauce and fold. Serve the pasta warm, divide between 2 bowls. Garnish each bowl of pasta with 1 Tbsp of parmesan and a little basil (yeah, I add a little more than this, I am very generous with cheese and herbs).
Notes
I find yellow or white miso works best here in comparison to red miso since they are less saltier.
Be gentle when roasting tomatoes, they don't need to be too dark because that might make the sauce taste bitter.
Summer tomatoes, especially the grape and cherry kinds, are a great option because they're concentrated in flavor (also extremely easy to grow). As tomatoes ripen, their acids turn into sugar, and I find the sauce naturally sweet on its own and perfectly balanced in taste.
To make this gluten-free or paleo, use the appropriate type of pasta.