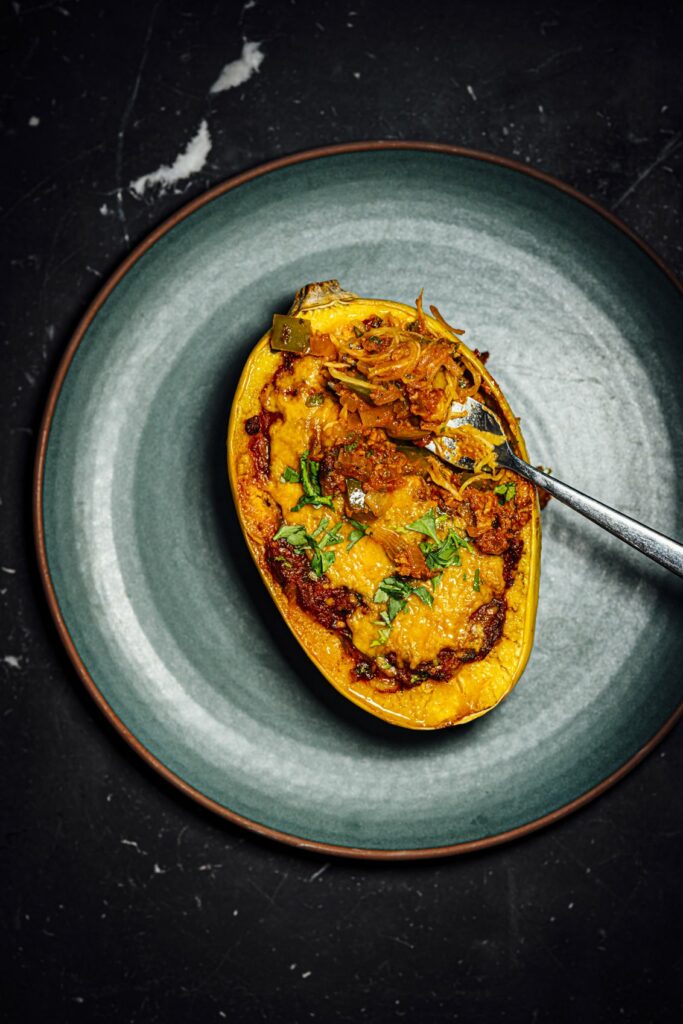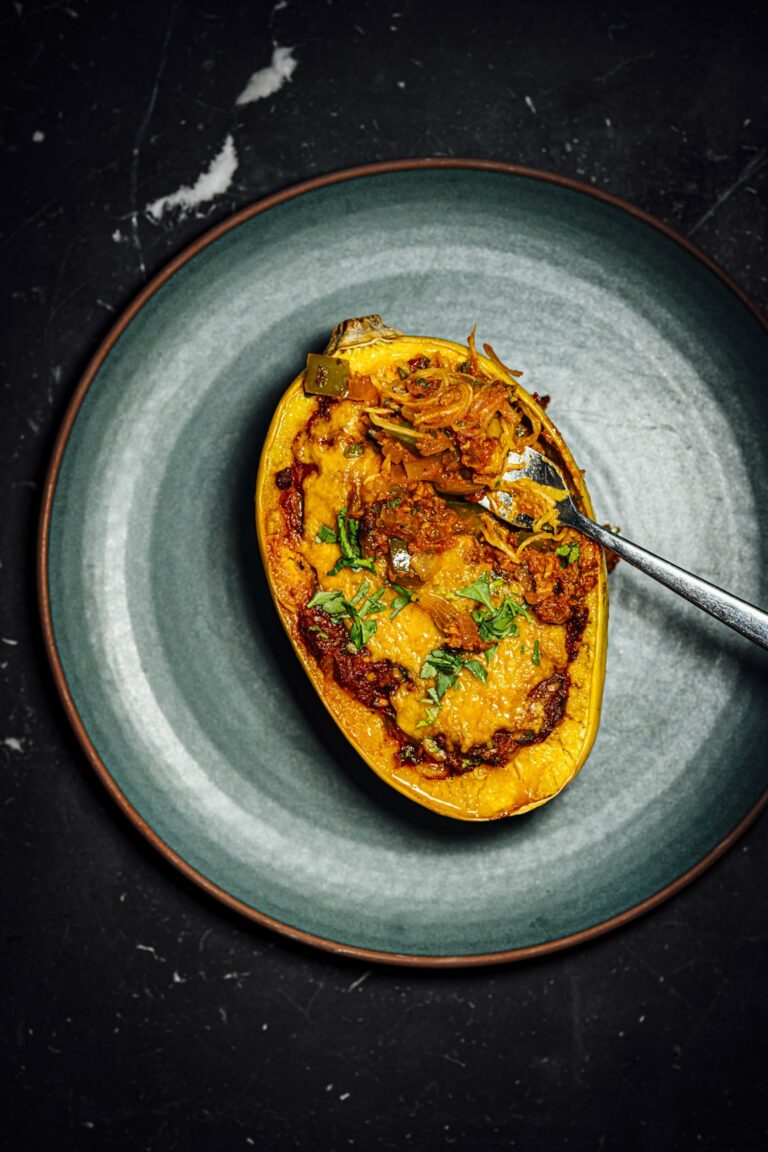 Chorizo is a staple in Goan cuisine, and if I can find an excuse to use it, I most certainly will. While the Goan chorizo (aka choriz or chouriço) I grew up eating is a bit hotter, tangier, and spicier than the ones I've found here in America, they still hit all the right spots when I get that feeling of nostalgia. The flavors are similar.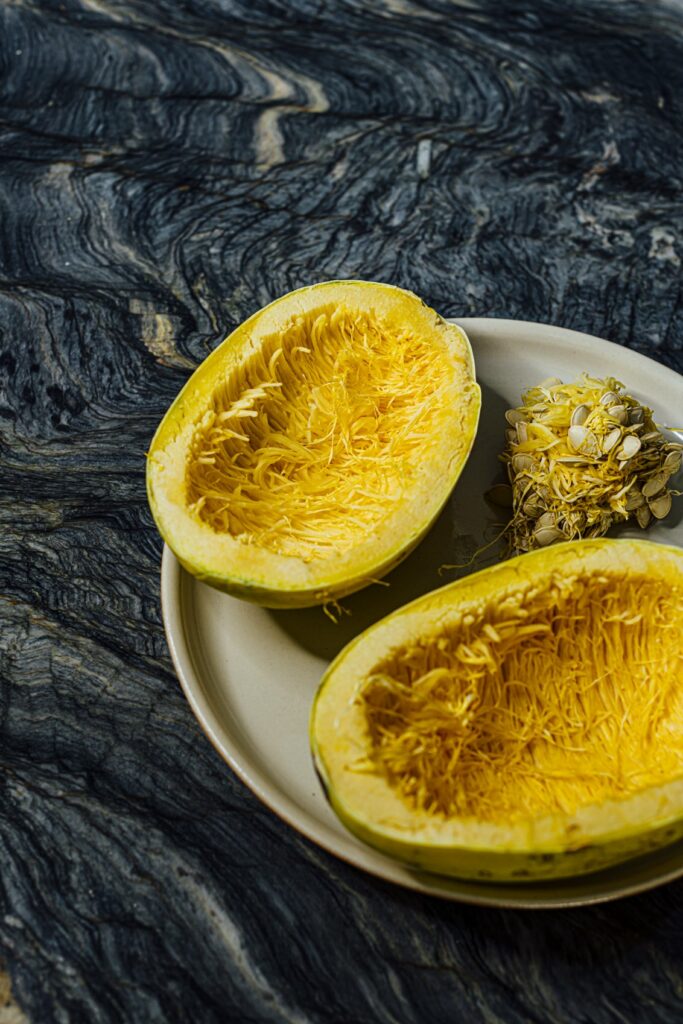 This recipe is straightforward yet packed with lots of flavors. The squash is first cleaned out and then stuffed with a filling of chorizo cooked with onions, bell peppers, and tomatoes. Once baked, the squash falls apart into threads. You can see evidence of the squash threads appearing on the edges of the squash after it bakes in the oven. I melt a bit of cheddar on top and garnish with fresh cilantro or parsley for the final finish. This is so easy to put together and so good!
This is an easy dish to put together and can be easily doubled or tripled.
If you don't consume pork or want to veganize this recipe, swap out the chorizo and cheddar for a plant-based version. Since pork-based chorizo already contains fat, there's no need to add oil to cook. Instead, I use the fat released from the sausage meat as it renders. In the case of plant-based chorizo, the fat content is typically lower, so I add a little oil to sauté the sausage and vegetables.
Print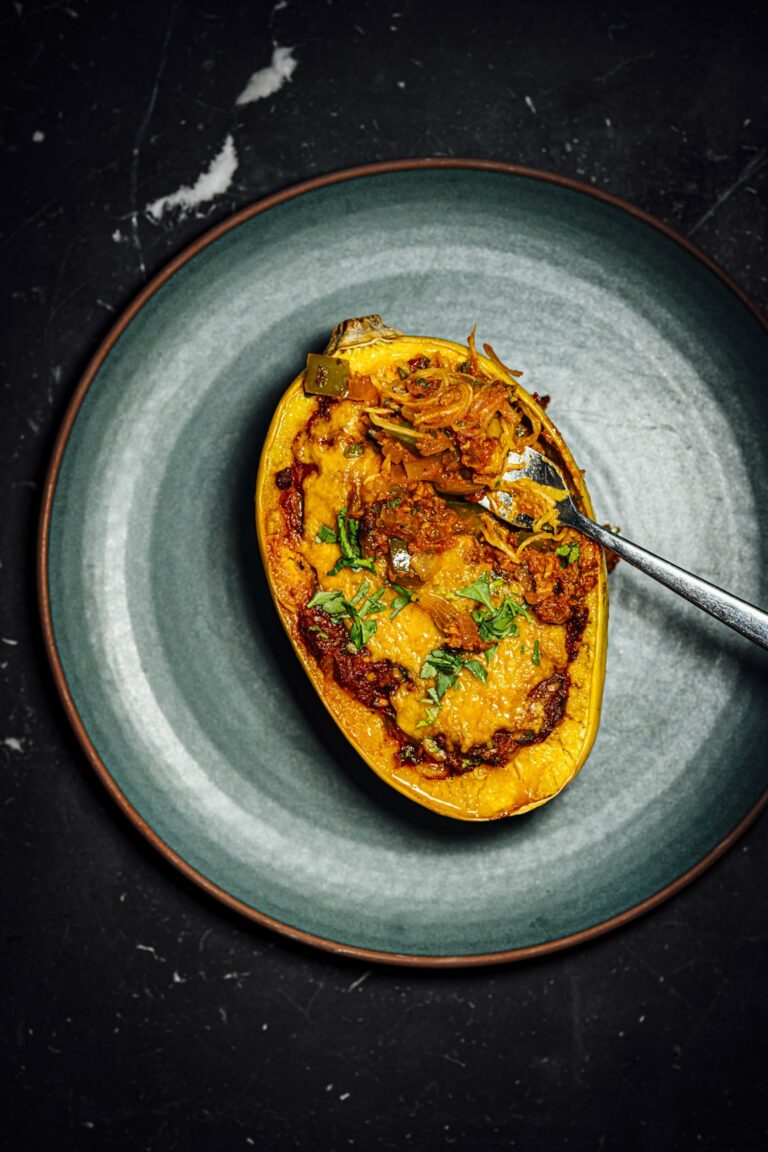 Spaghetti Squash Chorizo Bake
There's something magical in the way spaghetti squash's flesh cooks and transforms into thin threads. This squash bake takes full advantage of that quality. The squash is filled with a spicy and tangy chorizo mixture and topped with cheddar. It's an easy and satisfying meal to prepare and one that doesn't need any accompaniments or sides, making it a favorite at home.
One 1 ½ lb/680 g spaghetti squash, cut in half lengthwise, seeds discarded

2 tsp extra-virgin olive oil

5 ½ oz/155 g chorizo, broken into small bite-sized pieces

1 cup/250 g yellow or white onion, diced

1 cup/175 g green bell pepper, diced

1 cup/240 ml tomato purée

Fine sea salt

1 Tbsp chopped cilantro or flat-leaf parsley

2 Tbsp shredded cheddar
Instructions
Preheat the oven to 425F/220 C.
Place the halved squash on a baking sheet or roasting pan. Brush each top with 1 tsp of olive oil.
Heat a medium skillet or saucepan over medium-high heat. Add the chorizo and cook until it starts to brown and the fat renders, 3 to 4 minutes. Add the onions and sauté until translucent, 4 to 5 minutes. Add and sauté the green bell pepper until it just starts to brown, 2 to 3 minutes. Stir in the puréed tomatoes, bring to a boil and remove from the heat. Add ½ Tbsp chopped cilantro or parsley. Taste and season with salt if needed.
Using a large spoon, divide the chorizo mixture between the two squash halves by filling their centers. Bake the squash in the preheated oven for 30 to 45 minutes, until the tops and edges are golden brown, and the squash flesh splits into threads on the edges. The squash flesh should be tender enough to be pierced easily by a fork or knife. Remove from the oven, top each half with 1 Tbsp of cheddar and return to the oven. Turn the broiler on high and broil until the cheese begins to bubble and melt, about 1 minute. Remove from the heat. Garnish each with 1 tsp of cilantro or parsley. Serve hot or warm. Leftovers can be stored in the refrigerator in an airtight container for up to 3 days.
Notes
To make it easier to halve the squash, microwave as shown in the video. Remember to use 1-minute intervals at a time.
To make this vegan, use vegan chorizo (like this sausage from Field Roast) and cheddar. If you use vegan chorizo, add 1 Tbsp of olive oil to the skillet before sautéing.