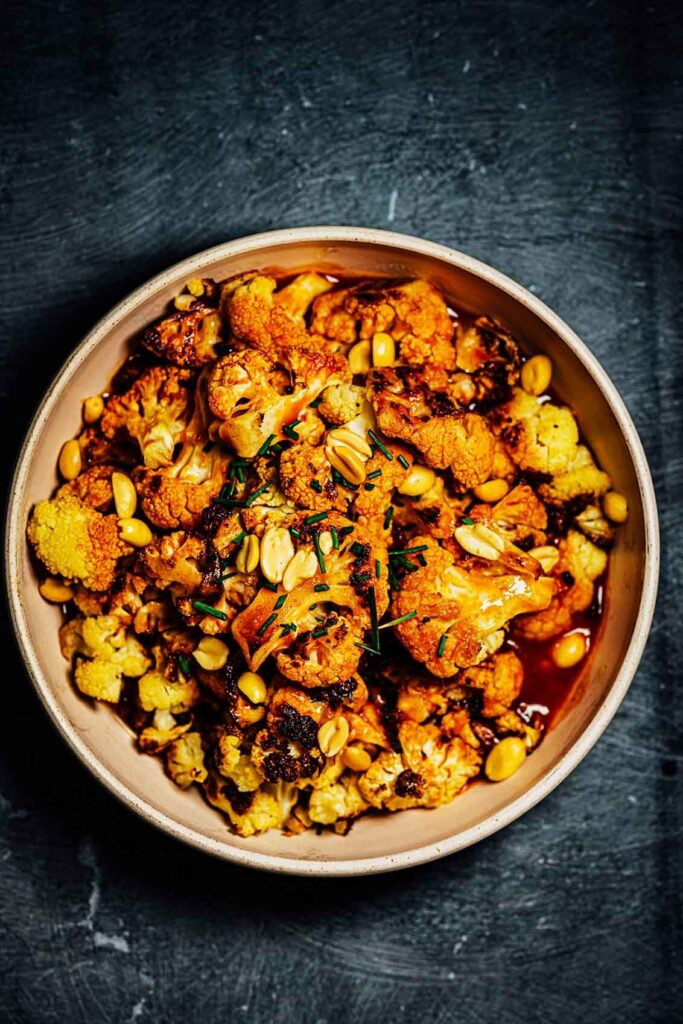 This week, I've got crispy cauliflower on the menu. It's hot, it's sour, and carries a hint of sweetness. It's a minimal-effort dish and the bulk of the flavor in this cauliflower comes from roasting and the sauce made with the Korean red chilli paste, gochujang. I keep a jar in the condiment shelf (it's probably the most stuffed shelf in my fridge) of my refrigerator.
Gochujang (gochu refers to Korean red pepper) is a staple in Korean cuisine with a very brilliant bright red color that is prepared by fermenting a mixture of barley malt, glutinous/sweet rice, soybeans, chillies, and salt.
One of the things I love about food and cooking is all the related nerdy facts and snippets of information. Here's something new, I learned about gochujang. There's a special hotness scale also that measures the Gochujang Hotness Unit (GHU) devoted to gochujang and the scale ranges from 0 to 100. Anything below 30 GHU is mild, between 30 to 45 GHU is slightly hot, 45 to 75 is medium hot, 75 to 100 very hot, and anything above 100 is extremely hot. For those of you familiar with the Scoville Heat Units (SHU) used for chillies, this is similar.
Print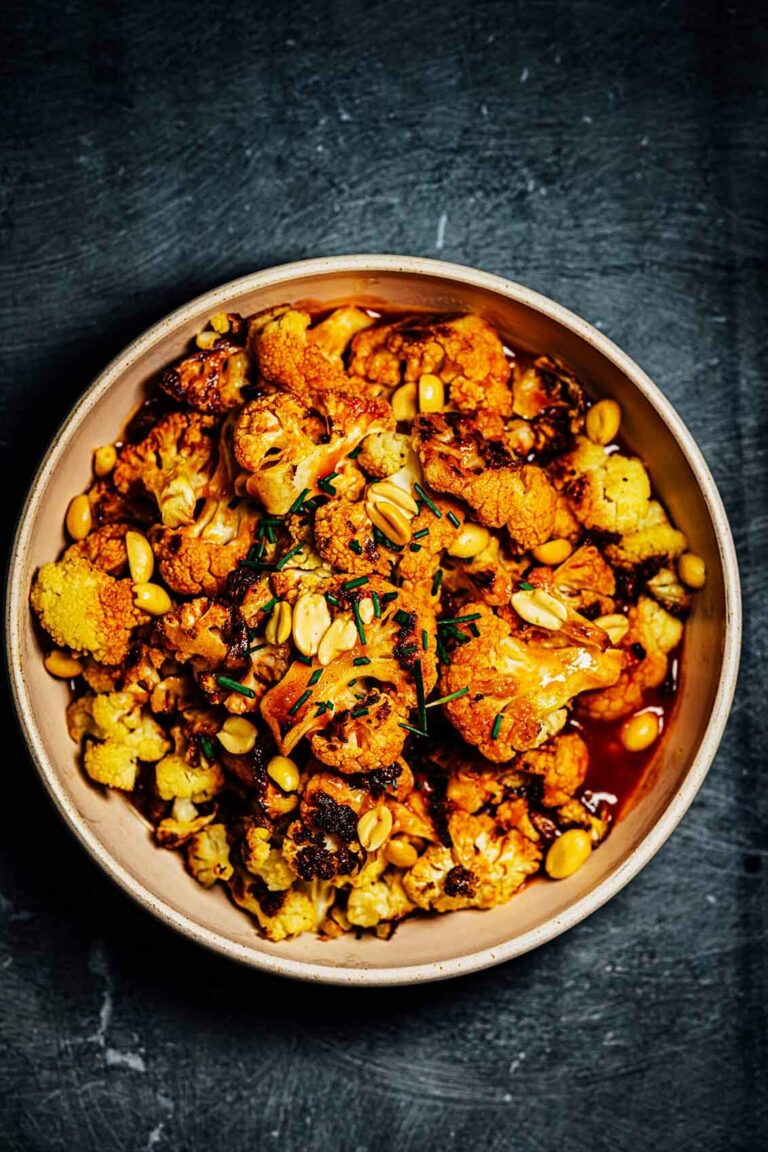 Crispy Cauliflower with Gochujang
Sweet, spicy, sour, and savory this roasted cauliflower dish gets its punch from the fermented chilli paste, gochujang, a mainstay in Korean cuisine. If you can't eat peanuts, cashews are a good substitute and if you can't eat nuts, try toasted pumpkin or sunflower seeds. The sauce can be made at least two days in advance and stored in an airtight container. Don't forget to warm up the sauce before you pour it over the cauliflower. Plain rice is a good accompaniment.
2 lb/910 g cauliflower, broken into bite-sized florets
2 Tbsp extra-virgin olive oil
fine sea salt
1/2 cup/120 ml water
2 Tbsp gochujang
2 Tbsp apple cider vinegar
1 Tbsp grated fresh ginger
1 tsp light soy sauce
½ tsp packed light brown sugar
2 Tbsp roasted salted peanuts
1 Tbsp chopped chives
Instructions
Preheat the oven to 425F/220C.
Place the cauliflower florets on a baking sheet, drizzle with olive oil, and season with salt. Fold and toss to coat well and when I mean toss, be gentle, the worst part is losing cauliflower to the kitchen floor.
Place the baking sheet in the oven and roast the cauliflower till the florets turn golden brown and crispy, 20 to 30 minutes, stirring halfway through during roasting to evenly cook them. Remove the cauliflower from the oven and transfer to a serving bowl.
You're going to have some time while the cauliflower roasts, you could either watch an episode of Hacks or you could make the sauce (you should make the sauce).
Place the water, gochujang, vinegar, ginger, soy sauce, and sugar in a small saucepan. Whisk till smooth, bring to a boil over medium heat, and remove from the stove. Taste and season with salt if needed (you probably won't need to).
Pour the hot sauce over the roasted cauliflower.
Top the roasted cauliflower with the peanuts and chives. Serve warm.
Notes
Get a microplane zester if you don't already own one. I always keep two on hand to grate garlic, ginger, nutmeg, etc.
There are many good brands of gochujang available; the one I keep at home is the Mother-in-Law's brand but if you are already in love with another one, go with that.
Keeping a few points in mind, you can make very good crispy cauliflower in the oven. The goal is to avoid overcrowding, so the larger the baking sheet or roasting pan, the better. This will allow the hot air from the oven to circulate and do a better job of crisping up those florets. Keep your florets, bite-size; if they're too big or tiny, they will cook unevenly. The tinier burnt bits don't bother me as much as the large ones that aren't crisped enough. If you own an air fryer, cook the cauliflower in it.