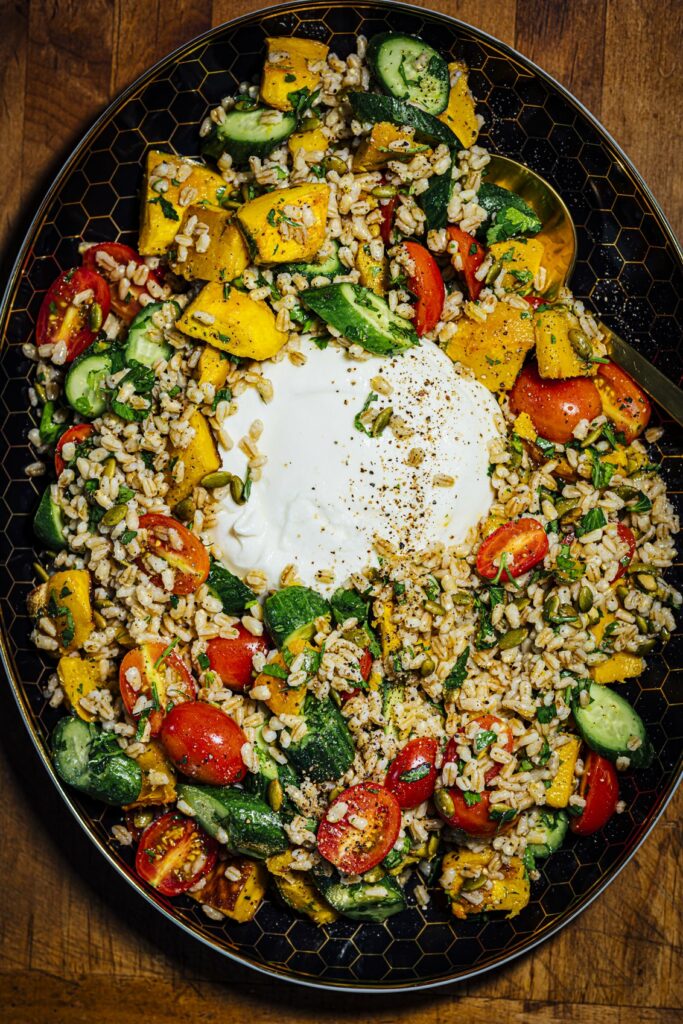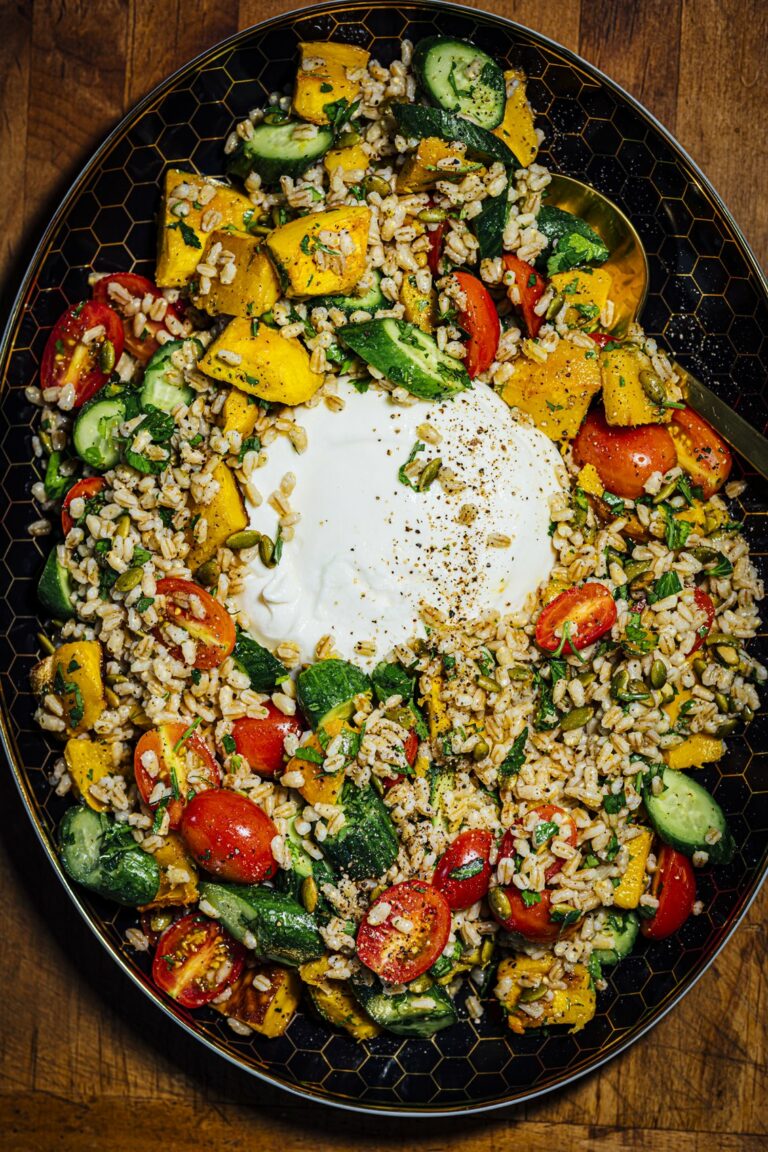 I love grain salads with lots of fresh crunchy vegetables. Now that fall is upon us; I get an excuse to roast and caramelize sweet chunks of pumpkin and serve you this delightful barley salad.  
The incredible feature of this salad is that you can toss in any fall or winter squash and use whatever type of grain you have on hand (I love farro and wild rice here). In addition, it is an accessible brunch menu item that I've pulled together to feed friends on weekends.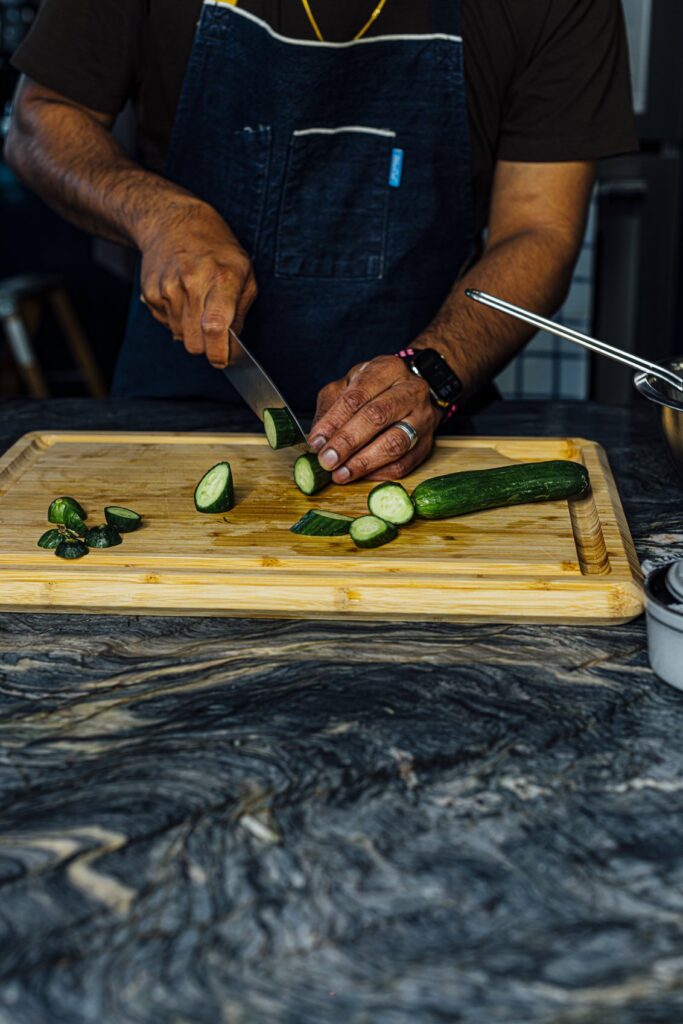 Before putting this salad together, you must roast the pumpkin and cook the barley. However, you can make them a day ahead of time. If you must cook them on the day off, you can rapidly cool the hot pumpkin and barley by spreading them out in a thin layer on a plate or baking sheet and sticking it in the freezer until cool.
While I serve this salad on its own, I am known to occasionally serve this salad with a jar of chilli crisp oil on the side for my heat-loving friends. The heat and savory profile of chilli crisp play well with the creamy nature of the burrata. Enjoy!
Print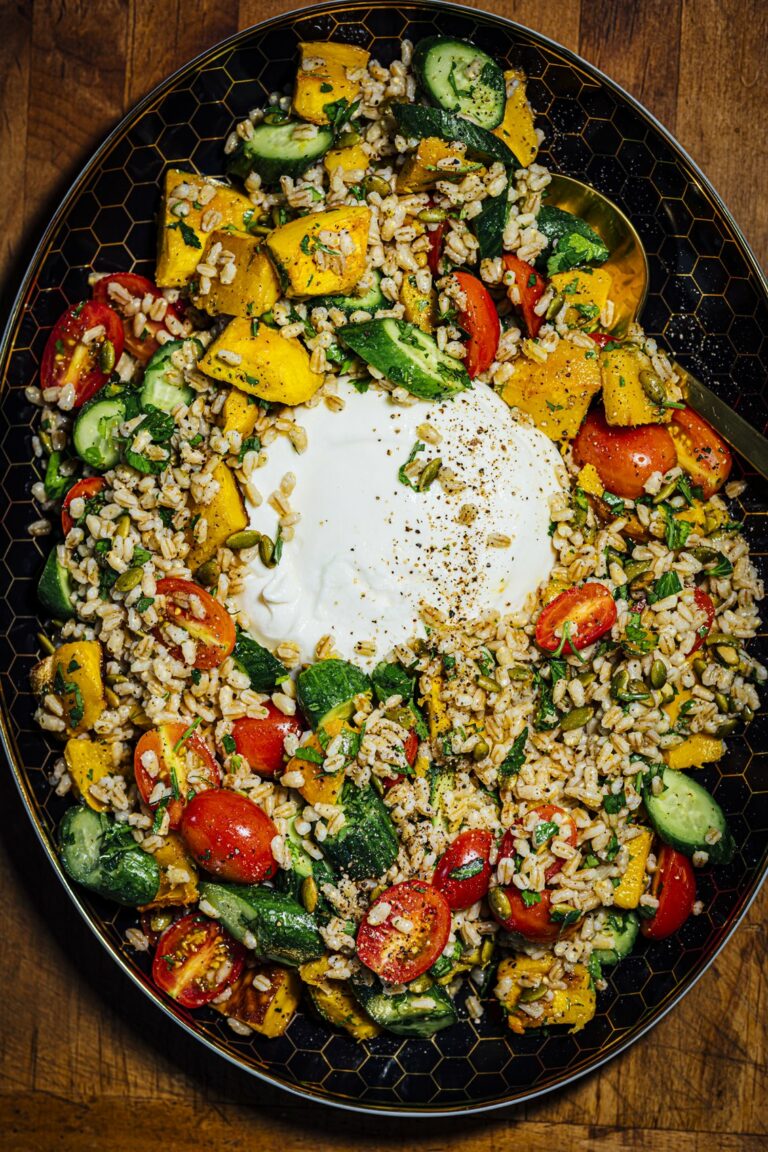 Roasted Pumpkin Barley Burrata Salad
Warm pumpkin, crunchy cucumbers, sweet tomatoes, roasted pepitas, creamy burrata with nutty pearl barley, and a refreshing lemon salad dressing with lots of black pepper. This is the salad I turn to every fall. It's a meal on its own and doesn't need anything else to go along with it.
1 lb/455 g sugar pie pumpkin, peeled and diced into 1 in/2.5 cm cubes

1 Tbsp + ¼ cup/60 ml extra-virgin olive oil

Fine sea salt

¾ cup/150 g pearl barley

4 (total weight about 200 g) Persian cucumbers, ends trimmed and discarded, cut into ½ inch/12 mm thick slices

1 dry pint/275 g cherry tomatoes, cut in half lengthwise

2 Tbsp flat-leaf parsley, chopped

2 Tbsp roasted salted pepitas

¼ cup/60 ml fresh lemon juice

1 Tbsp honey or maple syrup

1 to 2 garlic cloves, grated

½ tsp ground black pepper

8 oz/230 g burrata
Instructions
Preheat the oven to 400F/200C. Toss the pumpkin with 1 Tbsp olive oil and fine sea salt on a rimmed baking sheet. Roast in the oven until the pumpkin is tender enough to be pierced by a fork and golden brown, 25 to 30 minutes. Remove from the oven and cool until warm or at room temperature before using.
While the pumpkin roasts, bring the barley and 4 cups/960 ml of water, and ½ tsp of fine sea salt to a rolling boil over medium-high heat. Reduce to a simmer and let cook until the barley is tender and plump, about 30 minutes. Drain and discard the cooking water. Cool the barley to room temperature.
While the barley and pumpkin cook, place the cucumber in a fine mesh sieve over a medium bowl. Sprinkle ½ tsp fine sea salt over the cucumber, toss, and let sit for 30 minutes to drain. Discard the liquid.
In a large mixing bowl, toss the pumpkin, barley, cucumber, tomatoes, parsley, and pepitas. In a small bowl or jar, whisk or shake the ¼ cup/60 ml olive oil, lemon juice, honey, garlic, and black pepper until emulsified and creamy. Pour the mixture over the barley and vegetables in the mixing bowl, and fold to coat well. Taste and season with more salt and pepper as needed.
To serve, place the burrata in the center of a serving plate. Place the barley and vegetables around the burrata. Serve immediately. This salad will stay good for up to 3 days if stored in an airtight container in the refrigerator.
Notes
Besides pumpkin, butternut and delicata squash is also fantastic here.
Farro and wild rice are fantastic alternatives to barley.
This applies to both the pumpkin and barley. If you want to cool them quickly, spread them out on a large plate and stick the plate in the freezer for 10 minutes or until cool.
Sometimes, I skip the burrata and use ciliegine mozzarella in this salad which works very well.