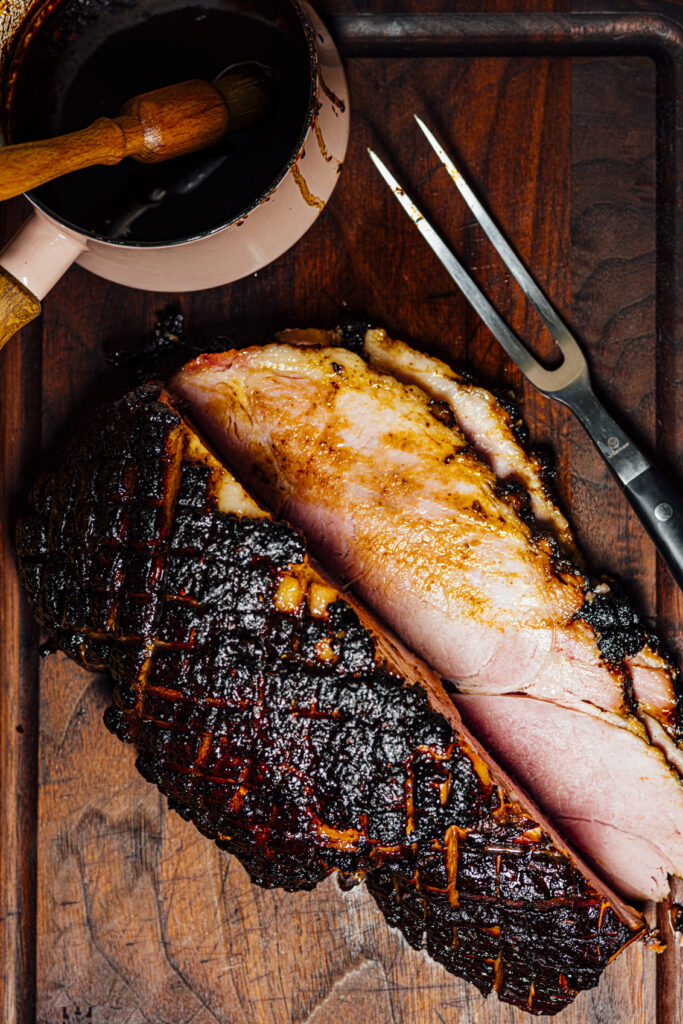 Print
Date and Tamarind Glazed Ham
A gorgeously glazed ham is a statement at a dinner table, and I typically prepare one for the two big holidays, Christmas and Easter. The glaze here is inspired by the flavors used in Goan cuisine. Fruity and sour tamarind provide acidity along with orange juice, while date syrup and molasses offer sweetness. The crushed fennel adds a sweet and spicy aroma to the ham. I save the extra leftover glaze from the saucepan, reduce it, and then serve it as a sauce on the side for anyone who wants more.
5.5 lb/2.5 kg unspiraled ham

For the Glaze
1 cup/240 ml fresh orange juice

1/2 cup/date syrup

1/4 cup/60 ml mild-flavored molasses

2 Tbsp tamarind paste

1 tsp fish sauce (optional but worth it)

1 tsp ground coriander

1 tsp coarsely ground fennel

1 tsp red pepper flakes

1/2 tsp ground black pepper
Instructions
Preheat the oven to 350F/180C.
Score the fat side of the ham in a crosshatch pattern, or ask your butcher to do it. Place the ham, fat side up, on a wire rack set over a roasting pan.
Whisk all the ingredients for the glaze in a small saucepan. Bring to a boil over medium-high heat, reduce heat to a simmer, and cook for another 5 minutes. Remove from the heat.
Brush the ham with the glaze and place it in the oven for 1 1/2 to 2 hours, until a thermometer reads 135F/57C in the thickest part of the ham. Baste the ham with the glaze every 15 minutes. If the ham starts to turn too dark, tent the sides of the pan with foil. Remove the cooked ham from the oven, tent loosely with foil, and rest for 5 minutes before slicing and serving.
 Take the leftover glaze in the small saucepan and reduce it to 1/2 cup/120 ml by simmering and stirring constantly over low heat. Serve this sauce on the side.
Notes
You can use ham with or without the bone. One is not more flavorful than the other; it's more about the presentation and the extra advantage of using the bone to make soups. If using a bone-in ham plan for a 7.5lb/3.4 kg.
Spiraled ham is precut and not my favorite choice. With an unspiraled ham, the fat can be scored and looks much nicer. If you use a spiraled ham, don't score the fat.
The glaze is dark, to begin with, so watch it carefully as it cooks to make sure it doesn't burn. Baste often and watch the internal temperature of the ham as it cooks like a hawk.