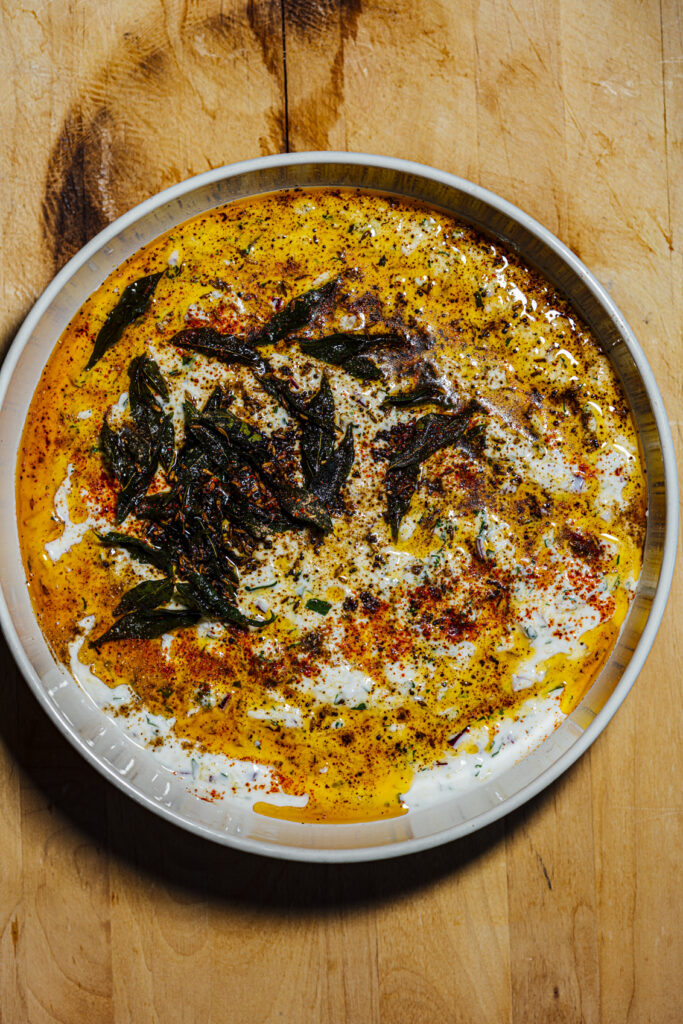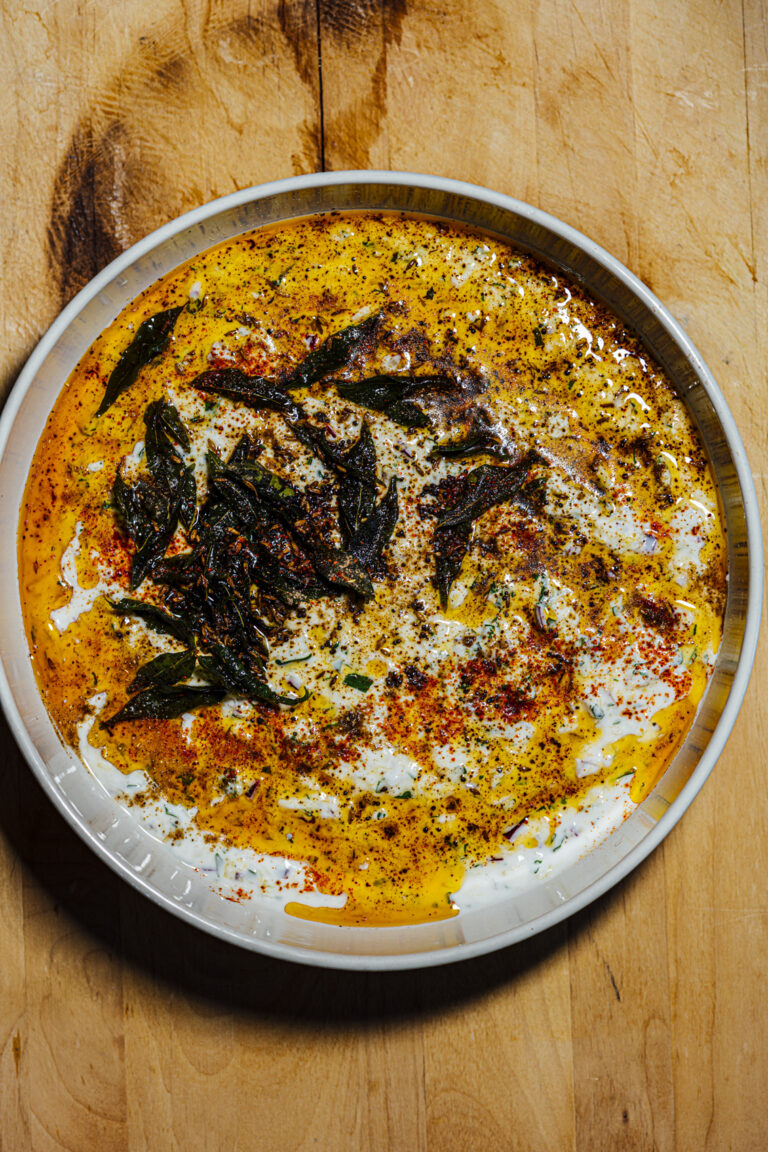 Print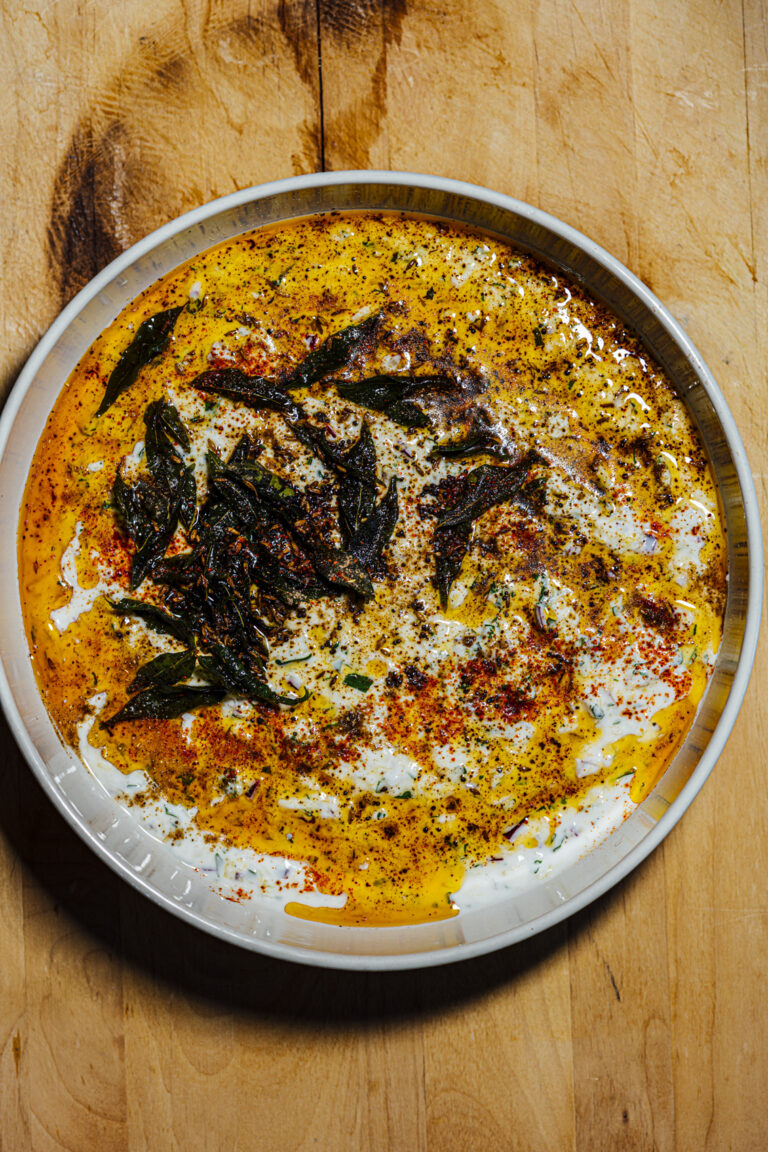 Pumpkin Raita
During the fall and winter months, I look forward to a bowl of this cooling spiced pumpkin raita. Serve it as a side with a warm stew or curry and some rice or flatbread. Make a big bowl because it disappears quickly.
For the Raita
2 cups/about 400 g grated pumpkin
2 cups/480 g plain unsweetened yogurt
1 cup/240 ml chilled water
2 Tbsp fresh lemon or lime juice
2 shallots/120 g, minced
¼ cup/15 g fresh cilantro both tender stems and leaves, chopped
2 Tbsp fresh mint, chopped
Fine sea salt
Ground black pepper
For the Tadka
2 Tbsp vegetable oil with a high smoke point such as grapeseed
1 tsp black mustard seeds
1 tsp cumin seeds
1 tsp Kashmiri chilli powder plus extra for garnishing
10 to 12 curry leaves, dried or fresh
1 tsp ground chaat masala (see Notes) homemade or store-bought
Instructions
Place the grated pumpkin in a microwave-safe bowl, cover with a microwave-safe lid, and microwave for 3 to 4 minutes and 30-second intervals until the pumpkin is completely tender. Keep aside to cool.
In a large mixing bowl, whisk the yogurt, water, and lemon juice until smooth.
Fold in the cooked pumpkin, shallots, cilantro, and mint—taste and season with salt and pepper.
When ready to serve, prepare the tadka. Heat the oil in a small saucepan over medium heat. Add a single mustard or cumin seed to the oil; if it is hot, the seeds will sizzle. Add the mustard and cumin seeds, followed by the curry leaves, and cover with a lid. The oil will start to spurt. Swirl the oil in the saucepan for a minute and remove from the heat. Immediately, add 1 tsp of Kashmiri chilli powder. Swirl and pour the hot mixture over the yogurt in the serving bowl. Garnish with a sprinkling of chaat masala and Kashmiri chilli powder and serve immediately. Leftovers can be stored in an airtight container for up to 3 days in the refrigerator.
Notes
If you use Greek yogurt, add 1 ¼ cup/ ml of chilled water to every 1 cup/240 g of Greek yogurt.
Butternut squash can be used in place of pumpkin.
If you don't have Kashmiri chilli powder, use this substitution: ¾ tsp ground smoked sweet paprika and ¼ tsp ground cayenne.