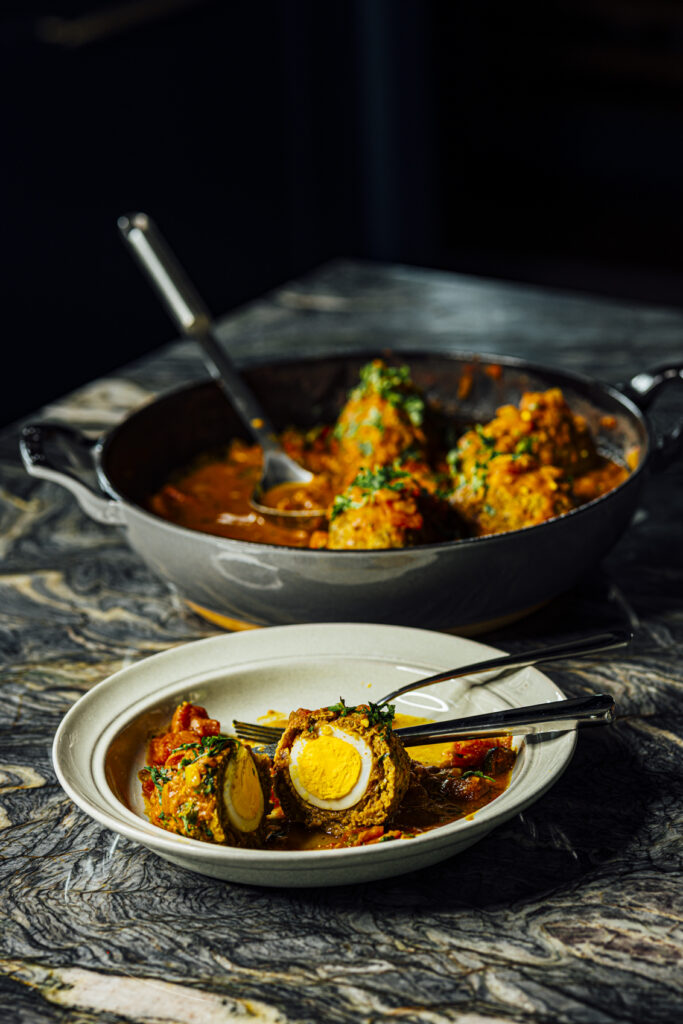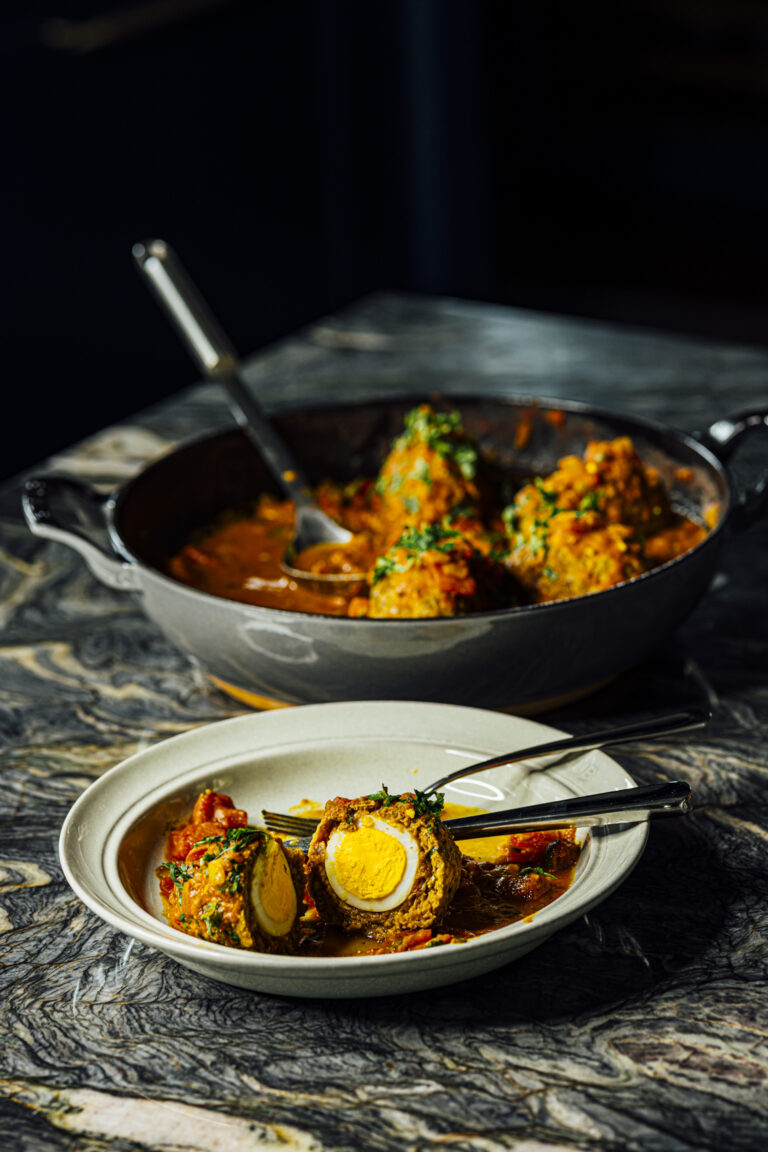 Seated across a large, wide oval dining table in my grandparent's home, I first learned how to make koftas/meatballs from my grandmother. It's a simple process: season, mix, shape, and cook. My job was to help shape the koftas, and as a child, my koftas came in different shapes and sizes. Yet, they were still cooked and served, and my grandmother never critiqued me. Instead, she encouraged me and asked me to help her make them often. She'd share her tips and tricks garnered over the years. As an adult, I find the repeated process of shaping a kofta very relaxing. To continue reading this and to learn how to make the koftas, please visit my newsletter, The Flavor Files.
The Flavor Files is a read-supported online space for curious cooks passionate about flavor. Learn how to cook with bold flavors to create food that nourishes and satisfies and apply food science to make you a smarter cook, written by Multi-award Winning and Bestselling author and photographer Nik Sharma.
Print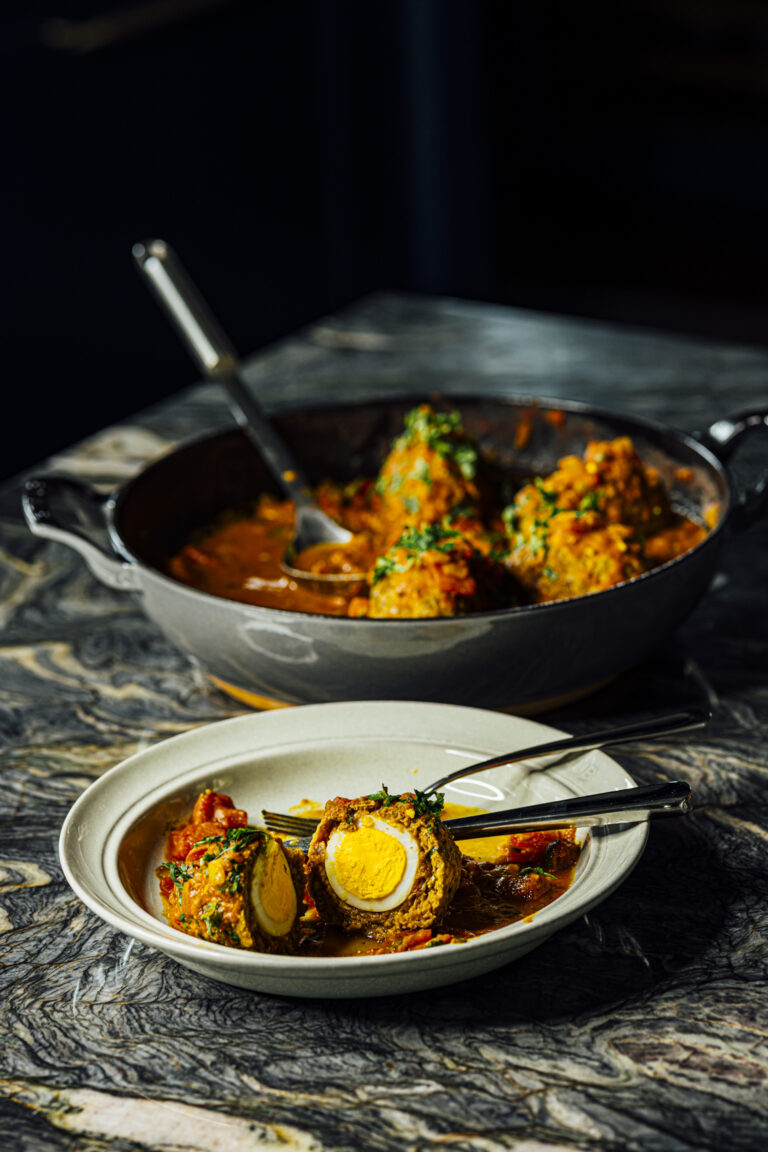 Nargisi Koftas
Nargisi koftas are named after the nargis or daffodil/narcissus flower because the kofta's bright yellow and white rings resemble the flower when sliced through. This dish is also the origin of the Scotch eggs that soldiers brought back to the U.K. during India's colonization. I love to serve these koftas on holidays and special occasions whole over warm rice or with bread like naan or parathas. It's a special treat for people who slice the koftas open to see the egg hidden inside.
For the Koftas
1 lb/455 g American ground lamb
½ cup/30 g Panko or breadcrumbs 
1 large egg + 1 yolk
1 shallot, quartered
4 garlic cloves
1 tsp garam masala, homemade or store-bought 
1 tsp fine sea salt
1 tsp Kashmiri red chilli powder
½ tsp ground turmeric
Enough neutral oil like grapeseed for shallow frying plus extra to grease your hands
6 large hard-boiled eggs, peeled
For the Sauce
1 large/400 g white or yellow onion, finely diced
2 garlic cloves, minced
1 Tbsp grated fresh ginger
1 tsp garam masala, homemade or store-bought 
1 tsp Kashmiri chilli powder
½ tsp ground turmeric
½ tsp ground green cardamom 
One 28 oz/793 g can chopped tomatoes
½ cup/120 ml water
A pinch of kasoori methi
2 Tbsp full-fat plain unsweetened yogurt
Fine sea salt
2 Tbsp chopped fresh cilantro 
Instructions
Add the lamb, Panko, egg, yolk, shallot, garlic, ginger, garam masala, salt, Kashmiri chilli, and turmeric in the food processor bowl. Pulse combined, and the mixture resembles a dough. Let the mixture sit for 10 minutes.

Line a baking sheet with parchment or wax paper. 

Prepare the koftas. Grease your hands with a bit of oil. Grab about ½ cup of ground meat. Shape and flatten the meat into a disc and place one boiled egg in the center. Shape the meat around the egg to encase it thoroughly and place it on the baking sheet. Wrap and shape all the koftas similarly. Refrigerate for 30 minutes.

Heat about ¼ cup/60 ml oil in a cast iron skillet over medium heat. Fry the koftas carefully until golden brown all over and the internal temperature of the ground lamb reaches 160F/71C, as recommended by the USDA. Transfer the koftas to a baking sheet lined with absorbent paper towels or a wire rack. 

Reserve 2 Tbsp of the fat in the skillet and discard the rest. Heat the skillet over medium-high heat. 

Add and sauté the onion until lightly browned; the cooking time will vary. 

Add the garlic and ginger and cook until fragrant, about 1 minute. 

Add the garam masala, Kashmiri chilli, turmeric, and cardamom and cook until fragrant, 30 to 45 seconds.

Stir in the canned tomatoes and water. Add the kasoori methi and bring to a simmer. Reduce the heat to low and stir in the yogurt and ½ tsp salt. 

Place the koftas on top of the tomato stew. Spoon some of the stew over the koftas. Cover with a lid and let cook for 15 minutes. Remove from the heat and let rest for 5 minutes. 

Garnish with the chopped cilantro and serve hot or warm. Leftovers can be stored in an airtight container in the refrigerator for 4 days or in the freezer for up to 1 month.
Notes
Because meat shrinks on heating, using more of the panade when coating the egg is better. Press it tight and refrigerate to help it firm up.

There is no substitute for kasoori methi (dried methi leaves). Fenugreek seeds and fresh methi can be used here because their aroma is too intense and will overpower the dish. If you can't find any, leave it out. 

Airfryer variation. Shape the koftas as instructed, brush them lightly with oil, and air-fry them at 400F/30 minutes. Check the internal temperature of the ground meat; it should be 145F/63C.