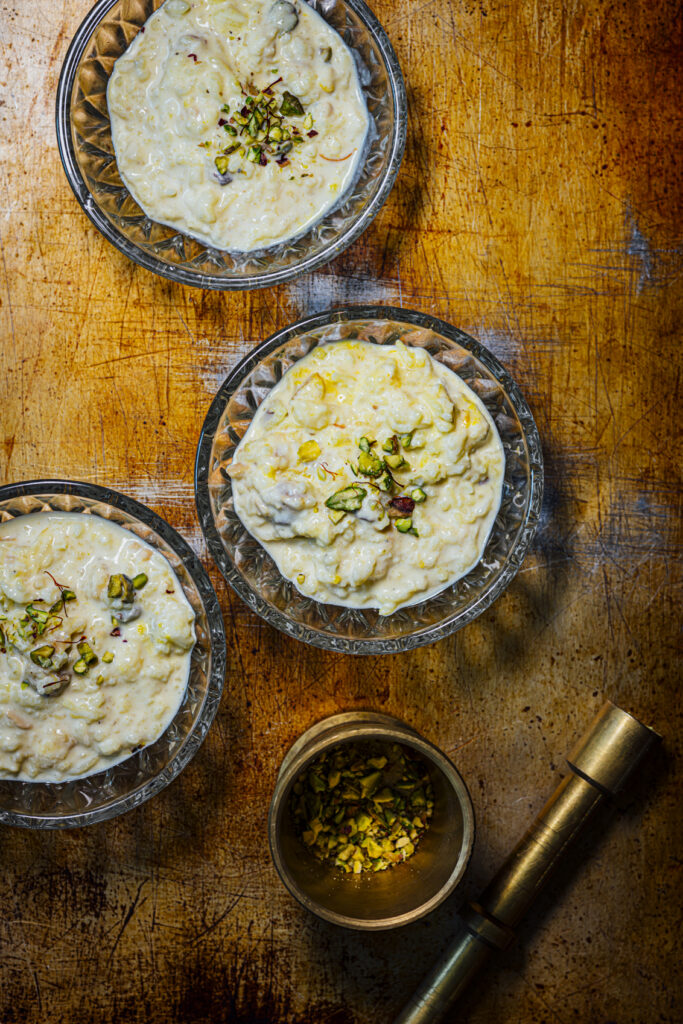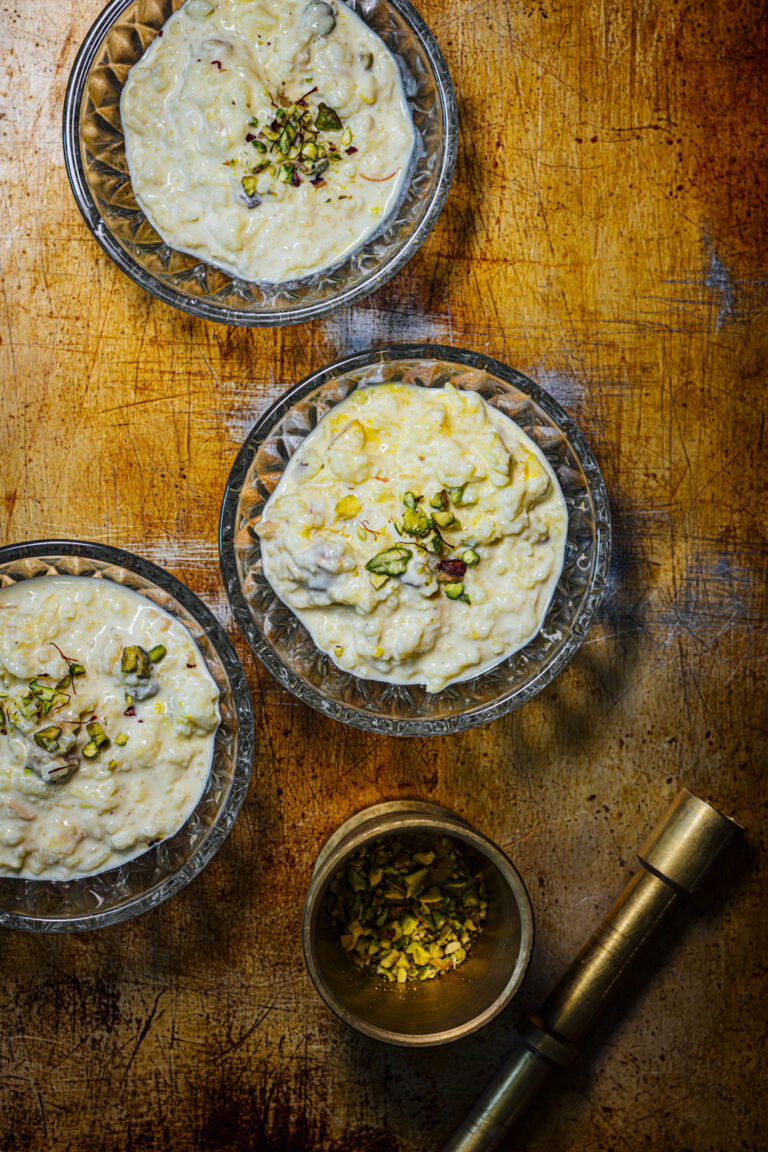 Print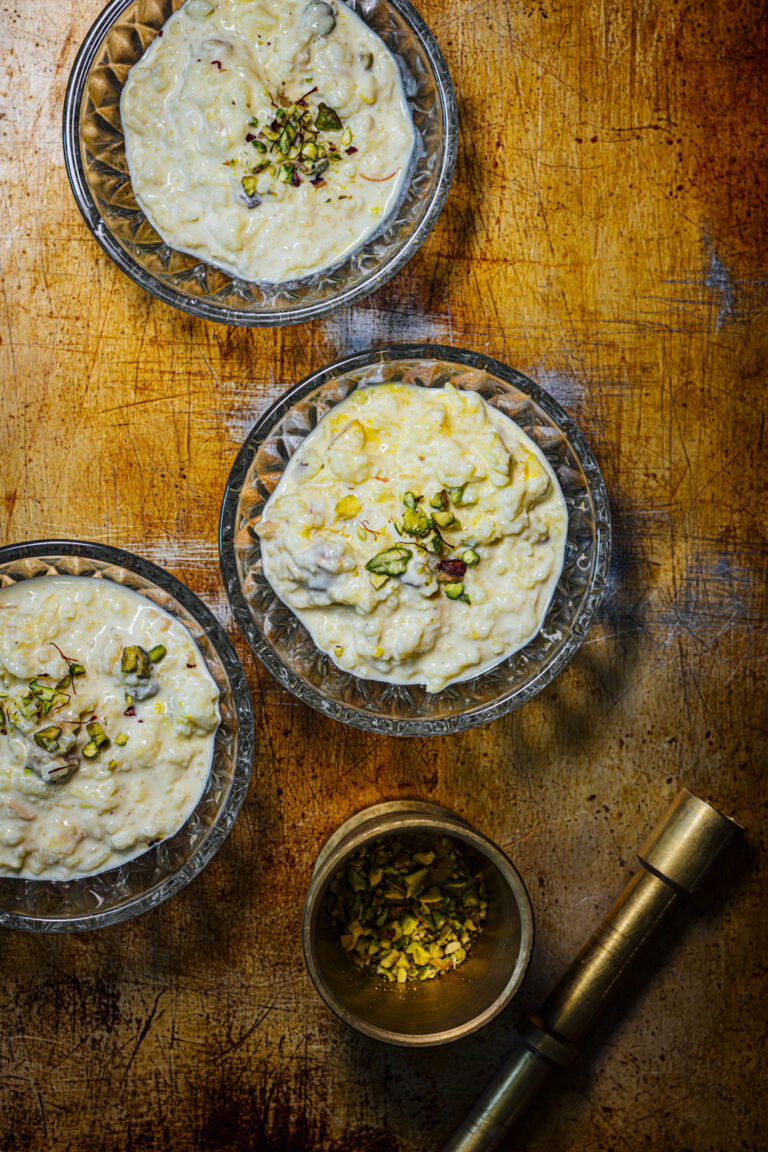 Indian Rice Pudding/Kheer
One of the classic and most iconic desserts in India is kheer. Many versions of kheer are served at celebrations and holidays, but the one made with fragrant basmati rice remains my favorite. I prefer cooking the rice in the milk; not only does this help the milk absorb all the aroma from the rice, but it also helps develop the consistency of the pudding. Serve at room temperature or chilled. It also makes a very good breakfast option.
1/2 gallon/1.9 L whole milk
1/2 tsp saffron strands
1/2 cup/100 g basmati rice, rinsed and soaked for 3o minutes
1/3 cup/65 g sugar
4 whole green cardamom pods, cracked
2 Tbsp ghee or neutral oil
1/2 cup mixed dried fruit like golden raisins, chopped dates, apricots, etc.
1/4 cup mixed nuts like blanched almonds, cashews, pistachios, etc.
1/4 tsp ground black pepper
1/2 tsp rose water
Instructions
Place the milk in a medium saucepan and heat over medium-high until it begins to boil. Reduce the heat to a simmer. Stir the milk often.
Remove from 1/4 cup/60 ml and transfer to a heat-proof bowl. Sprinkle the saffron and leave aside for 30 minutes.
Add the rice, sugar, and cardamom to the milk in the saucepan. Bring to a boil over medium-high heat and reduce to a simmer. Cook until the rice is very tender, almost overcooked, 35 to 40 minutes. Stir often to prevent the milk from burning. Remove from the heat. Taste and add more sugar if needed.
While the rice cooks, prepare the dried fruit. Melt the ghee in a small saucepan over medium heat. Add the dried fruit, nuts, and black pepper. Saute until the fruit plump up and the nuts turn golden brown, 2 to 3 minutes. Transfer this to the milk.
Stir in the rosewater with the saffron milk
Serve the kheer warm at room temperature. Leftovers can be stored for up to 4 days in an airtight container in the refrigerator. The kheer will thicken on storage. If you prefer a thinner consistency, stir in a little milk or water.
Notes
To prepare the basmati rice. Rinse the rice with running tap water until the water is no longer cloudy. Soak the rice for 30 minutes, discard the soaking water, and then add the rice to the milk.
Stir the milk often to prevent the milk from burning. A heavy, thick-bottomed saucepan or Dutch oven will be great here.
This recipe isn't cloyingly sweet, but add more sugar if you prefer it sweeter. 
You can fish the cardamom pods out or leave them in the dessert. 
If you don't own whole cardamom pods, use 3/4 tsp ground cardamom.