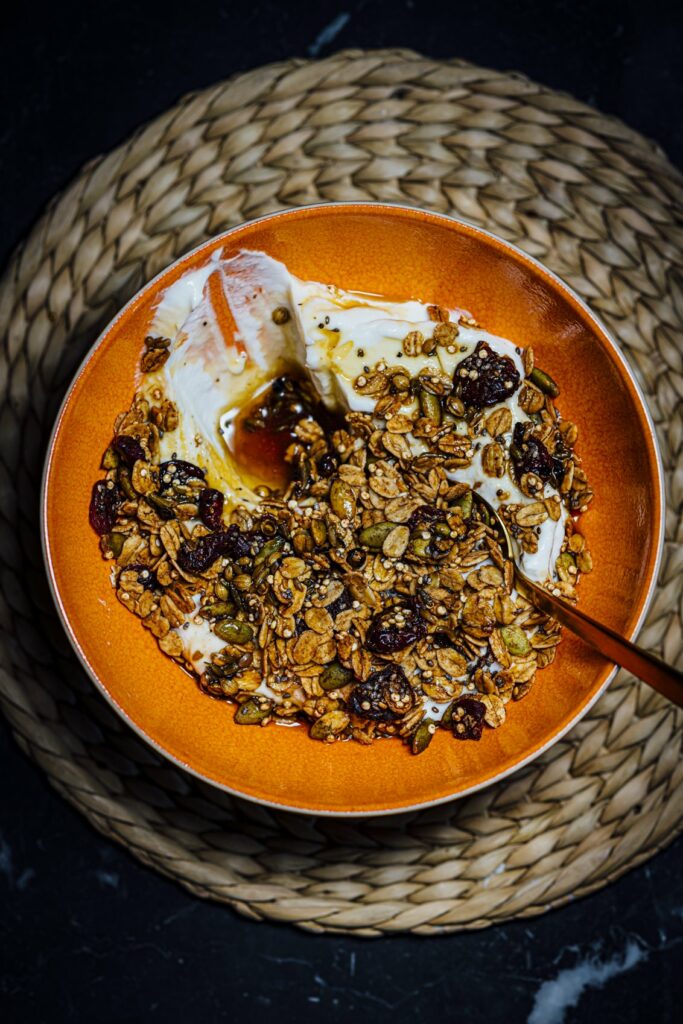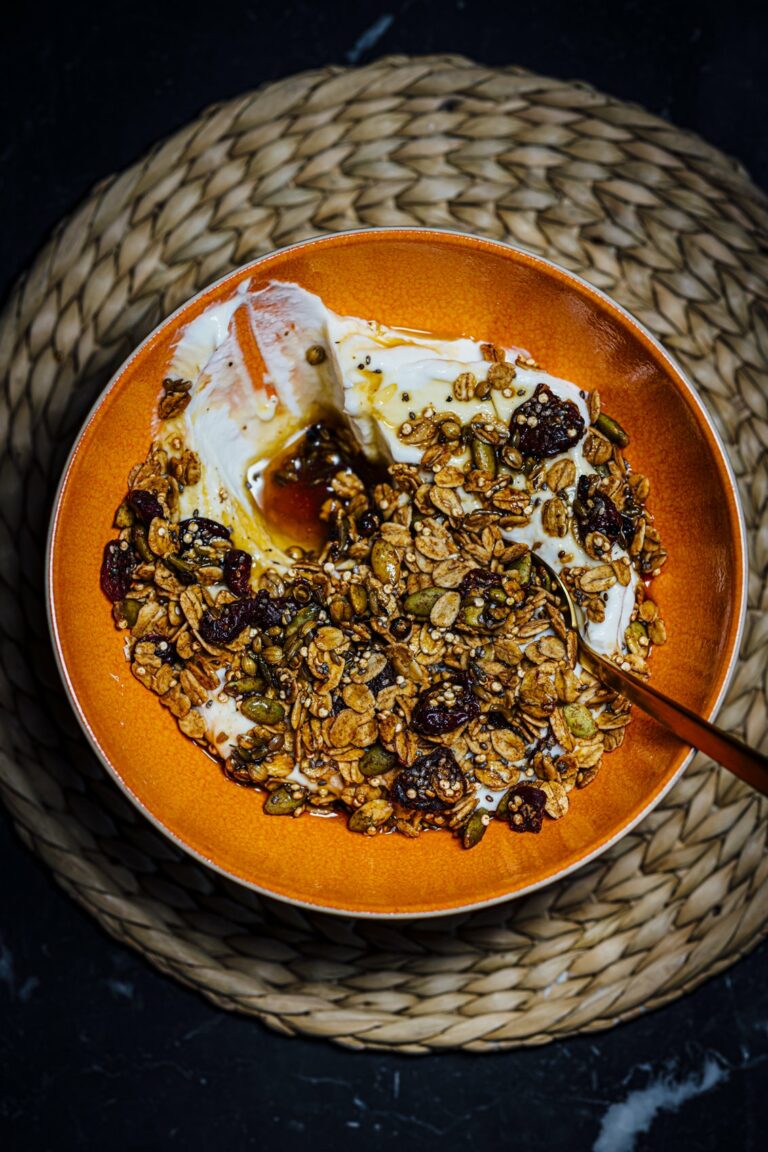 Of all the snacks I love keeping in stock at home, granola probably ranks high in the top tier. For me, it's all about granola's crunch and seasonal variations. In this fall-themed version, bright green pepitas and cranberries take center stage with warm cinnamon and ginger. In addition to the oats, I've added chia seeds and quinoa to give this an extra pack of crunchiness.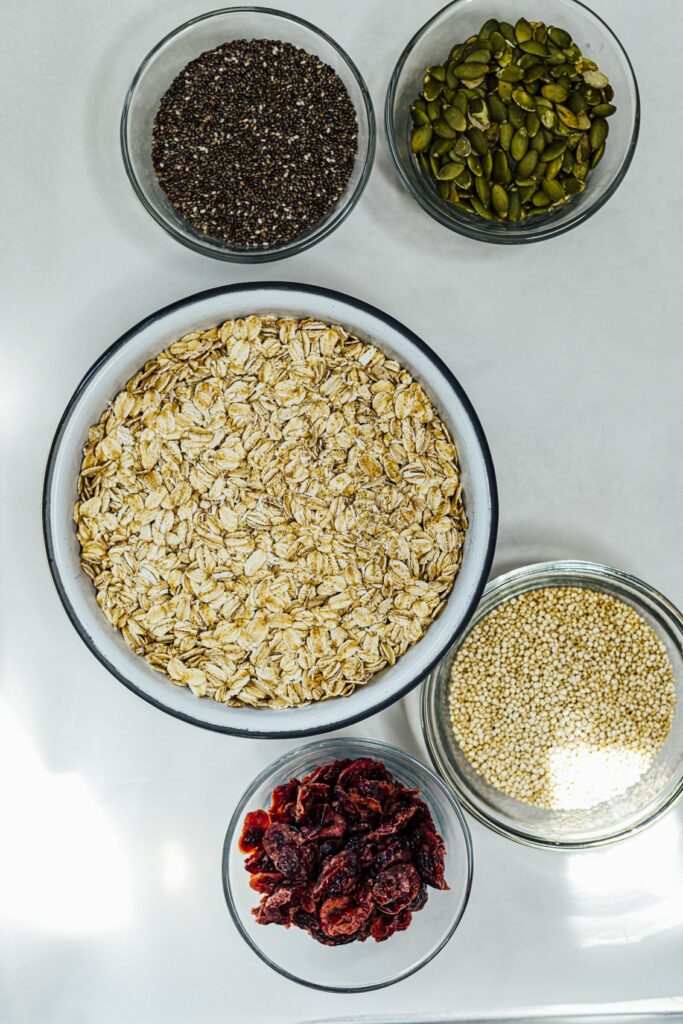 Print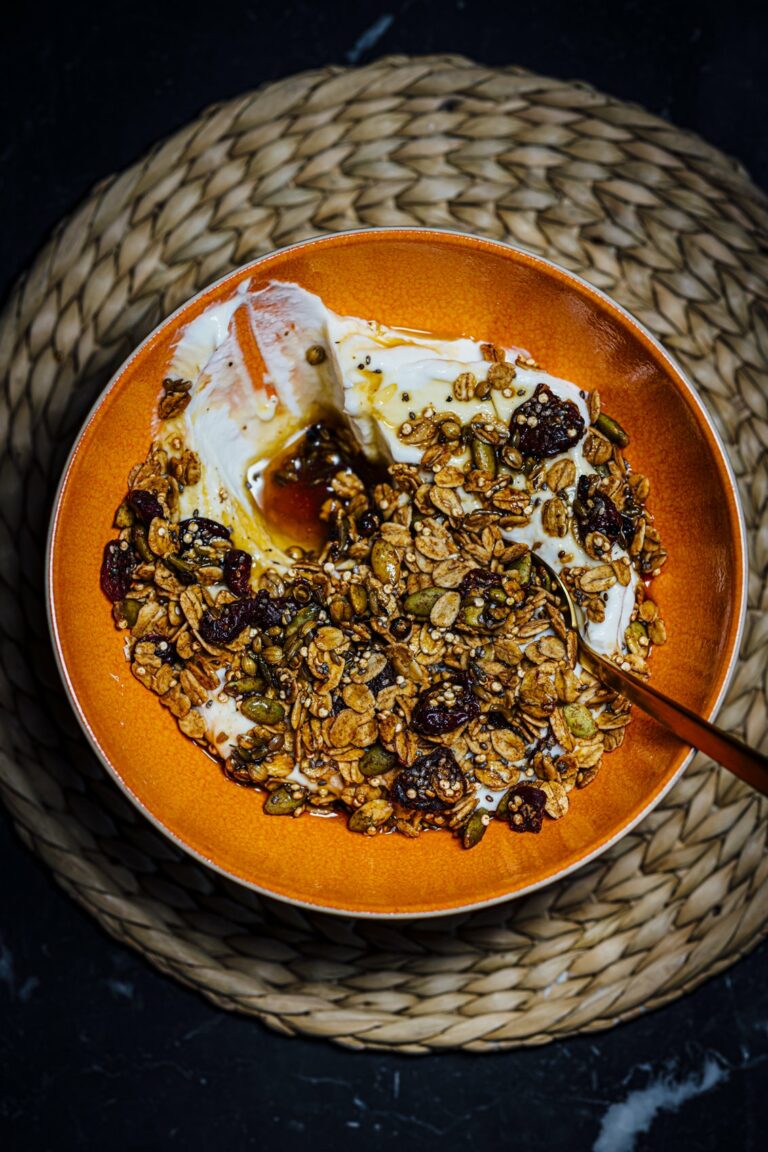 Maple Pumpkin Seed Granola
Be warned, the fragrance emanating from the oven as this granola cooks will make your kitchen smell like fall. This is how I love my granola, which is mildly sweet, scented with spices, and filled with various textures from grains like chia seeds, quinoa, and chewy dried cranberries. I eat this as a snack straight from a jar, or I will top it over creamy yogurt and drizzle a little maple syrup or honey for a sweet treat.
2 ½ cups/250 g instant rolled oats

1 cup/140 g raw unsalted pepitas

½ cup/70 g sweetened dried cranberries

½ cup/90 g chia seeds

½ cup/90 g quinoa, rinsed thoroughly and drained

2 tsp ground cinnamon

2 tsp ground ginger

½ tsp fine sea salt

2 Tbsp extra-virgin olive oil

1/3 cup/80 ml maple syrup
Instructions
In a large mixing bowl toss together all the ingredients, fold to coat well, cover, and let sit for 15 minutes.
Preheat the oven to 300F/150 C.
Spread the oat mixture out onto a rimmed baking sheet lined with parchment paper. Bake in the preheated oven until the granola turns golden brown, 35 to 40 minutes, rotating the sheet halfway through during cooking. Remove from the oven, cool completely, transfer to an airtight container, and store for up to 1 month at room temperature.
Notes
Wash the quinoa in a fine mesh sieve over running cold water to get rid of the bitter saponin coating. Drain the water and then toss it directly with the rest of the ingredients; it will toast and dry out in the oven as it cooks.
To make the granola clump into clusters, lightly whisk the white from 1 large egg and fold it into the oat mixture. Once baked, break the granola into clusters.
Add ¼ cup/50 g brown sugar to make the granola sweeter.