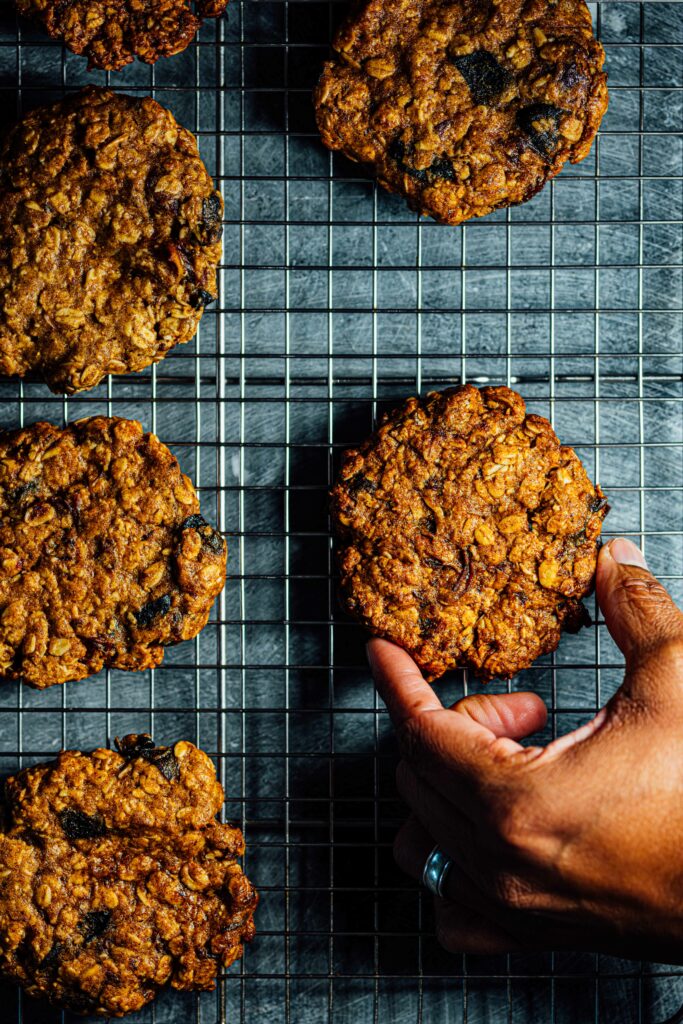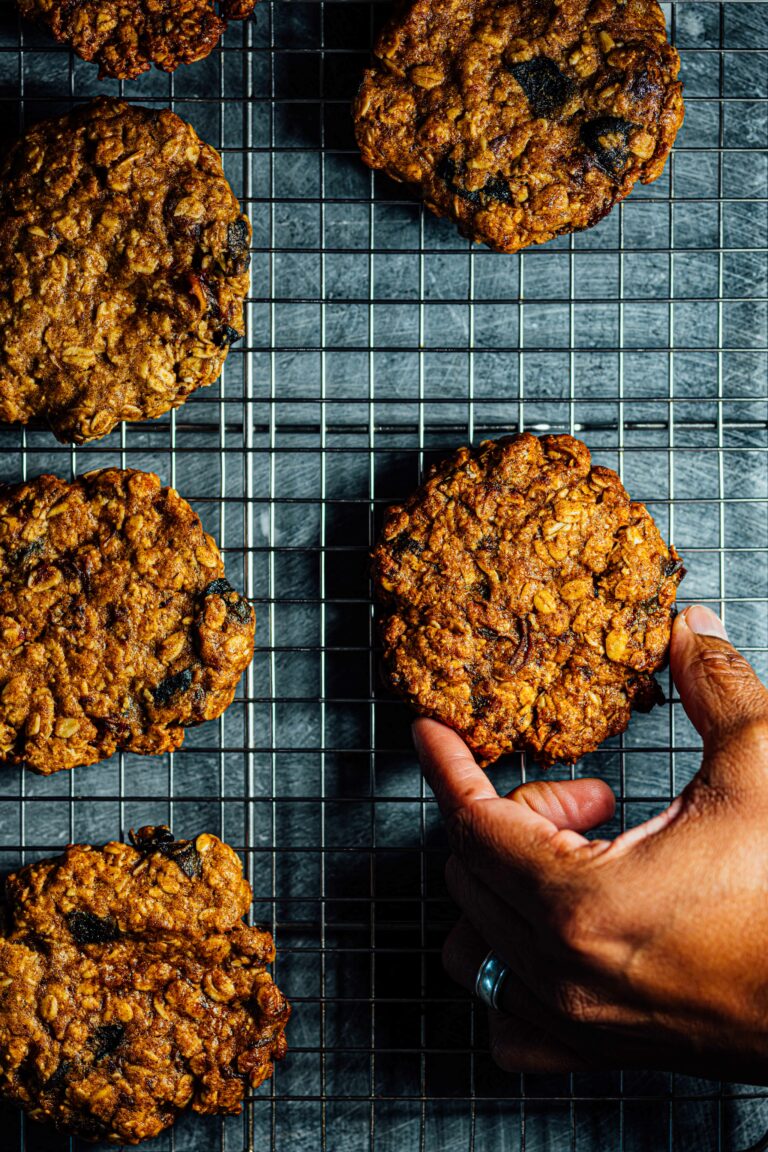 Figs are a treasure, a source of delight. A ripe fig is like a piñata full of good surprises, bust it open and it will reveal a celebration of sweet juicy jamminess. This year, I planted five different varieties of fig trees in my backyard and while they haven't produced a lot of fruit this year, I'm hoping I start to see better returns next year. Ironically, growing up in India, I don't remember eating any fresh figs, they were always dried. You know, the ones stacked and tied together tightly with a piece of thin rope called "string figs". I must admit, those dried figs weren't my favorite. However, once I tried my first fresh fig (after I moved to Washington D.C.), I immediately fell in love. Fast forward to several years later and living in a new city (Los Angeles), I've now got five different varieties of fig trees growing in my backyard and maybe I won't stop at five, if space permits, I guess I could squeeze in another fig tree.
This week's recipe involves fresh figs and dried dates that come together in a spiced oatmeal cookie, the perfect way to start off fall baking. The cookie is equal parts chewy and crispy with the presence of chunks of fresh figs and dates and the oats. I've also built in a deep layer of caramel flavor in the cookie that really helps bring out the aroma of the ingredients.
One of the ways to build and intensify caramelization in recipes is by adding a tiny amount of baking soda. Baking soda (sodium bicarbonate) is alkaline and it raises the pH (fewer hydrogen ions). The new higher pH now helps the sugars present in the fruit, the butter, and the sugar to enter and quickly proceed through the caramelization reaction (the reaction that produces bittersweet flavors and caramel color in foods like baked cakes and flans) as the mixture heats in the saucepan. You'll see the mixture quickly foam and then transition from a light toffee brown color into a darker shade of caramel in just a few minutes. Just don't go too dark or black, you won't like the taste of that.
I've kept the spices in the cookie straightforward, a hint of black pepper, a little cinnamon, and a splash of vanilla to play well with the fruit and caramel. Bake them and be prepared to get engulfed by all those lovely fragrances emanating from your oven.
Before we jump into the recipe, since this is fig season, I want to share a few more recipes that I think you'll enjoy,
Fig Leaf Syrup – Before it gets too cool and the fig trees drop their leaves, grab a few fresh leaves, and prepare this delicious fig leaf syrup. Now here's the interesting part, it won't taste anything like figs but instead, it will remind you of a very fragrant syrup made from toasted coconuts. Mix it with chilled water or soda and you'll have yourself a refreshing drink. I also use the syrup over fresh fruit for a light dessert or to flavor other sweet recipes.
This Upside-Down Fig Cake is one of the most popular recipes that I created for my column at the San Francisco Chronicle. The cake carries a distinct caramel aroma combined with ghee and cardamom.
For a more tropical take, try my Almond Fig Cake that's served topped with a Tangy tamarind Frosting from The New York Times.
Print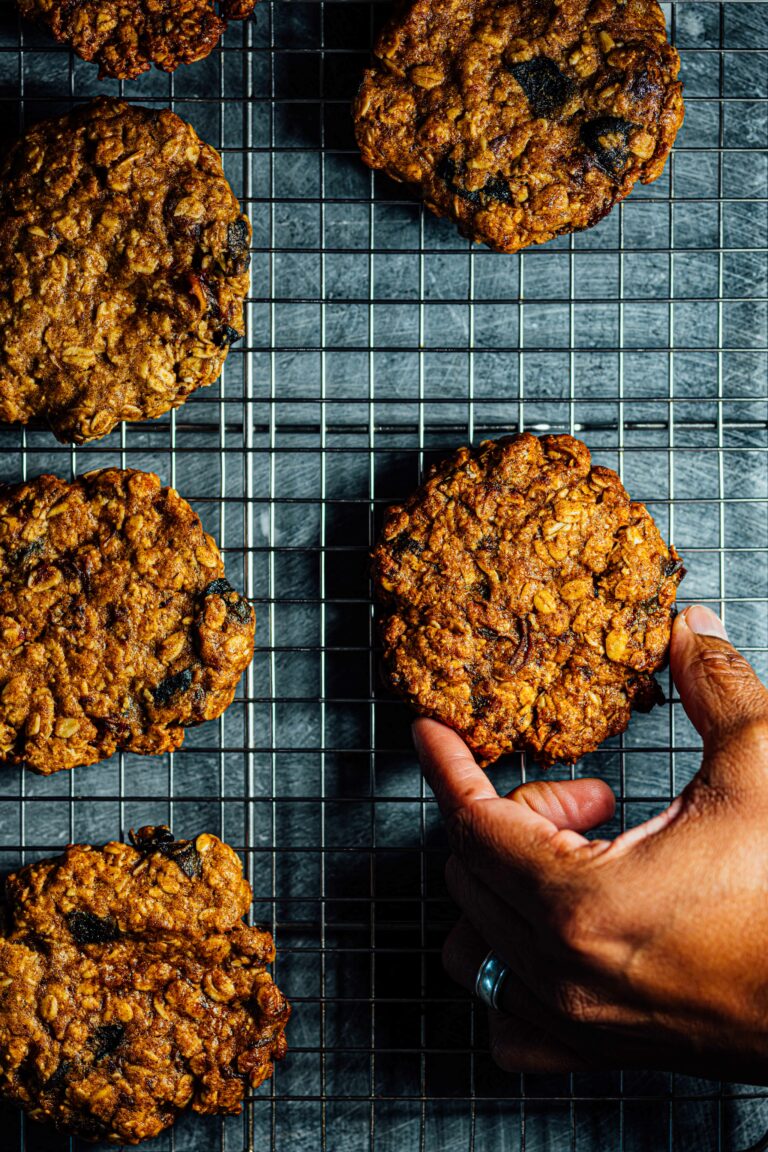 Caramelized Date and Fig Oatmeal Cookies
Caramelized dates and figs come together in these crispy and chewy spiced oatmeal cookies. Eat them warm or cool but be warned, one cookie is never enough!
2 cups/200 g old-fashioned/rolled oats

1 cup/140 g all-purpose flour

½ cup/100 g sugar

12 to 13/200 g pitted, dried dates, chopped

3 ½ oz/100 g fresh figs, chopped

½ cup/110 g unsalted butter, cubed

½ tsp baking soda

1 large egg, cold and lightly whisked

1 tsp vanilla extract

½ tsp finely ground black pepper

½ tsp ground cinnamon
Instructions
Preheat the oven to 350F/180C.
Line two baking sheets with parchment paper.
In a large mixing bowl, dry whisk the oats, flour, and ¼ cup/50g of the sugar.
Place the dates, figs, butter, and ¼ cup/50g of the remaining sugar in a small saucepan. Cook over medium heat until the butter melts, stirring with a silicone spatula, 2 to 3 minutes. Reduce the heat to low and stir in ½ tsp baking soda, the mixture will immediately foam and turn light brown. Continue to stir, until the mixture reaches 180F/82C and turns a dark caramel toffeelike color, 2 to 3 minutes. At this point, resist the urge to taste this, I know it smells amazing, and speaking from experience, you can/will easily singe your tongue. Remove from the heat and let cool to 140F/60C (anything over this temperature and the egg runs the risk of coagulating).
Stir in the egg, vanilla, black pepper, and cinnamon into caramelized fruit mixture.
Make a well in the center of the oat mixture and pour in the fruit mixture. Fold with the spatula until there are no more visible flecks of dry oats or flour. Cover the bowl with a lid and let sit for 15 to 30 minutes but not longer.
Divide the rested dough by weight into 12 equal parts (approximately 2 ½ to 3 Tbsp). Shape each into a 3 in/7.5 cm wide and ¼ inch/6mm thick patty. The dough will be quite sticky and lightly pre-wetting your hands in a little bit of water will help act as a non-stick shield during shaping. (If you want a smaller cookie, halve the quantity and the width.) Lay the shaped patties out onto the lined baking sheets (six cookie patties per sheet) and cook them in the preheated oven for 12 to 15 minutes, turning them halfway through during baking, until they turn golden brown and crisp on the edges. Remove the baked cookies from the oven and transfer them to a wire rack to cool. The cookies can be eaten warm or at room temperature. Store the cooled cookies in an airtight container at room temperature for up to 4 days.
Notes
Stay away from instant oatmeal when making cookies, old-fashioned/rolled oats are the only ones you need.
Use ripe figs but not overly ripe ones that are way too mushy.
If you must use dried figs, hydrate them by boiling them in a half-and-half mix of water and orange juice. Drain and use.
Be careful when caramelizing the fruit, too much and the whole thing can turn extremely bitter.
You can shape these cookies smaller and double the final count.
These cookies don't spread by themselves, and you won't be able to treat them like drop cookies, shape them with wet hands and flatten them out into patties before baking.
The resting time for the cookie dough is critical to achieving part crispy and chewy textures in the baked cookie.