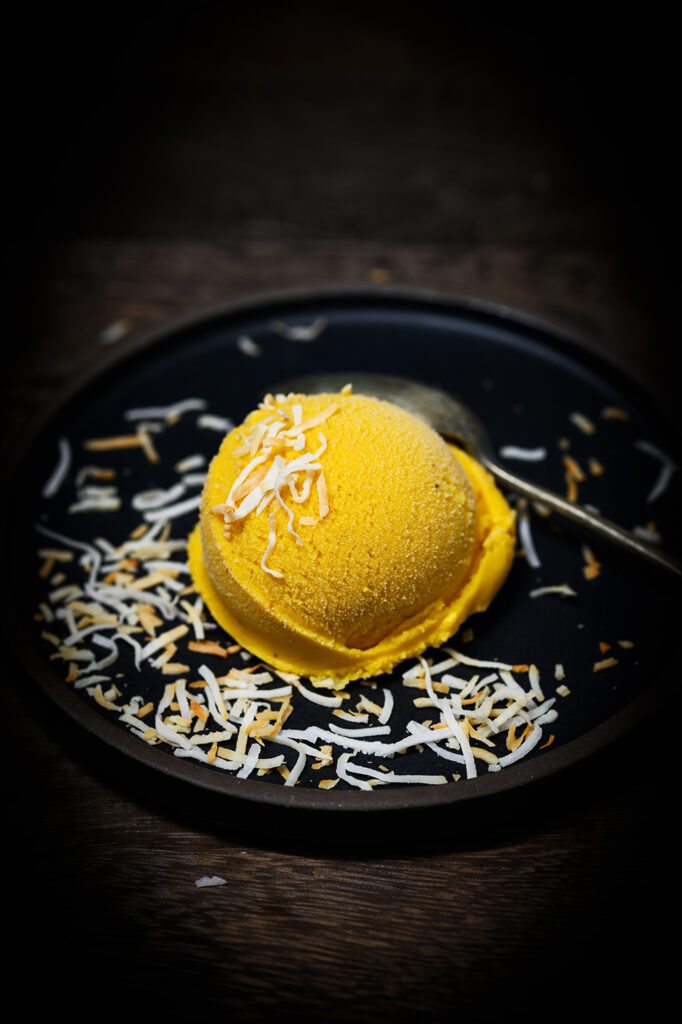 Print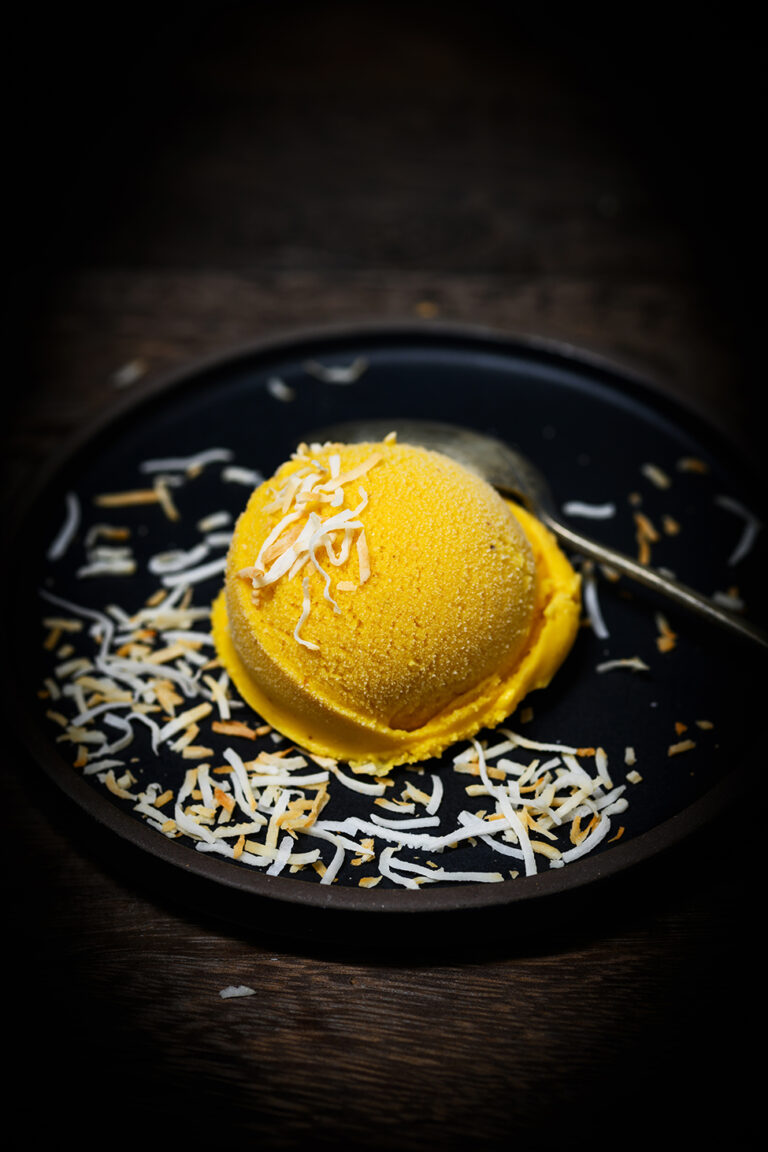 mango, coconut, and star anise ice cream
Inspired by the flavors of South Asia, this ice cream is full of the fruity, fragrant goodness of tropical mangoes, nutty toasted coconut, and the sweet scent of star anise. The toasted coconut topping is a delight with each bite.
Yield:

about 1 quart/945 ml
2 cups/480 ml canned Alphonso mango pulp or a good ripe mango puree
4 oz/115 g plain full-fat cream cheese, softened and cut into cubes
3/4 cup/150 g sugar
One whole star anise pod (see Notes)
1 cup/240 ml half and half
1 Tbsp good-quality coconut extract
1/4 cup/18 g sweetened or unsweetened desiccated shredded coconut
Instructions
Place the mango pulp with the cream cheese, sugar, and star anise pod in a blender. Pulse for a few seconds until the cheese and star anise are completely combined.
Add the half and half and coconut extract and pulse for a few seconds to combine.
Strain the ice cream base over a fine mesh strainer lined with cheesecloth directly into the bowl of your ice cream maker. Discard the solids in the cloth and prepare the ice cream in the ice cream maker as per the manufacturer's instructions. Once the ice cream is formed, transfer it to a freezer-safe container, line the surface with parchment paper, and press down to remove any air bubbles. Freeze for at least 2 hours to firm up completely. NOTE: If you don't own an ice cream maker, stir and freeze the ice cream base with the poppy seeds in a shallow non-reactive metal pan (a loaf pan or an 8 in/20 cm square baking pan will work). Cover with cling wrap. Freeze the mixture for 2 hours or until it begins to firm up. Remove from the freezer, unwrap, and crush the ice crystals using a fork or immersion blender. Alternatively, transfer to a blender or food processor and pulse to break the ice crystals. Cover with the cling wrap and refreeze. Repeat three to four times at 30-minute intervals until the mixture turns soft but frozen. Freezing times will vary depending on the refrigerator.
Before serving, prepare the topping. Heat a medium skillet on medium-high heat. Once the pan is hot, add the coconut and toast until they turn golden brown. This happens rather quickly, within 1 to 2 minutes, so watch them carefully so as not to burn them. Transfer the toasted coconut to a bowl, and let cool completely before using. Before scooping the ice cream to serve, garnish with a teaspoon of toasted coconut. Extra toasted coconut can be stored in an airtight container in the refrigerator for up to 1 week.
Notes
Half and half contain between 10 to 12% milk fat and is prepared by mixing whole milk and light cream. If you can't find half and half, mix equal parts of whole milk and light cream. Another alternative is to mix 3/4 cup/180 ml whole milk with 1/4 cup/60 ml heavy cream to make 1 cup/240 ml of half and half.
You can fold the toasted coconut into the churned ice cream and store it in the refrigerator.
For a milder star anise flavor, use 1/4 tsp ground star anise.