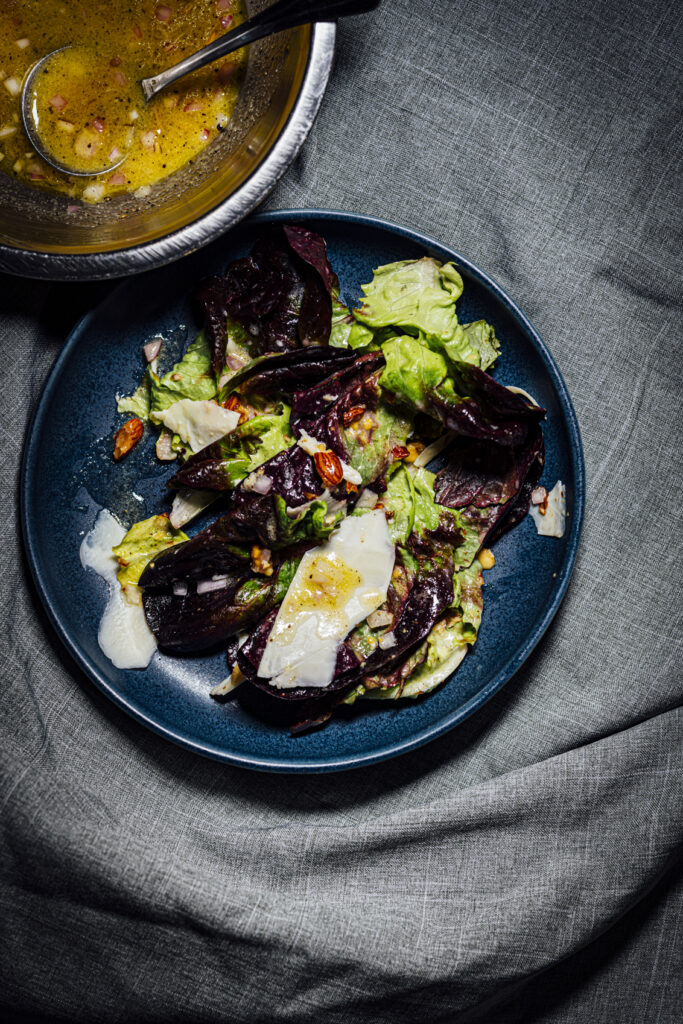 Print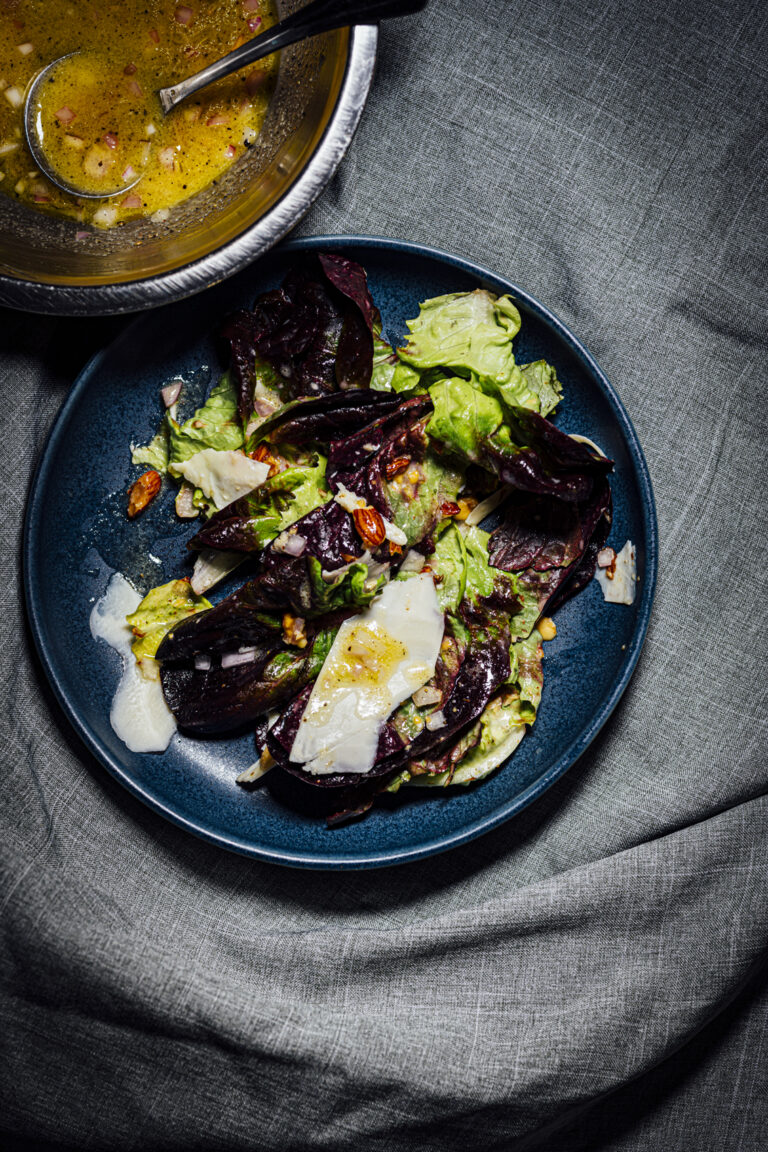 Lettuce Salad with Smoked Almonds, Dates, and Shallot Vinaigrette
One of my favorite salads to order at Agnes Restaurant & Cheesery in Pasadena, CA, is a fresh lettuce salad tossed with a bright shallot vinaigrette. What makes the salad extra special is the inclusion of smoked almonds and sweet dates, an unexpected combination that makes me smile every time I take a bite. This is my take on that delicious, simple salad.
For the Shallot Vinaigrette 
1/4 cup/60 ml white wine vinegar
1/4 cup/60 ml white balsamic vinegar
1 shallot/about 60 g, minced
1 Tbsp smooth Dijon mustard
1 garlic clove, grated
1/2 tsp ground black pepper
1/4 cup/60 ml extra virgin olive oil
fine sea salt
For the Lettuce Salad
4 oz/115 g lettuce, leaves separated
1/4 cup/45 g smoked almonds, crushed
1/4 cup/8 g shaved Parmesan or soft goat or sheep cheese, crumbled
4 dried Medjool dates, seeded and diced
Instructions
To prepare the vinaigrette, whisk the vinegars, shallot, mustard, garlic, and black pepper in a medium mixing bowl until combined.
Add the olive oil in a slow and steady stream and continue to whisk until the mixture turns creamy and emulsified. Taste and season with salt. This vinaigrette can be made two days ahead of time. Store in the refrigerator until ready to use. If it solidifies during storage in the refrigerator, warm to room temperature and shake well before use.
In a large serving bowl, add the lettuce with the almonds and dates. Pour half of the vinaigrette and toss to coat well. Top with the parmesan. Serve immediately with the extra vinaigrette on the side if needed. Leftovers can be stored in an airtight container for up to 1 day in the refrigerator. 
Notes
The vinaigrette can be made in a mason jar or any other with a tight-fitting lid. Place all the ingredients for the vinaigrette in the jar, seal tight, and shake aggressively until creamy and emulsified. 
Use the best lettuce for this salad. Radicchio and endives also work very well here. 
If you can get your hands on smoked dates, use them here.