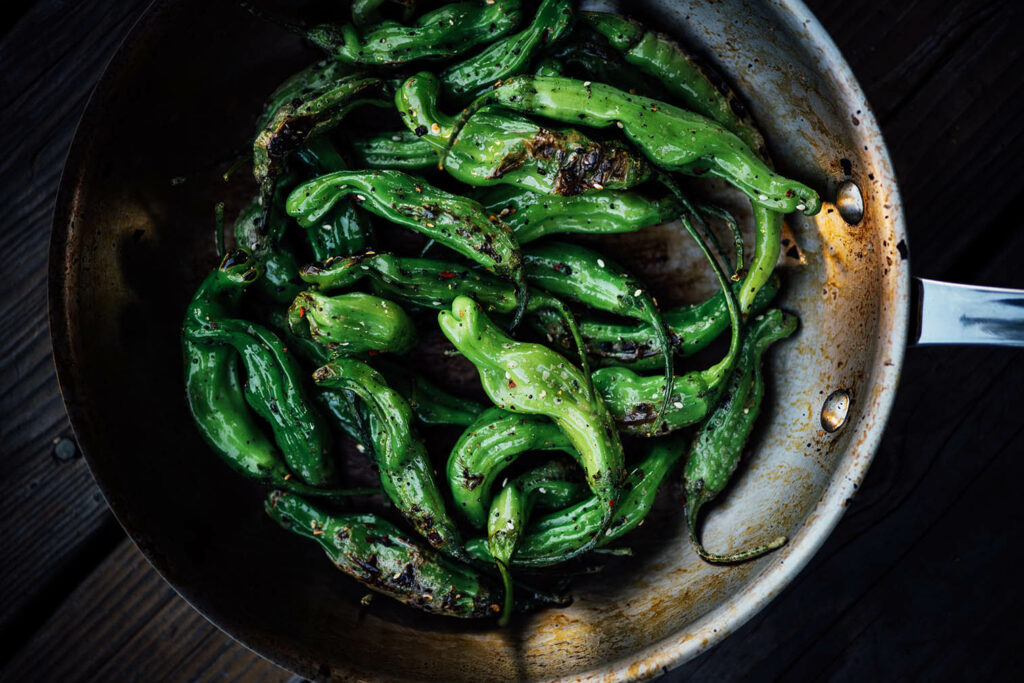 The first time, I tried shishito peppers was right after we moved to California. I had heard a lot about them, everyone who ate them said they were delicious especially when blistered. And unlike most charred and blistered peppers, you eat them with the skin on. But NO ONE told me that often you'll encounter a pepper or two that might be hot, VERY HOT. So you can imagine my surprise when I ate them at a restaurant. Most of them tasted a little bit like blistered green bell peppers mingled with the taste of flecks of salt and pepper but then I bit into something VERY, VERY, and unexpectedly HOT! The exact details of what happened then have since then escaped my mind but I do remember drinking a few glasses of water. So here's my PSA with these pepper; usually at random, one or two will be hot. It's better to know this going in.
Shishito peppers are Japanese cultivars and are related to the Padrón peppers of Spain, the latter being much smokier. You can use this recipe with either pepper. I find them to taste best when seared, charred, and burnt because the skin transforms in taste and adds complexity to the flavor of the peppers. Sometimes, I will sear a few peppers and use them to garnish fried rice, add them to salads, or even over cold soba noodles.
Print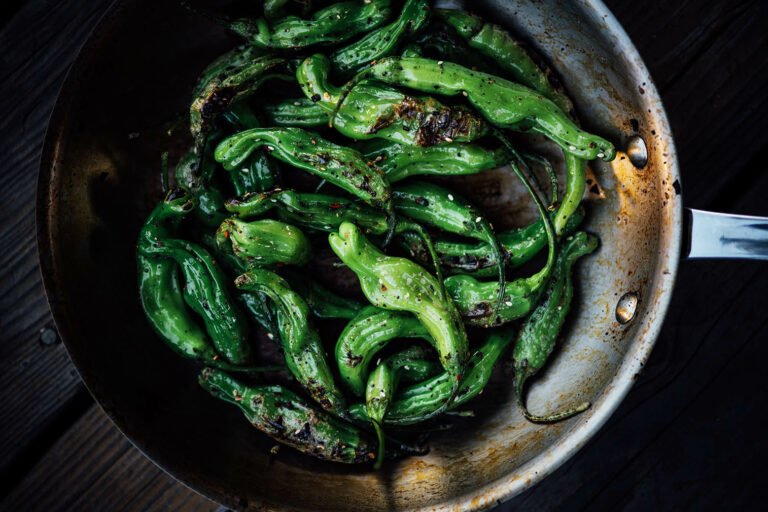 blistered shishito peppers with shichimi togarashi
Smoky and blistered, with bits of sour and salty goodness accompanied by a game of Russian roulette, is how I like to describe this dish of green shishito peppers. The taste is addictive, and you never know who will get that one hot pepper (I always pray and hope it isn't me).
1 Tbsp neutral oil with a high smoke point, such as grapeseed

1 lb/455 g shishito peppers

1 1/2 tsp shichimi togarashi, homemade or store-bought 

1 tsp toasted sesame oil

2 tsp  Chinese black vinegar, malt vinegar, or apple cider vinegar

Instructions
Heat a large wok or stainless-steel skillet over high heat. Add the oil and heat until the oil begins to shimmer.
Add the peppers, and stir-fry until the peppers start to turn tender and blister in spots, 3 to 4 minutes.
Add the togarashi seasoning, sesame oil, vinegar, and salt to the peppers and toss to coat well. Remove from heat and transfer to a serving dish. Serve immediately.
Notes
Because the oil gets smoky, make sure to keep the windows open and the exhaust fan on.