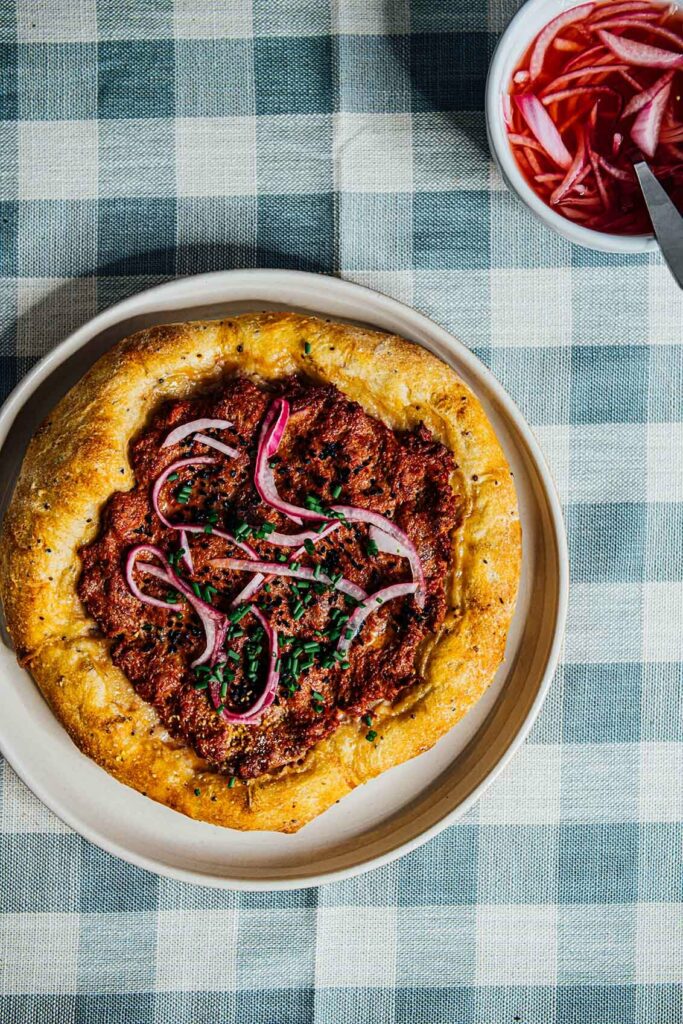 Disclaimer: This post was sponsored by the American Lamb Board. All opinions expressed are solely my own.
There are many different types of lamb-topped pizzas, and among my favorites are the ones made in the Middle East called lahmacun (pronounced "lahma'joun"). My recipe is based on the Turkish lahmacun, but I'm using pizza dough, and my seasonings are slightly different. However, there is one ingredient that makes the lamb stand out in this dish, and I'm keeping it in this recipe: Turkish pepper paste. Turkish pepper paste is a concentrated mix of red peppers, quite similar in appearance to tomato paste, and a wonderful condiment to keep in your refrigerator at all times. There are two types, a sweet pepper paste, and a hot pepper paste, you can use either, but I prefer to use a bit of both. If you can't find the hot pepper paste, add a tiny amount of cayenne to spruce up the heat.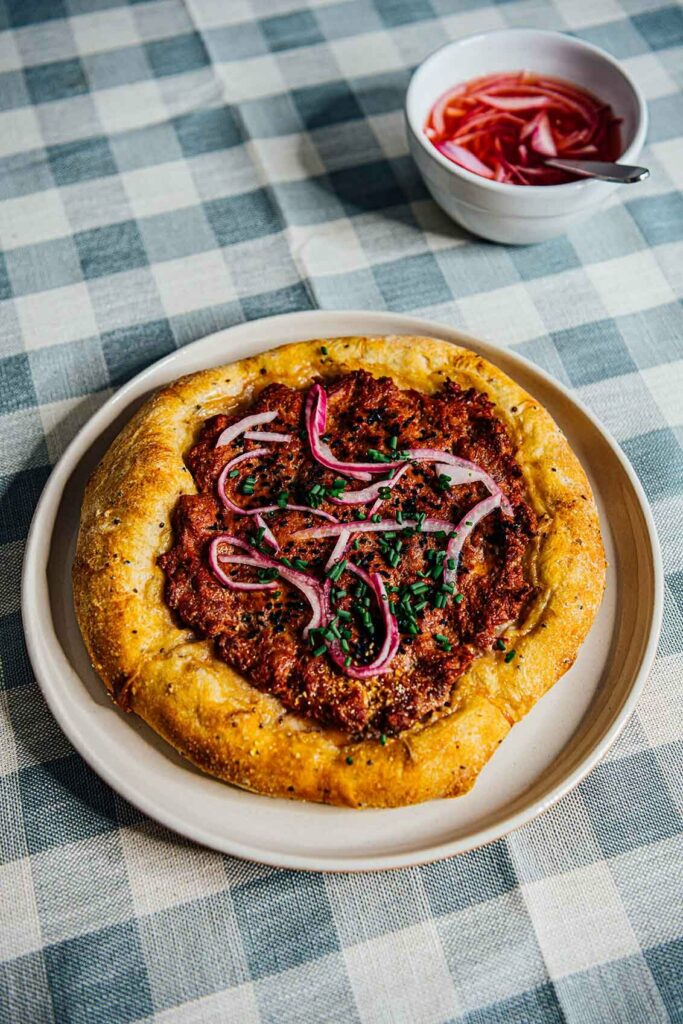 Using good quality ingredients is the key to any recipe's success. I use American lamb in my cooking because I trust the farms from which the meat is raised. Not only do they take care of the animals on the farm, but the farmers do their best to support the local community. The use of ground lamb in this pizza is advantageous because it cooks quickly as the pizza cooks and also remains juicy.
While I haven't added any cheese here, feel free to sprinkle a bit of soft creamy feta or sheep cheese just before you serve.
Print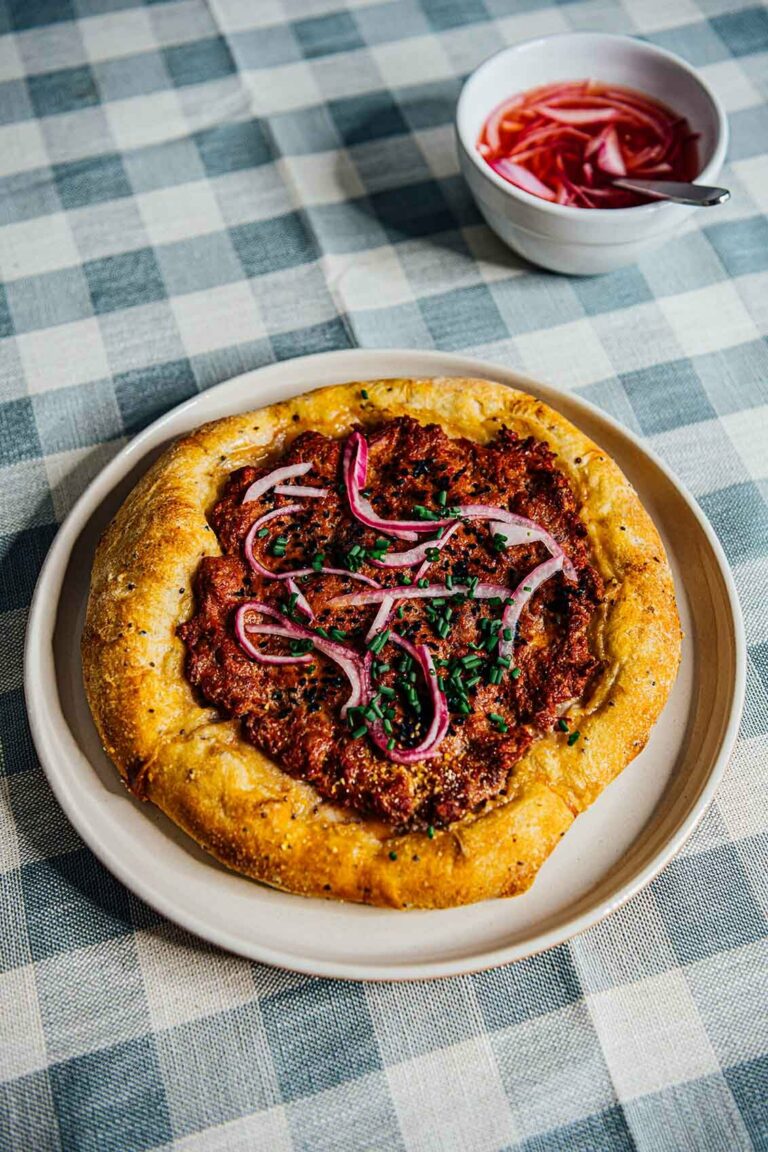 Lamb Pizza with Pickled Onions
For the lamb pizza 
22 oz/1.375 kg pizza dough, homemade or store-bought , at room temperature
A little all-purpose flour to roll out the dough
1 lb/455 g ground American lamb
One shallot, minced
4 cloves of garlic, peeled and grated
3 Tbsp/45 g tomato paste
2 Tbsp Turkish pepper paste (see my notes)
1 green chilli such as Serrano, chopped
2 Tbsp chopped fresh cilantro or flat-leaf parsley
1 tsp ground coriander
1 tsp ground cumin
1 tsp ground black pepper
1 tsp fine sea salt
½ tsp ground cayenne
2 Tbsp cornmeal or semolina
2 Tbsp Extra virgin olive oil
2 tsp nigella seeds
For the pickled onions
1 small red onion or shallot, thinly sliced into half crescents
1 Tbsp sugar
½ tsp fine sea salt
½ cup/60 ml vinegar
Instructions
Place a baking stone or baking steel in the oven and preheat the oven to 500F/260C.
In a large bowl, mix the lamb with the shallot, garlic, tomato paste, pepper paste, chilli, cilantro, coriander, cumin, black pepper, salt, and cayenne till evenly combined.
Divide the pizza dough in half, and work with one piece at a time. Roll one piece of dough out, dusting with minimal flour till you get an 8 in/20cm circle. Sprinkle 1 Tbsp of the cornmeal over a pizza paddle or the underside of a baking sheet. Place the rolled-out pizza dough on top. Top the pizza with half of the crumbled lamb mixture and brush the sides with 1 Tbsp of olive oil. Sprinkle 1 tsp of nigella seeds on top of the pizza and slide the dough directly over the pizza stone. Cook the pizza for about 10 minutes, till the sides begin to puff up, and the lamb is cooked, about 10 minutes. *(USDA recommends a minimum internal temperature of 160 degrees F for ground lamb)
While the pizza cooks, make the pickled onions. In a small bowl or jar, add the onions, sugar, and salt. Pour the vinegar and press the onions to submerge completely. Let sit for a maximum of 10 minutes before using.
When the pizza is ready, top the pizza, drain the vinegar, and top with the pickled onions.  Repeat to prepare the second pizza.
Notes
There are two types of Turkish pepper paste – hot and sweet. I usually use a mix of both. 1 Tbsp of each mixed together gives a nice rounded taste.

You can purchase Turkish pepper paste online and find them in Middle Eastern stores. The two I use at home are – Sweet Pepper Paste and Hot Pepper Paste.

When making the onion pickle, do not let the onions sit in the vinegar for too long; after 10 minutes, they risk turning too soft.

While the USDA recommends cooking ground meat to a minimum temperature of 160F/71C, this is ideal for recipes like burgers or kebabs with considerable thickness. In the case of this pizza, the topping is too thin to accurately measure a temperature, which is why we rarely see pizzas with ground lamb toppings list a temperature, and here's my explanation for this.

1. The ground lamb is in a thin layer, and measuring it with a thermometer is not at all practical and virtually impossible. The thermometer probe needs to be covered to a certain height before it can read accurately (Thermoworks, I think, is 1/8th in/4 mm, while other brands need at least 1/2 in/12 mm).

2. Another thing to keep in mind, a temperature of 160F/71C in such a thin layer of ground lamb will be achieved very quickly in a hot oven at 500F/260C; this would leave the pizza dough uncooked. The best strategy is to let the lamb continue to cook even after it reaches 60F/71C till the dough is completely cooked. The lamb contains enough liquid to stay moist till the dough is completely cooked. An alternative (that I've tried) is to cook the lamb separately in a saucepan, then top it on the pizza, and cook it again, but it dries out, and the texture is too rubbery; I don't recommend this.