Disclaimer: This post was sponsored by the American Lamb Board. All opinions expressed are solely my own.
Of course, I'm grilling a lot this summer. I don't think either of you expects any difference. Grilling is satisfying, and the simplest recipes can transform into something remarkable if grilling is introduced. Think of a fire-roasted eggplant, sweet corn, and even bell peppers are thrown onto the grates of a hot fiery grill; they develop gorgeous flavors and even distinct smoky profiles. Meat is no exception to this experience, and lamb with its juicy fat, is the perfect candidate for grilling.
The lamb chops are marinated in a citrusy blend of lime and orange before they go to the grill. The warm juicy lamb chops are then served alongside a cool salad made with fresh summery tomatoes and chickpeas with dill. Now, if you like dill as much as I do, I recommend doubling the quantity I recommend using in the recipe. 
Before I forget, this week's exciting news: the American Lamb Board is organizing a special contest. Explore the American Lamb Board's contest in partnership with Outdoorsy for a chance to win a $2,000 travel credit! Simply share a photo or video of an outdoor adventure and be entered to win some incredible prizes. Plus, they'll send you freebies just for entering! To learn more about the contest and how to enter, visit The American Lamb Board.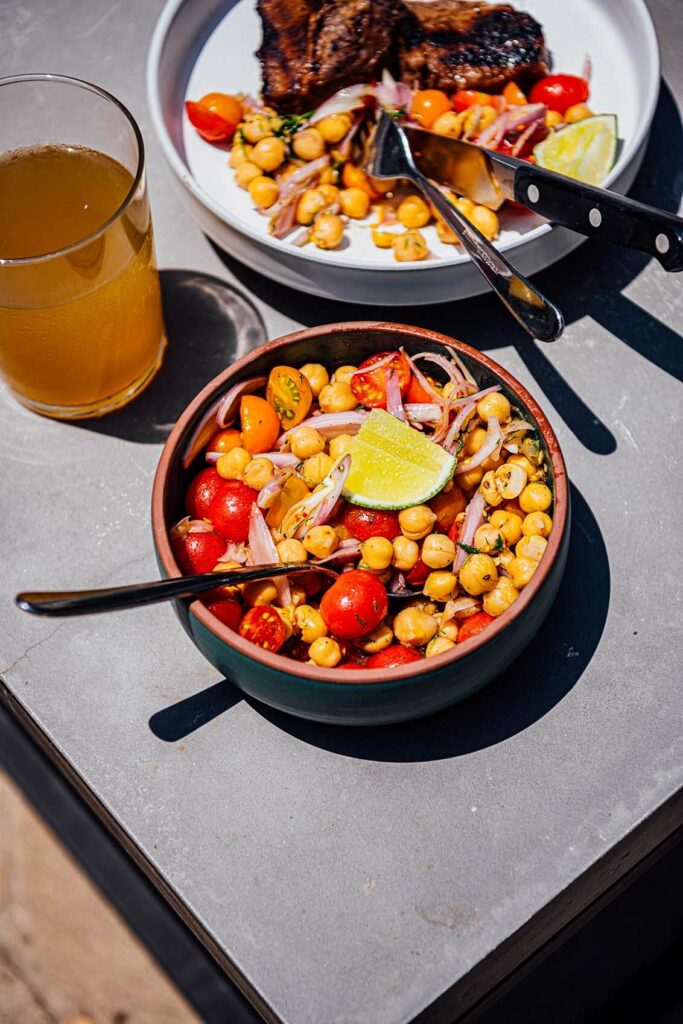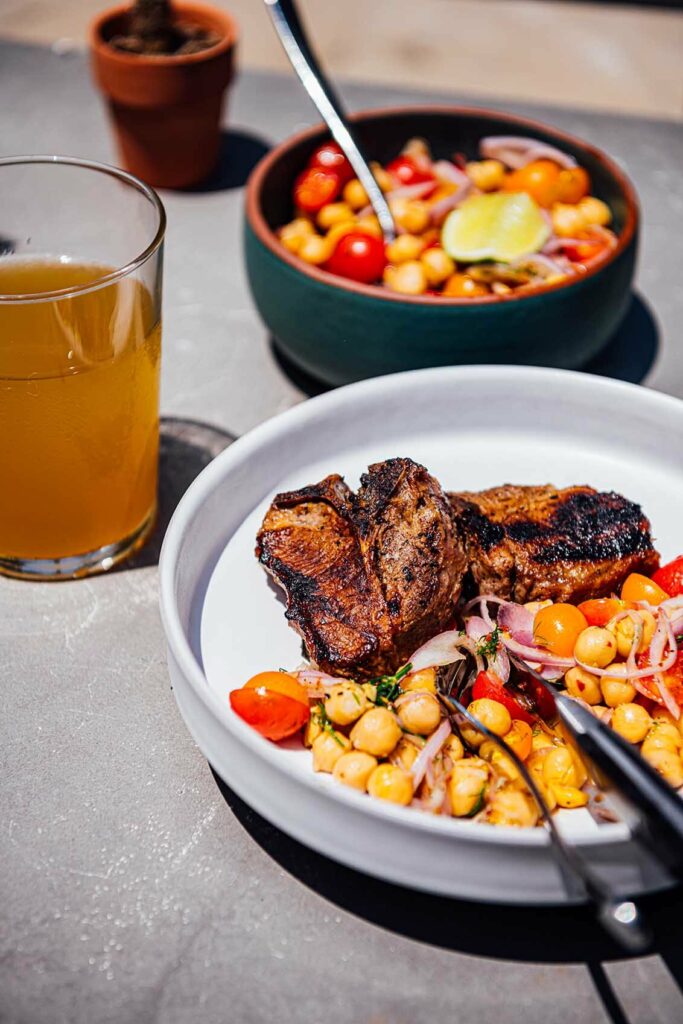 Print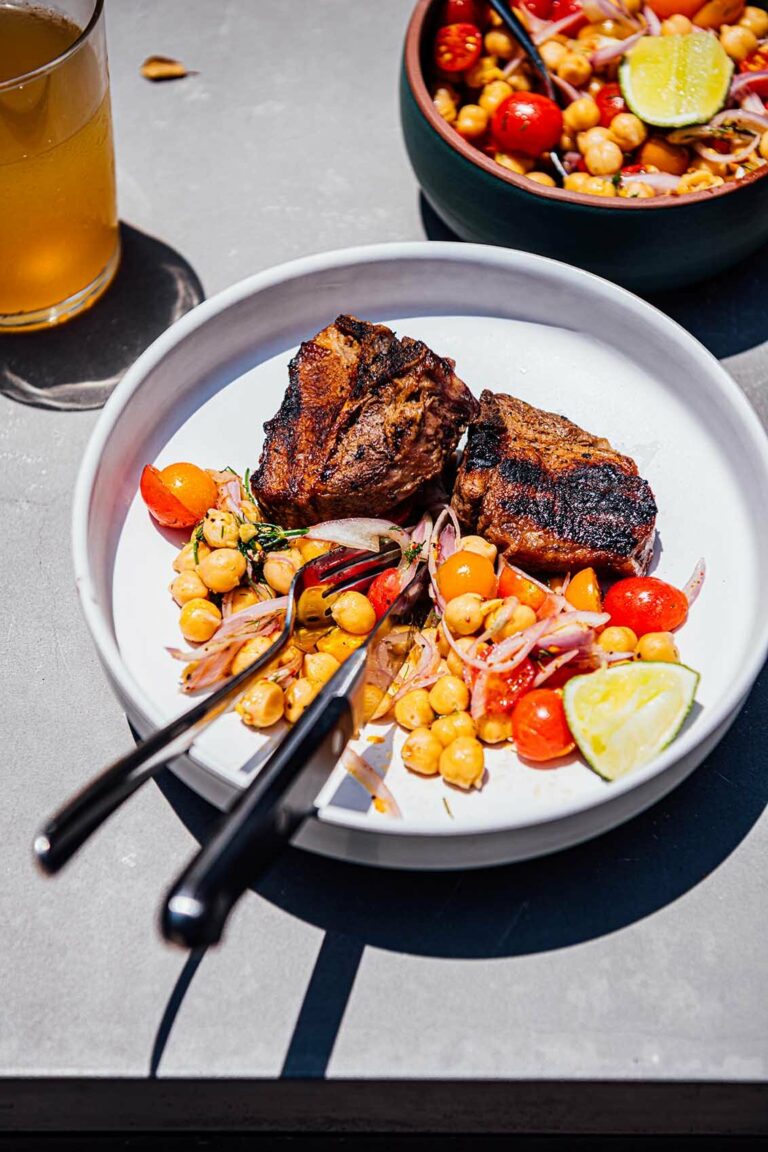 Lamb Chops, Chickpeas, and Tomatoes
For the lamb chops
8 American lamb loin chops (about 2 lbs [910 g] total weight)
2 Tbsp extra-virgin olive oil plus a little extra to brush the pan
1/4 cup fresh lemon juice
2 Tbsp fresh orange juice
2 garlic cloves, peeled and grated
2 tsp ground black pepper
1 tsp orange zest
1 tsp fine sea salt
For the tomatoes and chickpeas
One 14 oz can chickpeas, drained
1/2 pint cherry or grape tomatoes, cut in half
1 medium shallot, minced
2 Tbsp fresh flat-leaf parsley or dill chopped
2 Tbsp fresh lemon juice
2 Tbsp extra-virgin olive oil
1/2 tsp ground black pepper
1/2 tsp ground sumac
1/2 tsp red pepper flakes
Fine sea salt
Instructions
Pat the lamb chops dry with clean paper towels and place the lamb in a ziptop bag or in a glass or ceramic baking dish that can accommodate the ribs snugly in a single layer.
In a small bowl, mix the olive oil, lemon juice, orange juice, garlic, pepper, orange zest, and salt. Drizzle the mixture over the lamb, seal the bag, and shake the bag a couple of times to coat the lamb well. Leave the lamb in the refrigerator for 30 minutes to 4 hours to marinate.
When ready to cook, heat the grill on high. Cook the lamb chops on each side for 4 to 5 minutes on the grill until the meat develops a few grill marks. The USDA recommends a minimum internal temperature of 145F/63C, followed by a 3-minute rest. Remove the chops from the pan, place them in a serving dish, and cover them with foil.
While the lamb cooks, prepare the salad.
Add the chickpeas, tomatoes, shallot, and parsley to a large bowl. Whisk the lemon juice, olive oil, black pepper, sumac, and red pepper flakes and drizzle over the vegetables in the bowl. . Season with salt. Let sit for at least 15 minutes before serving.
Serve the warm lamb chops with the chickpea salad.