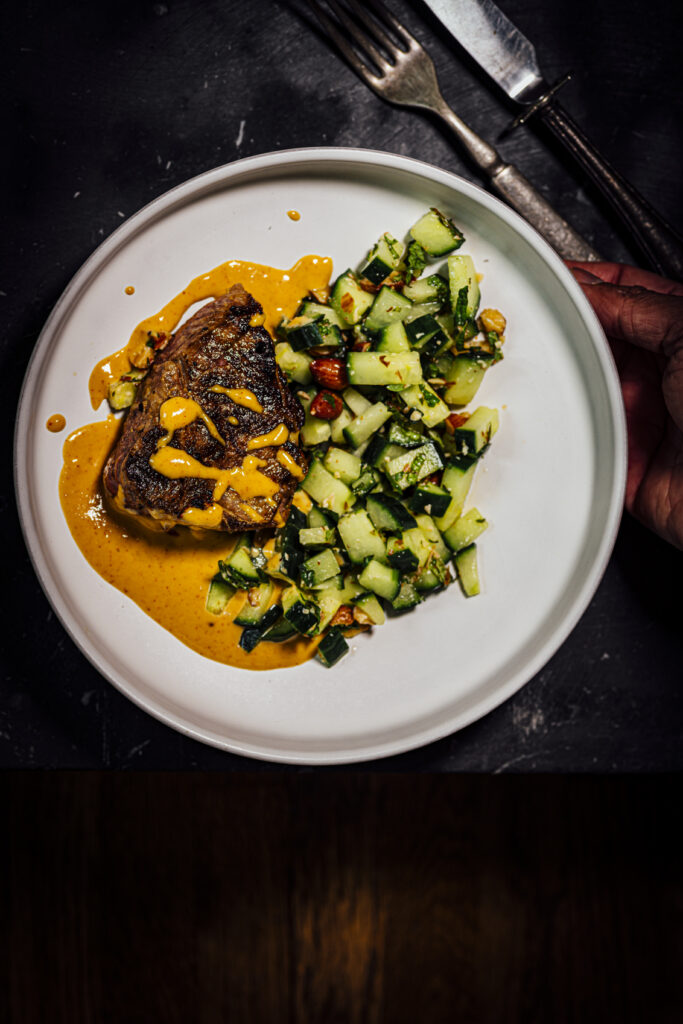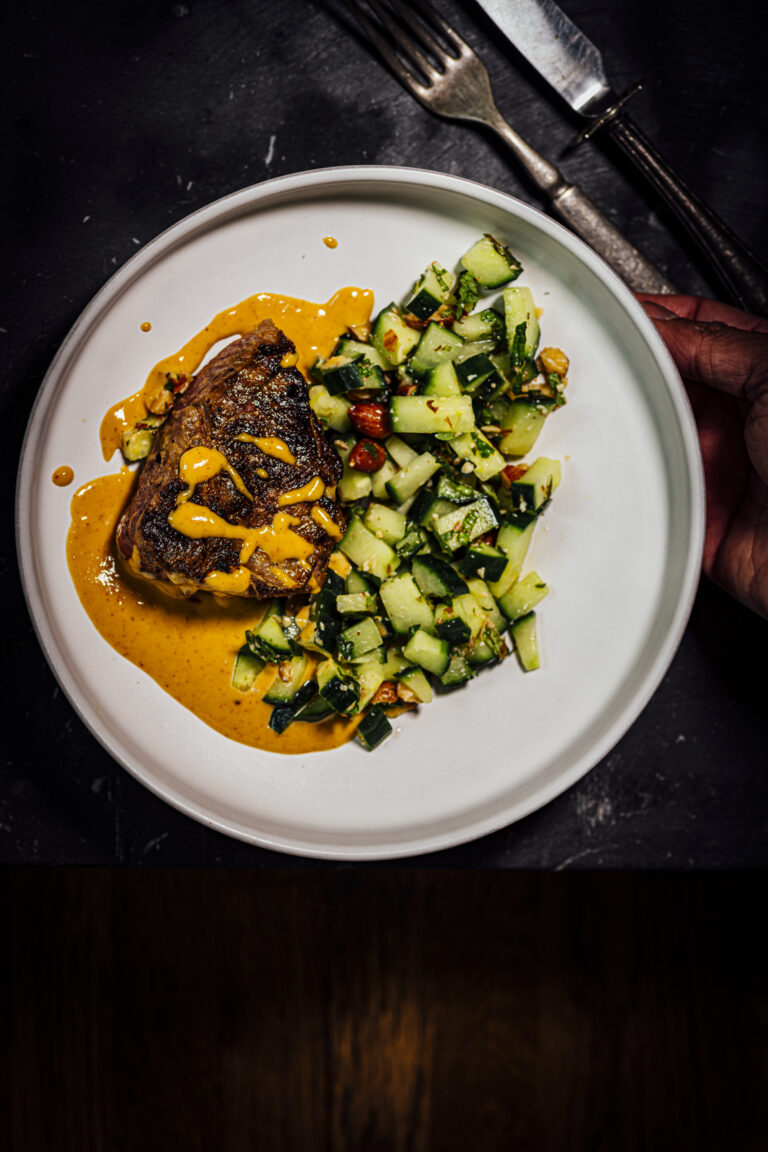 Disclaimer: This delicious recipe is made in partnership with The American Lamb Board. All opinions expressed are solely my own.
Read all about the recipe in my newsletter on The Flavor Files.
Print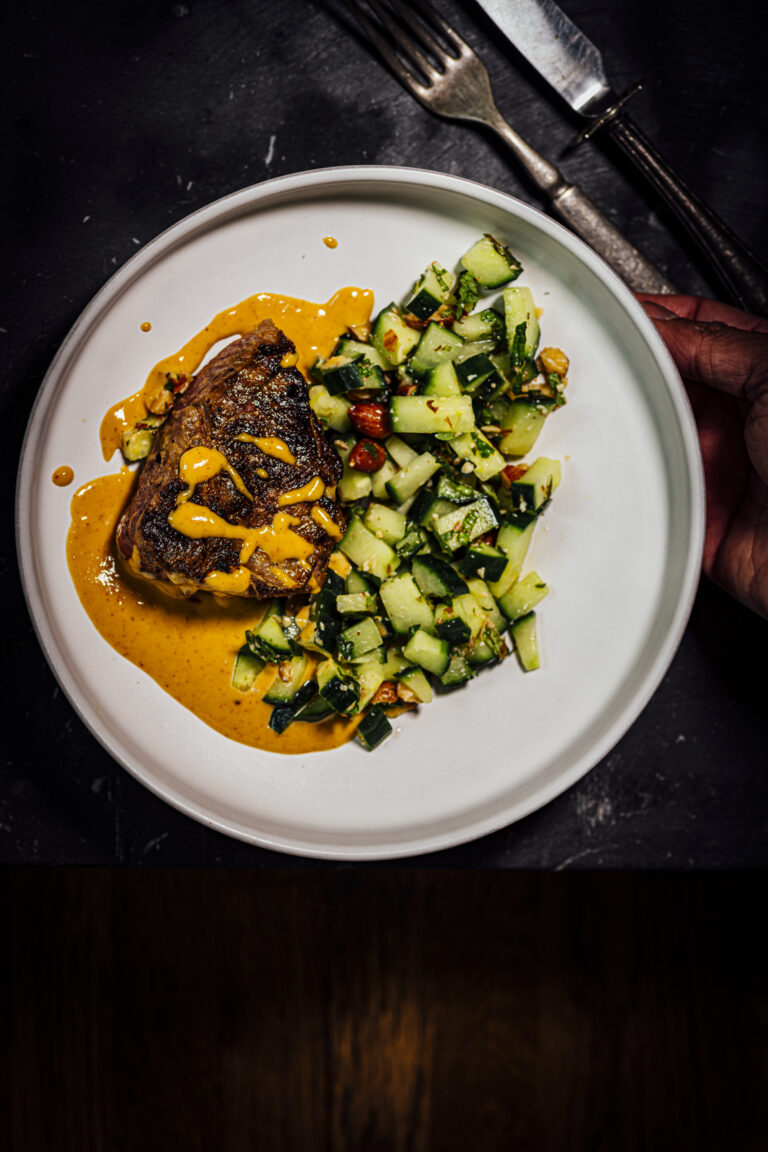 Lamb Chops with Cucumber Mint Salad and Sweet and Smoky Tahini
This satisfying dinner can be put together quickly on a busy weeknight. Succulent American lamb loin chops are served with a sweet and smoky tahini dressing alongside a quick salad of fresh cucumber, crushed smoked almonds, and mint. Be generous with the tahini dressing; it makes this dish.
Lamb Loin Chops
4 American lamb loin chops (about 1 to 1 ½ lbs /455 g to 680 g total weight)
3 to 4 garlic cloves, grated
3 Tbsp extra-virgin olive oil
Fine sea salt
Ground black pepper
Sweet and Smoky Tahini Dressing
¼ cup/60 g tahini
¼ cup/60 ml extra-virgin olive oil
3 Tbsp fresh lemon juice
2 Tbsp honey, maple syrup, or agave
1 garlic clove, grated
1 Tbsp Dijon mustard
½ tsp ground smoked sweet paprika
Fine sea salt
Ground black pepper
Cucumber Mint Salad
1 large English cucumber/340 g, diced
3 Tbsp fresh mint, chopped or torn
¼ cup/45 g smoked almonds, crushed
2 Tbsp fresh lemon juice
Fine sea salt
Ground black pepper
Instructions
1. Pat the lamb chops dry with clean paper towels and place the lamb in a zip-top bag or a dish that can accommodate the ribs in a single layer.
2. Add the garlic and 2 Tbsp of olive oil, and season with salt and pepper to the lamb. Seal and shake the bag several times to coat the lamb well. Leave the lamb in the refrigerator for 30 minutes to marinate.
3. When ready to cook, heat the grill pan on high. Cook the lamb chops on each side for 4 to 5 minutes on the grill until the meat develops a few grill marks. The USDA recommends a minimum internal temperature of 145F/63C, followed by a 3-minute rest. Remove the chops from the pan, place them in a serving dish, and cover them with foil.
4. While the lamb marinates, prepare the tahini dressing. Whisk the tahini, olive oil, lemon juice, honey, garlic, Dijon mustard, and paprika in a medium bowl. Taste and season with salt and pepper. Keep aside until ready to serve. This dressing can be made a day ahead and stored in an airtight container in the refrigerator until ready to use. Serve at room temperature.
5. Prepare the cucumber salad 10 minutes before the lamb is cooked. Toss the cucumber with mint, almonds, and lemon juice. Season with salt and pepper.
6. When ready to serve, place a cooked lamb chop on a serving plate with a generous amount of the cucumber salad and spoonfuls of the tahini dressing.
Notes
Stir the tahini well before use.

The cucumber salad is best prepared a few minutes before serving. If left to sit too long, it will turn watery.