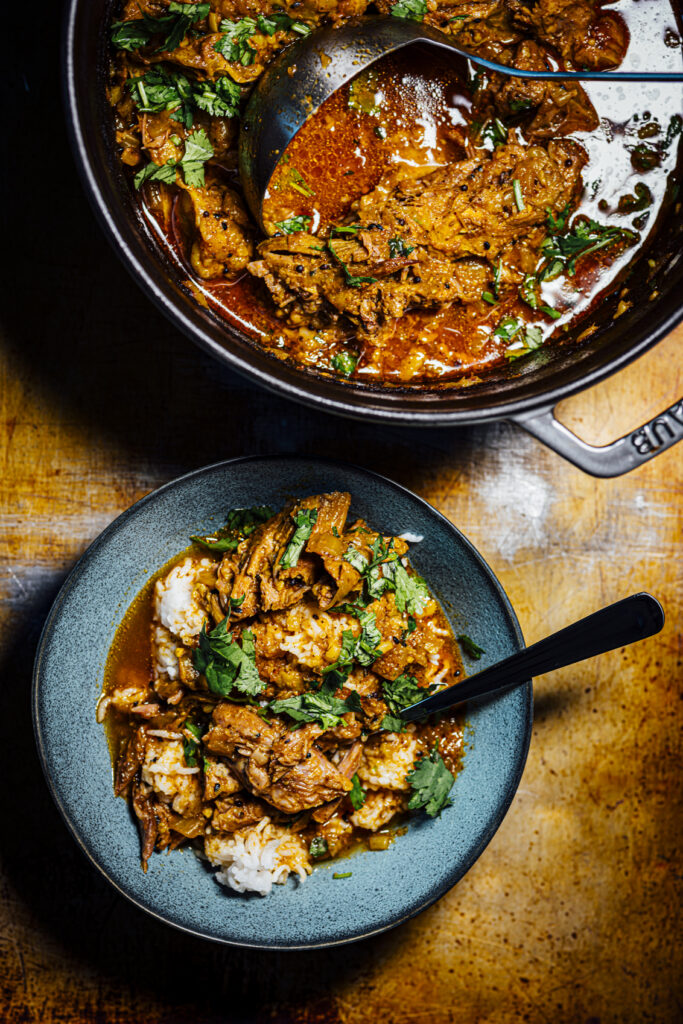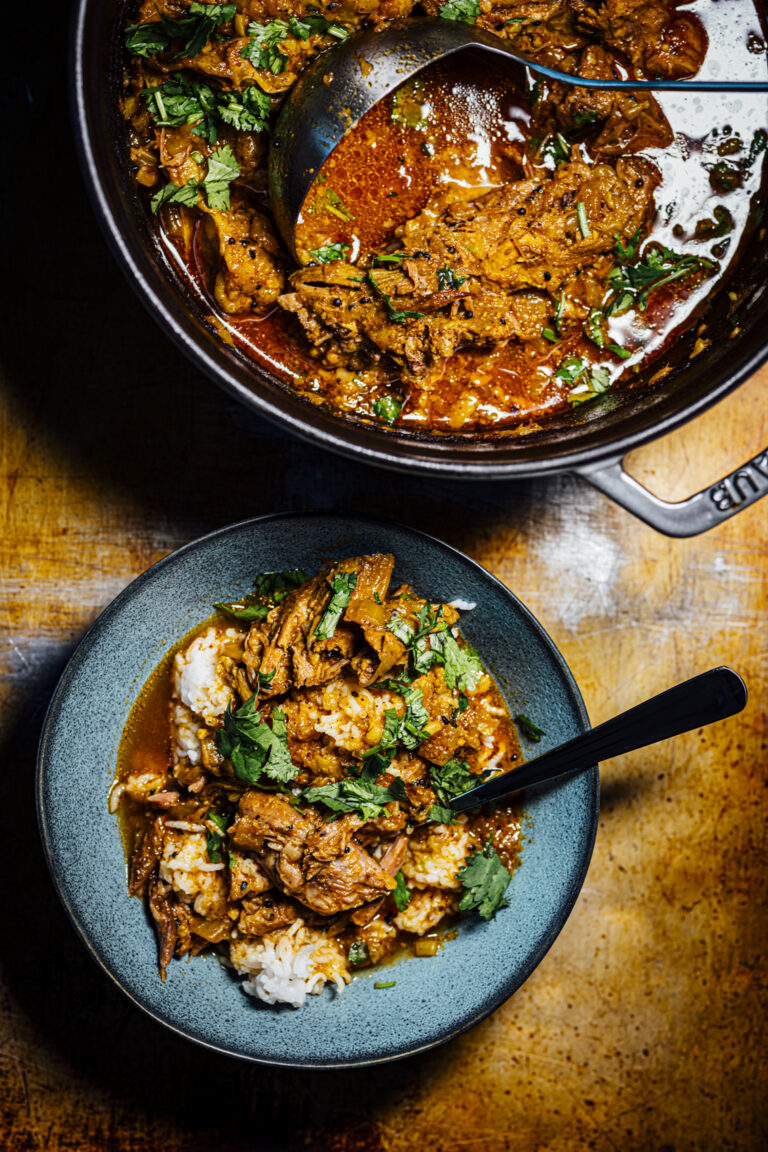 Disclaimer: This delicious recipe is made in partnership with The American Lamb Board. All opinions expressed are solely my own.
Learn how to make this delicious Indian dish, Achari Lamb where lamb is cooked with the classic combination of pickling spices used in the making of achars/Indian pickles in my newsletter.
Print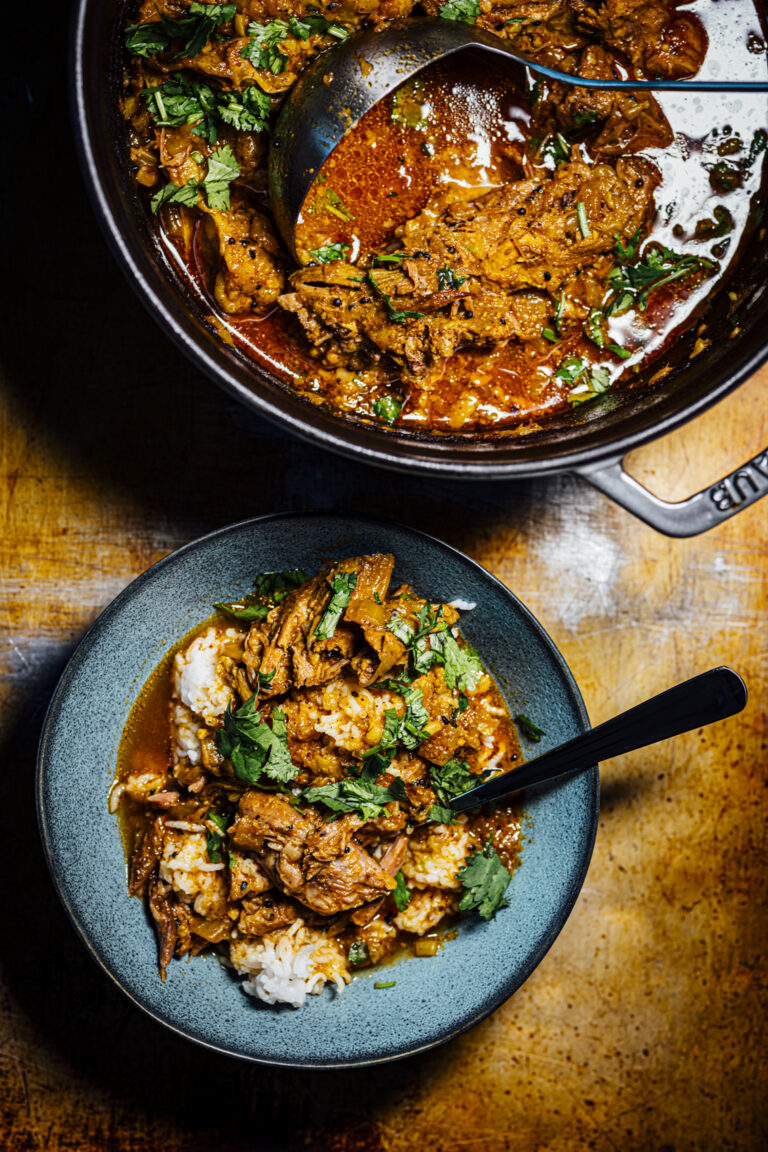 Achari Lamb
Achari refers to the combination of fragrant spices used to make Indian pickles (achars) that, in this recipe, imparts their flavor to a large American lamb shoulder. As the lamb slowly cooks with the pickling spices, it falls apart and creates a rich stew that's divinely aromatic, keeping you and your guests wanting more. I love eating this with a bowl of warm steamed rice or roti and a big spoonful of plain yogurt. Sometimes, I'll stir 1 to 2 Tablespoons of sweet lime pickle (Mother's Recipe) or chopped preserved lemons into the stew after cooking, just for extra zing.
2 tsp black or brown mustard seeds
1 tsp fennel
1 tsp fenugreek
1 tsp cumin
3 Tbsp vegetable oil
1 tsp nigella
2 large/about 600 g yellow or white onions, diced
Fine sea salt
1 tsp ground chilli powder (see Notes)
½ tsp ground turmeric
2 Tbsp garlic, grated
2 Tbsp fresh ginger, grated
¼ cup/60 g tomato paste
4.5 lb/2 kg American lamb shoulder with bone
2 to 3 Tbsp chopped cilantro
Instructions
Preheat the oven to 425F/220C.
Heat a small dry saucepan or skillet over medium heat. Add 1 tsp of mustard seeds, fennel, fenugreek, and cumin. Roast the spices until fragrant and light brown, 30 to 45 seconds. Remove and transfer to a plate or bowl to cool. Grind the spices to a fine powder using a spice grinder, coffee mill, mortar, and pestle. 
Heat the oil over medium-high heat in a large Dutch oven. Add the remaining mustard, nigella, and fry for 30 to 45 seconds until the seeds pop and sizzle. Add the ground spices and fry for 30 seconds. Add the onions and ½ tsp salt. Sauté until the onions turn soft and translucent, 4 to 5 minutes.
Add the chilli and turmeric, and sauté for 30 seconds until fragrant.
Stir in the garlic and ginger and cook for 1 minute.
Add the tomato paste and cook until it starts to brown, 3 to 4 minutes.
Trim and discard the excess fat from the lamb. Add the lamb shoulder with 1 tsp of salt to the Dutch oven. Cover the lamb with enough water to cover the lamb by 1 in/2.5 cm, about 5 ½ to 6 cups/1.3 to 1.4L of water. Turn the heat up to high and bring to a boil. Remove from the heat, cover with a lid, and place in the oven. Cook for 1 ½ to 2 hours, until the lamb is tender and falling apart. The liquid should reduce to about ½. Remove from the oven. Taste and season with additional salt if needed. If desired, skim and discard the excess fat that collects at the surface of the stew. The USDA recommends a minimum internal temperature of 145F/63C.

Garnish with cilantro. Serve hot or warm with rice or flatbread like roti or naan. Leftovers can be stored for up to 4 days in an airtight container in the refrigerator.
Notes
The choice of chilli powder depends on how hot you want this. I use Kashmiri chilli powder for a mild flavor and bright red heat. You can also use ¾ tsp ground smoked sweet paprika and ¼ tsp of ground cayenne as a Kashmiri chilli substitute. Guajillo and ancho chilli powders also work nicely here.
This stew gets better with time. You can make this a day ahead of time and refrigerate. This will also help remove excess fat that collects at the surface; the fat will harden and be easier to pull off.