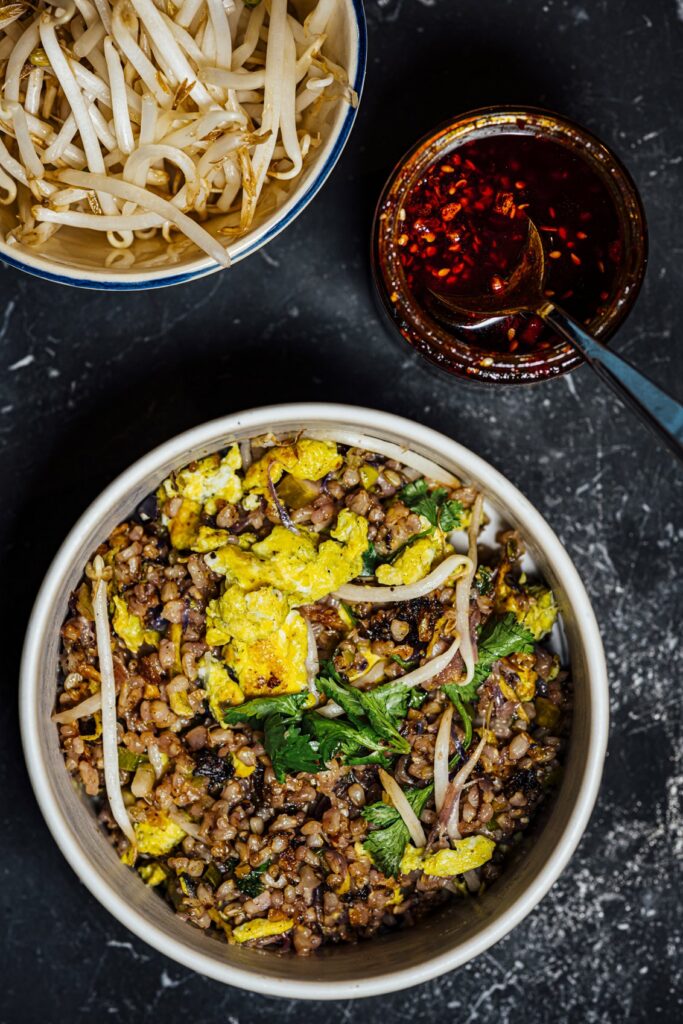 Officially we're a few days away from the start of fall. I don't think of a hard cutoff for seasonal food and cooking; I like to transition just like the weather slowly. Come in with a few small steps before taking the full deep dive. Give me a few days to cherish the last bit of summer produce before I move it to the side and fully immerse myself in pumpkins. I've got my mind on ice creams and outdoor grilling, but we're not making any of those things today. Today, it's all about fried rice. This fried rice is loaded with tiny bits of chopped pickles and a generous sprinkling of crispy fried onions. I think you will enjoy it as much as I do.
This recipe is very straightforward and doesn't require too much effort. That's what I love about fried rice, it's adaptable, and you can take full advantage of it using ingredients in your kitchen.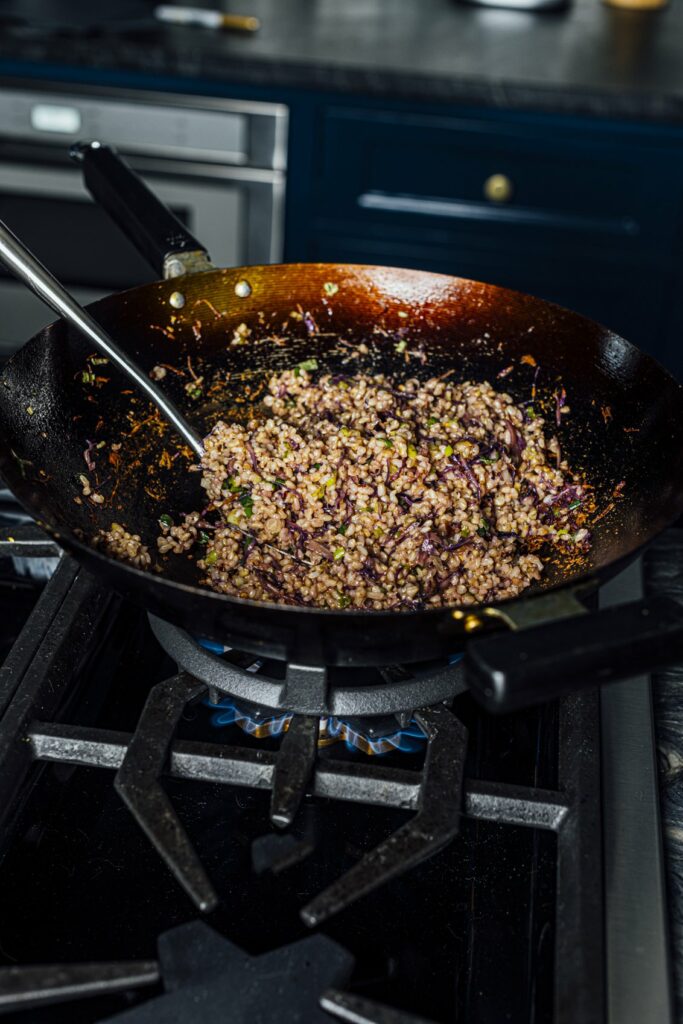 The most important tip when making fried rice is to use day-old boiled rice. The starch in the rice needs to get a chance to change its molecular structure to produce that crispy delicious fried rice texture that we've all come to love. That change in structure happens on cooling. Even if you don't have time and boil some rice just for this recipe, make sure you cool it completely. I sometimes take the rice and then spread it out in a flat metal dish set over an ice bath. The cool water helps the hot rice cool off faster, making it suitable for fried rice.
For the folks that don't like cilantro, use minced chives.
Print
Fried Rice with Pickles
Fried rice is one of those dishes that I love because it is so satisfying. This version of fried rice uses minced pickles to give it a tangy pop, and the rice is cooked in the wok until it turns golden brown and crispy for that extra crunch. Of course, I top my bowl of fried rice with a heaping spoonful of chilli crisp, but you're welcome to use whatever rocks your bowl of fried rice (sorry for the bad pun).
¼ cup/60 ml neutral oil with a high smoke point, such as grapeseed

4 garlic cloves, minced

2 Tbsp fresh ginger, peeled and cut into 1 in/2.5 cm matchsticks

4 scallions, both white and green parts, thinly sliced

1 tsp red pepper flakes

ground black pepper

1 cup/100 g shredded cabbage

4 cups/800 g day-old cooked plain rice

1 Tbsp low sodium soy sauce

4 large eggs, lightly whisked

¾ cup/85 g bean sprouts

¼ cup/18 g crispy fried onions

½ cup/90 g pickles, drained and minced

Fine sea salt

2 Tbsp cilantro leaves
Instructions
Heat 1 Tbsp oil over medium-high heat in a wok. Add the garlic and ginger, and stir-fry for 2 to 3 minutes, until the garlic and ginger turn golden brown and crisp. If the garlic begins to burn, reduce the heat or remove it from the heat. Remove with a slotted spoon and transfer to a plate.
Heat 2 Tbsp of oil over medium-high heat in the wok. Add and stir-fry the scallions until they start to sear, for 2 to 3 minutes. Add the red pepper flakes, ½ tsp black pepper, cabbage, rice, and soy sauce, in this order. Stir fry until the rice turns brown and crisp, for 10 to 12 minutes. Remove and transfer to a bowl and keep warm. Wipe the wok clean.
Heat the remaining 1 Tbsp of oil in the wok over medium-high heat. Add the eggs and cook until scrambled, 2 to 3 minutes. Fold in the crisped garlic, ginger, rice mixture, bean sprouts, crispy fried onions, and pickles. Taste and season with salt and pepper if needed. Remove from the heat, garnish with the cilantro and serve immediately. Leftovers will be good for up to 3 to 4 days if stored in an airtight container in the refrigerator.
Notes
You can use any rice here. Basmati or short grain, brown or white. What's more important is to make sure it's plain, boiled, and at least a day old.
To get the rice crisp during stir-frying, I give it "short breaks" during cooking. I spread it out over the wok's surface and let it sit for a minute or two before stirring it during stir-frying. This helps the rice develop its crust.
For a more robust pickle flavor, double the quantity of chopped pickles.
Salt the fried rice carefully; both soy and pickles carry salt.