Daily, I drink more tea than coffee. I find it easier to take a break from coffee than tea, and more than coffee, tea is the drink that keeps me up. The ritual of drinking tea occupies a unique role in Indian culture, and the numerous tea stalls or tapris adorning the streets in India are good evidence of this. These tea stalls act as the local hubs where people from all walks of life come together, conversations unfold, and social networks are built (and I don't mean the ones on the internet). My parents let me taste my first cup of tea way before I drank my first cup of coffee. Tea and milk were served at their home with breakfast and again at 4 pm. I've tightly held on to that 4 pm tea ritual, which remains a permanent fixture in my day's schedule, so much so that I reserve 30 minutes just for tea and take a break from work. Teatime is my dedicated moment for self-care.
While I drink tea with milk daily, I must admit that masala chai is a drink I make on weekends, when we have guests, or when the craving kicks in. Making masala chai is one of the easiest drinks you can make for yourself, and tweak it to make your own. Start with my recipe, and once you get a sense of what flavors you like, adjust the spices to suit your tastes.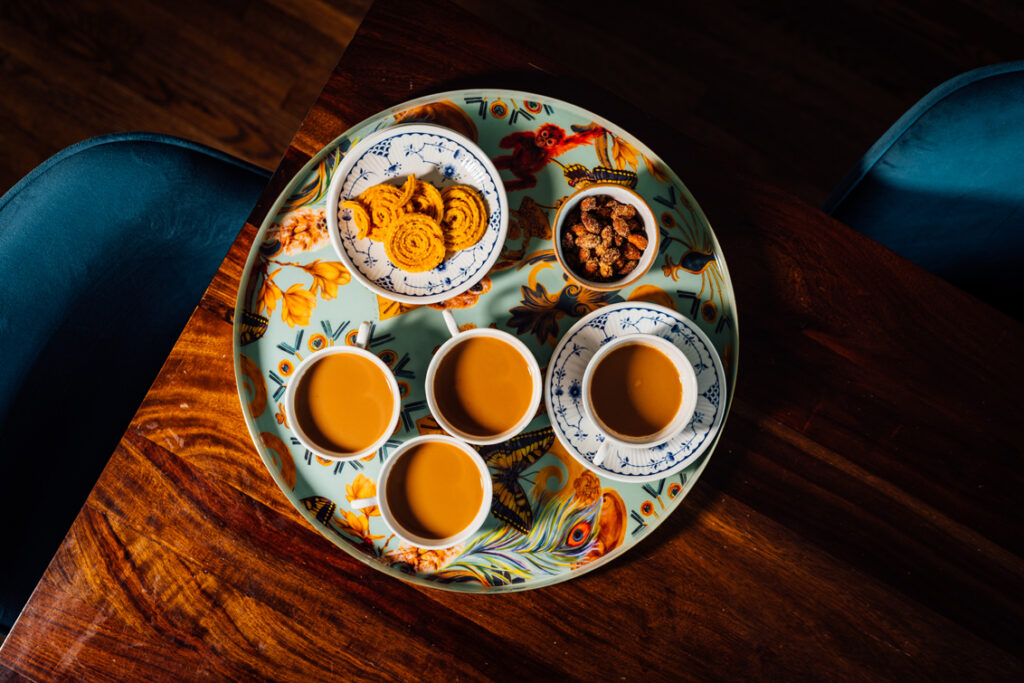 Let's begin brewing (pun intended) by starting with the basics.
The Difference Between Chai Masala and Masala Chai
They sound similar, and while the two terms are related, they aren't the same. Chai masala refers to the tea spice blend used to make the masala chai, aka the spiced tea. In short;
Chai = Tea
Masala = Spice Blend
Chai Masala = Spice Blend
Masala Chai = Spiced Tea made using chai masala
Chai Masala
The composition of chai masalas varies by brand and even across homes in India. For example, I like my chai masala home blend to be slightly hotter, and I'm generous with the black peppercorns and ginger. If you prefer it sweeter, decrease the peppercorn and ginger and add a little more fennel and star anise, their licoricelike flavors help amplify the perception of sweetness. My recipe for chai masala contains black peppercorns, cinnamon, cloves, green cardamom, fennel, ground ginger, and star anise. Some folks like my mom strip chai masala down to the bare minimum and use cardamom and ginger. Chai masala is personal and should reflect your taste preferences.
Fresh Ginger Versus Ground Ginger
You can use fresh ginger or ground ginger or add both. It all depends on convenience and how gingery you like your tea. Some folks might look down on ground ginger and claim fresh ginger is the best. Honestly, do what works for you. Sometimes I use both fresh and dried; sometimes, I don't.
More importantly, if you use fresh ginger, boil it with water and tea leaves. Fresh ginger (like many other fruits like raw papaya, mangoes, kiwis, etc.) contains a protease – an enzyme called zingibain that can cut proteins, and if the ginger is added at the stage just when the milk goes in will end up curdling the milk. Boiling the fresh ginger with the water destroys the enzyme by denaturing the protein (enzymes are proteins), preventing it from curdling the milk. Because of how dried ginger is prepared, the protease in the ginger is already inactivated and won't curdle the milk. (On a side note, fresh ground ginger often pops up in recipes for meat marinades in Asia; the zingibain enzyme helps tenderize meat.)
Masala Chai
At its basic level, masala chai is made with water, black tea leaves, and spices. While the standard version of masala chai served in restaurants and street vendors contain milk and sugar, they aren't necessary. Milk and sugar can be left out depending on dietary needs and taste preferences. Milk helps mellow the bitterness of the tea. Dairy can be swapped for non-dairy milk like oat milk. Like the chai masala, masala chai is what you want it to be.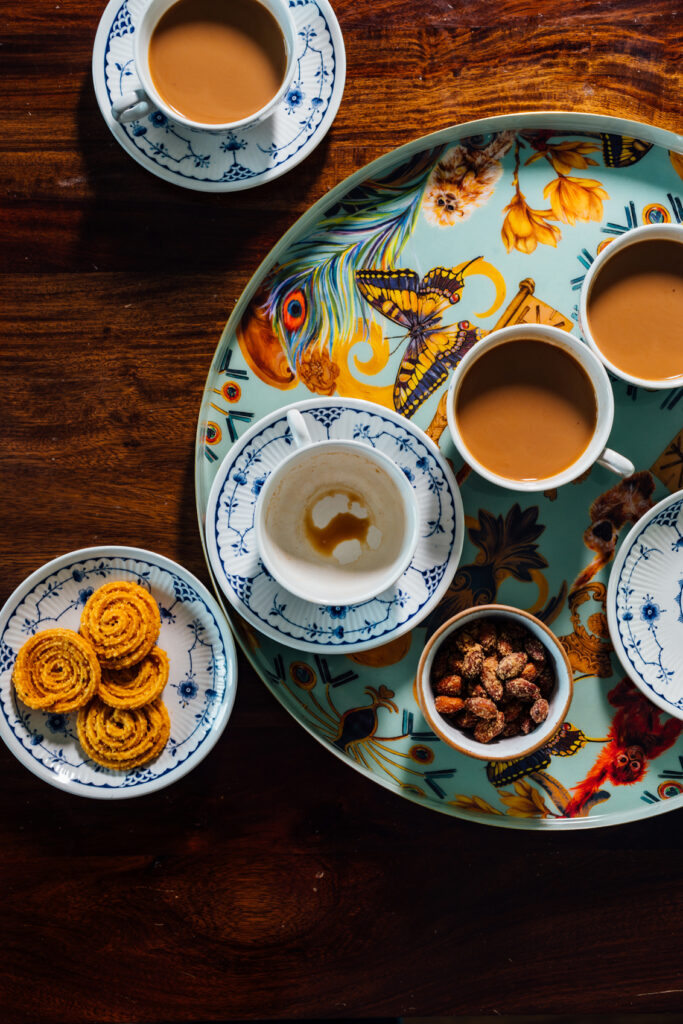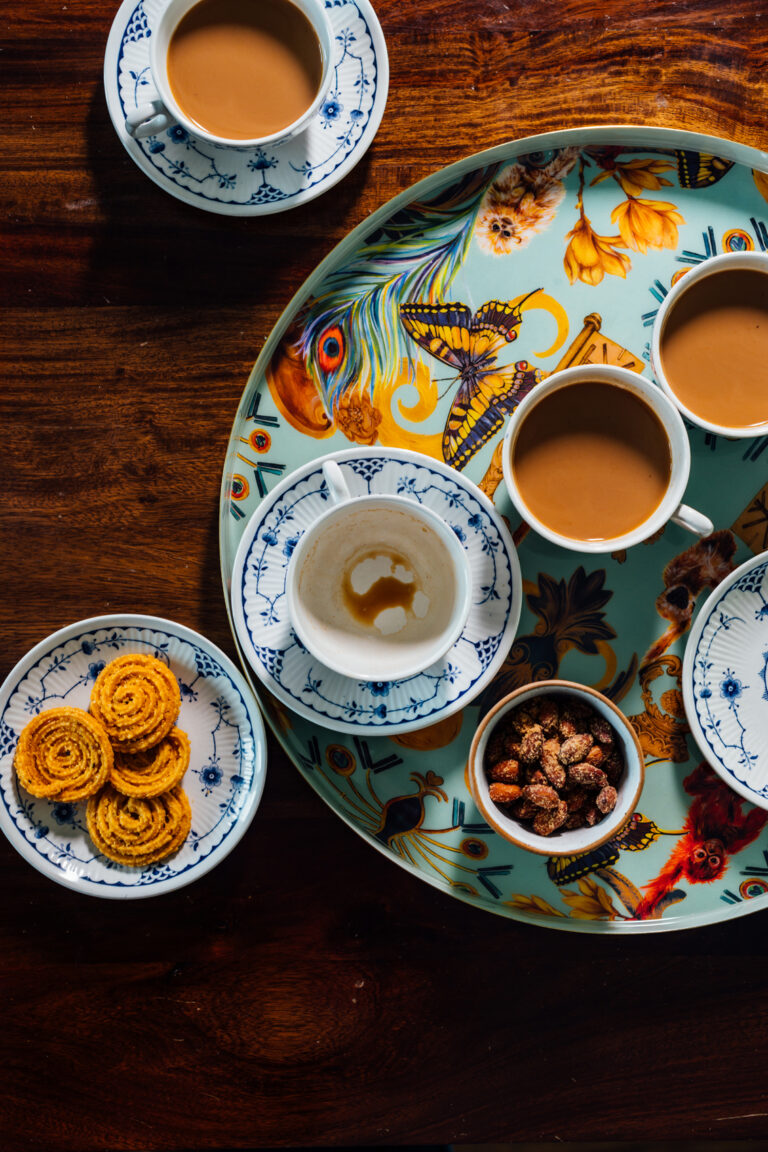 The Choice of Tea
You must use black tea leaves. Choose between the Assam and Darjeeling varieties. I like loose tea leaves, but tea bags will also work. Regardless of what you decide to brew, the quality of tea leaves will define the flavor of the chai. Go for the best!
Serving Masala Chai
Masala chai is served steaming hot. Masala chai goes well with slices of cake, tea sandwiches, cookies, savory snacks, and even samosas (pea and potato samosas and kheema samosas). It is excellent at 4 pm teatime and great at breakfast, lunch, and even after dinner. Another good accompaniment to masala chai is the spiced shortbread cookies we recently made.
Print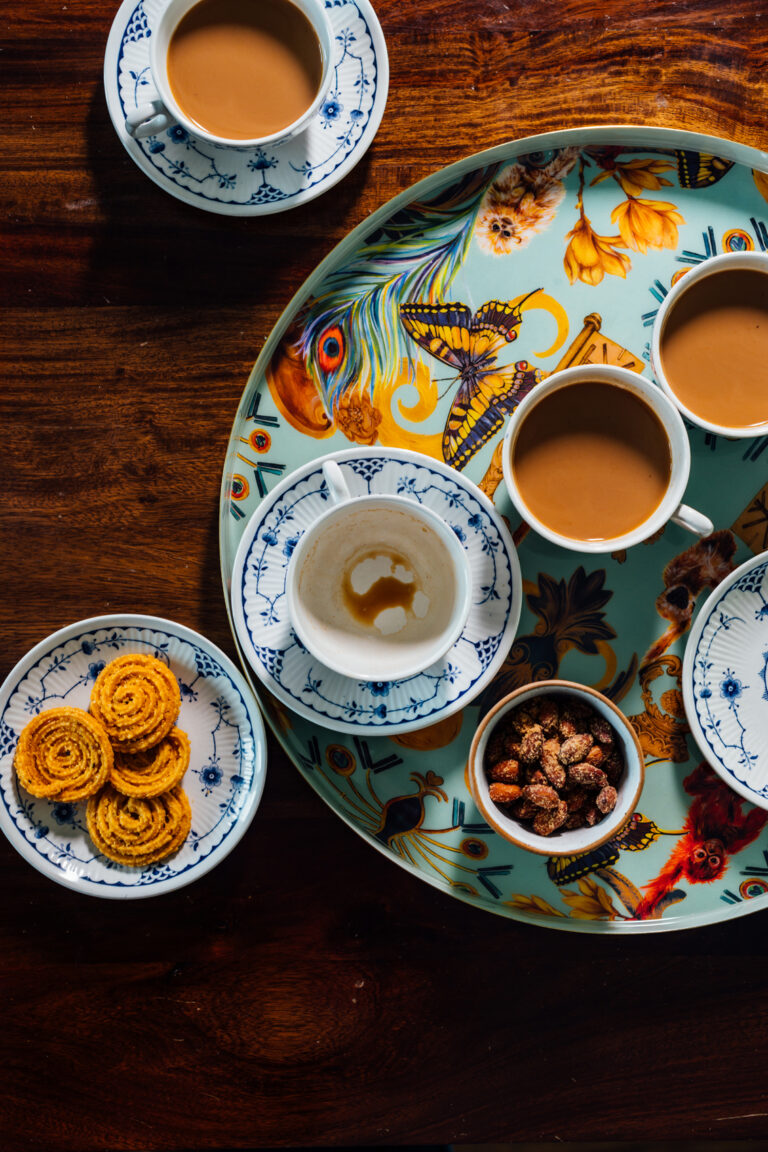 4 cups/960 ml water
2 Tbsp Assam or Darjeeling tea leaves
2 Tbsp ground chai masala, homemade or store-bought
½ cup/240 ml milk
Sugar or sweetener to taste
Instructions
Add the water to a small saucepan. Add the tea leaves and chai masala and bring to a boil over high heat. Reduce the heat to a simmer, cover with a lid and let simmer for 5 minutes until the liquid turns dark and the spices are fragrant. For a more potent brew, simmer for 10 minutes.
Uncover, pour in the milk, and bring to a boil. Stir in sugar as needed. Remove from the heat, cover with a lid, and let sit for 1 minute. Strain the hot liquid through a fine-mesh tea strainer held over a teapot or directly into teacups. Serve hot with cookies or teatime treats.
Notes
Some people, including myself, prefer the taste of fresh ginger root over powdered ginger in masala chai. However, when you don't have fresh ginger at home or forget to add it for some reason, the ground ginger powder will do the trick (make sure it's got good flavor).
I prefer starting with whole spices over their ground counterparts whenever I make spice blends. Since whole spices aren't ground initially, they pack more flavor than ground ones. This recipe lists amounts for whole spices and not ground spices when relevant.
When making masala chai, feel free to tweak the ratios of water and milk. You can leave the milk out or use non-dairy milk like oat, whole milk, or skim milk, add sugar or honey or leave sweeteners out altogether. Masala chai is a personal experience.
For a spicier flavor, add crushed slices of fresh ginger root in addition to the ground ginger that's already present in the chai masala at the stage when the tea leaves are added.
If you decide to skip the milk when making the chai masala, use 4 ½ cups/1000 ml of water. If you use milk, then follow the recipe as is.
I make this spice blend in small batches of ¼ cup, but you can easily double, triple, quadruple, etc., the recipe to make larger quantities.
I boil tea for 5 minutes, but if you prefer a more potent flavor, you can boil it longer. But keep in mind, the longer black tea is boiled, the tea can run the risk of turning very bitter.
Traditionally, dairy milk is used to make chai, but you can use a plant-based milk of your liking to make this vegan.