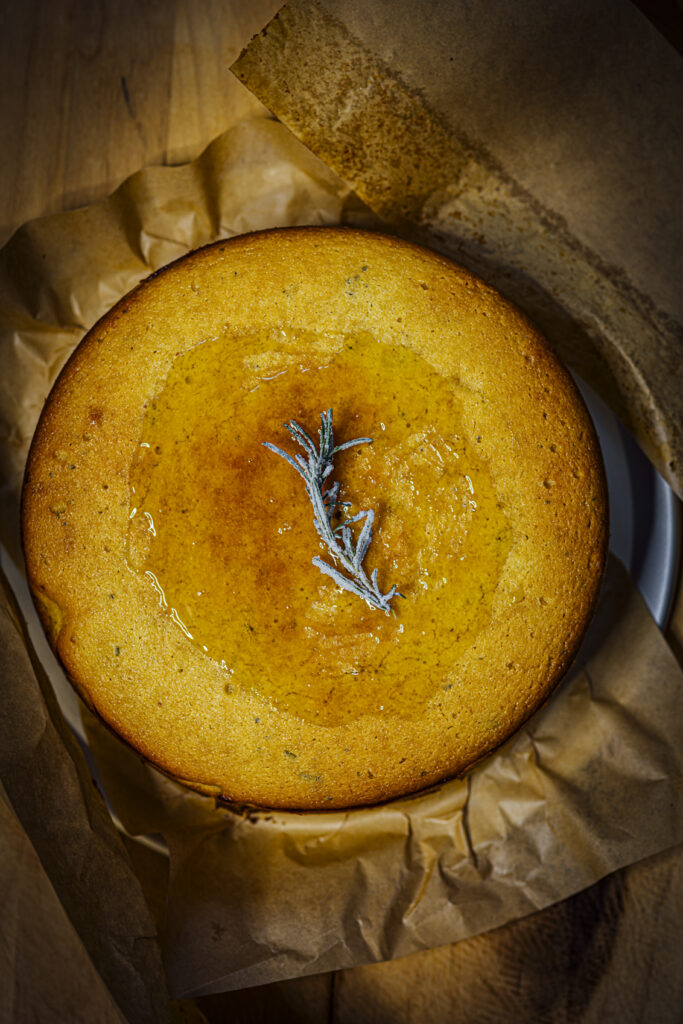 Get the best honey, lemons, and rosemary to make this cake; their flavor carries it. I've made this cake with Eureka and Meyer lemons, and both are wonderful, but the scent of Meyer lemons shines through rather remarkably in this cake.
Print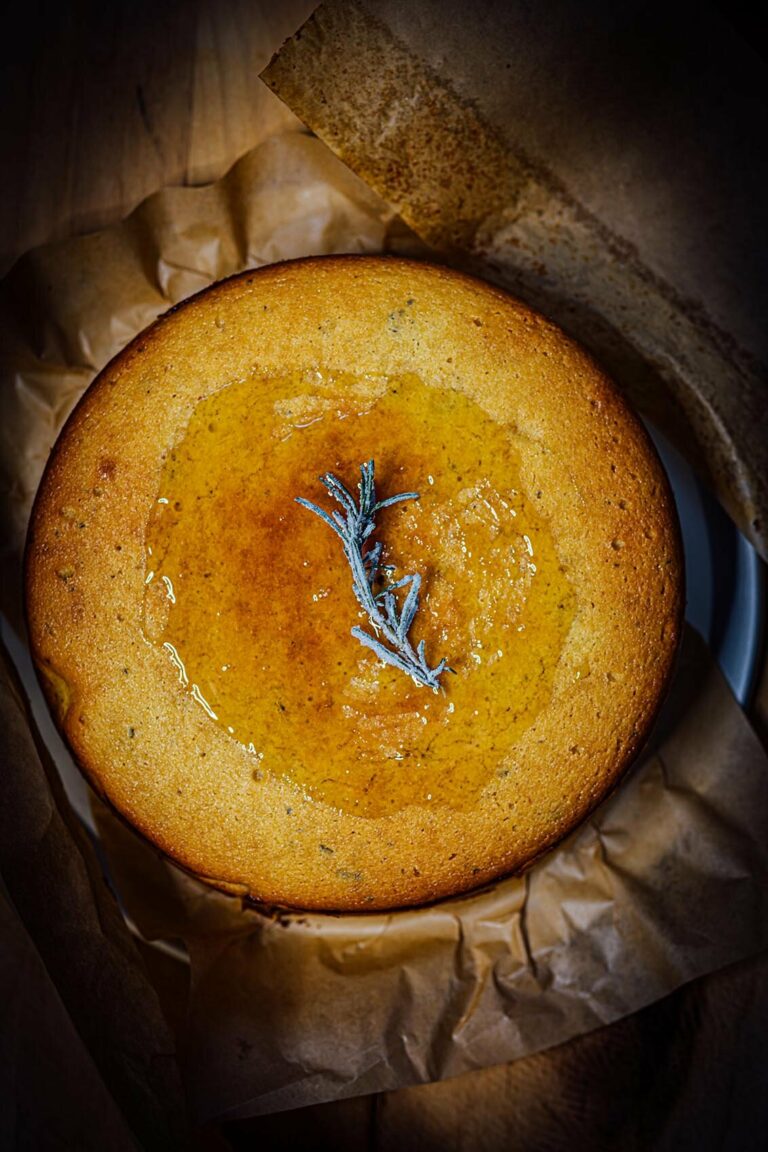 Honey Almond Lemon Cake
Quite a few of you asked for this recipe after seeing it in my Instagram stories last weekend, so here is the almond cake recipe infused with the delicious refreshing aroma of lemons and rosemary. I got this recipe a few years ago from a friend's mom who can't consume foods with gluten. It uses baking powder and eggs for leavening and the result is a lovely spongy cake. I've thrown in a bit of very finely chopped rosemary leaves in the cake batter and topped it with a sprig of sugared rosemary.
Yield:

8 in/20 cm round cake
4 large eggs
¾ cup/255 g runny honey plus extra to drizzle
¼ cup/60 ml extra-virgin olive oil or a neutral oil like grapeseed
1 ½ Tbsp fresh rosemary leaves, chopped EXTREMELY fine
¼ cup/60 ml fresh lemon juice
zest of 2 lemons
3 cups/360 g blanched almond flour
1 tsp baking powder
a sugared sprig of rosemary (recipe follows)
Instructions
Preheat the oven to 325F/160C.
Grease and line a round 8 in/20 cm round springform cake pan with olive oil and parchment paper.
In a large bowl, whisk together the eggs, ¾ cup/255 g honey, and oil until smooth. Whisk in the rosemary leaves, lemon juice, and zest. Fold in the almond flour and baking powder until there are no visible flecks of dry flour. Pour the mixture into the prepared cake pan and bake in the preheated oven until the top is golden brown, rotating halfway through baking for 45 to 50 minutes. The cake will be made when a skewer inserted through the center comes out clean, and the internal temperature reaches 200F/95C. Remove from the oven and let cool for 15 minutes in the pan. Release the spring mechanism and transfer the cake to a serving plate. Drizzle with extra honey and serve with a sugared sprig of rosemary (recipe follows).
A scoop of whipped crème fraîche or Greek yogurt on the side works well with a slice of this cake. The cake will stay good for up to a week if stored in an airtight container in the refrigerator. Warm to room temperature before serving.
Notes
You can also make the cake in a 9 in/23cm round springform pan if that's what you have on hand. Adjust the cooking time accordingly.
Since this cake is gluten-free and uses almond flour for the base, it is dense but moist.
When serving the cake, I usually just serve it with a generous scoop of plain, unsweetened crème fraîche or Greek yogurt. The taste and texture provide a nice counterpoint to the honey and almond cake in this recipe.
Play with the choice of honey, I use orange blossom honey but clover and lavender-based ones also work great here.
I used Meyer lemons this time round but you can use regular lemons too.
Print
1 sprig of fresh rosemary
1 cup/240 ml boiling water
1/4 cup/50 g superfine sugar
Instructions
Dip the rosemary in the boiling water for a minute. Remove and transfer to a plate containing the sugar. Flip to coat well and let dry on a paper towel for 1 hour at room temperature.
Notes
Note: If it doesn't bother you, stick the wet sprig directly into a jar of sugar, shake it, remove it and let it dry. You don't need to worry about messing up a plate, etc.