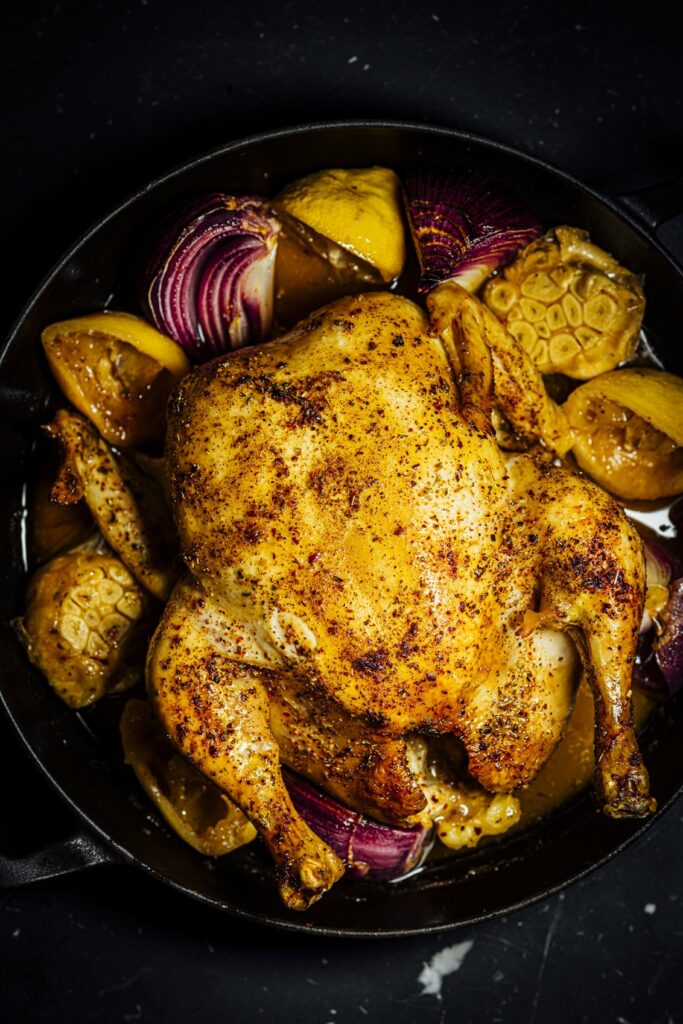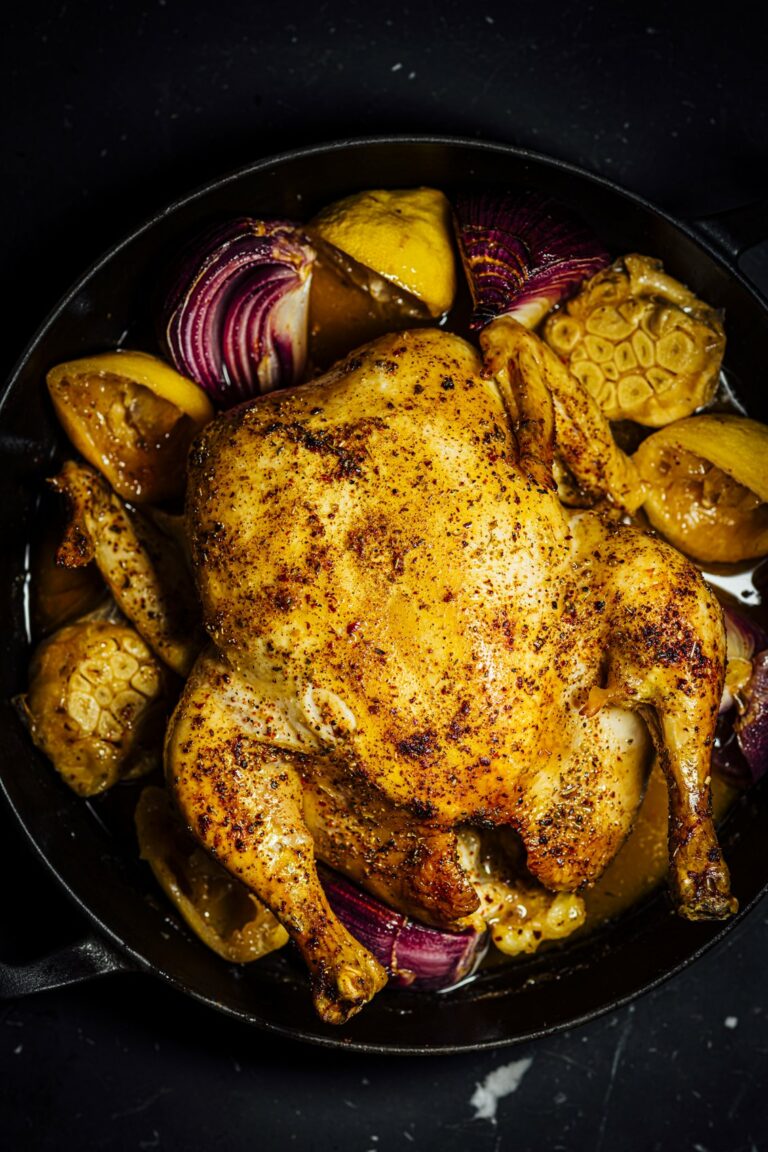 Print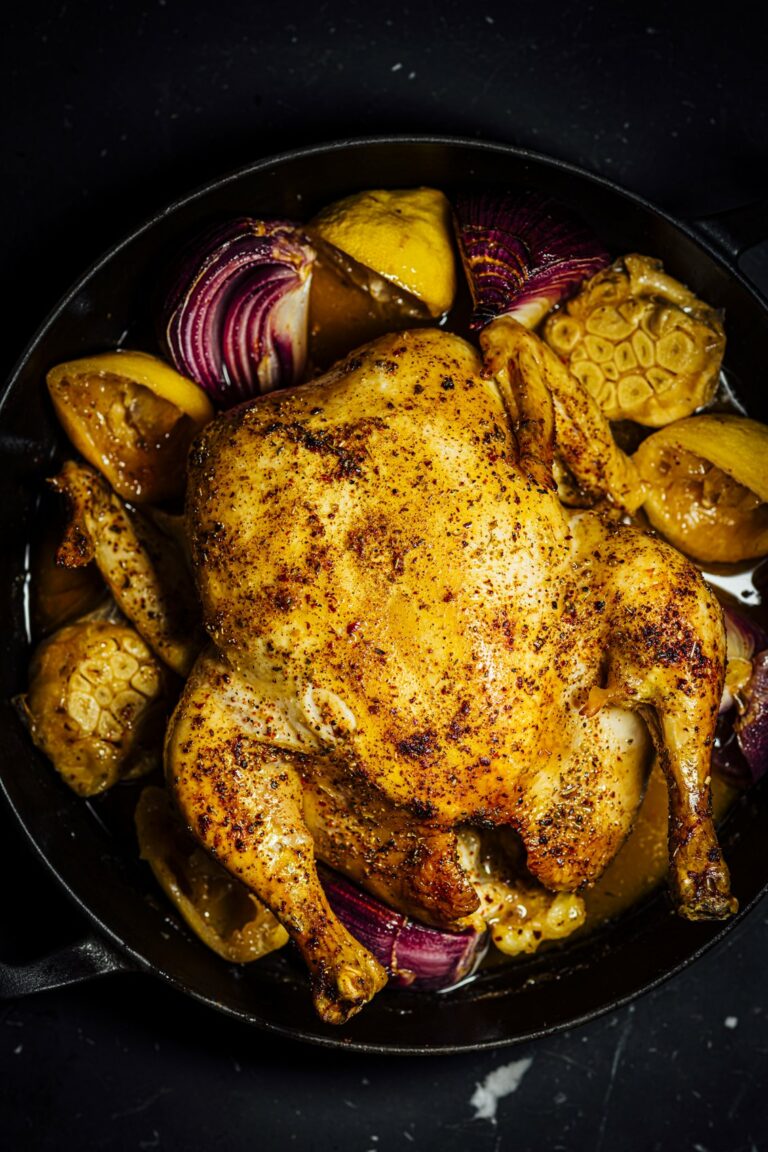 Roast Lemon Garlic Chicken
Garlic and lemon with roast chicken is a classic for many reasons; the fragrance and taste capture my attention every time. This is one of my go-to methods for roasting chicken, and it replicates how steam ovens work. This method ensures that all the lemon and garlic flavors permeate through the basting liquid at the bottom, which helps flavor the chicken more uniformly. The liquid also protects the chicken from drying out during cooking and creates a juicier bird.
2 Tbsp extra-virgin olive oil
Fine sea salt
Freshly ground black pepper
1 tsp Aleppo, Maras, or Urfa pepper flakes
½ tsp dried oregano or thyme
One 3 ½ to 4 lb/1.6 to 1.8 kg whole roasting chicken
2 lemons, cut in half
2 garlic heads
1 large red onion, quartered
1 cup/240 ml low-sodium chicken stock, white wine, or water
Instructions
Preheat the oven to 425F/220C.
Coat the surface of a 12 in/30.5 cm cast-iron skillet or 9 in by 12 in/23 cm by 30.5 cm roasting pan with the oil.
Prepare the spice mixture by mixing the salt, pepper, black pepper, Aleppo, and oregano in a small bowl.
Place the chicken on the skillet and rub the chicken all over with the spice mixture. Place the chicken breast side on top. Place the lemons cut side down on the skillet. Cut the top of the garlic heads off just enough to expose the cloves, about 1/4 in/2.5 cm. Add the garlic to the skillet, cut side down. Add the onions. Pour the stock into the skillet and place the skillet in the preheated oven. After 30 minutes, open the oven and crush the lemons with a spoon to release their juices. Baste the chicken with the liquids in the pan every 15 minutes. Roast the chicken until the skin is golden-brown and crisp and the internal temperature reaches 165F/74C on an instant-read digital thermometer. Remove the skillet from the oven, loosely tent with foil, and let rest for at least 10 minutes before serving. Serve the chicken with the juices in the pan and the garlic. The chicken can be made a day in advance and reheated when ready to serve. Leftovers can be stored in an airtight container for up to 4 days in the refrigerator.
Notes
This method uses the steam released from the stock and the chicken to keep the chicken tender and moist.
Crushing the lemons during roasting releases their juices and essential oils to create a more robust lemon flavor.
You can also sear the lemons and garlic before cooking them.