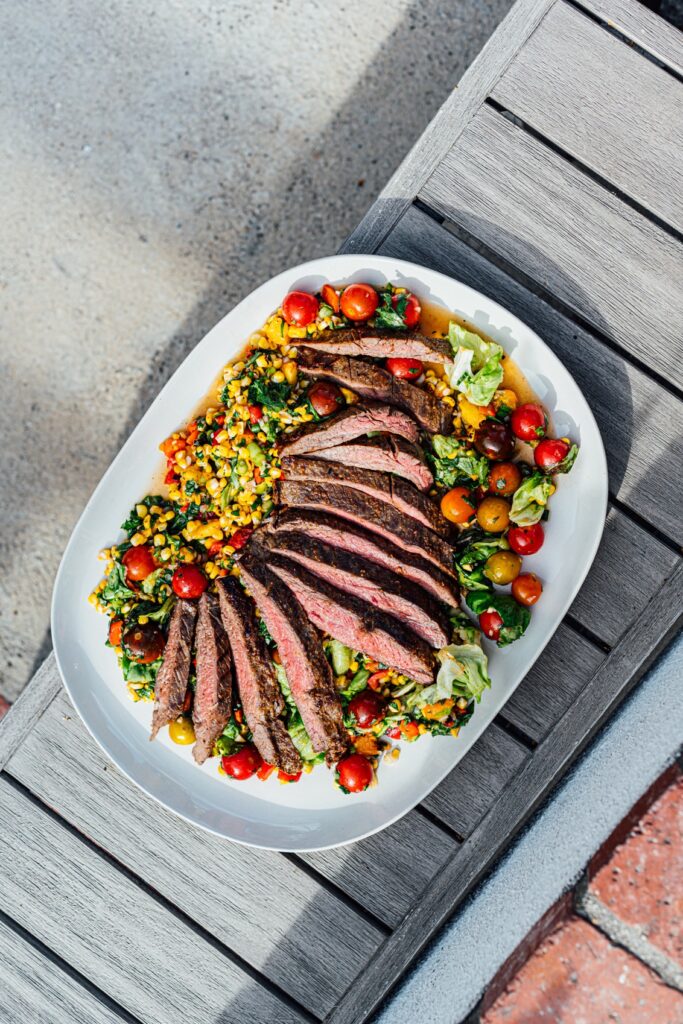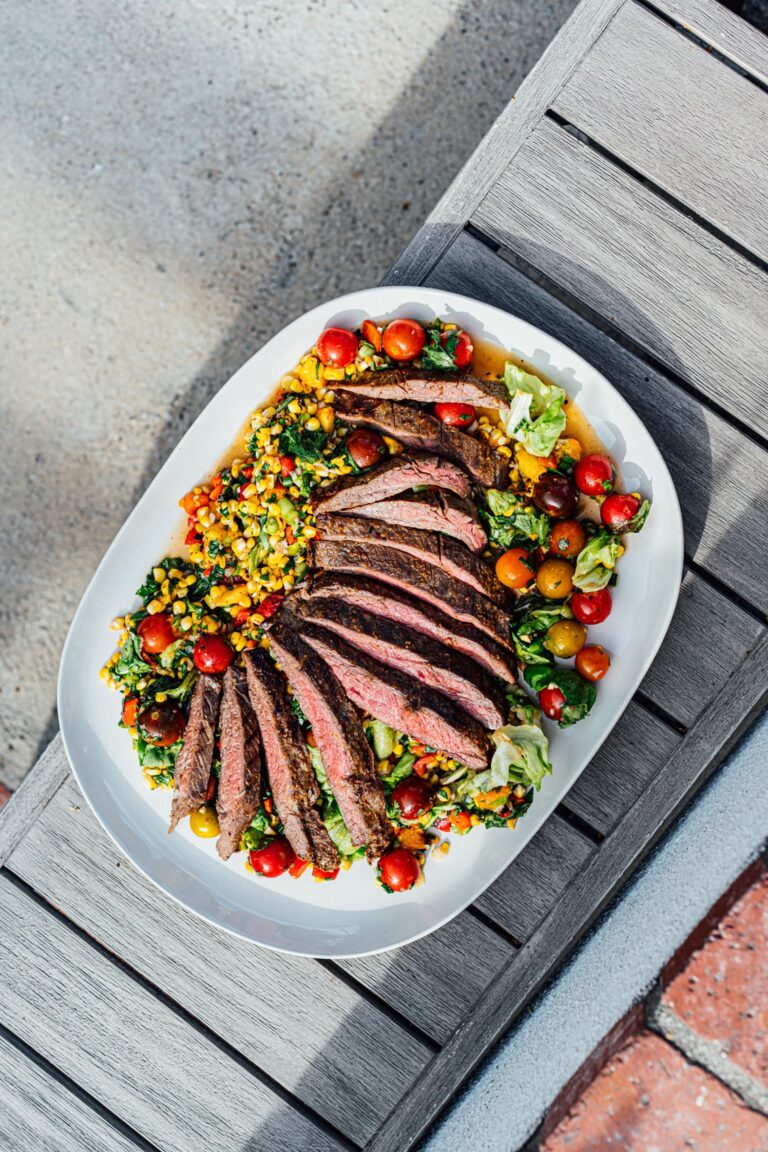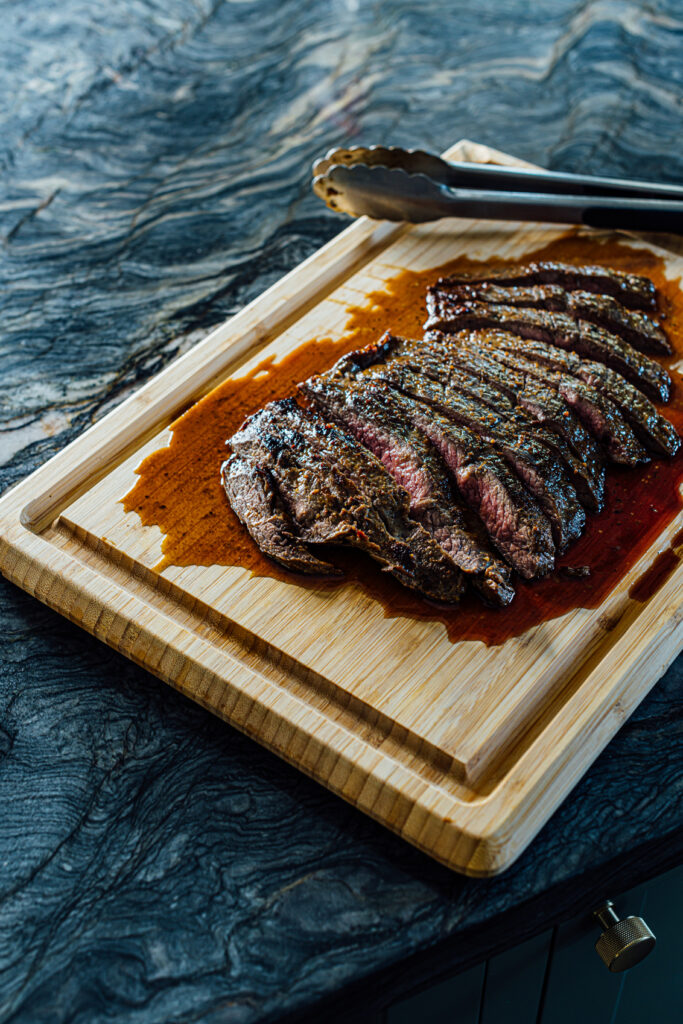 Some Grilling Cooking Tips and Tricks
Here are some tips for building on those gorgeous appetizing caramel and smoky flavors, and if you don't own an outdoor smoker or grill, these can come in handy. Depending on how smoky you like things, some of these tips and tricks can be used together. A tip, leave the windows open and turn the exhaust hood on, especially when grilling and smoking food indoors.
Liquid Smoke
A drop or two of liquid smoke can make a big difference to beans, especially if you don't eat or want to use bacon or some other type of smoked meat to build flavor or if you can't smoke or grill. Liquid smoke is obtained by collecting vapors from burning wood (the smoke) and cooling them off to collect. What's left behind is a liquid (aka a distillate), which is a concentrated form of smoky goodness. Wright's liquid smoke is a good brand, and if I didn't own an outdoor grill, I'd add a drop or two of the liquid to the marinade for the steak before cooking. Many foods labeled "smoked" might not be smoked; commercial food manufacturers will use liquid smoke to build that flavor.
Smoked Salt and Sugar and Smoked Foods
Instead of using regular salt or sugar in spice rubs and marinades, use their smoky counterparts. There are so many different brands and varieties of smoked salts and sugars. Maldon makes a flaky smoked salt that I often use to finish dishes. Foods preserved by smoking or labeled as smoked, like bacon or salmon, can also help impart smokiness to a recipe (and if they make sense to your recipe). Smoked paprika and other smoked chilli powders are also options to explore when cooking.
The Dhungar Method
If you've got a copy of The Flavor Equation cookbook, turn to page 295 for the Dhungar method used to build smoky flavors in the Dal Makhani recipe. This method relies on incinerating ghee in a small metal bowl, aka a katori or a large hollowed-out onion. The bowl or onion is filled with ghee and placed in the dish. A live-burning piece of charcoal or coal is dropped into the oil, and the dish is covered with a tight lid. The heat from the charcoal immediately burns the ghee and releases smoke that gets trapped and then permeates the dish. This is one of the most ancient techniques I can think of in Indian cooking that's been used for centuries to build smoky flavors.
The Broil Setting on Your Oven
If I feel lazy and don't want to open the outdoor grill or use our smoker, I'll cook food in the oven and then move the food to the upper rack. After it is done, switch to the Broil Hi setting and get the charred food. This moves fast, especially with sugar-rich foods like peaches and sweet corn, so be careful and pay close attention.
A Blow Torch
When I worked as a pastry chef, my blow torch (and offset spatula) were my best friends. A blow torch is one of the home kitchen's most valuable and underrated tools. If you cook food and want to build on grilling flavors quickly, grab a blow torch and gently and carefully burn your food. Sure, crème brulée is the most obvious example, but even charring peppers, chillies, tomatoes, etc., roasted in the oven, a blow torch will finish the job.
A Smoke Gun
Full disclaimer, I don't own a smoke gun, and unless you've got a lot of place in your kitchen for storage, a smoke gun might be worth it. It does a fantastic job of smoking food quickly and is popular with chefs. Honestly, you'll find more uses for a blow torch than a smoke gun, and I'd rather you have one tool that does more than one thing in the kitchen. Kitchen real estate is a real problem.
If you have a favorite method I haven't mentioned and want to share with us, please comment below.
Print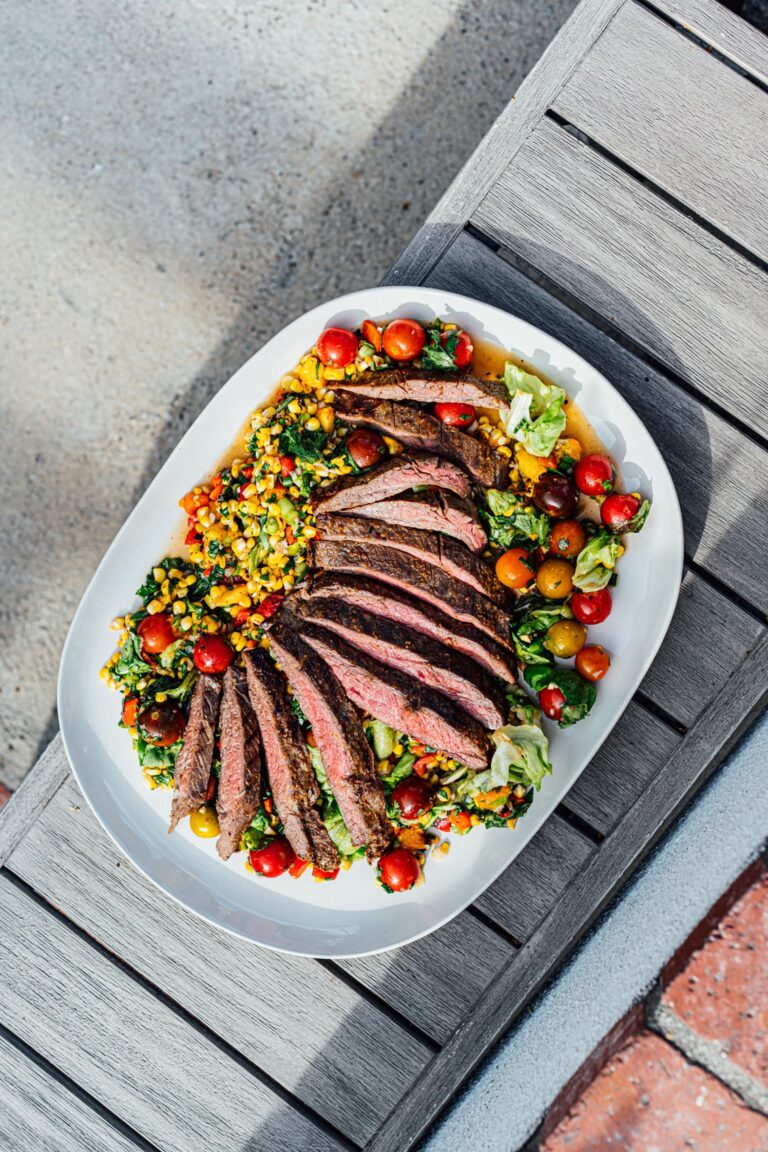 Grilled Peach Salsa and Steak Salad
Summer is a beautiful season and one of my favorites of the year. Bright, juicy yellow peaches, big ears of sweet corn, peppers, and tomatoes in a gazillion different colors and shapes are all starting to appear in abundance. While I can and do grill year-round, this is typically the peak season for grilling. Hey, the Fourth of July is coming up, and I wanted to get this recipe out to you early, so you have enough time to plan. For those of you who are looking for an easy, no-fuss recipe, I think you will appreciate the unfussy nature of this grilled steak salad recipe that comes with a grilled peach salsa that also acts as the dressing for the salad.
For the Salsa
2 large ripe but firm yellow peaches or nectarines
2 Tbsp neutral oil like grapeseed with a high smoke point plus extra to brush the grill
1 shallot, minced
1 green chilli like jalapeno, serrano, or bird's eye, minced
3 Tbsp chopped cilantro, tender stems and leaves
¼ cup/60 ml fresh lime juice
½ tsp toasted ground cumin
Fine sea salt
Ground black pepper
For the Salad
2 ears of sweet corn, remove and discard the silk and husk
1 large red bell pepper
neutral oil like grapeseed with a high smoke point plus extra to brush the grill
6 scallions, trimmed and thinly sliced
8 oz/230 g cherry or grape tomatoes
4 ½ oz/130 g lettuce
For the Miso Garlic Steak
1.3 to 1.5 lb/ 590 to 680 g flank steak
¼ cup/60 ml low-sodium soy sauce
4 garlic cloves grated
2 Tbsp white or yellow miso paste
2 Tbsp neutral oil like grapeseed with a high smoke point plus extra to brush the grill
1 tsp fish sauce
½ tsp ground black pepper
Instructions
For the Salsa
Heat the grates of a grill over medium-high. Brush the grates with a little oil. Cut the peaches in half lengthwise and remove and discard the stone in the center. Brush the cut sides of the peach with a little oil, place the cut side down on the grill's surface, and cook until the peaches develop char marks, 3 to 4 minutes. Remove the peaches, be careful they will be very soft, and transfer them to a bowl to cool. Once cool enough to handle, peel and discard the skin, dice the peaches and transfer to a medium mixing bowl.
Fold in the shallot, jalapeno, cilantro, lime juice, cumin, salt, and pepper. Fold to coat well, taste, and season if needed. Cover and leave aside for 30 minutes.
For The Salad
Brush the corn cobs and red bell pepper with a little oil and grill on the hot grill. Cook the corn, turning often until it develops char marks, 10 to 12 minutes. Remove the corn from the grill and leave aside to cool, about 5 minutes.
Grill the bell pepper until it chars all over, the skin is blistered, and the flesh softens, 6 to 8 minutes. Remove the bell pepper, cover with a bowl and let cool until easy to handle.
Strip the corn from the cob into a large mixing bowl. Peel and discard some of the blistered bits of skin from the bell pepper and dice. Transfer the bell pepper to the bowl.
Add the scallions, cherry tomatoes, and lettuce.
When ready to serve the salad, fold in the salsa to coat well, taste and season if needed.
For The Miso Garlic Steak
Pat the steak with clean paper towels and place it in a large dish.
Mix the soy sauce, garlic, miso, 2 Tbsp oil, fish sauce, and black pepper in a small mixing bowl until combined. Spoon the mixture on both sides of the steak, rub it all over with the spoon, and let sit for 30 minutes. The steak can also be covered and left in the refrigerator to marinate for 4 hours.
When ready to grill, cook the steak on the grill until the internal temperature reaches 120F/50C for rare, 3 to 4 minutes, or 130F/55C for medium-rare, 5 to 6 minutes. Transfer the steak to a cutting board, cover loosely with aluminum foil, and let rest for 5 minutes before slicing. Slice the steak against the grain and top over the salad. Serve immediately.
Notes
This is not your usual peach salsa. I'm adding oil, and the bell pepper and tomatoes are kept out. They come in later.
Let the peach salsa sit in the lime juice; this helps pull out the flavors from the peaches.
Do not add the salsa to the salad vegetables until you are ready to serve the entire salad with the steak. If left too long, the acid from the lime juice will wilt the lettuce and draw out much liquid.
While you can leave the steak in the marinade for up to 4 hours, I found 15 and 30 minutes to be pretty good, especially if you're running low on time. If marinating for more than 30 minutes, keep the steak covered in the refrigerator; otherwise, leave it on the kitchen counter.
The marinade doesn't need any salt (because of the miso and soy), but you can add some if you feel it's needed.
Here's the best way to go about time management. Grill the peaches first, and then marinate the steak. While the steak sits, grill the vegetables and prepare the salad. Cook the steak and then fold the salsa into the salad. Serve and put it all together.