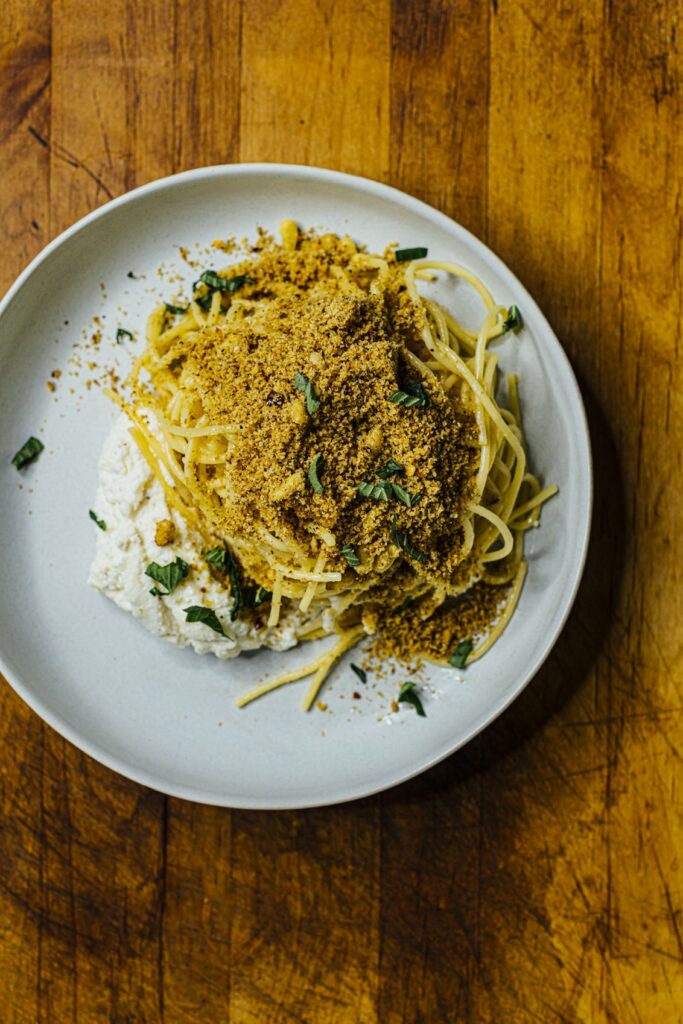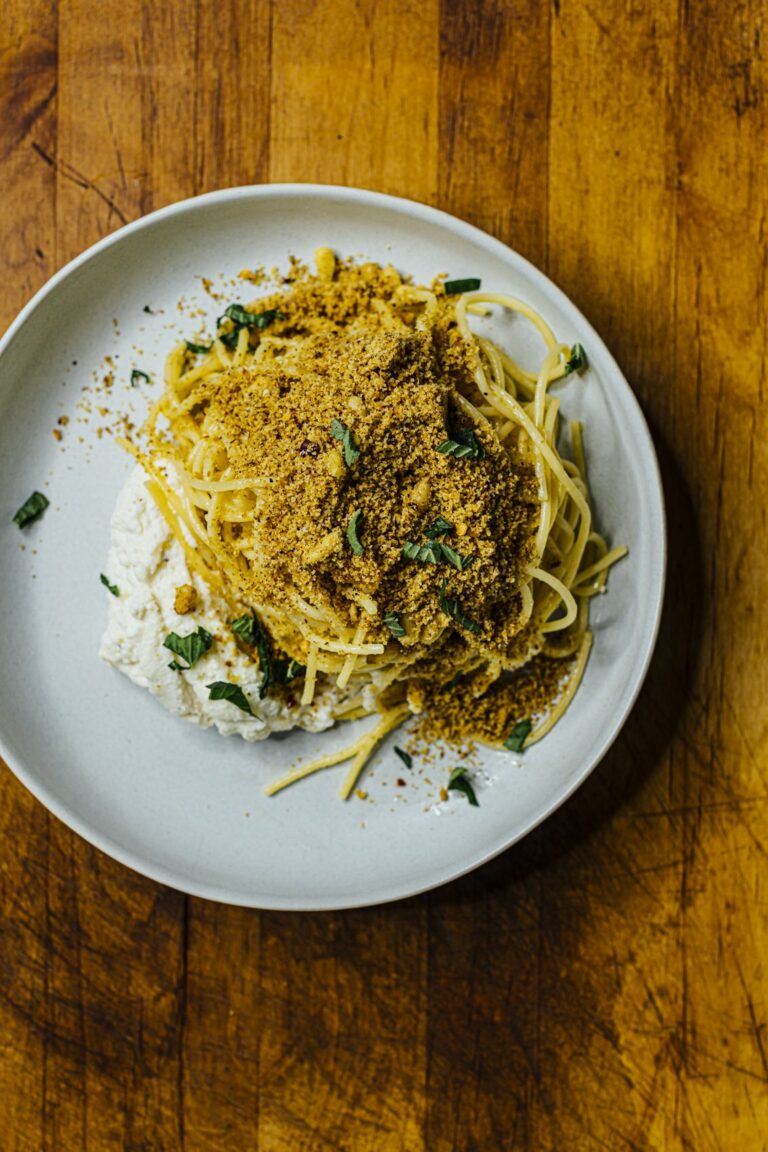 My pantry is like a treasure chest, a collection of ingredients waiting to be used. This Preserved Lemon Za'atar Pasta is one of the best ways to use up pantry ingredients, and it is inspired by the flavors of the Mediterranean and the Middle East. The pasta is fragrant with the aroma of tangy fresh and preserved lemons, za'atar, and plenty of garlic. Soft creamy ricotta and crunchy toasted breadcrumbs compliment the pasta. This is an easy dinner to make on a busy day, and one everyone loves. This is also an excuse to use the lemons growing in my garden.
One of the best parts of this pasta is how quickly it comes together. I use either panko or regular breadcrumbs to make the za'atar topping for the pasta, but panko always gives the crispier topping.
I've got a Meyer lemon tree in my backyard, and honestly, 90% of those lemons go straight into making jars of preserved lemons. Their aroma is beautiful, and their refreshing scent fills the room as soon you begin handling them. The soft and creamy texture of ricotta that's whipped along with the zest and juice from fresh lemons. It ties all the elements of the pasta together.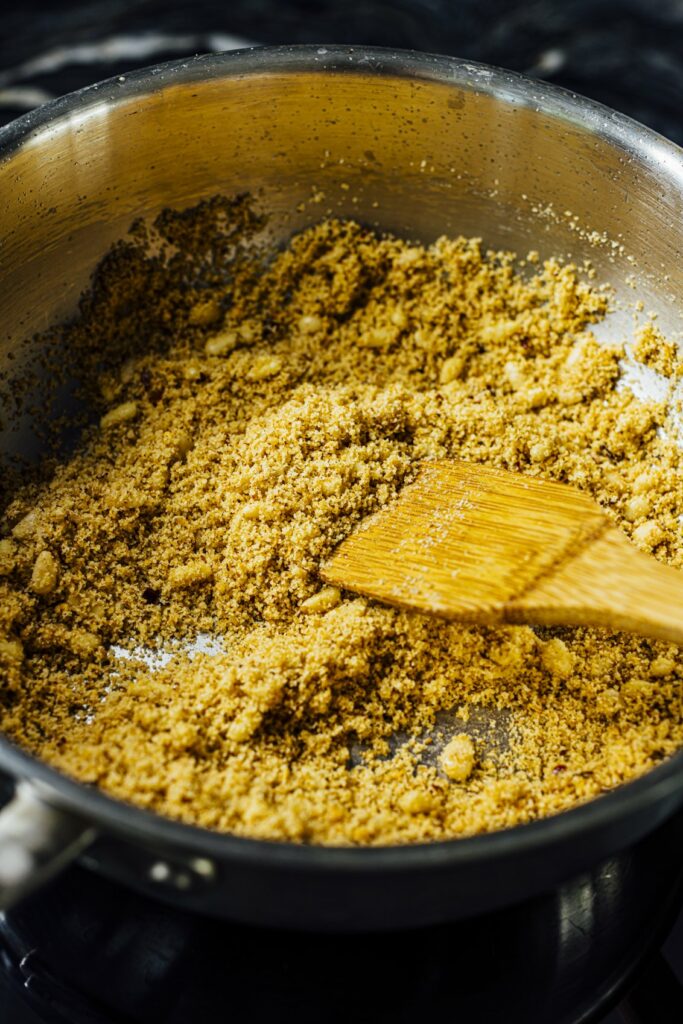 Start by toasting the breadcrumbs and cooking the pasta at the same time. Taste the breadcrumbs to ensure the flavor of the za'atar comes through, I find some brands of za'atar to be different in intensity than others. This will help save much time in the kitchen. Next, whip the ricotta and then put it all together. I like to garnish the pasta with either basil or oregano but don't use both; I find that when used together, they compete. If you want to add some protein to this, crispy fillets of pan-fried salmon or grilled or sautéed chicken breast would be perfect.
Print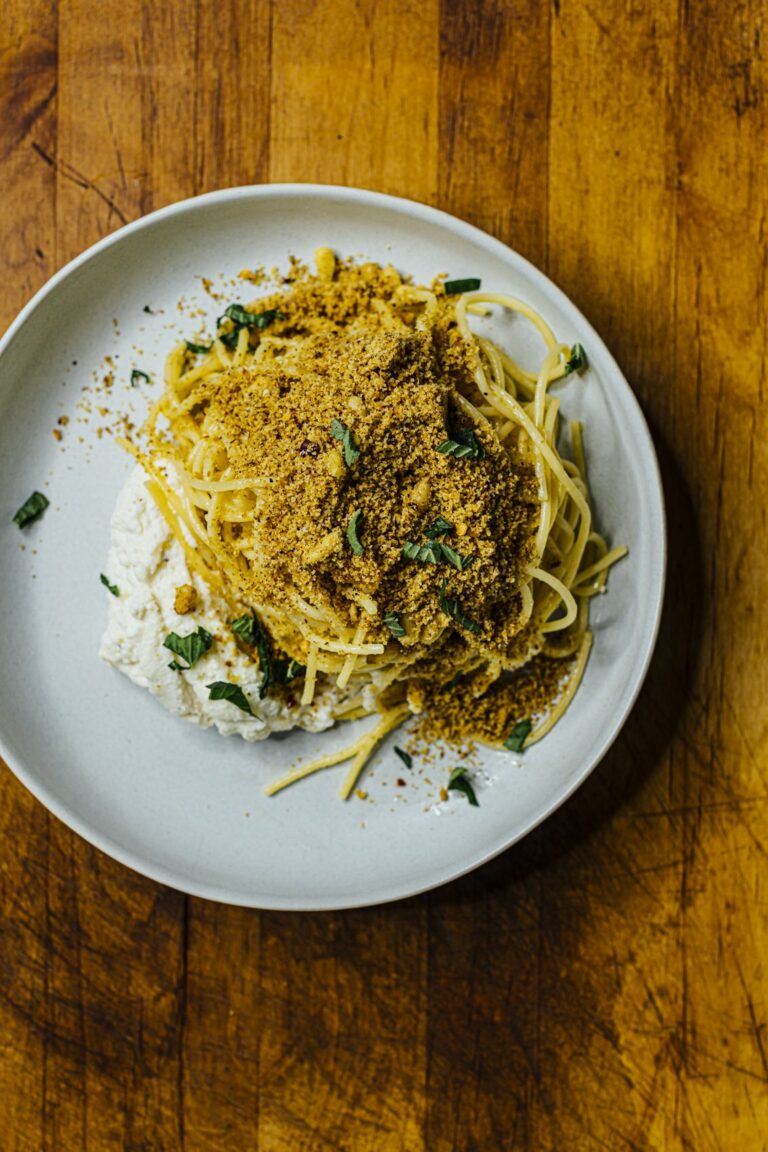 Preserved Lemon, Za'atar Pasta
Bright and lemony with a medley of textures, this gorgeous pasta dish plays with Middle Eastern flavors. It's also a great way to clean out the pantry. It's a dish I adore for its simplicity and rich flavors. 
¼ cup/60 ml extra-virgin olive oil plus extra to drizzle
4 garlic cloves, grated
2 Tbsp pine nuts or sliced almonds
1 tsp crushed red pepper flakes
1 cup/140 g Italian or panko breadcrumbs
2 Tbsp za'atar or more as needed
ground black pepper
fine sea salt
1 lb/455 g dried spaghetti or angel hair pasta
1 whole preserved lemon, rinsed and minced
8 oz/230 g ricotta cheese
1 Tbsp fresh lemon juice
Zest of 1 lemon
Fresh basil or oregano leaves, torn to garnish
Instructions
Heat a medium saucepan over medium-high heat. Add 2 Tbsp of the olive oil and sauté 2 grated cloves of garlic, pine nuts, and red pepper flakes until fragrant, 30 to 45 seconds. Fold in the breadcrumbs and cook until they are toasted all over and turn golden brown, 3 to 4 minutes. Fold in the za'atar and ½ tsp ground black pepper. Taste and season with more za'atar and salt. Remove from the heat and transfer to a bowl. Wipe the saucepan clean and return to the stove.
While the breadcrumbs cook, prepare the pasta. Follow the manufacturer's instructions. Set a large pot of salted boiling water on the stove and cook the spaghetti until it turns al dente. Drain the cooked pasta and transfer to a large bowl.
Heat the remaining 2 Tbsp of olive oil in the same saucepan, add and sauté 2 grated cloves of garlic until fragrant, 30 to 45 seconds. Fold in the preserved lemons and cooked spaghetti.
Place the ricotta, lemon juice, and zest in a medium mixing bowl, add and whip using a hand mixer or food processor. Taste and season with salt and black pepper.
Divide the ricotta and pasta between 4 serving bowls. Top with 2 to 3 generous tablespoons of the breadcrumb mixture and garnish with fresh basil. Drizzle with extra-virgin olive oil, if desired. Serve immediately. Leftovers can be stored in an airtight container for up to 4 days.
Notes
When working with preserved lemons, remember to rinse them well to remove the excess salt and discard the soft inner flesh. Use the peel in the recipe.
If you have an allergy to nuts, pumpkin or sunflower seeds will also work.
Adjust the amount of za'atar in the breadcrumb mixture according to your taste preferences.