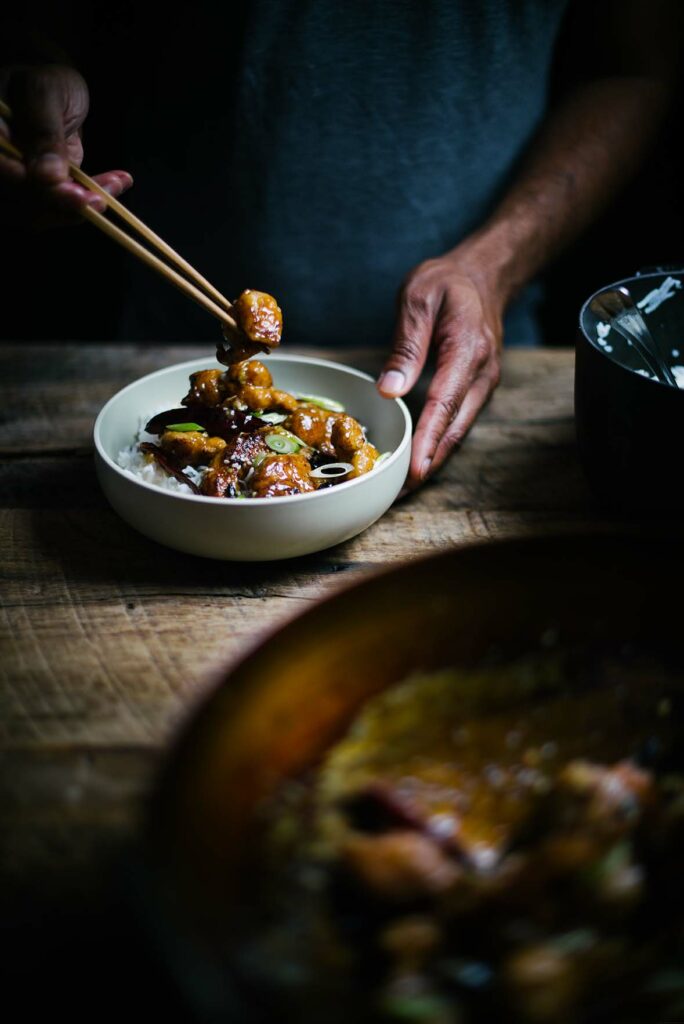 Food is much more than taste and flavor or a means for nutrition to also, in many ways, is a way for cultures to adapt and survive. The story of General Tso's chicken is one such dish that tells the story of Chinese immigrants in the United States and their arduous path to acceptance. A few weekends ago, I was aimlessly scrolling through the Netflix menu until I fortuitously came across a documentary called The Search for General Tso. If you haven't seen it already, I highly recommend watching it. The mystery behind this iconic dish and its origins are told through the history of Chinese immigrants, and it also includes an appearance from Chef Peng, who created this saucy fried chicken recipe. Did General Tso from the Hunan region really like chicken a lot? Is this dish a representation of some of his favorite meals, is General Tso's chicken as popular in China as it is here? These and many more questions are answered in this highly informative documentary. Watch it; you will love it!
Today, I'm sharing Kian Kho Liam's recipe for one of the easiest versions of General Tso's chicken from his book, Phoenix Claws and Jade Trees:Essential Techniques of Authentic Chinese Cooking. It's a book I know I'm going to hold on to forever. Kian is an instructor who teaches Chinese cooking in New York, and in this book, he shares all the knowledge and information you need to know on cooking delicious homemade Chinese food in your kitchen. Beyond recipes, he also shares his cooking techniques, methods, and the essential tools you will need to cook Chinese food. I went and purchased my first authentic wok from the San Francisco Chinatown neighborhood and learned how to season and take care of it. I met Kian at the IACP Awards earlier this year in LA, and this book also won the Julia Child Award. The book took me on a journey through story and photography, and I ended up cooking more than 15 different dishes in a week, from pea shoots with garlic to stir-fried beef and a delicious eggplant salad; there's something in here for everyone.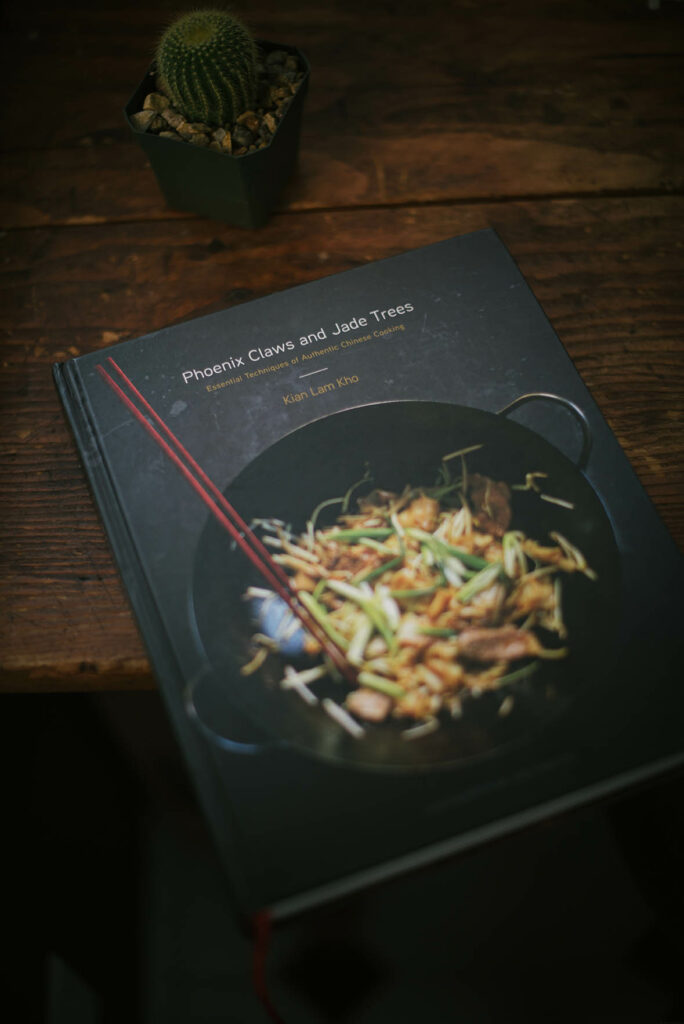 Whenever we go out to eat Chinese, I never get General Tso's because I find it too sweet, so much so that these days it almost crosses into the realm of a fried poultry-type dessert. So when Kian said his recipe had a mild hint of sweetness, I was curious, and I'd be happy to try making this at home since this is also M's favorite thing to order outside. This General Tso recipe creates a crispy chicken that bathes in a mildly sweet yet spicy sauce covered in a fragrant aroma of garlic, ginger, and chilies. There's a dash of toasted sesame oil for flavor; all you need to do is serve it with warm rice and eat away!
This essay was first published on September 13, 2016.
Print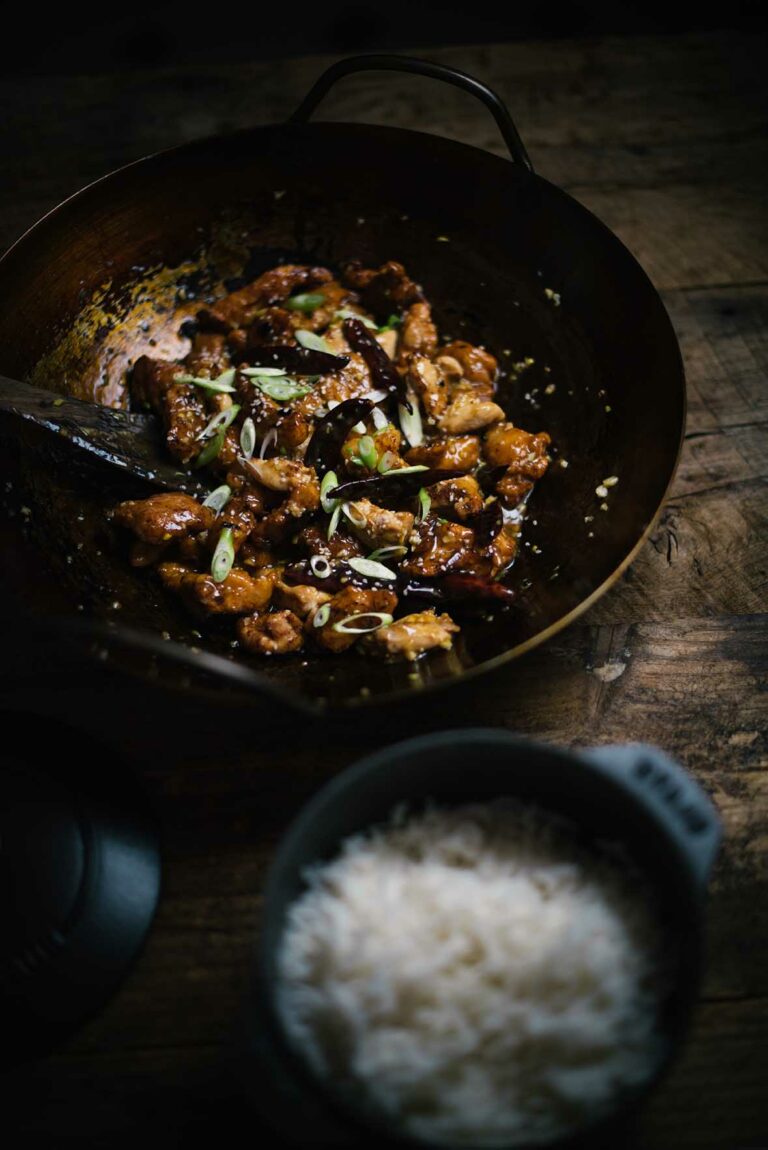 general tso's chicken
If you love General Tso's chicken like me, then this recipe is for you. This recipe comes by way of renowned Chinese cooking instructor, Kian Lam Kho from his book, Phoenix Claws and Jade Trees. Unlike the restaurant versions that are often cloyingly sweet, this General Tso's chicken is fragrant and full of flavor. Serve it over a bowl of warm steamed rice. 
For the Marinade
2 Tbsp Shaoxing cooking wine
1 large egg white
1/2 tsp fine salt
1/4 tsp ground white pepper
1 lb/455 g boneless, skinless chicken thighs, cut into 3/4 inch cubes
For the Sauce
3/4 cup/180 ml chicken stock/water
1/4 cup/60 ml Shaoxing cooking wine
2 Tbsp Chinkiang black vinegar
1 Tbsp soy sauce
1 tsp hoisin sauce
2 Tbsp tapioca starch
1 Tbsp sugar 
4 cups/945 ml vegetable oil with a high smoke point
3/4 cup/90 g tapioca starch
3 Tbsp minced garlic
1 Tbsp peeled and minced fresh ginger root
1/4 cup dried chillies
1 Tbsp toasted sesame oil
1 Tbsp sesame seeds, toasted
2 Tbsp thinly sliced green scallions
Instructions
Combine all the marinade ingredients (from the cooking wine to the white pepper) in a bowl and mix well. Add the chicken cubes and stir well. Let marinate for 20 minutes.
Combined all the sauce ingredients in another bowl and mix well.
Heat the vegetable oil in a wok over high heat until it is shimmering, about 375F/190C. Put the tapioca starch in a large bowl and roll the marinated cubes in the starch. Be sure to coat each piece generously. Fry the chicken cubes in the hot oil in two batches until they are golden brown, about 4 minutes. Drain the chicken cubes and set them aside on a double layer of paper towels. 
Remove all about 2 Tbsp of the vegetable oil from the wok. Add the garlic and ginger to the wok and stir-fry for about 30 seconds. Add the chiles and stir-fry for another 30 seconds. Stir the sauce mixture so the starch is blended completely and pour it into the wok. Cook until the sauce thickens, above 1 minute. Return the chicken to the wok and quickly toss the pieces in the sauce. Add the sesame oil and stir it into the chicken. 
Garnish with the toasted sesame seeds and sliced green scallions.
Notes
Dry sherry can be used in place of Shaoxing wine.
Malt vinegar can be used in place of Chinkiang black vinegar.
Tapioca starch is the traditional choice of starch in Chinese cooking but you can also use corn starch.
I use er jing tiao chillies (they're popular in Sichuan cooking) for most of my Chinese cooking but you can use other varieties depending on your heat preference.