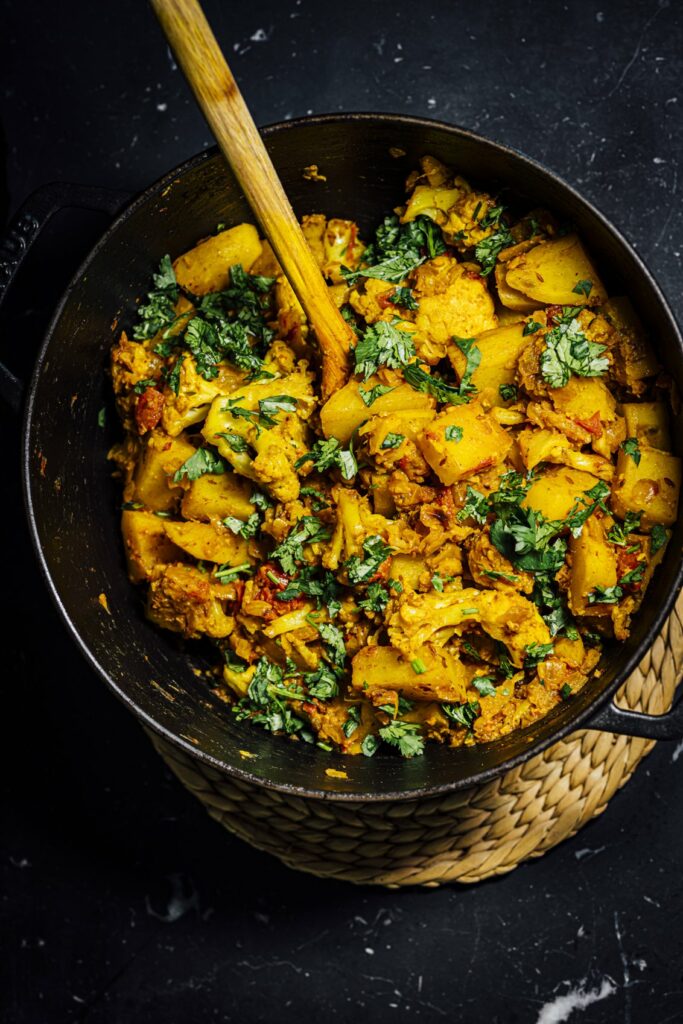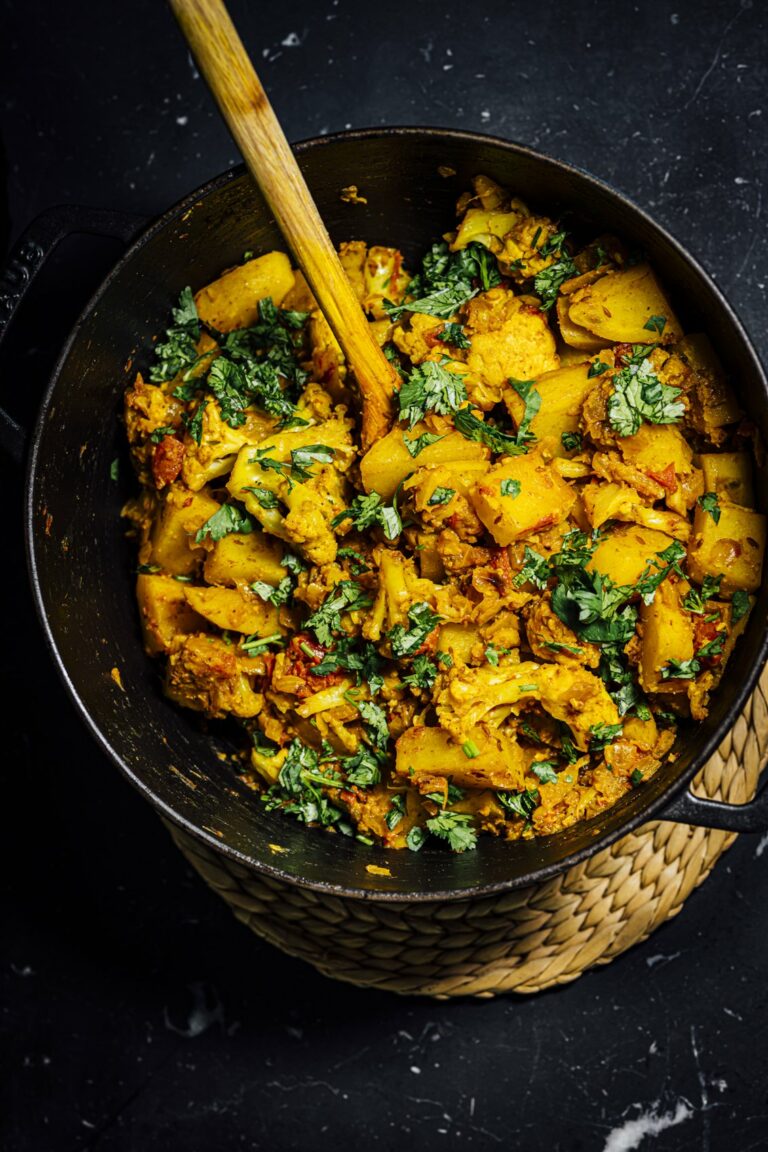 I once asked a friend what immediately came to mind when they thought of home-cooked Indian food. It was aloo gobi. Over the years, I've received numerous requests to share a recipe for this classic Indian vegetable dish, and I finally have a version that I'm thrilled to share with you.
This dish has all my favorite vegetables (except cabbage), potatoes, cauliflowers, and tomatoes, and as a kid, one that I often requested at home. I love eating aloo gobi (the literal translation in Hindi is potato and cauliflower) with warm plain rice or some flatbread like a roti or paratha.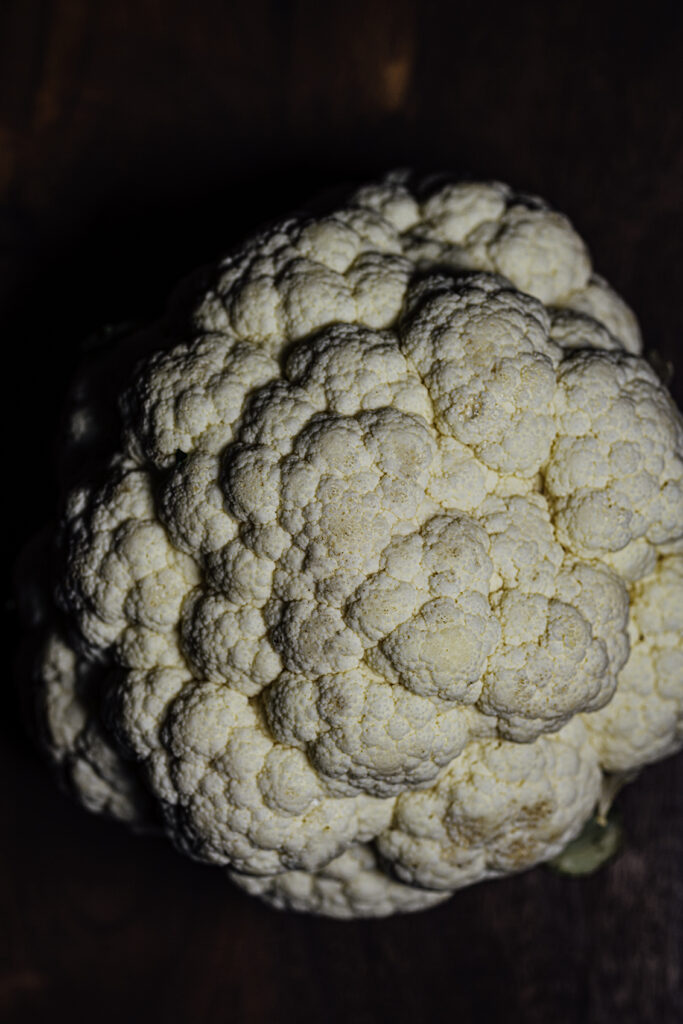 To prepare aloo gobi, besides the potatoes and cauliflower, you will also need tomatoes and onions to form the base of the "dry" sauce that coats the vegetables. As for the spices, you won't need much except for garam masala, cumin, and turmeric. I prefer making aloo gobi in my cast iron Dutch oven because the lid is heavy and holds the steam inside much better than stainless steel. As a result, the vegetables tenderize during braising more efficiently and quickly.
Print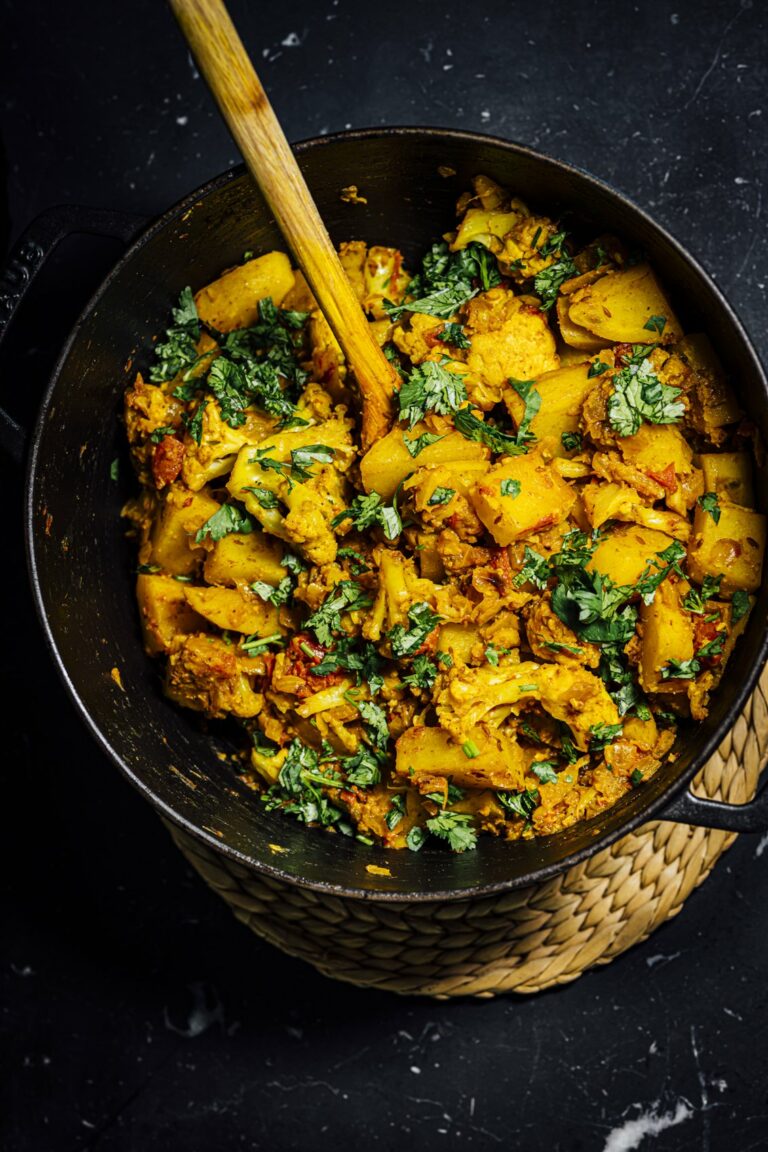 Aloo Gobi
Aloo gobi remains one of the most popular vegetable recipes in Indian kitchens. The tender texture of potatoes and cauliflower is achieved via braising with tomatoes and a mild dose of spices. If you're making this for kids, leave the green chilli out. Serve warm with plain rice or flatbread like roti or parathas.
3 Tbsp/45 ml neutral oil such as grapeseed
1 tsp cumin seeds
½ tsp ground turmeric
1 large/300 g white or yellow onion, diced
1 green chilli such as jalapeno, serrano, or bird's eye, thinly sliced
2 Tbsp garlic, grated
2 Tbsp fresh ginger, peeled and grated
2 small/each about 140 g tomatoes, diced
2 large/each about 320 g Russet potatoes, peeled and diced, 1 in/2.5 cm cubes
10 oz/280 g cauliflower florets, broken into bite-sized pieces
Fine sea salt
1 Tbsp fresh lemon juice or 2 tsp amchur (unripe dry mango powder)
½ tsp garam masala, homemade or store-bought
2 Tbsp chopped fresh cilantro, tender stems and leaves
Instructions
Heat the oil over medium-high heat in a medium saucepan or Dutch oven. Add the cumin and turmeric, and sauté until fragrant and sizzling for 30 to 45 seconds. Add the onion and sauté until translucent, 4 to 5 minutes. Add the green chilli, and sauté for 30 seconds. Add the garlic and ginger and sauté, until fragrant, about 1 minute.
Fold in the tomatoes, potatoes, and cauliflower, season with salt, cover with a lid, and cook until the potatoes and cauliflower are tender enough to be easily pierced by a fork or knife, occasionally stir to prevent burning, 30 to 45 minutes. If the vegetables start to burn, add 1 to 2 Tbsp of water as needed. Drizzle the lemon juice and garam masala over the vegetables, remove from the heat and taste, and season with salt if needed. Serve hot or warm, garnished with cilantro. Leftovers can be stored in the refrigerator for up to 4 days in an airtight container.
Notes
I find more success braising these vegetables in a Dutch oven than in a saucepan. The heavy lid of a Dutch oven traps the steam much more nicely than a stainless-steel saucepan; the vegetables don't dry out as quickly, cook faster, and don't burn. Sealing the steam in with a tight lid ensures the potatoes cook tender during braising. Cutting the potatoes to size and adding a few Tbsp of water also helps. Some folk like to parboil the potatoes before using them in this recipe.
Both lemon juice and amchur work well here, but I prefer the fruity sourness of amchur in this recipe.