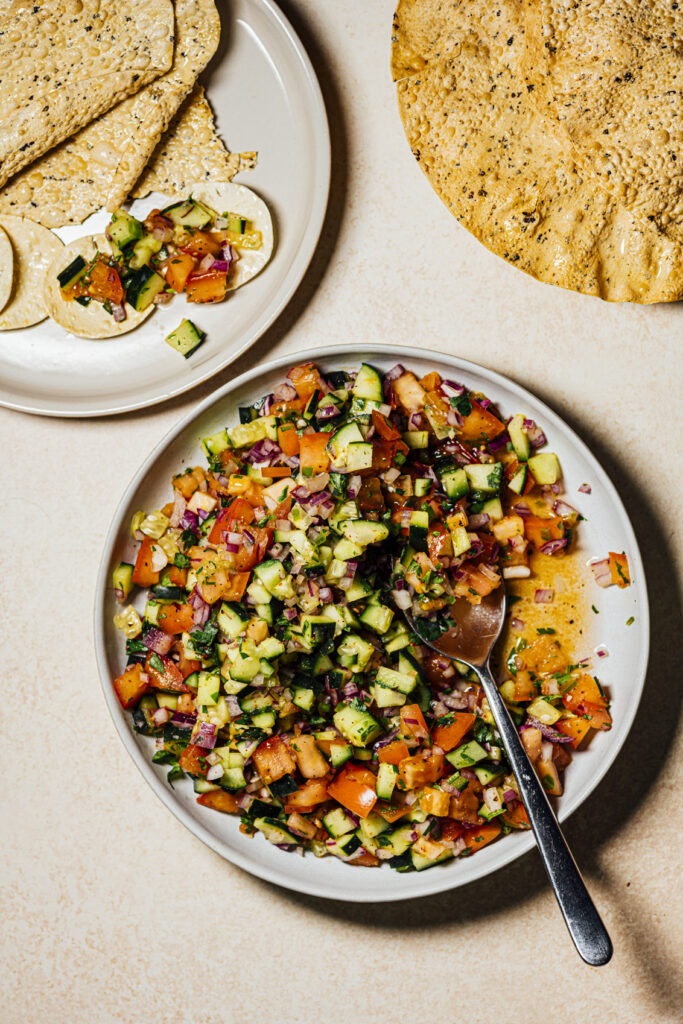 Traditionally, salads occupy the position of an accompaniment or side as part of a larger meal in Indian cuisine. There are some noticeable differences too. Indian salads, unlike their Western counterparts, rarely use oil in the dressings, and the seasonings are kept very simple. I strongly suspect the salad serves as a counterpoint to the stronger flavors in the accompanying meat and vegetable dishes. Kachumber salad is one of the most famous salads associated with Indian cuisine, and it is also one of the easiest dishes to put together.
While cucumbers, tomatoes, and shallots or red onions are the three standard ingredients of a kachumber salad, the salad is flexible. I throw in radishes and radish greens, lettuce, cooked beans, and more. I like to think of it as the mother salad from which all other Indian salads originate.
Kachumber salad can be eaten with rice, flatbread, curries, dals, etc., but they are SO GOOD with fried or roasted papad/pappadums. On weekends, I'll make a big bowl along with some papads and dip away, or if I feel like sharing, then I serve it as an appetizer.
Print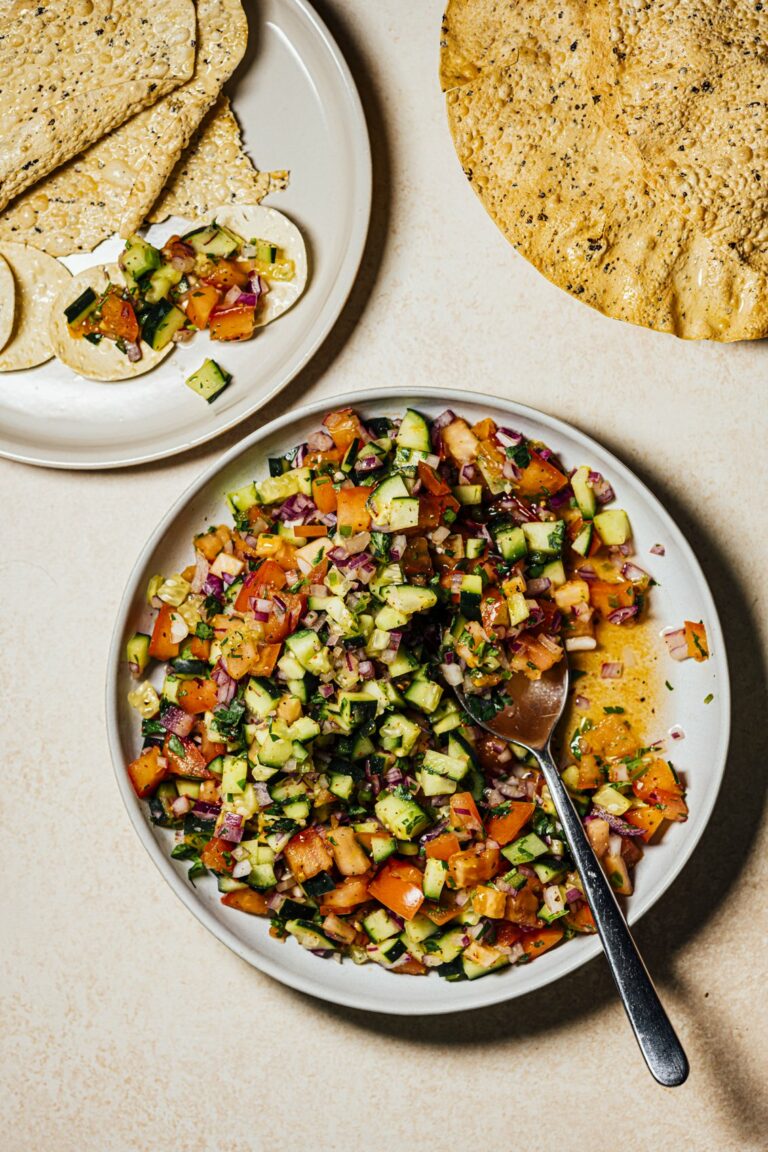 Kachumber Salad
One of the most iconic salads served at Indian restaurants and made in homes; this salad is served as an accompaniment to a large meal. When in season, I toss in diced chunks of crisp pink radishes. If you don't like cilantro, fresh dill or mint is delicious here. In addition to eating it as a side, I also love it with fried or roasted discs of papad/poppadum, just like tortilla chips and salsa.
1 medium/300 g English cucumber, diced

1 large/200 g tomato, diced

1/60 g shallot or red onion, diced

1 green chilli such as jalapeno, serrano, or Bird's eye, diced

2 Tbsp fresh cilantro, dill, or mint, chopped

2 Tbsp fresh lemon or lime juice

½ tsp ground red chilli powder like Kashmiri

½ tsp ground black pepper

¼ tsp ground toasted cumin

Fine sea salt
Instructions
Fold the cucumber, tomato, shallot, green chilli, and cilantro in a medium mixing bowl. Add the lemon juice, red chilli powder, black pepper, toasted cumin, and salt. Taste and season if needed. Serve immediately. This salad tastes best the day it's prepared but can be stored for up to 1 day in an airtight container in the refrigerator.
Notes
Skip the green chilli or use how much you want to.
Due to osmosis, the vegetables will release a lot of liquid once they're tossed together. Eating this salad within a few hours after it's prepared is best.
Kashmiri chilli powder is a dried mild red chilli powder that is used for its aroma and bright red color. Find it online or in Indian grocery stores.