A version of this Guide to Indian Grocery Stores first appeared in Bulletin (2021).
Hello, Hello!
Happy belated Diwali 🪔
I hope y'all ate a lot of good Indian food and sweets last night.
Unsurprisingly, our Diwali celebration at home was smaller than in previous years. In the past, I invited our family, friends, and colleagues over for dinner but with the house being packed up for the remodel, it didn't make sense to host a big party. We decorated with fresh marigolds and lit the diyas (the little clay lanterns) to bring in the holiday spirit. Now, this might sound like a glorious feast for a handful of people at a tiny Diwali dinner but I love to include several different dishes at the table. We had pooris, smoked eggplant raita, chole, saag paneer, and lots of achaars (Indian pickles that I got from my local Indian grocery store in L.A.). Of course, the meal ended with a lot of sweets with gulab jamuns, ladoos, sandesh, ras malai, and kaju katli among others. The last two desserts were sparingly shared because those two belong to my top-tier Indian sweets. And kheer, I can't believe I forgot to mention kheer, since it's rice pudding, I like to eat that for breakfast too (IMO it's basically a high-end version of cereal).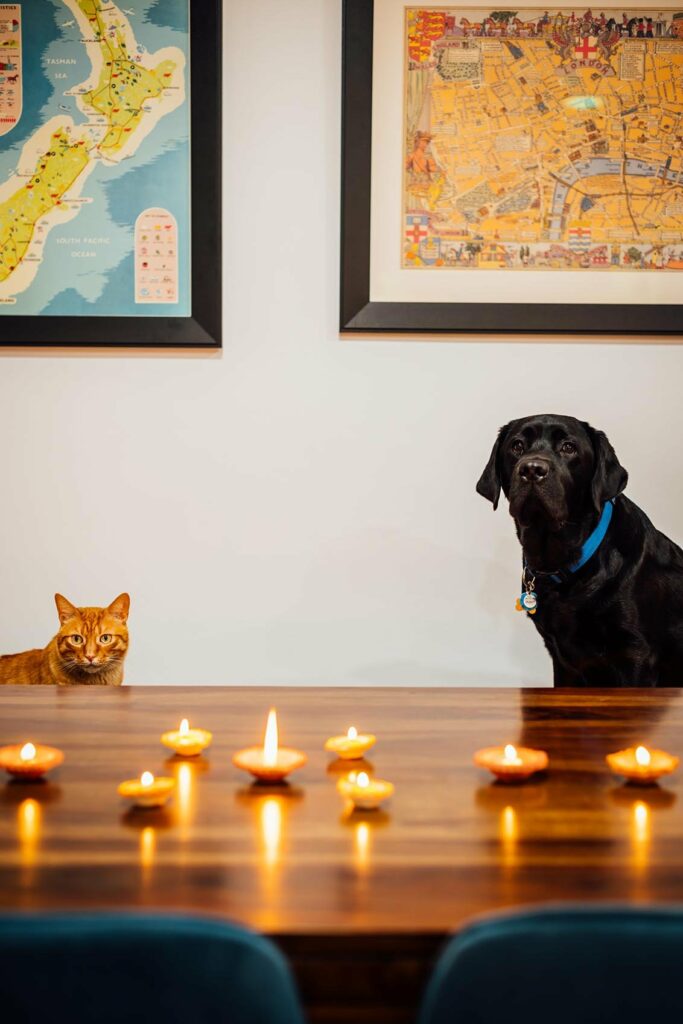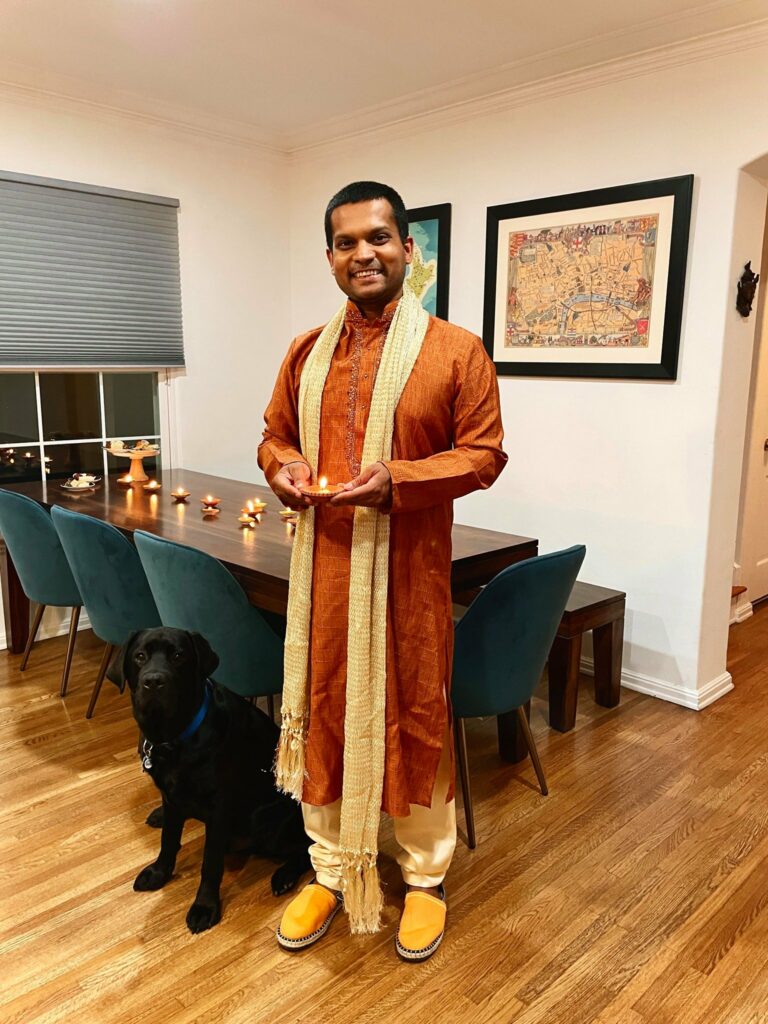 When people ask me where is the best place for them to find ingredients like curry leaves or asafoetida/hing and other ingredients used in Indian cooking, I tell them to first ask their local Indian restaurant where they source their ingredients from, next, look at the internet to see if there is an Indian grocery store near them and if all else fails, buy the ingredients online. My go-to store in L.A. is India Sweets and Spices in Los Feliz, this is a big store and I think one of the biggest ones I've been to in America (They also sell cooking utensils for Indian restaurants). They also sell food to order. When we lived in Oakland, CA, Vik's Chaat House and Bombay Spice House were the two stores I visited the most.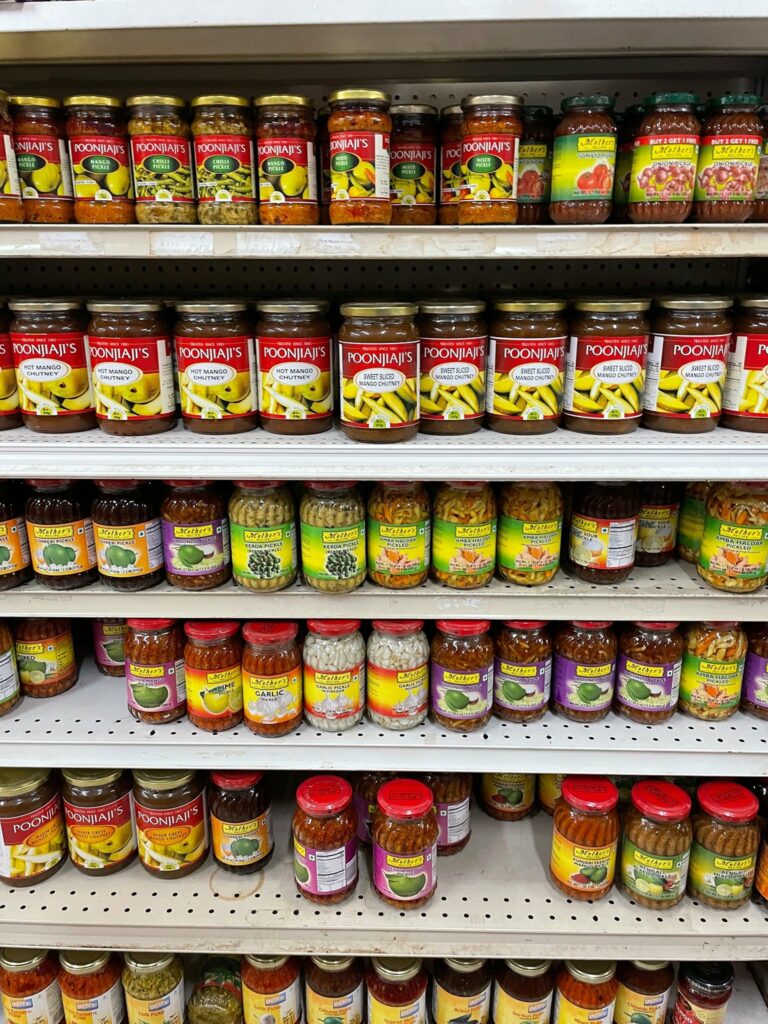 Everything including atta is available in different sizes, so buy based on your needs and predicted usage.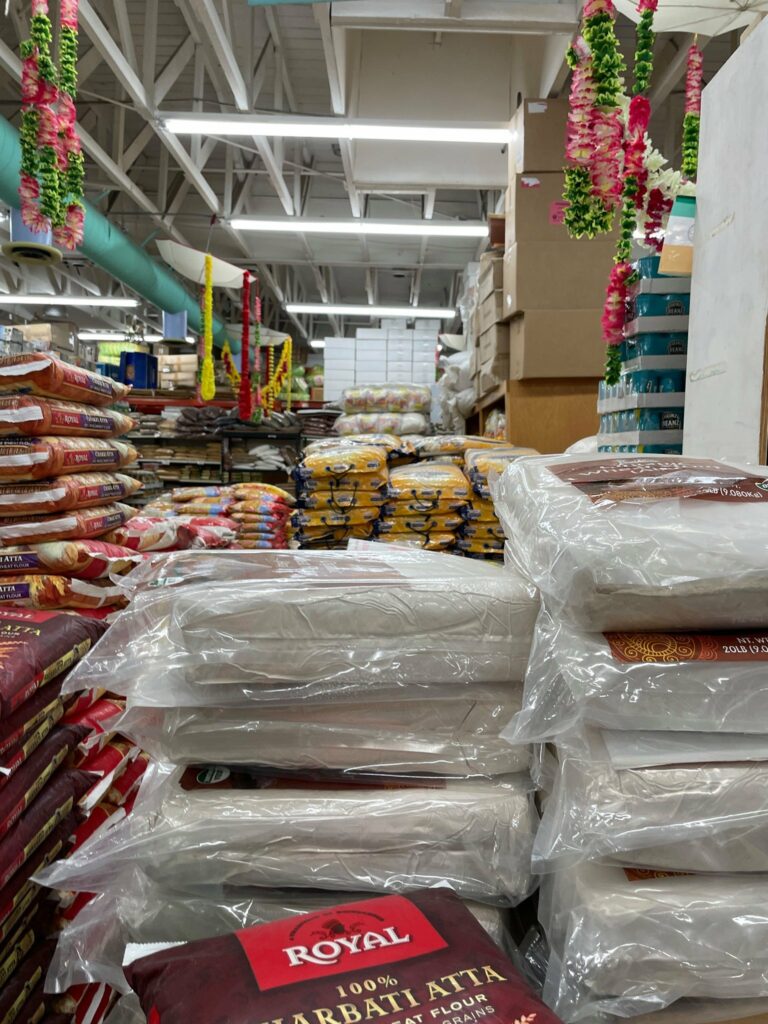 A couple of tips when visiting the Indian grocery store to make the experience fun and easy,
Avoid going on the day of a holiday like Diwali, it can get crowded. I like to go a day or two ahead of time and then get my shopping done.
Like any trip to a grocery store, go with a list. It's easy to get sidetracked.
Ask for help! If you are unfamiliar with spices, the brands, etc. ask the store owner for help. Since I haven't lived in India in more than two decades, I'm unfamiliar with many of the newer brands. I usually ask my mother, sister (who live in India), and of course, the store owner. Store owners and their staff are always so helpful and willing to help. The good thing with a smartphone is that you can pull up a photo of the ingredient and then hunt for it.
Indian stores sell ingredients in various sizes. I prefer to buy smaller quantities of ingredients I won't go through as fast. You don't want a large bag of fennel or ground chillies, if you aren't using them often. Spices like most food even though they're dried will lose their potency over time. Even flours like atta will smell a little off if they get old (the naturally present oils in grains go rancid).
There seems to be a notion that in India everyone grinds their own spices to make masalas/spice blends from scratch and pickle their own achaars, I want to dispel this myth. It's partially true. Just like in the West, Indian people also prefer convenience in the kitchen just like everyone else. If we have the time and want to make them from scratch we will, there ain't no shame in store-bought.
Some stellar spice brands include Everest, Priya, and MDH. There are subtle differences in flavor because of the regional preferences of consumers in India but they're all good.
This is more of a spice-specific purchasing note, when buying asafoetida/hing check the label to see if it is cut (mixed) with wheat flour or rice flour if you're gluten intolerant.
Indian cookies aka biscuits are very good and they form a huge huge part of our daily chai ritual. The cookie options are endless and I highly recommend grabbing some to try e.g. Parle G, Marie, Good Day, Bourbon, Krack Jack, are some of my favorites from childhood (and in adulthood).
Maggie's Hot and Sweet Tomato Ketchup, get it and use it wherever you would ketchup.
Buy aged basmati rice, at least one that says it's a year old. Aged basmati carries the strongest aroma because the grains are allowed to rest and develop their fragrance.
Curry leaves, frozen coconut, dried coconut, frozen drumsticks, frozen okra, and jaggery (they usually sell sugarcane jaggery and not palm jaggery) are just some of the ingredients that you will find at your Indian grocery store.
Get your Diwali diyas and Indian cookware here! Rolling pins, large serving spoons, dosa ladles, katooris (small metal bowls to serve food), clay pots to make yogurt, etc. here.
I also buy a lot of things I probably don't need, I've been known to do some impulse purchasing.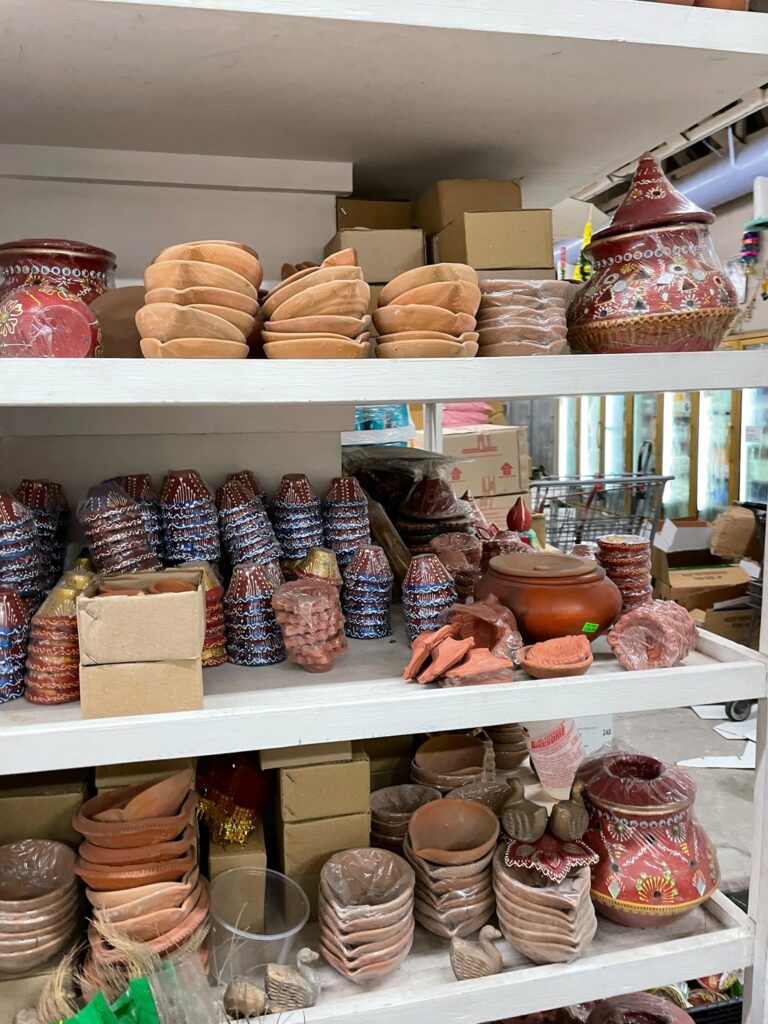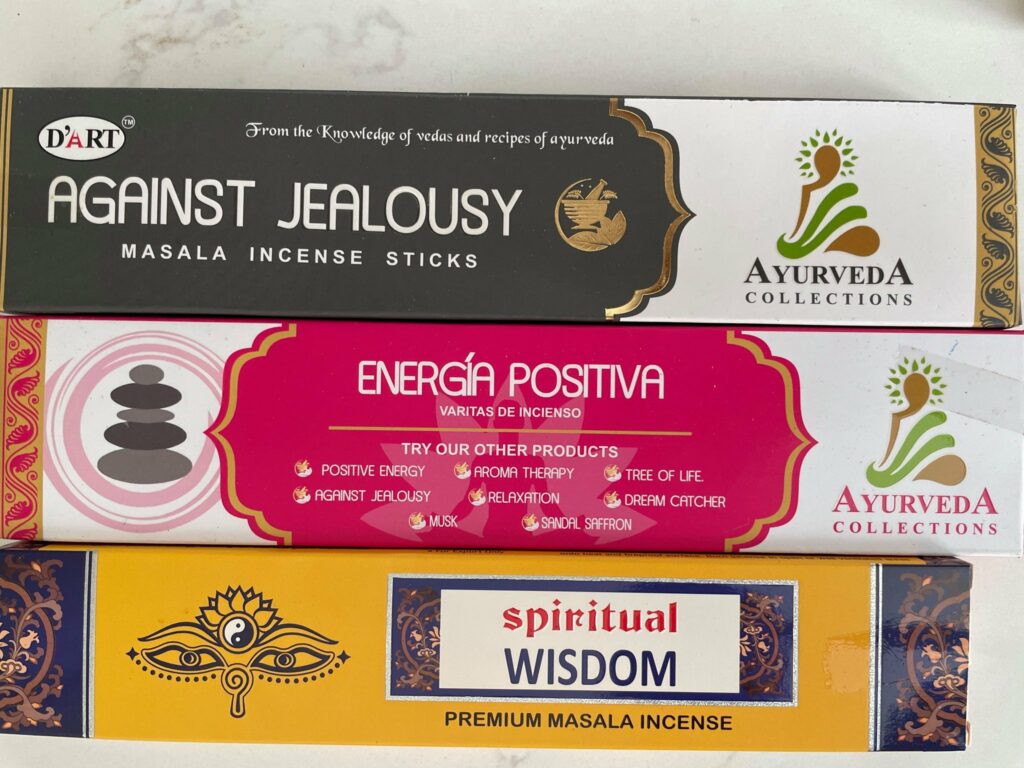 For those of you that have a favorite local Indian grocery store, share it in the comment section below so people can find out where you shop. If you live in L.A. and have a spot you think I need to try out, please let me know! I'm still new to L.A. and learning so much about this lovely city.
In the spirit of Diwali, I'm sharing some of my favorite South Asian food creators whose products I love to use in my kitchens. Please check them out (hint, there are lots of great holiday gift ideas here.).
Brooklyn Delhi If you want to learn more about and taste Indian achaars (pickles) this is your spot. They also recently released a simmer sauce line that will make cooking Indian food easier, especially during the busy week. I use their tomato achaar to dip my leftover pizza crust and eat but it's also great in sandwiches. Chitra Agarawal who started this company is one of my oldest friends in the food world, we both started out blogging many years ago and she's also written a stellar cookbook on South Indian food called Vibrant India
Diaspora Co. My friend Sana Javeri Kadri, who started this company, sells the brightest turmeric I've ever used. Diaspora Co. makes sure the farmers in India and Sri Lanka are compensated properly for their work and also ensures fair trade and ethical practices are met in production. They've got 30 fantastic spices to choose from and they sell a brass-tinted masala dabba – a spice container that makes a fantastic and glamorous addition to any kitchen.
Spicewalla by Chef Meherwan Irani and based in Asheville, N.C. is another lovely and reliable place to buy small quantities of spices both common to Indian cooking and other world cuisines. They've got a huge selection of spice blends, rubs, and more to choose from. I love their Kashmiri chilli powder for its robust smoky flavor and bright red color. I use a lot of their products when I cook at home and for my cookbooks.
Madhu Chocolates Full credit for finding this amazing brand of chocolate goes to my husband who did his research and got this as a birthday gift for me Madhu chocolates make some of the most delicious and innovative flavor pairing combinations that I've eaten. Their saffron-infused chocolate and cashew coconut milk are two of my favorites.
Just Date Syrup When I don't have the time to make date syrup, I get a bottle of date syrup Just Date Syrup along with a jar of their Chai Caramel. These are essentials that your pantry should have in stock all the time. Thick crisp wedges of apples dipped into that jar of chai caramel are pure joy!