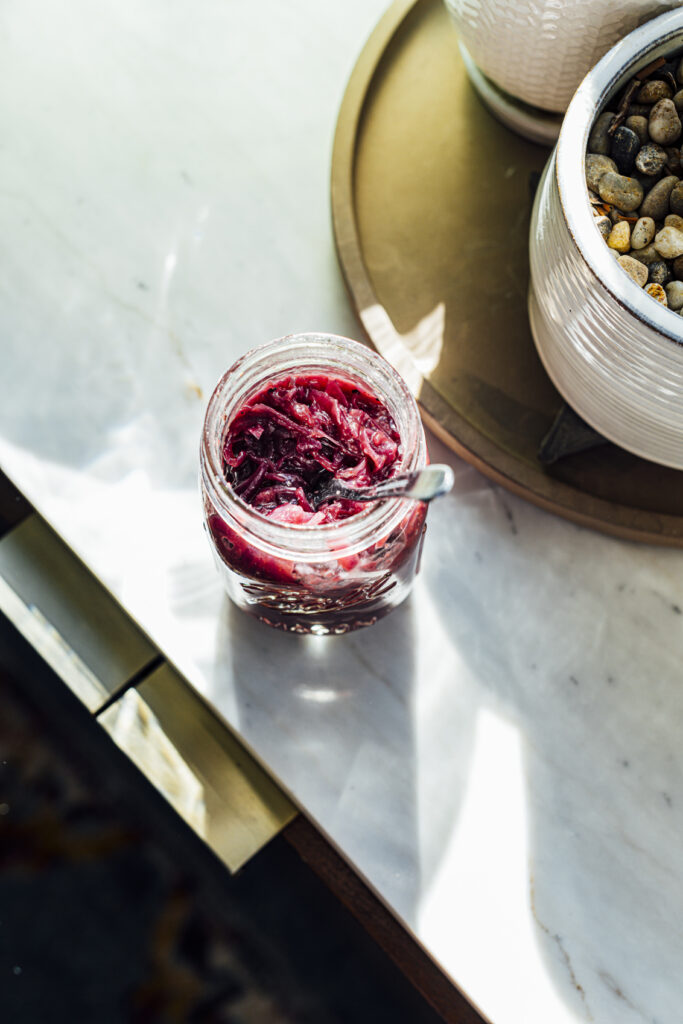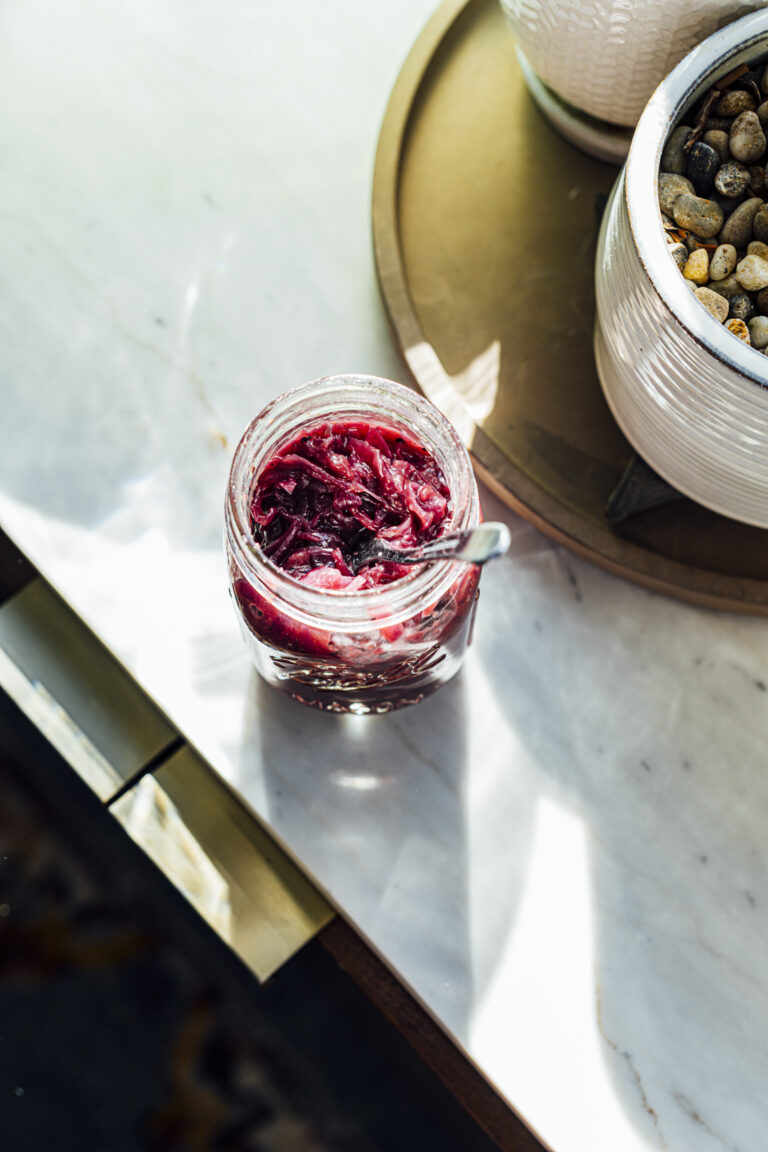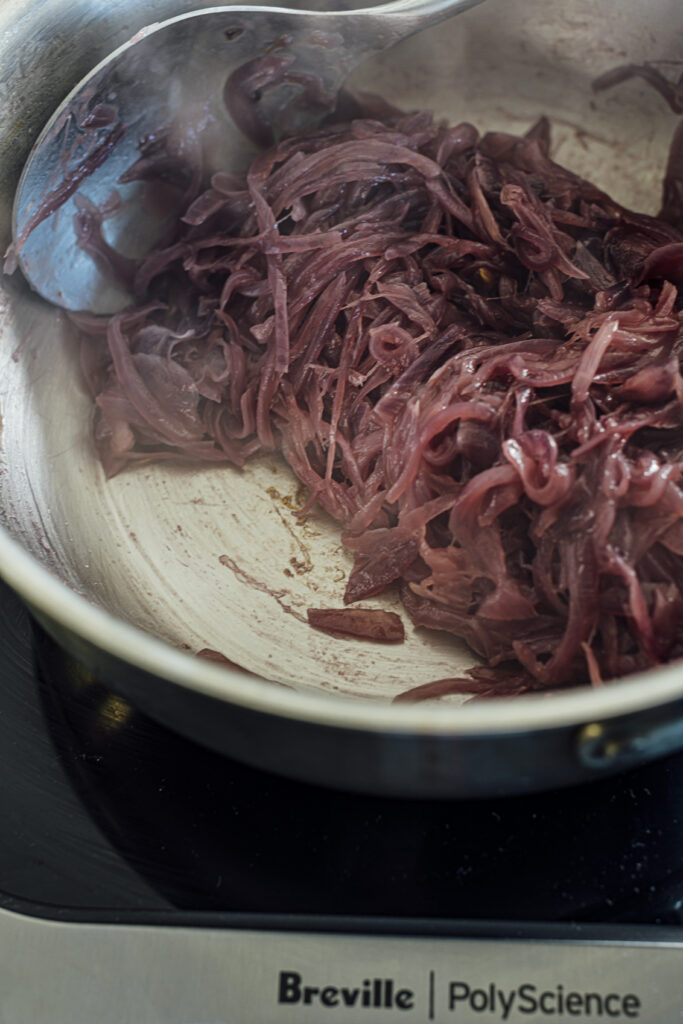 Print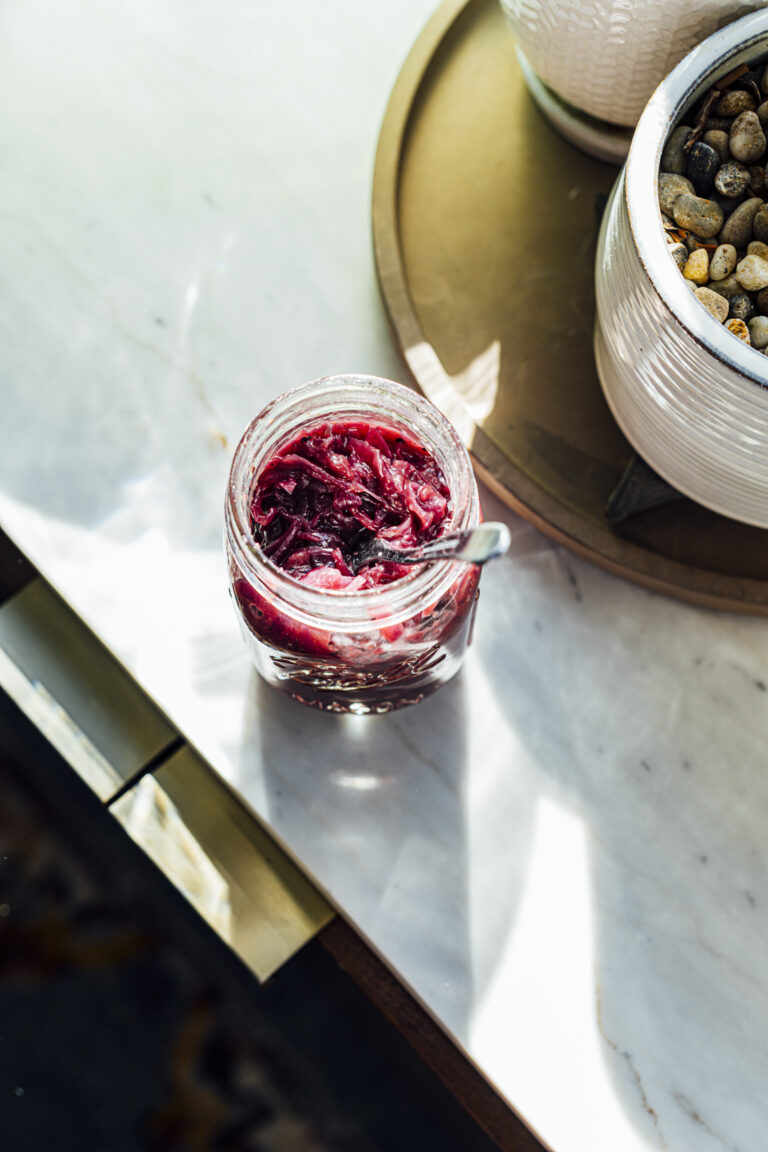 Guava Onion Jam
I don't see onion jam on restaurant menus enough, and I think it is one of those condiments that should be made more often. A big spoonful of onion jam over pizza, savory tarts and pies like a potato galette, and roast or barbecue meat is irresistible. This onion jam has fruity notes from the guava paste mingled with the sweet and tangy flavors of the bright red onions. I first braise the onions in their own liquid and then cook them at very low heat until they transform into a soft jammy spread.
2 Tbsp extra-virgin olive oil
1 tsp nigella seeds
3 large red onions, halved and thinly sliced
Fine sea salt
¼ cup/60 ml apple cider vinegar
4 oz/115 g guava paste, cut into small pieces
2 Tbsp sugar
Ground black pepper
Instructions
Heat the olive oil in a medium saucepan or saucier over medium-low heat. Add the nigella seeds and cook until fragrant, 30 to 45 seconds. Fold in the onions, cover with a lid, and cook covered for 4 minutes. Remove the lid, reduce the heat to the lowest setting, and cook, often stirring, until the onions are tender, 18 to 20 minutes. The onions should be relatively dry but not caramelized; they should look pinkish purple.
While the onions cook, mix the vinegar, guava paste, and sugar in a small saucepan and heat over medium heat until the vinegar starts to bubble. Remove from the heat and mix until the guava paste is completely combined with the liquid and there are no lumps. Pour the mixture into the onions and cook, stirring over the lowest heating setting, until the onions turn thick, pulpy, and jammy, 30 to 45 minutes. Taste and season with salt and pepper. Transfer to a clean, dry jar and store for up to 1 week in an airtight container in the refrigerator.
Notes
I know this sounds counterintuitive but DON'T let the onions caramelize. Cook them until most of their water is released and evaporated. This will help create a more tender and pulpy jam.
I find guava paste gives a more robust fruit flavor than guava preserves or jam in this recipe.
The success of this recipe depends on using the slowest cooking setting possible. It allows the fructans (the polymers of fructose inside the onions) to hydrolyze and release their sweetness.
Do not use a very wide saucepan or saucier. That will increase the evaporation rate and cause the onions to dry out faster than they should, increasing the risk of caramelization. I used this 10 in/25 cm wide 3 qt/2.8 L saucier from Made In.
Nigella seeds are a must in this onion jam.