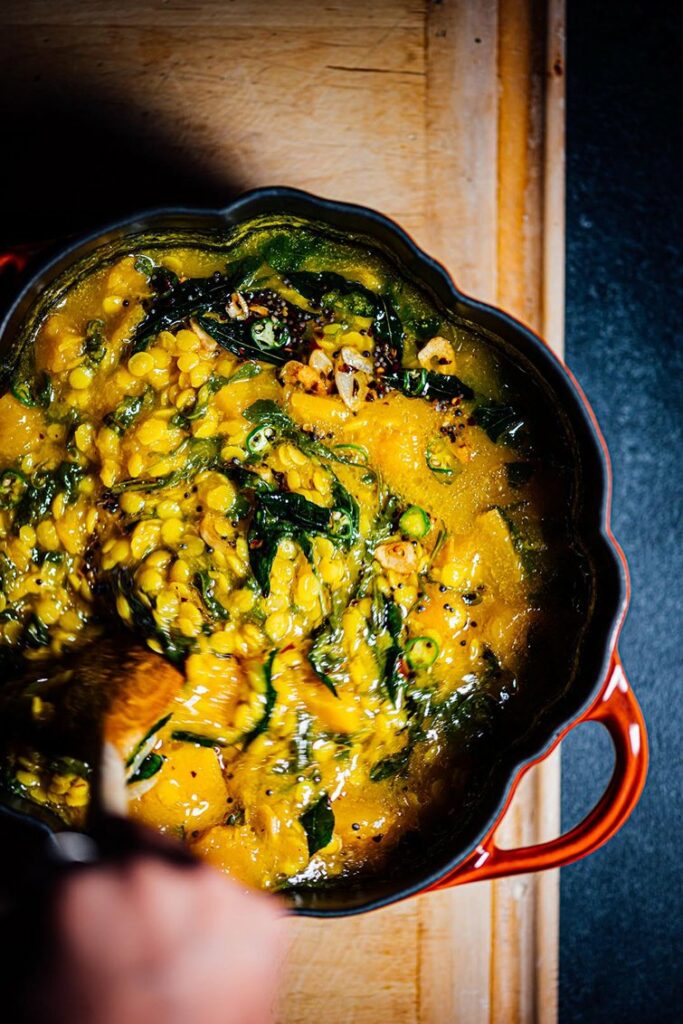 Today, we're making a beloved South Asian staple, dal.
Dal is dalicious which is one reason why they're so popular. The fact that a dried pantry staple easily transforms and creates something comforting and is also coincidentally is also high in protein content makes it very attractive to cooks.
Is a Dal a Soup or Stew?
This is where words become tricky and I feel a little uncomfortable describing dal as a soup or a stew simply because they are all different types of foods that might appear similar on the surface but are in fact, quite disparate. Let me explain why; for one dal always involve lentils, beans, or some type of pea while a soup or stew doesn't need to and two, a dal doesn't need to have any liquid in it, there are several sookhi dal/dry dal dishes to choose from where the lentils or beans have all their water removed. So IMO, dal are their own separate entity and the concept of "dal soup" always sounds confusing.
A dal without lentils, peas, or beans is not a dal. There are lots of choices to choose from in the Fabaceae family – red lentils, yellow lentils, black and green lentils, urad dal (aka urad beans), kidney beans, dried peas, etc. Sometimes a dal contains a combination of lentils or beans for example in some variations of dal makhani, kidney beans are added to the urad beans.
Vegetables
Dals are very welcoming, they like additions. To make it hearty, add fresh leafy greens like spinach, kale, or arugula, and chunky vegetables like pumpkins, squash, potatoes, carrots, beans, peas, tomatoes, and even eggplant. On a lazy day or when I'm in a hurry, I'll stir in a bag of frozen mixed vegetables. Sometimes, I like to sauté or roast the vegetables to build on flavor before adding them to the dal. I didn't do that here because I prefer the taste and texture of boiled pumpkin in this dal.
Meat
I once tried a beautiful shrimp-based dal at a friend's home in India served with warm rice and a sour mango pickle. I prefer seafood, beef, and lamb in dal over poultry. There are some special dishes like dal gosht from Bengal which is made by cooking lentils with pieces of mutton/lamb that remain one of my favorite comfort foods since childhood.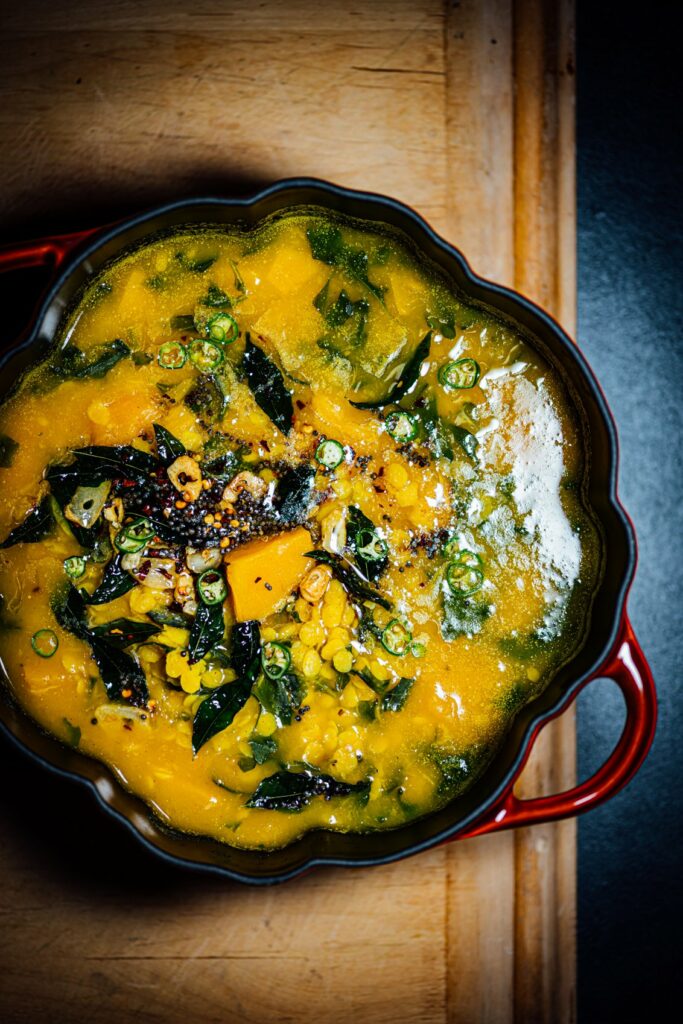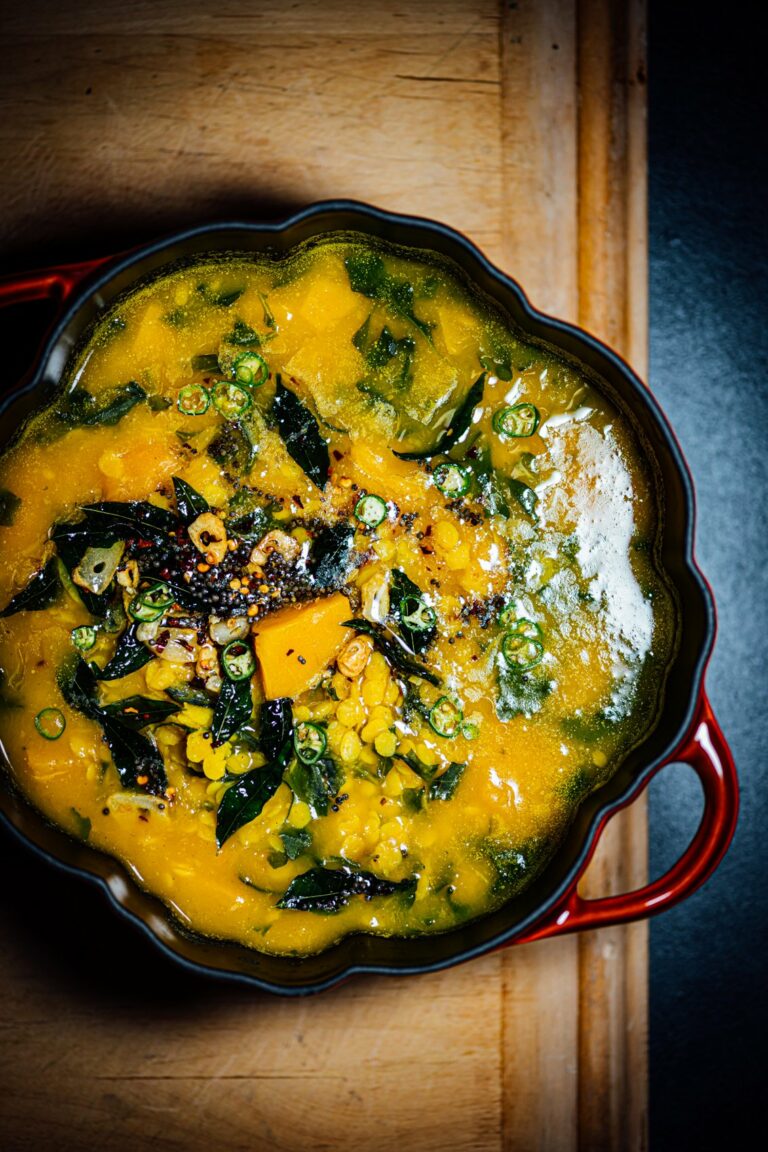 The Flavor Boosters
Salt
Salt helps the vegetables turn tender by working on their tough structural fibers and it adds saltiness. There's one extra special type of salt that I will use sometimes and that is kala namak or black salt (this salt is used for its sulfurous aroma). Use it as a finishing salt, after the dal is cooked and stir it in.
The Alliums and Hing/Asafoetida
You can fry or sauté onions, shallots, leeks, and garlic. You can cook them until tender and translucent and then boil with the lentils or cook them separately until they turn golden brown and crisp and use them as a garnish. Sometimes alliums can also be incorporated into the tadka, like the garlic in this recipe.
Hing or asafoetida is a plant resin that smells quite intense in raw form but when added to hot oil, it immediately transforms and releases an aroma that will remind you of alliums. In fact, in India, people who don't consume alliums use asafoetida to recreate that smell. A word of caution, make sure to read the label of the jar, asafoetida is mixed with wheat flour or rice flour and gluten-sensitive people should use the latter. You can use asafoetida in a recipe that uses garlic and onions, it intensifies the aroma of the dish remarkably well.
Ginger
You can use ginger or you can leave it out. Stir in grated ginger or fry thin matchsticks of ginger in oil till lightly golden brown and crisp for a dal topping. Sometimes the combination of onions-ginger-garlic is referred to as the trinity of Indian cooking because they're commonly used together but there is no such rule etched in stone, add it if you feel it benefits the overall taste of the dish.
Curry Leaves
Curry leaves are extremely popular in the warmer Southern states of India where they grow with ease. Unfortunately, there is no substitute for curry leaves (lemon leaves are not a substitute). Use the leaves fresh or dry and they must be fried crisp in hot oil. However with dried curry leaves, I find their flavor to be a bit weaker than the fresh ones, so I double the quantity called for in the recipe (I know this goes against everything you're taught about fresh and dried herbs where we tell you to reduce the quantity of dried herbs by half because they're so potent, curry leaves behave a bit different).
Spices, Spice Blends
Use whole seeds or crushed or ground forms of spices like cumin, nigella, caraway, carom, etc. in your tadkas (See Below and read my detailed Guide to Tadka). I've used garam masala in today's recipe but there are other blends and combinations of spices to choose from like panch phoran (5 spice mix). Turmeric is used in some dal recipes to help intensify the color and add flavor and in this pumpkin dal, it adds flavor and color.
Chillies
Fresh chillies like Bird's eye, serranos, and jalapenos are my favorites but dried whole chillies like Kashmiri chillies can be added to the tadka or cooked with the dal directly. Ground Kashmiri chilli powder can also be used and if you don't have any on hand, mix ¾ tsp ground smoked sweet paprika with ¼ tsp ground cayenne to replicate that smoky flavor with a mild level of heat.
Acid
Lemons, limes, tamarind, tomatoes, and even some sour fruits like unripe raw mangoes can be used to build sourness. Vinegar is less common but that's not to say it's not used, toddy vinegar is obtained by the fermentation of the sap collected from coconut palm trees. Toddy vinegar is not that easy to find outside Goa in India, so I use malt vinegar that does a very good job of approximating that taste.
Sweeteners
Natural sweeteners like jaggery are sometimes used in certain regional variations of dal. Jaggery is an unrefined sugar made by concentrating the juice collected from sugarcane or coconuts giving a more complex sweetness to the dal.
Herbs
I skipped the herbs in today's recipe since I already had a big helping of baby kale and green chillies. However, cilantro, dill, mint, and chives all make fantastic garnishes.
Tadka:
From a scholastic point of view, tadka is a flavor-infusing technique using hot fat as the solvent but it's more than that. Tadka is like the thoughtfully composed soundtrack that makes a movie or tv show a star, in this particular case, woven through the careful composition of scents, colors, textures, tastes, and even sounds to make that dal stand out.
I highly recommend reading this guide to the science of tadka I wrote for Serious Eats. It explains in great detail, all you need to know and understand about this wonderful flavor-infusing technique. It will tell you all about the oils to use, spices, and more
The Texture:
Dal can be thick and creamy to thin and watery. It just depends on the recipe and the preference. The lentils and beans can be cooked till they're just tender or until they're falling apart, the softer they are, the thicker the consistency (this is because of the starch present in the seeds that helps thicken the liquid).
Print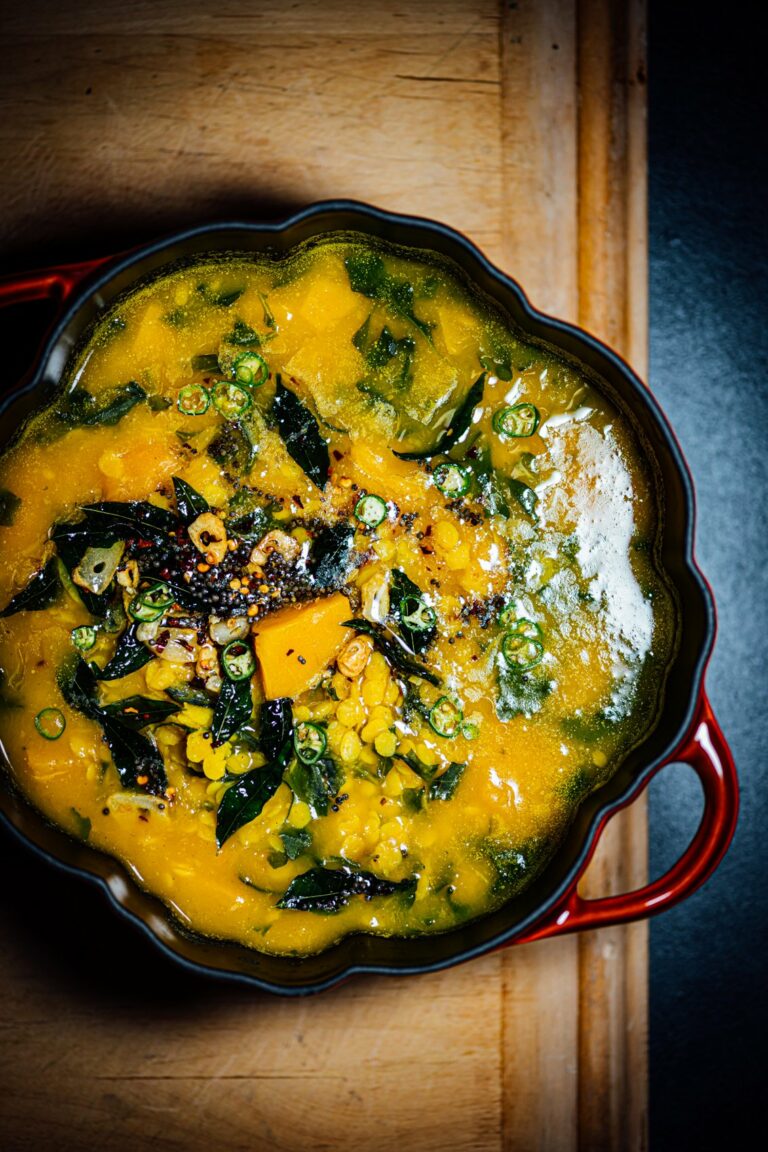 A Guide to Dals and a Recipe for Pumpkin Baby Kale Dal
This fall-inspired dal is hearty and filled with satisfying flavors and textures from the nuggets of chunky pumpkin and tender soft leaves of baby kale with split pigeon peas that are cooked until they fall apart. The Indian technique of tadka is applied to create the final fragrant finish. Don't miss out on the curry leaves, you can find them at Indian grocery stores, online, and if you're lucky grow your own plant at home!
5 cups/1.2 L water

One small/2lb/910g pumpkin, cored, peeled, and cut into ½ inch/12mm pieces

1 cup/180g split pigeon peas, rinsed and drained

1 tsp garam masala

½ tsp ground turmeric

fine sea salt

3 oz/85g fresh baby kale leaves

2 Tbsp fresh lemon or lime juice

2 Tbsp neutral oil with a high smoke point such as grapeseed or ghee

1 tsp black or brown mustard seeds

2 garlic cloves, thinly sliced

10 to 12 fresh curry leaves

A tiny pinch of asafoetida/hing (optional)

1 tsp red pepper flakes such as Aleppo, Maras, or Urfa

1 green chilli such as Bird's Eye, jalapeno, or serrano thinly sliced (optional)
Instructions
In a large saucepan or Dutch oven, add the water, pumpkin, split pigeon peas, garam masala, turmeric, and ½ tsp salt. Bring to a boil over high heat, then reduce heat to low and cook until the pumpkin and lentils are tender. The pumpkin will turn tender at about 8 to 10 minutes while the split pigeon peas will turn tender at about 20 to 25 minutes. Fold in the kale and cook until the leaves are completely wilted, 4 to 5 minutes. Remove from the heat, stir in the lemon juice, and taste and season with salt.
Prepare the tadka. Heat the oil in a small saucepan over medium heat. Drop a mustard seed into the oil, if it is hot the seed will sizzle and jump (this is an easy way to test how hot the oil is). Once the oil is hot, add the mustard seeds, the seeds will sizzle and dance, be careful. Get a lid ready and carefully add the garlic and curry leaves, cover with the lid, the moisture trapped inside the garlic and leaves will cause the oil to spurt. Swirl the ingredients in the saucepan, and fry until fragrant and the leaves turn crisp and translucent about 1 minute. Add the asafoetida and red pepper flakes, and swirl the contents of the saucepan until aromatic, 30 to 45 seconds. Remove from the heat and pour the hot oil with the spices over the lentils. Garnish with the green chilli and serve hot or warm with rice or flatbread like roti or naan.
Notes
Butternut squash is a great substitute for pumpkins.
Serving suggestions – rice or flatbread is a must but a thick spoonful of plain unsweetened yogurt and a pickle or salad is always lovely.